---
Lilka Classica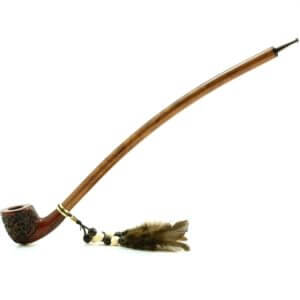 14 Inches
Rosewood Bowl
Cool Soothing Draw
Mr. Brog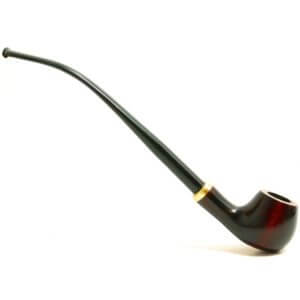 Pear Wood Roots
3mm Reusable Stinger Filter
Handmade
F.e.s.s.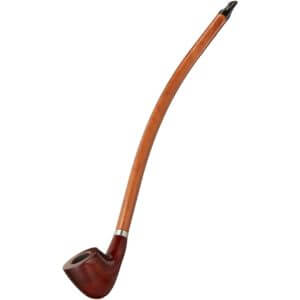 Bowl Chamber Depth: 33.2
Durable
Comes with a Gift Box
GStar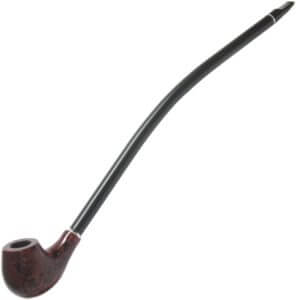 16 Inches
Bowl is NOT Detachable
Comes with a Gift Box
Lilka Classica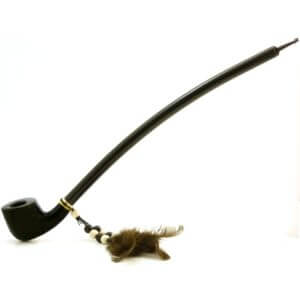 14 Inches
Rosewood Bowl
Comes with a Gift Box
---
Choose the Best Churchwarden Pipe
Customer's Choice: the Best Rated Churchwarden Pipes
123 users answered this survey. Please help us improve this review!

51.22% of users selected Lilka Classica Rosewood Bowl, 26.02% selected Mr. Brog, 7.32% selected F.e.s.s., 3.25% selected GStar and 12.2% selected Lilka Classica. Every month we analyze your answers and change our rating.
---
The smoking pipe was the first device for tobacco smoking. It remained the most popular way of smoking until the middle of the last century. Then, it slowly started to be replaced by cigarettes and cigars. But even today, pipes are in great demand among tobacco gourmets, representatives of various ethnic groups, and artists.
Pipes are also used by people who want to reduce the harm caused by cigarettes. It is known that pure tobacco contains fewer chemicals than manufactured cigarettes.
You can easily get a good pipe today. The manufacturers offer a variety of different shapes and designs. Modern pipes can be made from very expensive materials, but still, the best pipes are made from the following tree species – heather, beech, pear, cherry, walnut. Some smokers prefer foam pipes produced from a special mineral foam.
The length of a smoking pipe has a significant impact on smoking taste. Passing through the stem, the smoke cools down and discharges condensate. Passing through the mouthpiece channel, it only cools down. Therefore, any long pipe smokes cooler than a short one, and a pipe with a long stem is also dry. And this and that makes the smoke tastier. Smoking pipes with an extremely long mouthpiece (from 20 cm) are called churchwardens. And in this article, we will review 5 best-selling modes of churchwarden pipes.
Extra Long Churchwarden Pipe – a great gift idea for an experienced smoker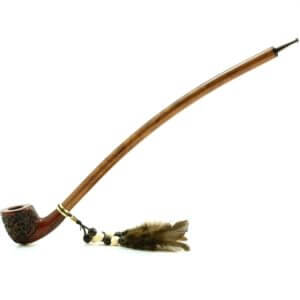 This handmade pipe is designed in Indian style with characteristic feathers and beads. The decoration can be removed. It is 14 inches long and has a strong stem. A charcoal filter with a metal stopper is built-in inside.
Stem and bowl can be easily disconnected if you need to clean the device with running water. Alternatively, you can use a special pipe cleaner for this purpose.
This pipe will be a great idea for true tobacco smokers. It comes packed in gift box layers with velvet lining inside. The thing looks decorative, but it is a fully working smoking device. It is good for tobacco and various herbal blends. Some users complained about the weak plastic connection of the bowl. But if you handle it with care, it will serve you well for many years. This thing deserves its money.
---
Mr.Brog Churchwarden Tobacco Pipe – a compact bowl pipe for a beginner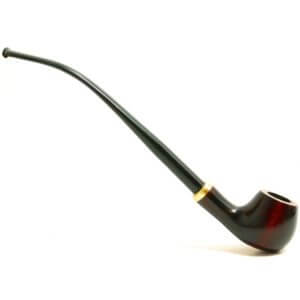 This elegant pipe is made from pear wood roots. The handmade design makes it look very sophisticated. The pipe has a removable metal filter inside, but you can replace it with paper ones or just remove it entirely to provide better airflow.
The pipe is 9.5 inches long. This size enables you to keep your face away from the smoke.
This pipe model is recommended for beginners or intermittent smokers. The bowl can contain enough tobacco for a short smoke. The pipe is good for smoking any type of herbs. However, some users complain about a weak plastic stem that can be easily broken or cracked. So if you are a heavy smoker, we recommend you select a bit stronger and bigger pipe for regular use. Other than that, this pipe is great for occasional smoking.
---
F.E.E.S. Long Tobacco Pipe– a perfect device for everyday smoking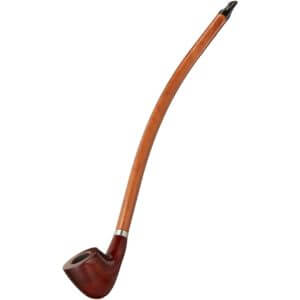 This classic churchwarden pipe is finished with a wood coating. It consists of three parts: the bowl, the stem, and the mouthpiece.
It is equipped with a big enough bowl which allows you to enjoy smoking without constant refilling. The device comes with a 9mm carbon filter that can be easily replaced when needed.
This pipe is a great device for everyday smoking. It will add a special zest to your smoking process. This pipe is good for both tobacco and medical herbs. Some users comment that it quickly gets clogged and often requires cleaning. So it is recommended to purchase a pipe cleaner for this purpose. The pipe comes with a gift box so you can buy it for a present to your friends or colleagues.
---
16" Pear Wood Pipe – a classic pipe with a cleaning tool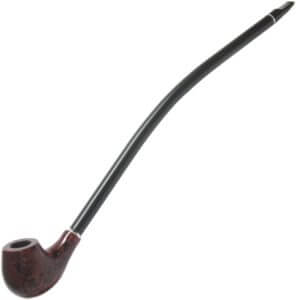 This pipe comes as a part of a 3-in-1 kit. Buying it, you will also get a cleaning and a beautiful gift box. The pipe has a 16-inch metal tube and the bowl is made of natural pearwood.
Being very affordable, the pipe does its work flawlessly, and you will enjoy the perfect amount of airflow it provides.
This nicely packed set will add a festive atmosphere to your smoking process. It will also be a great gift for the coming holidays and for every other occasion. The pipe is designed both for tobacco and herbs, but some users comment that herbs burn too fast and you should choose a bigger bowl for this purpose. Besides, it may be a bit difficult to clean, so avoid getting the pipe clogged.
---
14" Long Tobacco Pipe – a great smoking accessory for every occasion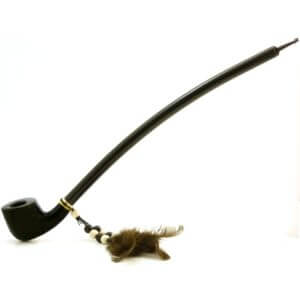 This extra-long churchwarden pipe comes in a beautiful gift box lined with velvet material. It has a solid design and a bowl made in rosewood.
It is equipped with a filter that can be replaced when needed. You can remove the bowl and mouthpiece for proper cleaning. It is often ordered to complete the party look.
This churchwarden pipe length makes the process even more enjoyable keeping the smoke far from your eyes. This pipe will give a special touch to your party look. The pipe provides a moderate draw. Several users reviewed it can easily crack when occasionally dropped. So we recommend you to look for a more reliable construction if you intend to use it every day.
---
The Buyer's Guide
Today, there is a huge selection of smoking pipes. So if you are not well versed in this matter, it is very difficult to make a choice. What to focus on when choosing? Keep reading to learn these nuances.
Pipe shape
A smoking pipe should not only cope with its main function ideally but also look elegant.
Shaped pipes may seem more aesthetic looking, but you need to be a skilled smoker to handle them correctly. Extremely curved stems have a very small distance between the smoke duct and the neighboring wall of the bowl. The entrance of the pipe has very thin walls and easily burns through. It results in draft jumps and combustion of tobacco, and sooner or later, the walls of the tobacco chamber will wear out.
Slightly curved pipes are easier to hold in the mouth.
Straight pipes can be easily cleaned. If you are a beginning pipe smoker, start with this design.
Tobacco bowl
The medium-size bowl is the best decision. The ideal tobacco chamber should not exceed 3.5 cm in length and 1.5 cm in width. Bigger bowls are heavy and not convenient to hold in the teeth, and their walls fail to get hot enough. But the benefit is that it fits well in the hand.
Filter
If you are going to fill your pipe with a scented herb mixture, it is better to choose a pipe with a filter as it will prevent discomfort to your tongue. The filter is softening smoking by absorbing the tar. But it also leads to additional costs for replacing the filter.
A tube with a cooler is more economical as you do not need to constantly buy filters. They are more popular.
A pipe without a filter gives a cooler smoking effect, and you need to know how to smoke it correctly not to get burned. However, this pipe does not affect the feel of the tobacco burning temperature.
Make material
Pipes made of fruit trees are fragile and not resistant to temperature influences. But they have an undeniable advantage – low cost. However, it is not a sign of high quality.
Foam pipes are very moisture- absorbing, and after smoking, the pipe is soaked with it. The pipe should be left to dry out rest before the next smoking.
Pipes made of such materials as ceramics or metal are not suitable for smoking at all. They will be a nice souvenir but not functional, unfortunately.
Briar pipes are considered the most appropriate tools for continuous smoking and are of good quality. If you have never smoked a pipe before, it is the best device to start with.
Video Tutorial: Churchwardens
Summary
If you are going to buy a pipe online, choose the trusted stores that value their reputation. You will be selecting a pipe based on the pictures. So make sure that you realize the correct size of the pipe. Reliable manufacturers always specify all pipe dimensions: length, weight, the capacity of the tobacco bowl, the presence or absence of a filter. To simplify this task, print out the pipe image in its true size and take a closer look.
Do not forget to purchase the necessary accessories for a tobacco pipe, as well as high-quality tobacco for smoking. Learn how to properly light, smoke, and care for your smoking device. And the pipe will bring you many hours of enjoyment.
---