---
ALASKA BEAR
Hole diameter: 0.892 in
Brushed stainless steel
Self-sharpening 2 blades
Colibri
60+ ring gauge cigars
Metal Alloy, Stainless Steel
V-Cut
Petutu
Blades diameter 22mm
High quality stainless steel
3 pack
Mrs. Brog
Hole Diameter 22.66 mm
Double Guillotine Blades
Stainless Steel Construction
Vertigo
Fits Up To 62 Ring Gauge
Plastic & Stainless Steel
Clean V Cut
Mantello Cigars
For the 60-ring smokes
Made of durable Plastic
Includes guillotine, v-cut
Mantello Cigars
Cuts up to 58 gauge
Sturdy Durable cutter
Guillotine Dual Blades
Cuban Crafters
Up To 80 Ring
Self-sharpening 2 blades
Stainless steel
Zertone
Cigar diameter of 23 mm
Self-sharpening 2 blades
Premium stainless steel
Colibri
For the 60+-ring smokes
V-Shaped Cutter
Stainless Steel Blade
---
Choose the Best Cigar Cutter
Customer's Choice: the Best Rated Cigar Cutters
91 users answered this survey. Please help us improve this review!

68.13% of users selected ALASKA BEAR, 24.18% selected Colibri, 1.1% selected Petutu, 3.3% selected Mrs. Brog and 3.3% selected Vertigo. Every month we analyze your answers and change our rating.
---
One of the most common mistakes of new cigar smokers is making poor cigar cuts. We share our thoughts on ten of the top cigar cutters. Then, we take the time to go over the three most popular cuts. With the right tools and a little practice, you can become a superior stogie slicer.
Alaska Bear Stainless Steel Cigar Cutter – Editor's Choice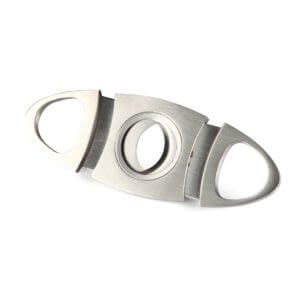 The Alaska Bear features a brushed stainless steel body with self-sharpening double blades. Its guillotine-like blades severe the caps of cigars with unmatched precision. The 0.892-inch hole is large enough to cut 60-gauge cigars.
The device stays clean and sharp after many cuts. It also comes with a drawstring gift bag.
---
Colibri V-Cut Cigar Cutter – Best Upgrade Option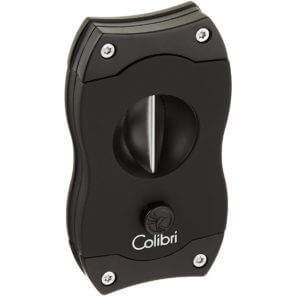 This V-shaped cutter will remove a small wedge from the cap of your stogie. The cutter's spring-loaded blade is housed in a durable plastic case. The cutter is perfect for 60-gauge cigars and torpedoes.
It has a great hand feel. Not to mention, it comes in a sleek black gift box. What's more, it is backed by a two-year warranty.
---
Three Pack of Stainless Steel Guillotine Cigar Cutters – Best Value Pack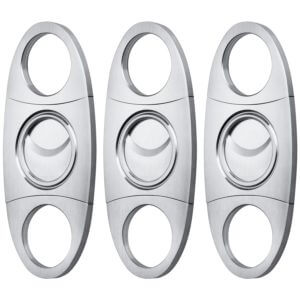 This three-pack of stainless steel cigar cutters is perfect for groomsmen gifts. Each cutter boasts a premium stainless steel body with a set of self-sharpening blades.
These cutters boast a traditional guillotine shape with ergonomic finger holes and a large cutting surface. These slicers are ideal for 50-gauge cigars. These cutters are so inexpensive, they are practically disposable.
---
Mrs. Brog Stainless Steel Cigar Cutter with Back Protector – Best Cutter and Protector Pair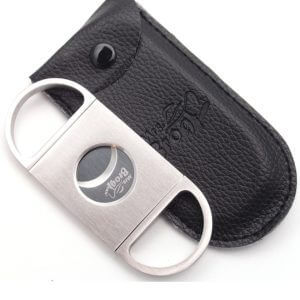 To start things off, we love that this stainless steel cigar cutter comes with a leather protector. The snap-button pouch preserves the cleanliness of the cutter when it is not in use.
This premium system boasts a pair of self-sharpening blades inside a hole with a 0.89-inch diameter. The device has rounded contours for a better finger feel. It also promises a premium end product. Stoke your stogie in style with Mrs. Brog.
---
Vertigo Victory V-Cut Cutter – Best V-Cut Cutter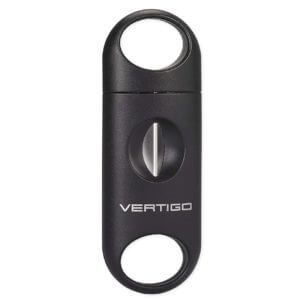 Whether are you are a new or experienced cigar smoker, you'll love the feel of this V-shaped cutter. The Vertigo boasts a sharp, high-pressure blade inside an ergonomic plastic housing.
It's priced to sell and comes with a lengthy manufacturer's warranty. It's not a luxury option, but it certainly gets the job done. Best of all, it will help you converse your funds for your cigar budget.
---
Mantello 3 Piece Cigar Gift Set – Best Cigar Cutter Gift Set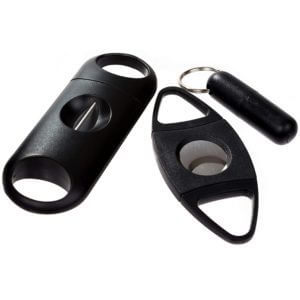 The Mantello Cigar Cutter Kit comes with plastic-housed guillotine, V-shaped, and punch cutters. All three of the pieces boast sharp, durable blades and black plastic shells. The punch cutter is even equipped with a key chain.
No stogie cap will survive the wrath of these three slicers. This set is exceptionally inexpensive. Why spend a fortune on one cutter when you could have three for less than the price of a stogie?
---
Mantello Cherry Wood & Stainless Steel Guillotine Cigar Cutter – Top Luxury Cigar Cutter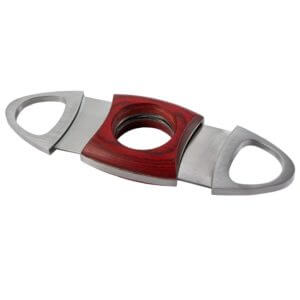 This cherry wood, stainless steel cigar cutter will be the envy of your friends. Its luxurious look is complimented by dual guillotine blades. The cutter's hole can accommodate 58-gauge and smaller stogies.
This device will severe the caps of your cigars in one fell swoop. It comes in a lovely black gift box, making in an excellent gift option.
---
Cuban Crafters Perfect Cigar Cutter – Best Cuban Cutter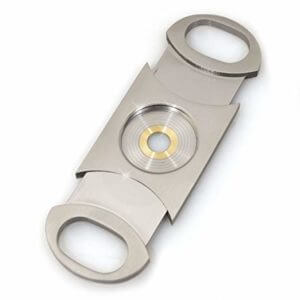 If you are a fan of Cubans, you'll love this extra-large cigar cutter. It has a hefty stainless steel body with a guillotine-shaped blade. This device can handle 60-gauge cigars.
It also makes quick work of small cigars, including petite coronas. This trusty metal slicer will not let you down. Thanks to its self-sharpening blade, you'll never have to worry about rips, tears, tags, or depressions.
---
Zertone Cigar Cutter Guillotine – Best Pocket-Sized Guillotine Cutter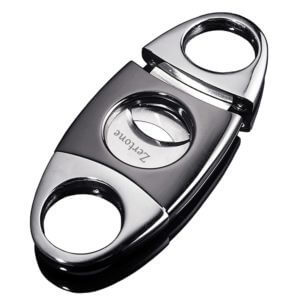 This gun smoke-colored stainless steel cigar cutter is the perfect piece to slip into your smoking jacket. Its durable, well-made design will have you prepared for evening parties and more.
This cutter has a 1-inch diameter, making it suitable for the largest of stogies. It also comes with an elegant gift box.
---
Colibri V-Cut Cigar Cutter – Most Ergonomic Option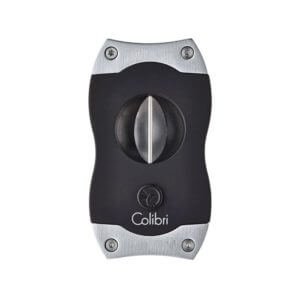 If you find traditional metal cigar cutters uncomfortable, you'll love the shape and feel of this spring-loaded alternative. Colibri has housed one of their most powerful V-cut blades inside a robust plastic housing.
The cutting action is fast, accurate, and consistent. What's more, the sleek metal presentation cannot be beat.
---
The Ultimate Guide to Buying a Cigar Cutter
What type of cigar cut do you enjoy? There are many tools available on the market in order to go ahead and cut your cigar, and the technique does vary in between all of them.
Straight Cuts
Most cigar aficionados use guillotine cigar cutters to perform straight cuts. These types of cutters remove the tips of cigars, leaving straight, flat surfaces behind. Straight cuts can be used on all different types of cigars.
Guillotine cigars have enclosed holes. Therefore, you must place close attention to their size limits. Most guillotine cutters have self-sharpening blades, ensuring a lifetime of cigar cutting excellence.
One downside of guillotine cigar cutters is that they do not provide users with depth control. As such, inexperienced cigar cutters may accidentally severe too much of their cigar caps.
V Cuts
V cuts are typically used on cigars with large diameters. These cutters create a deep wedge in the center of a cigar's cap. One advantage of a V-cut is that it sets the stage for a long, slow smoking experience. It is also a great option for beginners. Since the cut's depth is limited by the slicing mechanism, it is very hard to screw up this cut.
Punch Cut
Punch cuts are very similar to V cuts. Like V cuts, punch cuts work best on cigars with large diameters. While these cuts do not make for large draws of smoke, they certainly help smokers to savor every bit of their cigar experiences. These are available in a wide variety of diameters, 11 millimeters, 9 millimeters, 7 millimeters, all depending on how much drag or draw you want out of your cigar. To achieve a punch cut, go ahead and make sure that there's no tobacco in the blades. Hold it up against the cap of the cigar and twist. You want to go ahead and do that until the blade is fully inserted into the cigar, go ahead and pull it out and you will have an excellent clean cut.
Perfect cut
Now finally, you may have heard about something called the perfect cut. These are available, and they're very handy in the sense that you don't have to measure anything. It's going to give you a perfect cut every time. Here's a trick though, in case you don't have one of these, you can go ahead and grab any regular double guillotine cutter, grab the cigar, place it flat on the table, place the cigar flat on the table, and voila, you'll have the same effect.
FAQ Cigar Cutters
What is the best way to cut a cigar?
Through crushing or tearing the tobacco a dull blade may destroy a cigar and end up spoiling your overall smoking experience. Whatever weapon you use to cleanly hack through the leaves, the blade needs to be accurate.
Here are a few common cutting tools you may use for professional cigar cutting: 
A guillotine cutter with a single or double blade;

Special cigar scissors;

A punch for cigars;

A piercer;

A V-cut device;
Common sense would be to test a few different tools before finding the best cutter for your favorite cigars. After picking the right tool, make sure to cut properly: 
Prepare a cigar and tool for cutting.

You can see one of the thinner seams around its diameter if you look closely at the cigar's head. These prefer to lie, known as the shoulder, around the angled portion of the cigar's head to cover the end. This is named the cap and the intention is to cleanly extract it thus preserving a strip of flag leaf when cutting a cigar;

Place the blade right on the stogie,

just inside the end of the base. You want the blades to be placed a few millimeters from the cap's end;

Cut quickly.

Swiftly cut the cigar securely and easily for a safe, smooth smoking experience;
This technique refers to the "straight cut" method. One of the most popular and flexible methods available that can be done with guillotines, scissors or even sharp knives is straight cuts. Straight cuts may be applied for slicing both a rounded parejo and pointed figurado heads, unlike punches and V-cutters.
What side of the cigar should you cut?
On a fresh cigar, one end is already free, labeled "foot". A little piece of tobacco leaf that is distinct from the main wrapper encloses the other end, the "cap". Since the end of the cap of the cigar can go into your mouth, before you can smoke it, it must be sliced open.
The rounded end without the tobacco revealed is the cap end of a cigar, and this is the end one can often remove. The cap may be sliced with a knife or bitten off but the end of the cigar will not burn equally and the tobacco you will smoke will be wasted if the cap is sliced jaggedly or without caution.
Is it better to punch or cut a cigar?
The ideal outcome – a cigar ready for smoking – can be delivered both a cigar punch and cigar cutter. The two tools are quite different, but one is not greater than the other. It is solely a preference.
Compare both methods using such criteria: 
Type of cut.

The cap of the cigar is taken off by a cigar cutter, while a cigar punch produces a slight hole in the cap;

Features.

The majority of cutters are in the guillotine type, with the cap cut in a very rapid motion. The blades will be pushed into the cap with a cigar punch and twisted until a hole has been formed. Take out the punch after that;

Size of the hole.

For a cigar punch cutter, a 6-9 mm blade is the standard size. This is a very thin cut, as you would understand, so difficulties can emerge from not being able to move through the haze. The cap is cleanly cut off with a knife, which ensures that the cigar will create deeper and denser smoke;
Can you cut a cigar in half?
Slicing a cigar in half is something unthinkable for certain cigar smokers. Yet others tend to smoke the remainder of the cigar as much as they can and easily dispose of it. Of course, this can tend to be a little pricey for certain cigar smokers and is something that they really can not afford to do. Oh, then you should definitely attempt to break the cigar.
Bear in mind, though, that cutting a cigar in half will influence the cigar's taste and complexity, whereas most cigar smokers may not note any discernible change. 
Is it necessary to cut all the cigars in your collection?
Yes, before smoking, you can split the cigar. Why do you have a cigar to cut? Yeah, since nearly all quality cigars have a cap on the smoking end these days, and without cutting the cigar or more specifically, cutting the cap or head of the cigar, you can't bring the smoke from one end to the other.
Another response is that you've correctly sliced the cigar. You raise the likelihood that the wrapper would continue to unfurl if you were to cut off the whole cap or cut the cigar's head just above the cap. That is also the reason why all the cigars are sold uncut. 
How can you cut a cigar without a special cigar cutter?
If you are stuck without a cutter, there are many ways to clip your cigar:
Use a pocket knife

. You're in luck if you normally have a knife with you. Simply grip the cigar's head tightly in one palm, then position it about 1/16th of an inch from the top of the cap using the blade of your knife. Now, gently switch the cigar (in the wrapper's direction) and the cap should start to pop-off around 3/4 of the way around. You might consider putting the cigar on a rough flat surface if the knife is very sharp and chopping the cap off like you might a slice of pizza. Otherwise, you fear the head of the cigar getting cracked. Whether you happen to have a single-handled razor blade or a box cutter handy rather than a knife, each will perform almost as well;

Any sharp tool

. Simply "punch" the head of the cigar if you can locate a clean, pointing tool or a tiny screw. You may use a tiny yet solid twig if you're in a wooded place, but use a rock to refine the end first. Try a fishhook while you're fishing. Try to use a shattered shell while you are on the sandy beach, it should be easy to find;
In addition, you may bite off the tip of the cigar with your front teeth but this method is quite risky and requires some practice. 
How should you cut a real Cuban cigar?
There are 3 most popular methods for cutting genuine Cuban cigars: 
Pinch cut;

Bite with your teeth;

Use a cutter;
Experiment with different cutters until finding the best tool for cutting your Cuban cigars. You may want to invest in a few cheaper tools and practice on less expensive stogies before applying any new cutter to a real Cuban cigar. 
Video Tutorial: Chosing a Cigar Cutter
Final Thoughts
We hope you enjoyed our top ten cigar cutters. These tiny slicers are essential for special occasions. They help you prep your stogies for more enjoyable smoking sessions. A bad cap cut is the death of most rolls of tobacco. Enjoy the art of cigar cutting with the help of a quality carver. Let us know about your favorite cigar cutter by leaving a message in the comment section below.
---