---
BudPro
Silicone
Flavor Saving
3.85″ tall with a diameter of 3″
KITOSUN
Ceramic
High-quality
3.09 inch diameter
KITOSUN
Silicone
Flavor Saving
3.5″ Tall
KITOSUN
Silicone
Flavor Saving
3.5″ Tall
Vapor Hookah
Ceramic
Holds 35g of Shisha
4.25″ Tall
---
Choose the Best Hookah Bowl
Customer's Choice: the Best Rated Hookah Bowls
34 users answered this survey. Please help us improve this review!

52.94% of users selected BudPro, 23.53% selected KITOSUN Clay Ceramic, 8.82% selected KITOSUN Silicone, 14.71% selected KITOSUN with Big Hole and 0% selected Vapor Hookah. Every month we analyze your answers and change our rating.
---
The heart and the soul of every hookah are a bowl. Of course, other elements of this magic construction, which brings you indescribable pleasure, affect your smoking session a lot as well. However, exactly the shape, material, and volume of the bowl define the taste you feel while smoking and the duration. 
Have a detailed look at the types of hookah bowls to understand all the peculiarities. First, be attentive in the choice of material. The bowls are typically produced from clay, ceramics, silicone, metal, glass, and stone.
In the comparison table below you will find 5 hookah bowls recommended by smokers. With the guidelines and tips look at the pros and cons and make the choice, which meets all your expectations. 
BUDPRO Silicone Phunnel Hookah Bowl– the best for care and use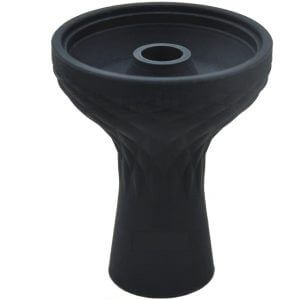 This BudPro hookah bowl is made from durable food-grade silicone with one air hole in the center.
The typical phunnel design retains shisha juices and lengthens your smoking. It is fully washable and very easy to care about.
This bowl is perfect for Lotus. It works great as a replacement and fits perfectly. The price is very affordable. The silicone is soft and doesn't maintain the shape. It's uncomfortable to use regular foil.
---
KITOSUN Ceramic Hookah Bowl– the best for huge smoky clouds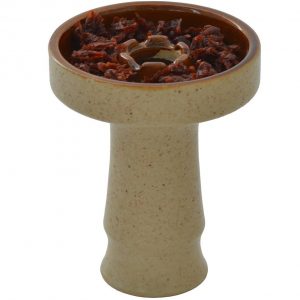 This ceramic bowl covered with glaze keeps the original taste of your hookah. The high-quality durable material is heat resistant and taste-neutral.
The glaze covering makes cleaning incredibly simple, just rinse it with running water.
The construction of the bowl with one air hole and six gaps allows you to enjoy huge clouds of smoke.
The construction has six gaps built in a circle in the center of the bowl. It allows you to produce large clouds of smoke and makes packaging shisha extremely easy.
---
KITOSUN Silicone Phunnel Bowl with 7 holes– the best for smoking wet shisha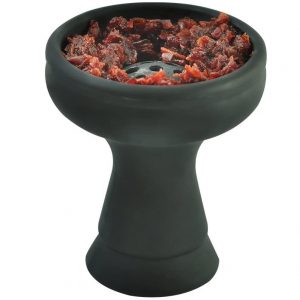 The multi-hole design of this silicone bowl keeps the shisha juices inside and is ideal for smoking wet tobaccos.
It doesn't absorb odors and flavors. The piece is totally unbreakable, durable, and strong. Your only business is to enjoy the pure long-lasting taste of your shisha. 
Before the first use, it is recommended to wash the head thoroughly or to place it in hot water for some time. It is ready to use as it doesn't need a grommet. You can use a bowl with a regular foil. 
---
KITOSUN Silicone Phunnel Bowl with one hole– the best for functionality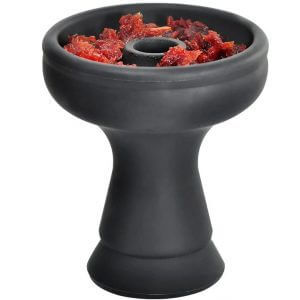 This simple and functional silicone phunnel bowl has one big hole in the center. It is easy to pack shisha and to clean after smoking just with the running water.
The innovative durable and strong material can withstand any falls and will serve as the right replacement for your old clay or ceramic bowl.  
The bowl holds up to 20 30 g of shisha. It depends on how you pack it. Silicone heats up faster than clay or ceramics and saves your shisha and coals. 
---
VAPOR Utopia Funnel Bowl– the best for the unique design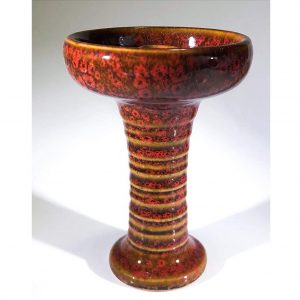 Utopia bowl has a unique customized design. It looks beautiful and comes in different colors. It works perfectly and makes your smoking very smooth.
The phunnel shape of the bowl keeps shisha juices inside and gives the pure long-lasting taste of tobacco.
It heats up fast and gets very hot. Don't use a lot of charcoal cubes with this bowl because you can burn your tobacco. Two large cubes and double foil will do great.
---
The Buyer's Guide
Types of hookah bowls
Clay
The top position is occupied by clay bowls. This material was used from the very birth of hookah smoking and is not losing its position now. It is very affordable. Thanks to its heat-keeping properties the thick walls give away the warmth effectively for a long time. Clay takes a lot of heat, so it is recommended to use foil or a cap to cover the bowl top.
Tobacco does not stick to the walls and does not taste bitter. However, the smoke is a little dry and you can't always feel the taste of the chosen shisha fully.
Clay is a porous material. So, allow a separate bowl for each taste to enjoy the purity of the taste. Glazed clay suits tobaccos soaked in syrup better. This coating prevents the bowl from absorbing the syrup and old odors. 
Ceramic
Ceramics is clay, covered with a glaze. The main advantage and the difference between clay and ceramics are that the glaze prevents the saturation of the material with previous odors. Glazed walls will not darken with use and always look amazing. It is simple to wash, just rub well with a hard sponge. Dishwashing is also possible. Still, special detergents may be the easiest way out. Pour and leave the solution for a few minutes, rinse, and dry.
Ceramics and clay feature fragility. They can break if dropped, slipped while washing. Bowls made from ceramics are less heat resistant than clay bowls. This often contributes to the burning of tobacco. To avoid this, it is recommended to put a foil ring on top. 
Silicone
This material warms up quickly and does not allow the shisha to burn. They are the best in terms of operation. They are easy to wash, not exposed to temperatures, and do not absorb odors.
Silicone does not break, it is put on immediately on the hookah and holds on tightly.
Food grade silicone has become a great alternative to traditional clay and ceramic bowls. Such bowls are strong and unbreakable and not sensitive to temperature changes. They're perfect for traveling and don't need any packing or other safety measures. They are effortless in washing, dishwashing is also possible. They don't require additional seals.
Metal
Bows made of metal are pretty rare. As for advantages, they are strong, reliable, durable, and easy to maintain. Remember that the quality of the material plays an important role here. You can start with stainless steel, though the higher quality, the better. A rusting hookah bowl does not please anyone. To increase durability some manufacturers use special metal inserts for silicone bowls.
Some metal bowls have a complicated construction with two levels for heating tobacco and coals separately on different levels. No foil is needed. Usually, coals are located below the shisha, with an option to adjust the height of the stand. Thus you can easily monitor and regulate the burning of shisha and the duration of your smoking session. The only significant problem with metal bowls is the difficulty to refill them as they are very hot.
Borosilicate glass
The material is very smooth which guarantees easy cleaning and looks gorgeous and new with proper care and delicate use. No odors are absorbed, so you can enjoy the pure taste of your shisha. However, it has one obvious drawback – fragility.
Stone
Bowls made of stone perhaps all the least common. are not as common as other types. This material is eco-friendly and extremely reliable. Stone accumulates heat and then gives it away gradually providing unbelievable long smoking experiences, especially with heat-resistant tobacco. 
 Other tips for buyers of hookah coals
Bowl depth is a parameter that increases the duration of the smoking process.

Cooling ceramic hookah bowls under cold water is categorically contraindicated. The bowl can crack.
Video Tutorial: Hookah Back to Basics: Hookah Bowls
Conclusion 
A bowl is the heart of your hookah. If you are looking for a replacement think of the most popular types such as clay, ceramic, or silicone. Such materials provide the durability of your bowl and the excellent taste of your shisha.
---