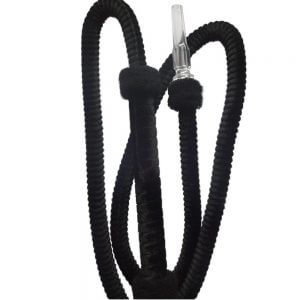 78" inch length
Fully washable
Durable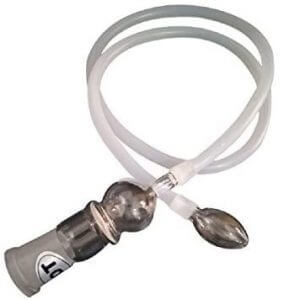 40" inch length
Silicone
18mm Glass Head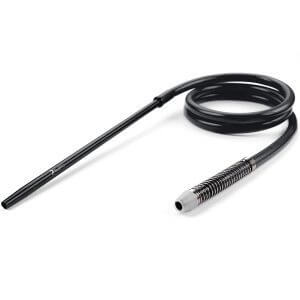 72" inch length
Sturdy
Aluminum Handle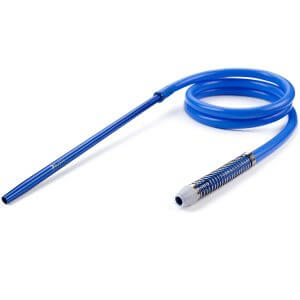 72" inch length
Sturdy
Aluminum Handle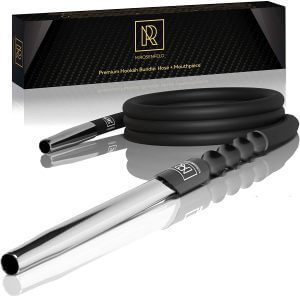 60" inch length
Modern Design Handle
Ideal gift
---
Choose the Best Hookah Hose
Customer's Choice: the Best Rated Hookah Hoses
30 users answered this survey. Please help us improve this review!

46.67% of users selected Rocsai, 6.67% selected Pits Green, 6.67% selected BudPro Black, 10% selected BudPro Blue and 30% selected M. ROSENFELD. Every month we analyze your answers and change our rating.
---
The range of hookah hoses impresses with its variety of shapes, colors, materials and other characteristics. A hookah, like any personal thing, is a reflection of its owner. Before you choose the hose which suits you and start enjoying a pleasant evening filled with fragrant smoke pay attention to several peculiarities.There are a few types of hookah hoses: silicone, leather, or plastic. It affects the airflow, durability, general look, the taste, and possibilities of cleaning and care. The material of a mouthpiece also matters. It can be metal, wooden, plastic, or glass. Compare the upsides and downsides of every hose and determine your preferences.
Below is the comparison table with 5 hookah hoses pointed out by experienced smokers to help you make your choice. General guidelines and recommendations explain all the details.
ROCSAI Hookah Hose – the best for excellent airflow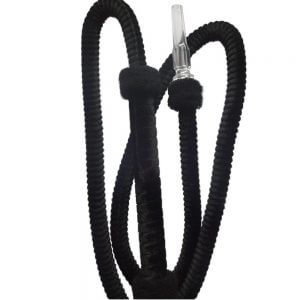 This Egyptian style modern looking hose is available in a range of bright colors. It is made of durable materials but feels very soft like velvet. It is 2 meters in length and produces an excellent airflow due to a wide gauge.
Enjoy your favorite shisha with smooth and easy smoking. The hose is comfortable and pleasant to hold, is durable and well constructed. This item is washable and excludes ghost odors.
Pros
Long and comfy
Looks like velvet outside
Soft and pleasant to touch
Made from reliable materials
An acrylic mouthpiece
Great airflow due to a wide gauge
Smooth and easy smoking
A universal detachable mouth tip
Fully washable
An attractive price
Cons
The mouthpiece is not durable, it can crack easily
Looks cheap and low quality
Falls apart
The airflow is exceptional due to a wide gauge of the mouthpiece, so you can enjoy smooth smoking and a full taste of shisha. The mouthpiece doesn't look very reliable. It is not recommended for frequent and heavy use.
---
PITS GREEN Pitara Hose – the best for desktop aromatherapy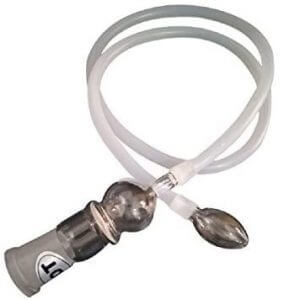 This silicone hose is a great replacement for your old hookah horse and desktop aromatherapy. The attachments are made from borosilicate refine glass.
It fits most models of hookahs.
The silicone and the glass are clear and fully washable which makes it comfortable to use.
Pros
Medium length – 40"
A universal size – suits most hookahs
5 extra replacement screens are included
Fully and easily washable
Made from silicone
Attachments are made from borosilicate refine glass
The screen is 1" in diameter
Cons
The whip is not hands-free
Low quality
The glass is thin
It's practically impossible to fit a new screen into the glass. You have to push it through, which is a real headache. First, it must be folded in thirds and dropped. The typical recommendation is to replace the glass whip. They are cheap. The glass usually spoils before you have to change the screen.
---
BUDPRO Black Hookah Hose – the best for comfy group smoking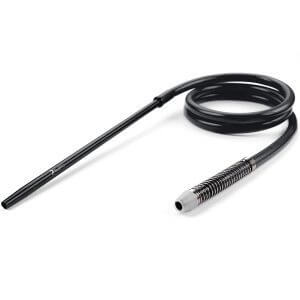 The hose is very long 72 inches in total and serves great for group hookah smoking. High-quality silicone and aluminum elements are heavy and sturdy. The ergonomic design is one more advantage.
The modern and stylish BudPro silicone hookah hose is very user-friendly. Starting from the reliable materials, it is made from, and proceeding with a unique design the hose makes your smoking experience unforgettable. It has a special spring to prevent your hose from bending.
Pros
Very long
Great for group smoking
User-friendly and smart looking
Strong and heavy
A high tech aluminum handle
Premium quality medical grade silicone
Washable and easy to clean
Won't bend or fold due to a built-in spring
Don't retain previous flavors
Excellent airflow
Comes with rubber diffusers for quieter and easier smoking
Long-lasting
Pleasant grip
A great bargain
30-day money back guarantee
Cons
Holds a lot of static charge and picks all debris
Has a metallic taste when smoking
Instructions are missing
The hose is made of high-quality silicone and is easy to clean. Rinse it with hot water and let it dry. It is very long and heavy. Be careful to store it with your hookah, especially if you have a glass one. It will look amazing with glass or traditional devices.
---
BUDPRO Blue Hookah Hose – the best for a modern exclusive look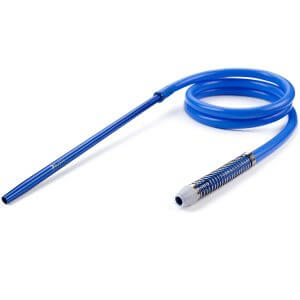 This large blue silicone with aluminum hose looks modern and exclusive with its minimalist design.
The durable and reliable piece was made with an idea to serve for years. Smooth and light smoking is achieved due to high-quality materials and construction.
Pros
Nice blue color
Premium quality medical grade silicone
Washable and easy to clean
Very long and perfect for group smoking
User-friendly and has a pleasant grip
A high tech aluminum handle
Won't bend or fold due to a built-in spring
Don't retain previous flavors
Strong and heavy
Excellent airflow
Long-lasting
A great bargain
30-day money-back guarantee
Cons
Smells rubber
Too expensive
Instructions are missing
The springy part is removable, so it won't bother you when you clean the piece. It performs an important function – it prevents the hose from folding and improves the airflow. Smoking is smooth and easy.
---
M. ROSENFELD Premium Hookah Hose– the best for universal use and premium quality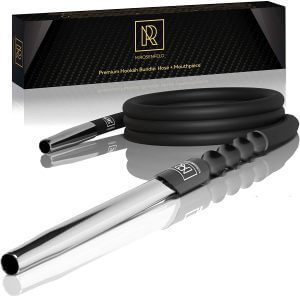 Premium German quality hose is ideal to replace an old stinky one that doesn't do the job anymore. It is odorless, washable with an ergonomic but light handle. You don't have to worry as a universal connector suits all hookahs.
It comes in a complete set with the hose, the mouthpiece, and the hose adapter. A rubber grommet is still needed. A premium quality item with a lovely packaging makes it an ideal gift for hookah lovers.
Pros
Premium quality dust-free silicone
Includes the hose, mouthpiece, and adapter
Rust-free solid aluminum handle
Elegant design
Washable and easy to clean
Perfect airflow
No ghost or old flavor taste or smell
Universal connector suits all hookahs
No rust, toxins, or harmful metal particles
Long and heavy hose
Ergonomic but light handle
Cons
The diameter of the pipe is big, which makes the draw easy and smooth. The clouds of smoke are dense and milky. The piece is long and very comfy but it is recommended to buy a spring wire coil to fix the hose.
---
The Buyer's Guide
A hookah hose plays not only an aesthetic role but also performs important functions. The quality of airflow and the transfer of taste depend on it. Some types of hoses allow additional cooling of the smoke.
Types of hoses
Silicone 
They are the most popular today. They have many advantages: they do not absorb odors and wash well. Such hoses have a large diameter, which does not spoil the hookah airflow. If you opt for a silicone hose, choose a colored one, because transparent hoses turn yellow over time.
Leather
Many hookah lovers prefer their look. However, such hoses cannot be washed, as the skin deteriorates from moisture. They also easily absorb odors, which means that after a certain period of time you will have to replace the hose not to spoil the quality of hookah smoking.
Silicone covered with leather
A compromise between the first two types. The classic look and modern quality.
Plastic
They are the cheapest of all, but they are not very popular. They are easy to clean, but it is worth making sure that the hose does not bend.
Mouthpieces are also produced from different materials. The most practical ones are plastic. They do not absorb odors, do not wear out, but the aesthetic appearance is not the best – they look cheap. 
Metal mouthpieces are much more popular due to their appearance. They are pleasant to hold and additionally cool the smoke. 
Fans of exclusive items choose a wooden accessory, they are often handmade or by individual design. But in spite of the metal tube inside, such a mouthpiece becomes unusable faster than others, because the wood crumbles. 
Another option for the material for manufacturing is glass, it looks interesting but remember about the basic safety rules when handling fragile objects.
 Other tips for buyers of hookah hoses
Whichever type of tube you choose, it must be sealed. To check this, you need to close one hole and blow it into another. If there is a sound of escaping air, it means that the tightness is broken, therefore, it is not suitable for use.

Short hoses are inconvenient especially when a company has gathered to smoke a hookah.

The diameter of the tube must be wide enough to create good airflow. The hookah will light up much faster, and the smoking will be easier and more enjoyable.

An important characteristic of the hose is the ability to wash it. If they are not washable they quickly absorb odors and therefore have a short useful life.
Conclusion 
All these fully washable and easy to use hookah hoses will make a wonderful replacement for your old hose. The length makes them comfortable for group smoking and the diameter of the pipes improves the airflow and guarantees a smooth and easy draw. High-quality materials, a smart user-friendly design allow you to relax and never regret your choice. 
---
Video Tutorial: Hookah Back to Basics. Choosing a hookah hose
---