---
Rocsai
78″ inch length
Fully washable
Durable
Pits Green
40″ inch length
Silicone
18mm Glass Head
BudPro
72″ inch length
Sturdy
Aluminum Handle
BudPro
72″ inch length
Sturdy
Aluminum Handle
M. ROSENFELD
60″ inch length
Modern Design Handle
Ideal gift
---
Choose the Best Hookah Hose
Customer's Choice: the Best Rated Hookah Hoses
35 users answered this survey. Please help us improve this review!

51.43% of users selected Rocsai, 8.57% selected Pits Green, 5.71% selected BudPro Black, 8.57% selected BudPro Blue and 25.71% selected M. ROSENFELD. Every month we analyze your answers and change our rating.
---
The range of hookah hoses impresses with its variety of shapes, colors, materials and other characteristics. A hookah, like any personal thing, is a reflection of its owner. Before you choose the hose which suits you and start enjoying a pleasant evening filled with fragrant smoke pay attention to several peculiarities.There are a few types of hookah hoses: silicone, leather, or plastic. It affects the airflow, durability, general look, the taste, and possibilities of cleaning and care. The material of a mouthpiece also matters. It can be metal, wooden, plastic, or glass. Compare the upsides and downsides of every hose and determine your preferences.
Below is the comparison table with 5 hookah hoses pointed out by experienced smokers to help you make your choice. General guidelines and recommendations explain all the details.
ROCSAI Hookah Hose – the best for excellent airflow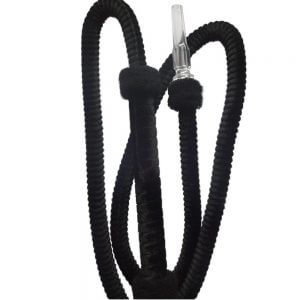 This Egyptian style modern looking hose is available in a range of bright colors. It is made of durable materials but feels very soft like velvet. It is 2 meters in length and produces an excellent airflow due to a wide gauge.
Enjoy your favorite shisha with smooth and easy smoking. The hose is comfortable and pleasant to hold, is durable and well constructed. This item is washable and excludes ghost odors.
The airflow is exceptional due to a wide gauge of the mouthpiece, so you can enjoy smooth smoking and a full taste of shisha. The mouthpiece doesn't look very reliable. It is not recommended for frequent and heavy use.
---
PITS GREEN Pitara Hose – the best for desktop aromatherapy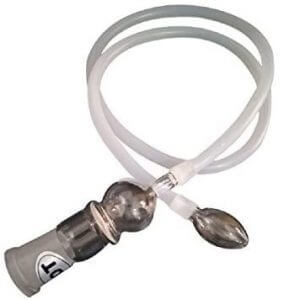 This silicone hose is a great replacement for your old hookah horse and desktop aromatherapy. The attachments are made from borosilicate refine glass.
It fits most models of hookahs.
The silicone and the glass are clear and fully washable which makes it comfortable to use.
It's practically impossible to fit a new screen into the glass. You have to push it through, which is a real headache. First, it must be folded in thirds and dropped. The typical recommendation is to replace the glass whip. They are cheap. The glass usually spoils before you have to change the screen.
---
BUDPRO Black Hookah Hose – the best for comfy group smoking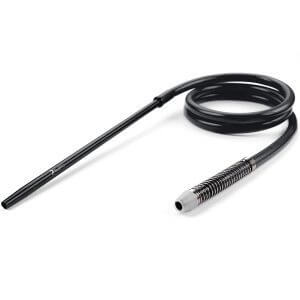 The hose is very long 72 inches in total and serves great for group hookah smoking. High-quality silicone and aluminum elements are heavy and sturdy. The ergonomic design is one more advantage.
The modern and stylish BudPro silicone hookah hose is very user-friendly. Starting from the reliable materials, it is made from, and proceeding with a unique design the hose makes your smoking experience unforgettable. It has a special spring to prevent your hose from bending.
The hose is made of high-quality silicone and is easy to clean. Rinse it with hot water and let it dry. It is very long and heavy. Be careful to store it with your hookah, especially if you have a glass one. It will look amazing with glass or traditional devices.
---
BUDPRO Blue Hookah Hose – the best for a modern exclusive look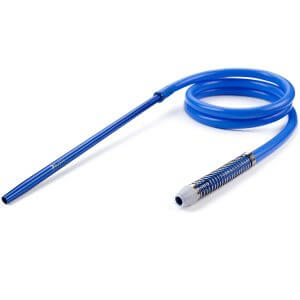 This large blue silicone with aluminum hose looks modern and exclusive with its minimalist design.
The durable and reliable piece was made with an idea to serve for years. Smooth and light smoking is achieved due to high-quality materials and construction.
The springy part is removable, so it won't bother you when you clean the piece. It performs an important function – it prevents the hose from folding and improves the airflow. Smoking is smooth and easy.
---
M. ROSENFELD Premium Hookah Hose– the best for universal use and premium quality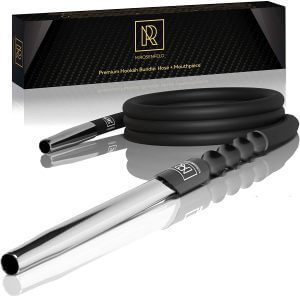 Premium German quality hose is ideal to replace an old stinky one that doesn't do the job anymore. It is odorless, washable with an ergonomic but light handle. You don't have to worry as a universal connector suits all hookahs.
It comes in a complete set with the hose, the mouthpiece, and the hose adapter. A rubber grommet is still needed. A premium quality item with a lovely packaging makes it an ideal gift for hookah lovers.
The diameter of the pipe is big, which makes the draw easy and smooth. The clouds of smoke are dense and milky. The piece is long and very comfy but it is recommended to buy a spring wire coil to fix the hose.
---
The Buyer's Guide
A hookah hose plays not only an aesthetic role but also performs important functions. The quality of airflow and the transfer of taste depend on it. Some types of hoses allow additional cooling of the smoke.
Types of hoses
Silicone 
They are the most popular today. They have many advantages: they do not absorb odors and wash well. Such hoses have a large diameter, which does not spoil the hookah airflow. If you opt for a silicone hose, choose a colored one, because transparent hoses turn yellow over time.
Leather
Many hookah lovers prefer their look. However, such hoses cannot be washed, as the skin deteriorates from moisture. They also easily absorb odors, which means that after a certain period of time you will have to replace the hose not to spoil the quality of hookah smoking.
Silicone covered with leather
A compromise between the first two types. The classic look and modern quality.
Plastic
They are the cheapest of all, but they are not very popular. They are easy to clean, but it is worth making sure that the hose does not bend.
Mouthpieces are also produced from different materials. The most practical ones are plastic. They do not absorb odors, do not wear out, but the aesthetic appearance is not the best – they look cheap. 
Metal mouthpieces are much more popular due to their appearance. They are pleasant to hold and additionally cool the smoke. 
Fans of exclusive items choose a wooden accessory, they are often handmade or by individual design. But in spite of the metal tube inside, such a mouthpiece becomes unusable faster than others, because the wood crumbles. 
Another option for the material for manufacturing is glass, it looks interesting but remember about the basic safety rules when handling fragile objects.
 Other tips for buyers of hookah hoses
Whichever type of tube you choose, it must be sealed. To check this, you need to close one hole and blow it into another. If there is a sound of escaping air, it means that the tightness is broken, therefore, it is not suitable for use.

Short hoses are inconvenient especially when a company has gathered to smoke a hookah.

The diameter of the tube must be wide enough to create good airflow. The hookah will light up much faster, and the smoking will be easier and more enjoyable.

An important characteristic of the hose is the ability to wash it. If they are not washable they quickly absorb odors and therefore have a short useful life.
FAQ
Does hookah hose make a difference?
Yes, the type of hose you use can make a big difference in your smoking experience. Some hoses work better with certain hookahs or shisha brands, so it's important to do some research before you buy one.
There are three main types of hookah hoses: washable silicone hoses, disposable hoses, and high-end hoses. Below you'll find the benefits of each type!
Washable Silicone Hose: Washable silicone hoses are a great bang for your buck. They cost less than $20, but they work just as well as more expensive models. These hookah hoses can last up to two years with regular cleaning, and they're easy to keep in good condition.
Silicone hoses are also a great choice for beginners because they're less likely to give you harsh smoke. If you want an affordable, durable hose that will last for a while, go with a silicone model!
Disposable Hose: Disposable hoses are a great option if you're looking for a quick and easy way to set up your hookah. These hoses usually cost around $15, and they're ready to use right out of the box.
Disposable hoses are made from plastic or paper, so they won't last as long as silicone hoses. But they're a great option if you need a quick replacement hose or if you're traveling and don't want to bring your expensive model with you.
High-End Hose: If you want the best smoking experience possible, then you should invest in a high-end hookah hose. These hoses are usually made of silicone, and they're designed to work with all types of shisha. They have a smooth draw that makes it easy for you to take big hits without coughing!
High-end hoses also come in different colors and styles, so if you want something unique from your hookah, this is the way to go.
Can you wash the hookah hose?
Yes, you can wash your hookah hose with warm water and soap. Silicone hoses are the easiest to clean – just use a brush or your fingers to get all the tobacco residue out of the hose. Be sure to dry your hose before using it again!
If you have a disposable hose, be sure to throw it away after a few uses. If you have a high-end hose, be sure to read the instructions before cleaning your hookah hose!
Can you clean a hookah hose?
Yes, you can clean a hookah hose by using warm water and soap. Be sure to rinse the hose thoroughly before use.
It is very important to clean your hookah hose regularly.
Do not use harsh soaps or detergents, as they may damage the rubber on your hookah hose. Also, avoid using bleach and other chemicals that could be harmful to you and/or the environment.
Are hookah hoses universal?
Hookah hoses are not universal. They can only fit certain hookahs, so it's important to know whether your hose fits the hookah you bought. Some of them have a detachable end which makes them easier to replace with other parts like mouth tips or handles, but most of these cannot be used on any other hookahs.
Some hoses are made with a universal adapter that will fit any hookah, but they can be hard to find. If you're looking for a hose that will work with any hookah, make sure to do your research before purchasing one. There are many different types of hoses on the market, so it's important to find the right one for you.
Hookah hoses come in a variety of sizes, colors, and materials. You can find hoses made from plastic, silicone, or even leather. Some come with colorful designs while others are clear or translucent. Silicone hoses are known for being durable and heat resistant, while leather hoses are often considered the most luxurious.
Hookah hose length is also an important factor to consider. The longer the hose, the easier it will be to smoke from. However, long hoses can also be more difficult to store and transport. It's important to find a hose that's the right size for you.
If you're looking to buy a hookah hose, it's important to make sure that it will fit your hookah before purchasing one. Otherwise, you might end up with an accessory that doesn't work or look the way you expected it to. You can find many different kinds of hoses on the market, so make sure to do your research and choose one that will work best for you.
How often should you change your hookah hose?
It's recommended that you change your hookah hose every two to three months. This will help keep your smoke fresh and flavorful. A worn-out hose can also cause health problems, so it's best to stay on top of things and swap them out regularly.
If you're not sure if it's time for a new hose, here are a few signs to look out for:
The hose is discolored or stained.
There's evidence of mold or mildew.
The hose feels brittle, stiff, or dry.
Smoke doesn't taste as good as it used to.
If you're in the market for a new hookah hose, we've got you covered. We carry a wide variety of hoses in all shapes and sizes, so you're sure to find one that's perfect for your setup.
Are 2 hose hookahs good?
These days, smokers tend to prefer something that produces bigger clouds. This is why they like using a two-hose hookah or even more than that. Hookahs give off larger amounts of smoke and this means the smoker can get a better smoking experience when he uses one with multiple hoses as opposed to just one hose. The average size for a hookah is 18 inches, but there are also larger ones that can measure up to 30 inches.
The best way to find out if a two-hose hookah is good for you is by trying it out first. You can buy one of these hookahs online or in a physical store. If you're looking for something specific, then make sure to do your research and find the best deal.
When it comes to two-hose hookahs, there are a few different types that you can choose from. The most common type is the Egyptian style, which has a round base and a long hose. There's also the Syrian style, which is similar to the Egyptian style but has a different design. The third type is the Chinese style, which has a cylindrical base and usually comes with a shorter hose.
The best thing about using multiple hoses on your hookah is that it allows you to share the smoking experience with your friends. You can all take turns smoking from the same pipe and this makes for a more enjoyable experience. It's also a great way to socialize and make new friends.
How to connect hookah hose?
There is no one-size-fits-all answer to this question, as the best way to connect a hookah hose will vary depending on the type of hose and hookah you are using. However, in general, there are three popular ways to connect a hookah hose: directly to the bowl; through a valve on the body of the hookah; or to a hose adapter.
If you are using a traditional, cloth-covered hookah hose, you will typically connect it directly to the bowl. If you are using a silicone or plastic hose, you may need to use a valve on the body of the hookah in order to create an airtight seal.
If you have a hose adapter, this is the best way to connect your hookah hose as it allows you to use any type of hookah hose with a traditional bowl or through a valve on the body of the hookah. Hose adapters are used by placing them over an opening in the top of your base; the hose is then inserted into the adapter and secured in place with a rubber band or clip.
How to fix hookah hose?
The first rule of fixing a broken hookah hose is to not panic! You always have options, and you mustn't rush into any decision until you know what your real problem is. If your friend doesn't want to fix the hose for some reason, there are still other ways out for you.
Here are a few things you can try out to fix your hose:
Use ketchup or mustard. This is an old-school trick that works wonderfully. All you have to do is put some of the condiments in both ends, and leave for about 20 minutes. Then when it dries up, just add more until it's fully saturated.
Use a lighter. If you have a lighter, this is a very easy way to fix your hose without any mess or fuss. Hold the flame over the hole until it seals up, and then wait for it to cool down before using it again.
Rubber band method. This is one of the more complex methods, but it can also be very effective. Here's what you need to do:
Get a rubber band and stretch one end of the hose through the other end. Then hold both ends with your hands in opposite directions at once. Once they are in place, pull outwards while simultaneously pushing them together so that the air is forced through the hole. This might take a few tries, but it's worth it when it works!
If you have a broken hose and don't want to try any of these methods, you can always buy a new one. There are many different types of hookah hoses available on the market, so finding the right one for you shouldn't be too difficult. Just make sure you do your research before buying, so you know what to look for.
How to make hookah hose stay?
There are a few ways to make your hookah hose stay in place. One is to use Velcro or rubber bands to keep it attached to the stem. You can also purchase a hose holder, which will keep your hose in place and organized. If you have a particularly long hose, coil it up and attach it with tape or a rubber band.
Make sure the hose is attached to the hookah in a way that it won't move around too much. If your horse moves, you risk getting water or smoke into your mouth which will ruin your session and make for an unpleasant experience. You don't want this! Make sure everything stays nice and tidy so you can enjoy your smoking experience.
How to make a hookah hose?
You need a hookah hose, some rope, and a bag. Cut the strap from the bag (the one that holds it closed), then tie an end of the rope to each side of it.
Then you put your hand in between both ends as shown below: Then pull hard on both sides like this: This will make the bag form a circle. Now take the other end of the rope and tie it around something sturdy, like a tree or post.
Make sure the rope is tight so the bag doesn't move. Now you can put your tobacco and coals in the bag.
The final step is to make the hose come through the hole in the top of the bag. Cut a small hole (about an inch wide) in the top of the bag, then poke one end of the hose through it.
How to unclog hookah hose?
One way to unclog a hookah hose is to use a vacuum cleaner. Attach the hose of the vacuum cleaner to the clogged end of the hookah hose and turn it on. The suction should dislodge any obstruction in the hose. If this does not work, you can try using a plunger. Cover the end of the hose with the plunger and push and pull it up and down. This should create enough suction to dislodge any clogs. If neither of these methods works, you can try pouring hot water through the hose. Pour a pot of boiling water into the hookah bowl and let it sit for a few minutes. The hot water will loosen any clogs and allow you to clear them with a plunger.
If none of these methods work, you may need to replace the hose. Contact your local hookah shop for assistance in finding the right hose for your hookah. They will be able to help you find the perfect fit and make sure that it is compatible with your hookah.
How to make a hookah hose at home?
The first question that comes to mind is how to make a hookah hose at home? The good news is it's not too difficult and there are a few different ways to do it. Let's take a look at the easiest way first.
Take an old vacuum cleaner tube and cut off one end. Be careful not to cut it too short otherwise, the loop will be too small and you won't get a good seal. You can also use an old garden hose or one of those long rubber hoses used for watering plants.
The other possibility is to go down to your local hardware store or home improvement center and buy some flexible plastic tubing (like the kind used for washing machines). Most hardware stores sell this in various lengths and sizes. This can be a little pricier but you're likely to find more options available than with vacuum cleaners or garden hoses, which are often quite limited.
What is a hookah hose made out of?
A hookah hose is made out of a rubber material which makes it easy to handle and gives the user total control over the airflow.
The best hookah hoses are available in various lengths, colors, materials, and features. There are also different types of hookahs with one common thing among them – they all have a separate pipe for smoking tobacco.
The hoses come in different sizes and colors, but the most important factor is the material it is made out of. The best hookah hoses are usually made from silicone rubber which gives you a good grip and makes it comfortable to use. It also prevents the accumulation of moisture, making it easier to clean. Some hoses also come with a built-in valve that allows you to control the airflow.
What is a hookah hose adapter?
A hookah hose adapter is used to connect your traditional tobacco pipe, such as a shisha or waterpipe (hookah), with the glass base that you use for smoking. Hookah hoses are often made of plastic and can be either detachable or permanently attached to the pipes. The best ones have an extra-long length so that smokers don't have to bend down, allowing them to smoke comfortably.
Hookah hose adapters allow different types of tobacco pipes, such as a shisha or waterpipe (hookah), and glass bases with bowls that are used for smoking, to be connected so they can all share the same flow of air from your hookah's bowl.
How to set up a hookah hose?
Step One. To start, you should get a hookah hose that is sturdy and lightweight at the same time. If your hose isn't heavy enough it can slip out of place or even break under pressure while smoking. The sturdiness will ensure maximum durability when you are being rough with the hose during setup and cleaning so be sure to find a balance.
Step Two. The next step is attaching the hose to the bowl. This process can be tricky if you have never done it before so pay close attention. First, make sure that the metal screen is in place at the top of the bowl and facing down towards the tobacco. Then, take your hose and fit the metal end of it into the small hole at the top of the bowl. It should fit snugly and securely so that it doesn't move around when you are smoking.
If you have a hose with a built-in valve, make sure that it is in the open position before attaching it to the bowl. If you don't, the hose may become clogged when you are smoking and it could ruin your entire session.
When attaching a hookah hose to an Egyptian bowl, make sure that you have the right size of hose for it as well. If not, then the opening in this type of bowl will be too small for a standard-sized hookah hose and you will have to use an adapter.
Step Three. The next step is filling up the base of the hookah with water. You should always do this before smoking to prevent the tobacco from burning too quickly. The general rule of thumb is to fill up the base until the water reaches halfway up the stem of the hookah. You can always fill it up more if you want but make sure that you don't overfill the base or else your hookah could become too heavy and fall apart.
Step Four. The final part of setting up a standard-sized hookah involves packing the bowl with tobacco so that you are ready to smoke. There is no one right way to do this, so just experiment until you find a packing method that you are comfortable with. Once the tobacco is in place, put on the hose and start smoking!
Why is the hookah hose not pulling?
There could be a few reasons why the hookah hose is not pulling. One reason might be that something is blocking the airflow, such as food or tobacco residue. Another possibility is that the hose itself is clogged. If neither of these seems to be the problem, it's possible that the gasket inside the hookah head has worn out and needs to be replaced.
To determine which of these might be the issue, start by cleaning the hookah thoroughly. Remove any food or tobacco residue from inside the bowl, stem, and hose. If that doesn't fix the problem, try replacing the gasket inside the hookah head. If neither of those solutions works, then the hose itself might be clogged and need to be replaced.
Why won't my hookah hose stay in?
First of all, you need to ensure that the hookah hose is properly seated on your hookah. You will want to unscrew it from the downstream and reattach it a few times until you get used to how exactly where it needs to be before attaching another end. All hoses are different but most have one screw at each end. If it is not properly attached, it will come off during use.
If your hose keeps coming off the hookah, there might be something wrong with the way it's been assembled. You should try taking it apart and putting it back together again to see if that fixes the issue. If it doesn't, you might need to purchase a new hose.
Why isn't my hookah hose working?
Hookah hoses are supposed to be flexible and durable so that they can withstand the heat from coal. But there could still be some problems, such as:
The hose is not big enough for a large hookah bowl or it's too long (the flow of air cannot go through).
There was no packing inside the hose.
The packing was not tight enough inside the hose.
Why is my hookah pulling water?
When your hookah is pulling water, it means that the seal between the hose and bowl isn't airtight. You should also notice bubbles in your smoke if this occurs. This can be caused by a few things: a misaligned hose, a dirty bowl or hose, or not packing the tobacco tightly enough.
If your hookah is pulling water, there are a few things you can do to fix it: Check that the hose is properly aligned with the bowl. If it's not, adjust it until the seal is tight.
Why is water coming out of my hookah hose?
This may be caused by a hookah with the wrong gasket, or too much water in your base. If you have trouble getting your hose to seal properly, try using tongs and removing some of the water from your vase before placing it on top. Here is an article regarding our recommended way to use hookah.
Water level: Tongs are placed below the waterline when placing a hookah into or removing it from the base. The hose is not submerged during normal use.
It's recommended for beginners to remove all but about an inch of water just to be safe, and avoid any unwanted leaks by using tongs so you can prevent tipping over your hookah.
When removing your hookah, always use tongs to place it on top of a surface than using the top end of the hose because there could be some water left in it that can spill over and cause damage to whatever you set your hookah down onto.
Video Tutorial: Hookah Back to Basics. Choosing a hookah hose
Conclusion
All these fully washable and easy to use hookah hoses will make a wonderful replacement for your old hose. The length makes them comfortable for group smoking and the diameter of the pipes improves the airflow and guarantees a smooth and easy draw. High-quality materials, a smart user-friendly design allow you to relax and never regret your choice. 
---