---
OZCHIN
8-Layer Protection
Water resistant
Powerful combination lock
TÜS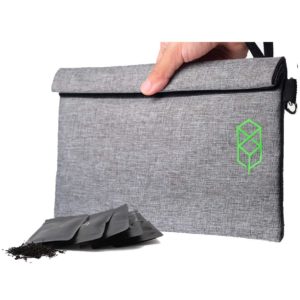 Activated Charcoal Lining
Premium 600D Polyester
Dual Mesh Pockets
HELMET HEAD
Weatherproof
Lockable
Lightweight & Compact
Formline Supply
5-Layer Protection
Handle and carabiner system
Perfect for Travel
EGOOZ
Privacy Security Lock
Waterproof
Perfect Size
---
Choose the Best Tobacco Pouch
Customer's Choice: the Best Rated Tobacco Pouches
18 users answered this survey. Please help us improve this review!

72.22% of users selected OZCHIN, 11.11% selected TÜS, 11.11% selected HELMET HEAD, 5.56% selected Formline Supply and 0% selected EGOOZ. Every month we analyze your answers and change our rating.
---
Smoking remains popular worldwide. And it is not only about cigarettes. Many people prefer a more sophisticated way of smoking. Tobacco in a pipe or roll-up feels very different than in a cigarette. Besides, tobacco is much less harmful to health if used in this natural state. If you like traditional tobacco, or just want to join the culture of smoking, you should think in advance where you will keep all the necessary components.
Proper storage of tobacco is extremely important because it allows you to preserve the product with all its aromatic characteristics, as well as optimal moisture content. If the conditions are violated, tobacco can quickly get rotten and not usable. Another challenge is its scent. It can easily penetrate everywhere. So another task is to store tobacco with its odor being controlled.
The best solution, in this case, is a tobacco pouch. You will find a variety of designs on the market, varying in size and material. But as a rule, a standard pouch contains everything you need:
Tobacco compartment;
A holder for a pipe or tissue paper;
Additional pockets for smoking accessories.
Tobacco pouches are often made from soft leather. But today we will review a more modern solution. And it is a smell-proof textile storage bag. This type of pouch will not only be a convenient organizer for smoking accessories but also an effective tool to restrain strong tobacco smell by keeping it inside. The main feature of these bags is the use of activated carbon for the inside finishing. This technology makes tobacco smell stay locked inside the pouch so you can avoid the persistent tobacco smell from spreading around if you choose to carry a bag with you.
Smell Proof Storage Bag – a multi-purpose travel case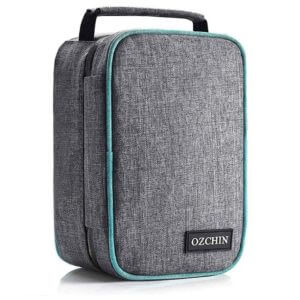 If you are looking for an odor-control organizer, then this bag will become a perfect solution for you. The item is made from highly durable and water repellent textile and lined with 8 layers of activated carbon.
This design allows all the smells to stay inside the bag. The bag comes with 3 Velcro dividers for better interior design. It has reinforced construction and reliable zippers.
The bag is equipped with a handle which makes it convenient to carry. Thanks to strong smell protection, the organizer can be used for many purposes. It can be medicine or food storage. Some users warn against watering it too much. The bag protects from moisture but still can get soaked. Overall, it will be appropriate for strong smell items like vape gear and similar things. The item is produced from high-quality materials allowing you to easily fold or carry it. It is a perfect accessory for both indoor and outdoor use.
---
Odorless Storage Pouch – a wonderful gift idea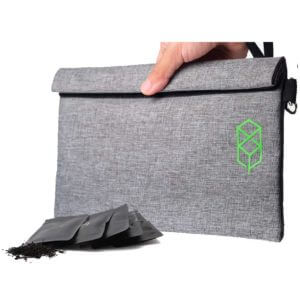 This smell proof bag is made in high premium polyester and padded with a specially finished lining to stop smells inside. It does not have a zip but closes with the Velcro strap.
The spacious size makes this bag convenient to be taken on a trip. And pockets help you arrange the things inside with no effort.
It is designed in a larger size which makes the pouch ideal travel accessory. This bag will become a perfect solution for private things. Customers comment they can fit several pipes and a package of herbs. The bag can be easily packed in the backpacked or just carried around using a handy wrist strap. The only drawback users see in this product is its Velcro fastening which sometimes sticks too hard. Other than that, the bag will be helpful for storing strong smell things and other things as it is easily portable thanks to the wrist tab.
---
Smell Proof Stash Bag – a good solution to safeguard things and smells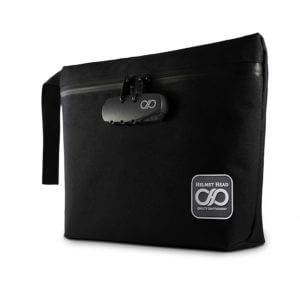 This smell proof pouch is ideal for storing tobacco, herbs, and other strong odor substances. It is a lightweight design and small size and convenient to carry around.
The bag can be even easily fit into a bigger wallet. This pouch comes equipped with a combination lock which and inside dividers. Moreover, you will get a free grinder card with two types of surfaces.
This compact bag is a must-have item to keep certain things private or protected from children and pet access. Smell-control feature makes this item appropriate for accessories, herbs, and tobacco. The bag has an inside Velcro layer, main compartment and two side pockets which makes things arrangement fast and easy. You can use it as a gift for friends and family as the product quality is superb and the quality is great.
---
Scent Suppressing Pouch – a perfect everyday organizer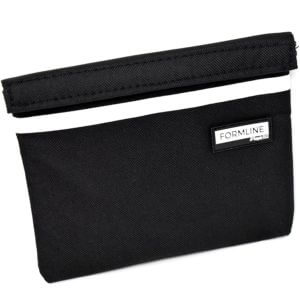 This odor absorbing pouch will help you store content with a strong odor and keep the surrounding scent-free. Carbonated padding works well in the fight with various smells locking them inside the bag.
The neutral design makes this bag appropriate for spices, herbs, pet treats, and other items. The pouch is small and can be easily packed in a bigger case. It closes with a Velcro strap.
Despite the somewhat small size, this bag is well designed inside and works well as a small thing organizer. It will become a good everyday assistant for various routine activities. The pouch has a handle and carabiner, allowing you to walk hands-free while carrying it. It is a convenient storage bag for traveling. The customers prove that it copes well with its main task – it powerfully suppresses all types of odors.
---
Smell-proof lockable case – a perfect storage option for heavily odorous items
This bag is lined with the carbonated lining that works well against odor spreading. And waterproof outer fabric keeps the content well protected.
The bag has a convenient zipper and a combination lock to keep your possessions safe. Removable dividers and mesh pockets help to organize the inside space more efficiently.
While looking small, the bag can accommodate a lot of small items. It is a good storage solution during travel. You can easily pack it inside your luggage without being afraid that other things will absorb the scents. The bag has a handle and a carabiner allowing you to attach it to your backpack. This storage case is multifunctional and can be used just for various things including toiletries.
---
Buyer's Guide
If at home you can still store tobacco in a metal can, then when going on a visit, it is better to keep it in a convenient and presentable pouch. How to choose this accessory?
Material
Pay attention to the material the bag is made from. Of course, you can purchase an elegant soft leather case. But such things require special care and are not cheap. Storage bags made from durable fabric will serve you much longer. Besides, textile bags are very lightweight, easy to care for, and often water-repellent. This bag option is affordable and can be regularly replaced.
Design and Size
You will find all possible configurations of tobacco pouches on the market today. Before purchasing a certain model, think about how you are going to use it. If you plan to carry the pouch with you, opt for portable variants, equipped with a handle and carabiner. Check if the bag can be folded with ease if you are going to use it when traveling. Read other customers' reviews to evaluate the capacity of the pouch as this parameter is also important.
Additional features
Modern tobacco pouches are usually water-resistant and smell proof. These two features are crucial if you want to use the pouch everywhere without restrictions.
General Tips on Tobacco and Herbs Mixture Storage
Avoid storing tobacco next to heavily-scented products with – soap, perfumes, etc. All flavors will be absorbed, and the tobacco will become completely unusable.
If you expose tobacco to the direct sunlight in glass containers, you will destroy tobacco leaves. If you have chosen this method for storage, it is better to keep jars in a dark place.
Never keep your tobacco open. Even several minutes can affect its pronounced taste.
It is very important to keep tobacco blends in separate boxes. You should thoroughly clean old containers before using them for a new tobacco blend.
Wash your hands before taking the tobacco out of the pouch. Quite often, due to carelessness, you may leave dangerous bacteria inside, leading to the appearance of mold.
Do not store tobacco in the freezer or refrigerator. After the heating, it will react with condensation that may completely ruin the taste.
Excessive humidity should be avoided either as it provokes harmful processes, and the tobacco may even rot.
Video Tutorial: How to roll a cigarette or a joint easly with our tobacco pouch
The convenient design of most above-described pouches allows you to store not only tobacco but also other things with a strong aroma. They come in different shapes and forms, and you will surely find the one to suit you best. A multifunctional tobacco pouch will become a useful everyday accessory or a convenient organizer for travel. We hope this article will help you make the right choice.
---