---
Cigars are a luxury and should be enjoyed with the right tools. Cigar Oasis Excel 3.0 is an electronic humidor that will keep your cigars in perfect condition for many years to come, and it can even be used as a wine cooler or humidor if you need more space! If you're looking for something high-quality, this may just be what you're looking for.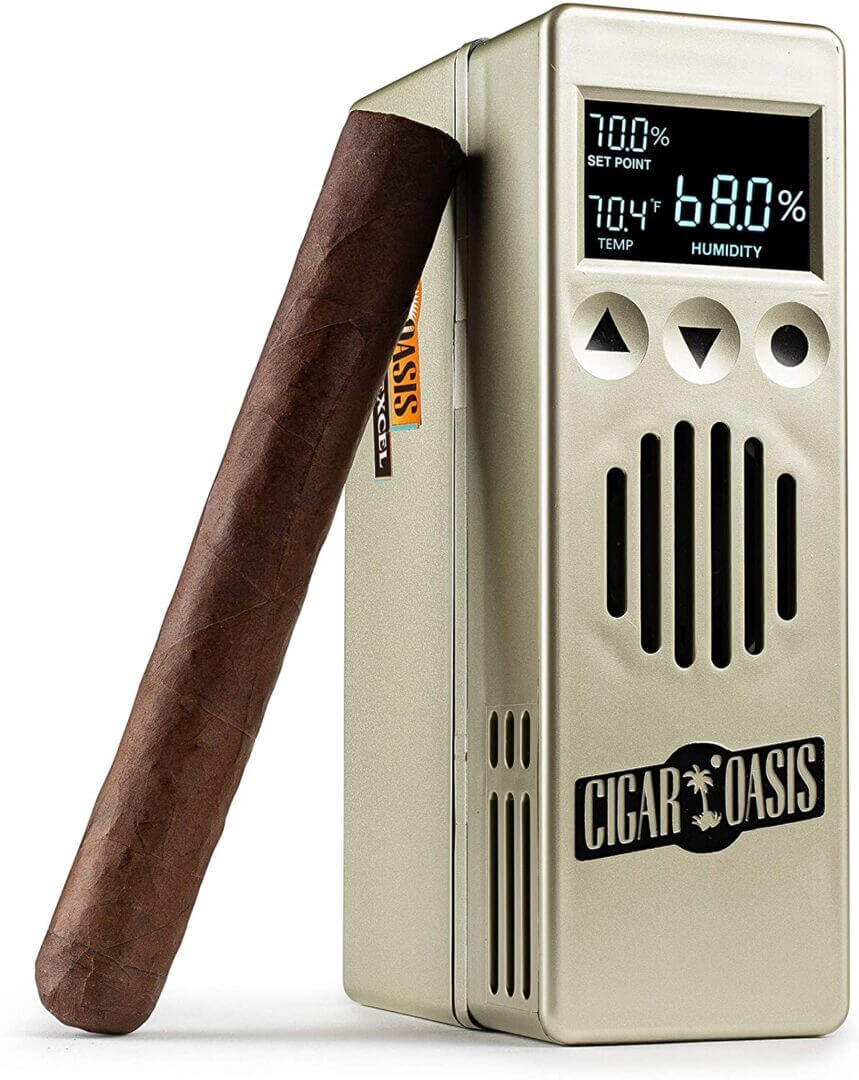 The Excel reservoir outlasts any other humidification method you may have used, so it is no surprise that this innovative company's wireless checks on your humidity settings result in significantly reduced maintenance. You can track your vitals remotely by using Smart Humidor's app to adjust the setting from anywhere anytime.
And if you're looking to use one of these state-of-the-art units for a larger capacity (up to 300 cigars), worry not: setup is always quick and straightforward thanks to comprehensive and precise documentation provided with each unit.
---
Cigar Oasis Excel 3.0
Having trouble? Download Cigar Cigar Oasis Excel 3.0.
---
Specifications:
Large LCD with backlit;

WiFi tech for remote control;

Soft-Touch button control;

Micro-USB connection;

Long-lasting cartridge;

Sealed design;

Powered with thin electronic ribbon cable;

Users may set the humidity to the desired level;

Capacity for 1-4 cubic feet humidors;

Can humidify from 75 to 300 cigars;
Main Features and Overview
The Cigar Oasis EXCEL 3.0 is a very compact humidifier that runs on its own. Simply insert it into an electrical socket using a paper-thin power cable, and you're ready to go.
A large LCD screen shows the current setpoint and the humidity and temperature in the humidor.
The water tank is refillable, replaceable, and uses only distilled water.
The Cigar Oasis EXCEL 3.0 has a built-in humidity monitoring and filtering system that uses a quiet fan to clean and distribute the air in the humidor, removing bad odors that are common in well-sealed humidors.
The device now includes a built-in Smart Humidor Wi-Fi app, allowing users to adjust and monitor humidity from any iOS or Android smart device with a subscription.
It is the original Cigar Oasis model, and it is the only sealed humidifier on the market.
The Excel 3.0 from The Cigar Oasis is an electronic cigar humidifier that is capable of maintaining 100-300 cigars at a time. A fully automated system and even WiFi capabilities are included in the device. Similar to Apple devices, the Excel 3.0 versions come in boxes with accessories inside. It's a nice touch, especially for the price.
Design
The kit comes complete with all you'll need to get started. An easy-to-read LCD screen on the top of the device that shows both relative humidity and temperature. The screen is quite bright and clear. Also, there are touch buttons that make it simple to change settings.
The top is connected to a base that contains the humidity source. It can hold a lot of distilled water and will help avoid mold problems thanks to its shape. It's highly cost-effective and uses minimal water. When the gadget runs out of steam, it tells you, and you may fill it with distilled water.
WiFi Capabilities
These new Cigar Oasis humidifiers, which come with built-in WiFi, are available. Previous models required an extra attachment, adding to the expense. All of the 3.0 versions include built-in WiFi and allow users to manage and monitor the device using their phone on a monthly subscription.
The Excel 3.0 must be plugged into a typical wall outlet, but a ribbon power cable is provided so that a humidor lid or door can be closed around it. It's a strong system that worked well in my NewAir CC-100H. It's simple to set up and works right away.
Performance
According to many users, this humidifier does not require any maintenance and maintains a consistent humidity level. This is one of the best humidifiers for between 100 and 300 cigars on the market. And you can use it with most cigar humidors.
It keeps your cigars between 55% and 75%. If they go under, Cigar Oasis Excel turns on automatically until the desired humidity level is reached again. In case if they rise above, an alarm will activate as well as turn off all fans in order not to overheat them or damage their taste with too much moisture inside of cigar cabinet. 
Cigar Oasis Excel 3.0
---
Related Video: Humidifier Review | Cigar Oasis Excel 3.0y
---