---
Cigar aficionados know that humidors and cigar humidifiers are an essential part of their collection. Cigars need to be kept at a certain humidity level in order for them to smoke properly, so without the proper equipment, they can become dry or even break apart.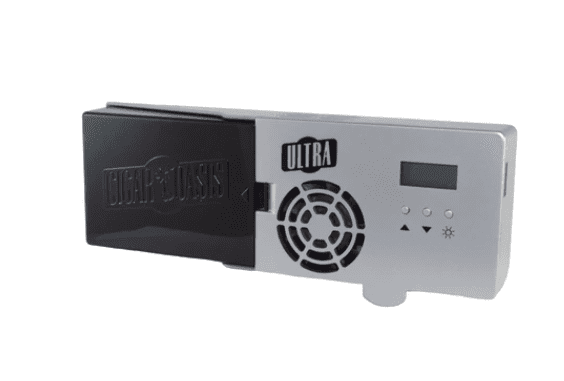 The most common way to keep your cigars fresh is by using Boveda packs, but not everyone likes the idea of having to buy these packets every month. If this sounds like you, experts have got something else you need: check this Cigar Oasis Ultra 2.0 review!
---
Cigar Oasis Ultra 2.0
Having trouble? Download Cigar Oasis Ultra 2.0 .
---
Specifications:
Dimensions are 7 x 2.5 x 1 inches;

The capacity is up to 1.5 cubic feet;

Has a circulation fan;

It has a thin ribbon cable power cord;

The indicator for low battery and low water;

Micro-USB connection;

Wi-Fi capability (the accessory has to be bought separately);
Main Features and Overview
Cigar Oasis Ultra 2.0 is a state-of-the-art electronic cigar humidifier that will give cigars the perfect balance of air and moisture for decades without you lifting a finger, mount it in your humidor properly – this thing's designed not just for convenience but also quality performance, thanks to many enhancements made from its predecessor.
With features like a rechargeable battery and pre-calibrated humidifying solution, you'll never have to return your humidor to the store. Free yourself from hassle with the great gadget that keeps cigars at their best for weeks on end!
Design
The Cigar Oasis Ultra humidifier, like all of the other ultra-humidifiers on the list, requires little care and maintenance. It features a large LED display and an easy-to-use menu system that makes setting up quick. 
The new automated shutoff function activates the humidifier when necessary to maintain humidity at around 70%.
Calibration is not required, as there are no moving parts. The LCD screen makes it simple to switch between temperature (Fahrenheit or Celsius), average humidity, low humidity reading for the previous three days, high humidity reading for the previous three days, and battery charge level. A more thorough collection of this data is available through the Wi-Fi connection. 
The magnetic mount is fantastic. The Cigar Oasis comes with a powerful magnet, which is a plus. Because many humidification gadgets and hygrometers that mount in humidors do not have a strong enough magnet, the device falls off. Because the Cigar Oasis Ultra 2.0 has a stronger magnet (and because it is larger), it will not fall off.
The ribbon connection is incredibly delicate. It may be inserted between the hinges or along the device's edges from the rear of the humidor. Keeping your humidor sealed is easy.
Performance
The Ultra 2.0 can be operated with a power outlet or through its internal rechargeable Li-Ion battery. The fan pushes out the moisture until the right level is reached. It samples the humidity on battery power every five minutes to ensure that it is correct. 
The system, depending on the humidity level, either turns off completely or adjusts it to a more reasonable level. If necessary, the system goes into control mode to adjust humidity. The control point is set to 70% humidity in both situations. A water cartridge has been installed and is ready to use with the device.
Cigar Oasis Ultra 2.0
---
Related Video:Cigar Oasis Ultra 2.0 Setup Instructions
---