---
The Powermatic II is a spoon-injection electric cigarette machine that makes a flawless RYO cigarette in seconds.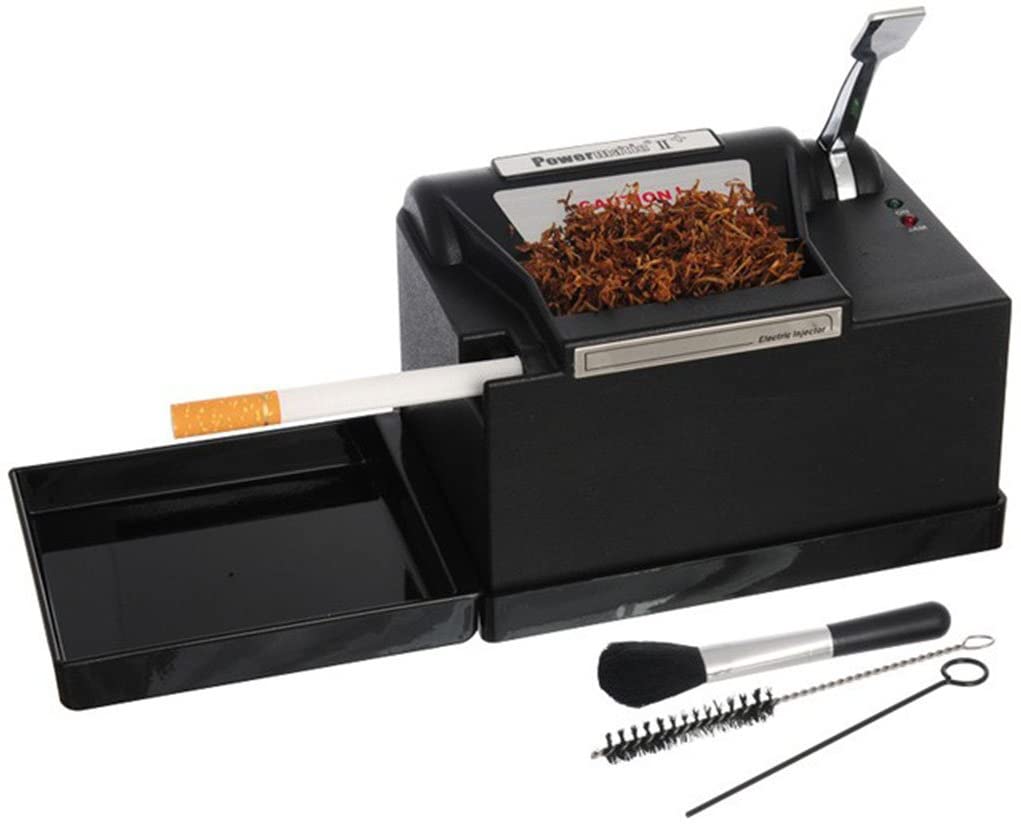 The Powermatic II + is an electric cigarette spoon injection machine that produces a perfect cigarette in seconds. The spoon injection method allows users to make cigarettes that burn evenly without any surprises.
This machine is designed to work with both standard size, king and 100mm tubes (fills 100mm tubes to approximately 3/16 of an inch from the end of the tube). The Powermatic II + electric cigarette machine features an entirely new operating concept making it the first affordable electric spoon injection machine ever produced. This unit outperforms the very best mechanical crank injectors on the market.
Users may manufacture cigarettes that burn evenly and without any surprises using the spoon-injection technique. This machine works with standard, king, and 100-mm tubes (fills 100-mm tubes to about 3/16 of an inch from the end). It also has a tobacco hopper, so you can keep making cigarettes without having to continually feed tobacco into the device. Includes a set of cleaning and maintenance equipment, as well as a comprehensive DVD with easy-to-follow operation instructions.
---
Powermatic 2 Cigarette Machine Manual
Having trouble? Download Powermatic 2 Cigarette Machine pdf manual.
---
The Powermatic 2 is a little gadget that happens to fit on any desktop and may be carried along when you travel. This lovely machine is about 2.25 pounds in weight and has a sturdy weight and feel. It produces the highest-quality sticks at an affordable price.
This electric cigarette-rolling machine works in the same manner as the Poweroll 2 and requires a 112V outlet. The gadget comes with a power adapter, a dust brush, a nozzle brush, a cleaning rod, and a tray to help you with your rolling needs. The greatest thing about this machine is that it avoids tobacco waste by collecting extra feed in a tray that can be retrieved and re-used later. It also employs a spoon injection method, which guarantees that your cigarette is correctly filled in the same way as factory cigarettes are.
Specifications: 
Makes regular and king-size cigarettes;

The dimensions are 10 x 4.5 x 7.25 inches

The weight is 1 pound;

A tobacco tray and other accessories;

Spoon-injection method;

1-year warranty;

112V;

A DVD with instructions;
How to use it?
Applying the Powermatic II device is simple:
Place an empty tube on the left-hand side of the machine's filler tip;

Raise the lever on your right and place a tiny quantity of tobacco in the chamber;

Fill a cigarette by pressing the fill button on your right;
---
Pros and Cons of Powermatic 2 Cigarette Machine
The Powermatic 2 is an excellent device for anybody who prefers to roll your cigarettes rather than buying filtered cigarettes. The Powermatic 2 injector is simple to use and constructed of high-quality materials, making it a long-lasting machine.
---
The Buyer's Guide
Differences between cigarette-rolling machine types
Handheld (portable), tabletop, and electric rolling machines are available. Since the 1970s, portable machines have been available. They are composed of metal or plastic and are no larger than the size of a hand. Some of them resemble a tiny handbag or a big stapler. It's the simplest and cheapest (about $4 to $25) device to use, but it produces the cigarettes in the slowest way. When using handheld machines, carefully put the filter inside, then spread some tobacco alongside it, then lay the rolling paper on top of the tobacco and filter, close the machine, and the filled cigarette will spring out of a compartment immediately. 
A built-in crank is included in tabletop machines. They range in price from $40 to $70. Finally, electric machines are the most expensive ones. These machines operate by allowing you to fill an empty tube with your chosen tobacco blend. Some may find this absurd; after all, why make RYO cigarettes when they are easily accessible nearly everywhere? If you smoke often, one injector machine, dry tobacco, cigarette tubes, or rolling paper would cost less than a year's worth of cigarettes. In the long term, you'll save money and have more opportunities to explore tastes and smells.
Choose the roller from handheld, tabletop, and electric models that meet your requirements. You may purchase a handheld device if you want something portable or if you're not a frequent smoker. The choice between a tabletop and an electric injector unit is a difficult one. With a single turn of a crank, a tabletop roller fills one empty cigarette tube (which is already spreaded with a filter). Remember that each time a tube is filled, the user must fill the compartment with tobacco. A tabletop roller can be ideal if you have no reservations about spreading tobacco and placing the tube.
Electric injector devices work quicker because they enable the operator to load the hopper with tobacco first, then position the cigarette tubes and push a button to fill them until the tobacco in the hopper runs out. They run on 120 volts AC and can fill up king-size and 100-mm cigarettes. Some electric devices can simultaneously fill several cigarette tubes.
There is no indication on how much tobacco the smoker should place in portable cigarette rollers, so if you're a first-timer, you'll have to experiment with the quantity of tobacco it takes to properly create one cigarette; otherwise, it may be too loose or thick. This has the benefit of being portable and fitting into your pockets.
A chamber on the tabletop and electric devices shows how much tobacco is required to fill a cigarette tube. Obviously, they are not portable, but they can help you smoke cigarettes quicker. The bottom of tabletop injectors should be rubberized so they don't move around as you turn the crank. When you pull the completed cigarette out of these machines, there may be tobacco fallouts, therefore make sure you have a clean piece of paper to collect the debris.
When there is no power, certain electric units are very loud to operate. If you don't want to bother with creating a tube every now and again, it can create a big batch of cigarettes.
Poweroll 2 vs. Powermatic 2 cigarette-rolling machines:
1) Ease of use
When evaluating the simplicity of use of both cigarette-rolling machines, we found that they function similarly in terms of allowing a novice user to roll cigarettes from the first touch. Any of these machines do not need a lengthy learning curve to use.
While both devices performed well in terms of jamming during cigarette manufacturing, the Poweroll 2 device may have minor jamming throughout the process. Even if it's little, it's noticeable when compared to Powermatic 2.
2) The rolling process
When you roll the cigs with the Poweroll 2, prepare that some tubes won't be properly full. There will be no waste or partial filling of the tube with tobacco in the case of Powermatic 2.
3) The price comparison
In comparison to Powermatic 2, Poweroll 2 is less expensive. Although they are constructed of plastic, both devices are well-crafted and long-lasting. Both units are simple to maintain; cleaning is simple since essential components can be easily opened to scrape away tobacco and cleaning kits can be used to keep it clean. Both rolling machines include necessary accessories.
4) Quiet mode 
When compared to the Poweroll 2 unit, the Powermatic 2 device makes less noise.
5) Types of cigarettes
The Poweroll 2 device only makes king-size cigarettes, while Powermatic 2 makes tiny and long sticks.
6) The number of cigarettes per minute
Both rolling machines can roll about 4-5 cigarettes per minute, however, Poweroll 2 has more pauses while rolling, such as incorrect tube filling or jamming. In terms of performance, both cigarette-rolling machines are on par. The quality of tobacco used, such as moisture level or the manner it is packed into the loading chamber for rolling, may be the cause of jamming and decreased production per minute. As a result, if you want to roll more sticks and save money when RYO your smoke, you can pick both machines.
Related Video: PowerMatic 2 – The Ultimate Cigarette Making Machine Review
Final thoughts 
The Powermatic II machine has a completely new basic concept, making it the first inexpensive spoon injection device. This unit surpasses even the most advanced mechanical crank injectors available.
---