---
SUNLIGHT CHARCOAL
33 mm
Pack of 100
Easy to light
SUNLIGHT CHARCOAL
33 mm
100 Tablets
Carbon charcoal
Superior Coco
72 Tablets
Lasts up to 2 hours
Coconut Charcoal
SUNLIGHT CHARCOAL
2.5×2.5×1.5 cm
27 Pack
Coconut Coals
Naar-Coal
2.5×2.5×2.5 cm
126 Count
Made from Coconut Shell
---
Choose the Best Hookah Coal
Customer's Choice: the Best Rated Hookah Coals
20 users answered this survey. Please help us improve this review!

25% of users selected SUNLIGHT CHARCOAL Pack of 100, 35% selected SUNLIGHT CHARCOAL , 15% selected Superior Coco, 5% selected SUNLIGHT CHARCOAL 27 Pack and 20% selected Naar-Coal. Every month we analyze your answers and change our rating.
---
For smoking your hookah and enjoying the pure taste of favorite flavors don't forget about coals. They perform one of the most important functions – they heat the shisha. Depending on the type of coal, the ignition process has certain features and the taste can surprise you.
There are several types of coals for hookahs: coconut, woody, instant light, or self-igniting. They differ in their composition, ignition time, and smoking qualities. Read, compare, and finally try to feel the advantages and disadvantages of each type.
The comparison table below will give you 5 hookah coals picked by smokers and hookah connoisseurs. Guidelines and tips will help you determine the main points to make the best choice.
SUNLIGHT CHARCOAL Tablets for Incense – the best for the price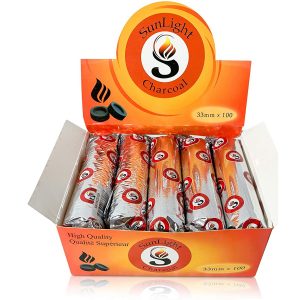 The best-selling tablets suit perfectly for smoking hookahs or lighting resin incenses. They are very cheap and worth every dollar. It's easy and fast to burn them with a match or a lighter. You will spend less than 30 seconds to light them up and enjoy stable flames for the following 45 minutes.
Those who like traveling or spending time outside will also find them helpful. A huge pack guarantees that you won't run out of coals unexpectedly. High-quality and simple in use charcoal discs don't produce an unpleasant smell, which can spoil your smoking session or meditation.
The seller provides a money-back guarantee for 30 days to ensure the quality and premium customer service, so you risk nothing. If you have trouble with burning the capsule put it in a fireproof bowl and light it up with a candle or a lighter for half a minute. It can help to burn the whole disc as the air comes from all the sides in the bowl.
---
STARLIGHT CHARBON CHARCOAL Tablets – the best for outdoor use
Starlight tablets are natural wooden coals. They heat to higher temperatures than usual coals and last long. If you want to pray, meditate, or relax these tablets will make your incense burn smoothly and without any odors.
These eco-friendly charcoal tablets are great for hookahs too. Small but powerful pieces, which are odor-free and ready for use in several seconds, do the perfect job, and smoking your hookah becomes a total pleasure.
The discs are ideal for outdoor use. But don't leave them for long especially in humid and cold weather. If you already have problems with lighting keep them indoors in dry and warm conditions for several days and try again. After burning the pieces are very hot, you can cool them down quickly with cold water if needed.
---
SUPERIOR COCO Coconut Charcoal– the best for premium quality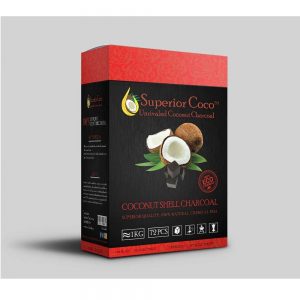 The pack is a 1-kilogram cube of premium quality charcoals. These natural coconut coals are fully eco-friendly and don't contain any chemicals. You feel no additional disgusting odors and smells when you smoke your hookah.
The pieces light quickly and burn for two hours, which is a huge advantage. Superior Coco Organic coals are produced from coconut shells and suit burning incenses as well. This 100 % green product makes all experiences unforgettable.
The coconut coals are completely organic chemical-free and due to that are quite difficult to light. You can't ignite them with an ordinary lighter or torch. Take a hot plate coil burner or open flame and hold them for several minutes. Then put them on the hookah, wait for five more minutes for your shisha to heat, and enjoy an incredible smoking session.
---
SUNLIGHT CHARCOAL Coconut Coals– the best for long-lasting burning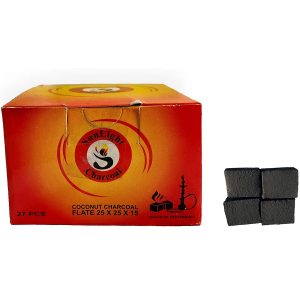 Innovative technologies of production allow making 4 times more long-lasting coals. They give less ash after burning than usual. The coconut shells are compressed to a certain density to increase the burning time of a relatively small piece.
Sunlight Coconut coals are green, eco-friendly, free from chemicals, additional tastes, and smells. Those who are health-conscious can feel the pure taste of the shisha and enjoy smoking a hookah without suspicions and worries.
The coals are quite hard to light, so use an electric stove or a propane torch. They are slow to light and slow to burn. This green charcoal helps your hookah produce the purest taste without additional smell or smoke.
---
NAAR COAL Coconut Charcoal – the best for pure shisha taste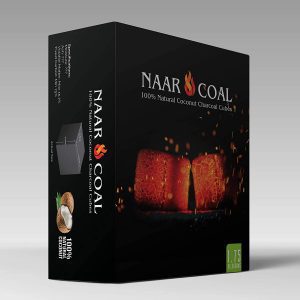 Organic Coconut charcoals for hookahs make you feel the difference between natural and instant light charcoals. The shisha tastes clean without typical unpleasant smells and flavors. Purity is reached due to premium quality ingredients without additives.
Durable and consistent flames guarantee heat maintenance and the best taste of shisha, which lasts for 2 hours.
The Naar coals break into pieces easily and produce quite a lot of ash. You can check it before using, just pay attention to the coals when you heat them on a coil burner. If the coals are red, not covered with the layer of ash, they don't ash much.
---
The Buyer's Guide
All hookah coals are conventionally divided into two large groups: natural and chemical. You have to perform certain actions to ignite natural coals, but the thermal effect will be several times bigger. Chemical coals have instant ignition. 
The natural category includes three varieties.
Woody
Charcoal is a final substance that is formed when trees or branches are burned. At the production stage, all resinous components are removed. Such coal retains heat longer than other types.
Long-term ignition is required. Ideally, you will have to use a fireplace lighter, if not, an electric or gas stove will do. The process will not take more than 10 minutes.
CoconutCoconut shells are used to obtain coconut charcoal. Coconut charcoal for hookah keeps heat stable. This is its main advantage. It costs more, but most experienced smokers say it's worth it. The taste of shisha remains unchanged.
Ignition is carried out on a conventional electric stove or gas burner. To do this, it must be placed on the stove surface and heated in turn on both sides. To keep the heat longer, shake off the ash from the coal as it burns, and move it around the perimeter of the bowl. It is necessary to replace such coals 30 minutes after the start of burning. 
The third type of natural coals is not so popular. Such coals are produced from the seeds of olives, lemon, and exotic trees. Due to this, the hookah acquires a special smell. Perhaps this is the most authentic type of coal, which only advanced hookah lovers prefer. 
Chemical coals
Self-igniting
It takes only 10-20 seconds to light self-igniting coals with a lighter or matches. They have a special coating of dry alcohol or saltpeter. Take coal with metal tongs. Place the tablet with the notch down. Natural impregnation flashes evenly and can burn quietly for a certain amount of time. The price for such coals is not high, since their smoking qualities are inferior to natural coals.
 Other tips for buyers of hookah coals
Chemical charcoal often produces an unpleasant smoke and taste, which interfere with the shisha flavor. For the first minutes, it can sparkle a little.  

Read the instructions and recommendations for ignition on the package before use. 
Conclusion 
If you want a high-quality hookah, which makes the evening unforgettable with sweet and spicy aromas, every detail is important including the correct choice of coal. A wide range often baffles beginners. Despite your choice figure out what is important for you and pick your best coal for a hookah.
---
Video Tutorial: How to Light Natural Hookah Coals
---