---
BudPro
Silicone
Flavor Saving
3.85″ tall with a diameter of 3″
KITOSUN
Ceramic
High-quality
3.09 inch diameter
KITOSUN
Silicone
Flavor Saving
3.5″ Tall
KITOSUN
Silicone
Flavor Saving
3.5″ Tall
Vapor Hookah
Ceramic
Holds 35g of Shisha
4.25″ Tall
---
---
The heart and the soul of every hookah are a bowl. Of course, other elements of this magic construction, which brings you indescribable pleasure, affect your smoking session a lot as well. However, exactly the shape, material, and volume of the bowl define the taste you feel while smoking and the duration. 
Have a detailed look at the types of hookah bowls to understand all the peculiarities. First, be attentive in the choice of material. The bowls are typically produced from clay, ceramics, silicone, metal, glass, and stone.
In the comparison table below you will find 5 hookah bowls recommended by smokers. With the guidelines and tips look at the pros and cons and make the choice, which meets all your expectations. 
BUDPRO Silicone Phunnel Hookah Bowl– the best for care and use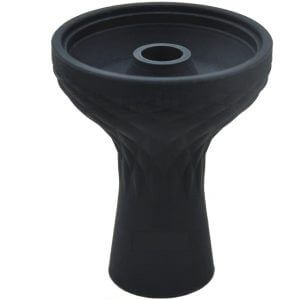 This BudPro hookah bowl is made from durable food-grade silicone with one air hole in the center.
The typical phunnel design retains shisha juices and lengthens your smoking. It is fully washable and very easy to care about.
[i2pc pros_icon="icon icon-check-1″ cons_icon="icon icon-minus-thin" show_title="false" show_button="false" pros_title="Pros" cons_title="Cons"] [i2pros] Durable and strong
Unbreakable
Heat resistant up to 600 degrees Fahrenheit
Easy cleaning
Saves pure flavor of your shisha
Large in size for 30 g of shisha
An ideal replacement for Lotus
Heats up very quickly
Needs fewer coals to launch
Doesn't need a grommet
Shisha doesn't leak
Very affordable
[/i2pros] [i2cons] Gives unpleasant aftertaste
Has a chemical taste when heated a lot
[/i2cons] [/i2pc]
This bowl is perfect for Lotus. It works great as a replacement and fits perfectly. The price is very affordable. The silicone is soft and doesn't maintain the shape. It's uncomfortable to use regular foil.
---
KITOSUN Ceramic Hookah Bowl– the best for huge smoky clouds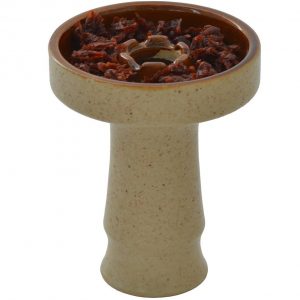 This ceramic bowl covered with glaze keeps the original taste of your hookah. The high-quality durable material is heat resistant and taste-neutral.
The glaze covering makes cleaning incredibly simple, just rinse it with running water.
The construction of the bowl with one air hole and six gaps allows you to enjoy huge clouds of smoke.
[i2pc pros_icon="icon icon-check-1″ cons_icon="icon icon-minus-thin" show_title="false" show_button="false" pros_title="Pros" cons_title="Cons"] [i2pros] Maintains the original flavor of shisha
Made from high-quality clay
Heat resistant
Taste-neutral
Is covered by glaze
Easy to clean
Durable
Produces big clouds of smoke
Works with any foil or cover
The grommet is included
Easy to pack shisha
Affordable
[/i2pros] [i2cons] Not deep enough
Doesn't disperse the heat equally
[/i2cons] [/i2pc]
The construction has six gaps built in a circle in the center of the bowl. It allows you to produce large clouds of smoke and makes packaging shisha extremely easy.
---
KITOSUN Silicone Phunnel Bowl with 7 holes– the best for smoking wet shisha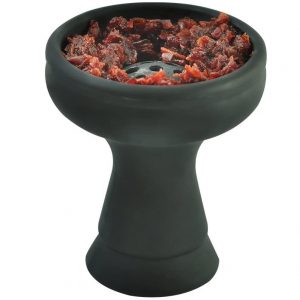 The multi-hole design of this silicone bowl keeps the shisha juices inside and is ideal for smoking wet tobaccos.
It doesn't absorb odors and flavors. The piece is totally unbreakable, durable, and strong. Your only business is to enjoy the pure long-lasting taste of your shisha. 
[i2pc pros_icon="icon icon-check-1″ cons_icon="icon icon-minus-thin" show_title="false" show_button="false" pros_title="Pros" cons_title="Cons"] [i2pros] Made from 100% food-grade silicone
Heats fast
Saves charcoal and shisha
Doesn't absorb odors
Gives pure taste
Durable and strong
Withstands falls
Contains up to 30 grams of shisha
Comfy head construction
Prevents losing moisture and flavor of your shisha
Ideal for use with wet shisha
30-day money-back guarantee
A good bargain
[/i2pros] [i2cons] Has a hard pull
Doesn't wash very well
[/i2cons] [/i2pc]
Before the first use, it is recommended to wash the head thoroughly or to place it in hot water for some time. It is ready to use as it doesn't need a grommet. You can use a bowl with a regular foil. 
---
KITOSUN Silicone Phunnel Bowl with one hole– the best for functionality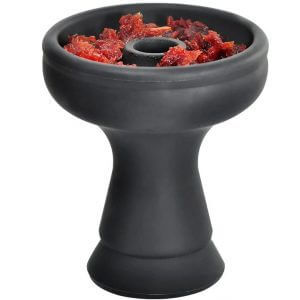 This simple and functional silicone phunnel bowl has one big hole in the center. It is easy to pack shisha and to clean after smoking just with the running water.
The innovative durable and strong material can withstand any falls and will serve as the right replacement for your old clay or ceramic bowl.  
[i2pc pros_icon="icon icon-check-1″ cons_icon="icon icon-minus-thin" show_title="false" show_button="false" pros_title="Pros" cons_title="Cons"] [i2pros] Heats faster than clay or ceramic
Preserves shisha juices
Doesn't burn the tobacco
Odor-free
High-quality food-grade silicone
Heat resistant up to 600 degrees Fahrenheit
Totally unbreakable
Easy to clean
The perfect volume of up to 30 g of shisha
[/i2pros] [i2cons] Shisha head must be carefully washed before every use
Gets burnt
[/i2cons] [/i2pc]
The bowl holds up to 20 30 g of shisha. It depends on how you pack it. Silicone heats up faster than clay or ceramics and saves your shisha and coals. 
---
VAPOR Utopia Funnel Bowl– the best for the unique design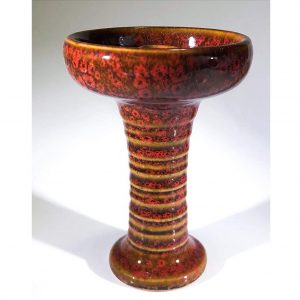 Utopia bowl has a unique customized design. It looks beautiful and comes in different colors. It works perfectly and makes your smoking very smooth.
The phunnel shape of the bowl keeps shisha juices inside and gives the pure long-lasting taste of tobacco.
[i2pc pros_icon="icon icon-check-1″ cons_icon="icon icon-minus-thin" show_title="false" show_button="false" pros_title="Pros" cons_title="Cons"] [i2pros] A unique design
Attractive glossy look
Comes in many colors
Keeps tobacco juices inside
Heats up quickly
Makes smoking longer
Sturdy and reliable
Affordable
[/i2pros] [i2cons] Smells bad when heated
[/i2cons] [/i2pc]
It heats up fast and gets very hot. Don't use a lot of charcoal cubes with this bowl because you can burn your tobacco. Two large cubes and double foil will do great.
---
The Buyer's Guide
Hookah bowls are a fantastic way to enjoy your hookah session! They come in many different shapes and sizes, so it is sure to suit you. We will list some of the best hookah bowls on the market today for you to take a look at.
Types of hookah bowls
Clay
The top position is occupied by clay bowls. This material was used from the very birth of hookah smoking and is not losing its position now. It is very affordable. Thanks to its heat-keeping properties the thick walls give away the warmth effectively for a long time. Clay takes a lot of heat, so it is recommended to use foil or a cap to cover the bowl top.
Tobacco does not stick to the walls and does not taste bitter. However, the smoke is a little dry and you can't always feel the taste of the chosen shisha fully.
Clay is a porous material. So, allow a separate bowl for each taste to enjoy the purity of the taste. Glazed clay suits tobaccos soaked in syrup better. This coating prevents the bowl from absorbing the syrup and old odors. 
Ceramic
Ceramics is clay, covered with a glaze. The main advantage and the difference between clay and ceramics are that the glaze prevents the saturation of the material with previous odors. Glazed walls will not darken with use and always look amazing. It is simple to wash, just rub well with a hard sponge. Dishwashing is also possible. Still, special detergents may be the easiest way out. Pour and leave the solution for a few minutes, rinse, and dry.
Ceramics and clay feature fragility. They can break if dropped, slipped while washing. Bowls made from ceramics are less heat resistant than clay bowls. This often contributes to the burning of tobacco. To avoid this, it is recommended to put a foil ring on top. 
Silicone
This material warms up quickly and does not allow the shisha to burn. They are the best in terms of operation. They are easy to wash, not exposed to temperatures, and do not absorb odors.
Silicone does not break, it is put on immediately on the hookah and holds on tightly.
Food grade silicone has become a great alternative to traditional clay and ceramic bowls. Such bowls are strong and unbreakable and not sensitive to temperature changes. They're perfect for traveling and don't need any packing or other safety measures. They are effortless in washing, dishwashing is also possible. They don't require additional seals.
Metal
Bows made of metal are pretty rare. As for advantages, they are strong, reliable, durable, and easy to maintain. Remember that the quality of the material plays an important role here. You can start with stainless steel, though the higher quality, the better. A rusting hookah bowl does not please anyone. To increase durability some manufacturers use special metal inserts for silicone bowls.
Some metal bowls have a complicated construction with two levels for heating tobacco and coals separately on different levels. No foil is needed. Usually, coals are located below the shisha, with an option to adjust the height of the stand. Thus you can easily monitor and regulate the burning of shisha and the duration of your smoking session. The only significant problem with metal bowls is the difficulty to refill them as they are very hot.
Borosilicate glass
The material is very smooth which guarantees easy cleaning and looks gorgeous and new with proper care and delicate use. No odors are absorbed, so you can enjoy the pure taste of your shisha. However, it has one obvious drawback – fragility.
Stone
Bowls made of stone perhaps all the least common. are not as common as other types. This material is eco-friendly and extremely reliable. Stone accumulates heat and then gives it away gradually providing unbelievable long smoking experiences, especially with heat-resistant tobacco. 
 Other tips for buyers of hookah coals
Bowl depth is a parameter that increases the duration of the smoking process.

Cooling ceramic hookah bowls under cold water is categorically contraindicated. The bowl can crack.
---
FAQ
Is clay hookah bowls good?
Clay bowls are porous and absorb flavors and scents, so they are ideal for people who want to switch up the flavor of their hookah smoke. They also need to be broken in before first use and should not be used with strong tobacco flavors.
What are the different types of hookah bowls?
There are a few different types of bowls. The base material is the most important, but you will also have to consider size and shape when choosing a clay bowl for your hookah:
If you are looking for a basic bowl that can be used with any type or flavor of shisha tobacco, choose one made from glass or ceramic. Glass bowls allow more airflow and are less likely to heat the shisha tobacco, while ceramic bowls hold heat longer.
For a more specialized bowl that will give your hookah smoke a unique flavor, try one made from clay. Clay bowls come in many shapes and sizes, so you can find one that is perfect for your smoking style. They also absorb flavors and scents, so you can change the flavor of your hookah smoke by switching out a clay bowl.
If you want more heat and less airflow in your bowl, choose one with a wide top opening and a small bottom hole. This will allow more tobacco to fit into the bowl while still giving your shisha enough space to breathe as it is burning.
For a cooler, smoother hit with more airflow, choose one that has a large bottom opening and small top hole. This will give the tobacco less space to burn in the bowl while still allowing plenty of airflow into your hookah hose.
How to use a clay hookah bowl?
Using a clay hookah bowl is simple. All you need to do is add tobacco and flavor, then cover the bowl with the metal screen and attach the hose. You can use coal tongs to hold the coals in place while you light them. When the coals are lit, set them on top of the screen. The coal should heat the clay for about twenty minutes, and then you can start smoking.
Clay hookah bowls are made from natural materials. Some have wood bases that act as a bowl, while others use disposable aluminum trays to hold tobacco and flavor blends together with charcoal or coal. Clay is fired in kilns at temperatures high enough to harden the material and make it stronger than other materials. Clay does not absorb juices from tobacco, so you can use them over again as many times as you want.
Trays are pre-drilled with holes that allow airflow to circulate under the coal or charcoal during smoking sessions. Some trays have holes big enough for two coals, which allows you to cook tobacco more quickly and increase the temperature. You can also use single coal or charcoal in some trays, but make sure that it does not smother your flavors when placed on top of them.
How to pack a clay hookah bowl?
First, you have to gather your materials. You need the clay bowl, a Phillips head screwdriver, or any other similar tool (if it has a non-flat tip), and some foil paper.
When you have all the things ready, take a small piece of foil paper and place it on top of your bowl. It is recommended to use wet wipes or alcohol (isopropyl) for cleaning because any bacteria will only cause cracks in the clay surface. Next comes packing itself. Take a good amount of tobacco or shisha mix (a little more than you usually use) and place it on top of the foil paper.
Then, press it inside your bowl with a flat-head screwdriver or any other similar tool (it must have a non-flat tip). The aim is to remove all the air from in between tobacco leaves so that no space remains when you screw the lid back on.
Finally, using your fingers, press the tobacco down and create a well in the center. This will help to catch the coal and distribute heat evenly.
Now your bowl is ready for smoking!
Is silicone hookah bowls good?
Silicone hookah bowls are excellent for many reasons. For one thing, silicone is very durable so you won't have to worry about your bowl cracking or breaking. They also do not retain any flavors from previous smoking sessions like clay bowls can over time (some people say it takes a week of seasoning before the flavor goes away). Silicone hookah bowls are also very easy to clean and maintain.
Silicone hookah bowls can be a little more expensive than clay, however, the quality of the smoking experience is well worth it in my opinion. And silicone comes in many different colors too!
How to use a hookah bowl?
No matter how many pipes you smoke, no doubt that sooner or later your bowl will be used. So this is a very important question: How to use a hookah bowl? This article tells the answer.
First of all, remember some rules when using bowls for smoking in general: always cover them with foil; never wash them in the dishwasher; do not take out the charcoal because it is still hot.
Now let us get back to how to use a hookah bowl:
For starters, you should be aware that there are two types of bowls for pipes – one-hitter and multi-hitters. However, if we speak about the latter ones, there are again two types: those that need to be packed with tobacco and those that don't.
The bowls that need to be filled with tobacco, as a rule, have a funnel-like shape. The packing process is quite simple: you just have to fill the bowl tightly with your favorite blend, making sure there are no air pockets.
The packing process is quite simple: you just have to fill the bowl tightly with your favorite blend, making sure there are no air pockets. The bowls that need not be packed can serve as a water catcher too – they look like an ordinary pipe's bowl but they do not have holes on the bottom side of it. To cover the bowl, you should use a special cover that comes with the pipe and fits perfectly.
The three most important things to make your hookah smoking experience more enjoyable are: ignition, the release of smoke, and producing heat in tobacco. So here is what you need to do:
First – fill the bowl up only halfway (one-hitter bowls can be filled up to the brim, though) with tobacco.
Second – add charcoal on top of it and cover everything with foil.
Third – place all your pipe accessories (hose, tongs, etc.) inside a heat-resistant bag and then put it in an ice bucket just like you see in restaurants; that way the bowl will be covered with ice and stay cold for a longer time.
Fourth – using a lighter, light the charcoal until it is red hot; then wait about 15-20 minutes so that the coals will become white (this is very important).
Fifth – remove the foil and using tongs, hold the bowl with one hand and shake it over the coals so that they will cover the bottom of it with ash (this is also very important).
Sixth – place a hose on top of the bowl and inhale. Some people like to use glass beads for cooling down smoke, but in my opinion, this is not necessary; however, you can try if you want. When using one-hitter bowls, make sure you pack tobacco tightly into them.
That is all there is to it! Just remember these simple steps and you will be able to use your hookah bowl like a pro!
Can you relight a hookah bowl?
A lot of people ask if they can relight a hookah bowl, and the answer is yes. If your bowl is made out of clay or ceramic, you can use a stovetop to heat it and get it going again. If your bowl is made out of metal or another material that doesn't conduct heat well, you'll want to use a torch.
The best way to get your bowl smoking again is with the stovetop method. You want to make sure you have plenty of ventilation for this part, so it may be better if you do it outside or in an open space like on a patio or deck. If using indoors, turn off any fans and close all windows and doors.
Place your bowl on the stovetop and turn it up to medium-high heat. You'll want to wait until the bowl is very hot before putting any tobacco in it. If you have a coal screen, put that in now too. Once the bowl is hot, put your tobacco in and cover with the foil. Make sure you use a fresh foil, as the old one may have absorbed some of the flavors.
Turn off the heat and allow it to sit for about 20 minutes. The tobacco will continue to cook in this time so don't touch it until then! After it's cooled, remove your bowl from heat and take off the foil. If there is burning tobacco in the middle, it may be hard to get out. The easiest way is just to dump out all of your tobacco into a new bowl and start over.
If you don't have a stovetop at home, using an outdoor grill or fireplace works too. Put your charcoal on one side of the grill and place your hookah bowl on the other side. Light your charcoal and let it heat up completely. This can take a while, so you may want to preheat the grill before starting this process.
Once hot enough, set your bowl on top of the charcoal bed with foil over it. The coal will light from underneath and cook your tobacco within about 20 minutes. When you remove the bowl, you may see some burning tobacco in the middle. Just dump out your hookah tobacco and start over like with a stovetop.
If using a torch to relight, be extremely careful! It's best if you use tongs or another tool when moving things around so that it doesn't get too close to other materials.
How to set up a hookah bowl?
This is a very important step in the process, but it does not seem so to many people. You should be aware that there are four types of hookah bowl materials: clay (ceramic or porcelain), stainless steel, heat-resistant plastic, and glass bowls. Stainless steel bowls can withstand high temperatures and do not break easily, but they are also the most expensive ones.
The clay bowls are the cheapest and the lightest, but they can break if dropped on a hard surface. The heat-resistant plastic bowls are not very popular because they do not produce good flavor and tend to melt with time. Glass bowls look great and produce good flavor, but they are the most fragile.
Before you start using your hookah, make sure that the bowl is clean and dry. If it is not, use a damp cloth to clean it and let it air-dry. Some smokers like to put a small amount of tobacco or shisha in the bowl to help absorb moisture. You can also spray a little water on the bowl to prepare it for smoking.
Now that you have a clean and dry hookah bowl, fill it with tobacco or shisha (if you are planning to use one). You should remember that not all bowls can hold as much tobacco/shisha as others, so make sure you read the specifications first. The best results are achieved with a small amount of tobacco/shisha – about 0.25 ounces.
Pour water in the hookah base and let your hookah rest for at least 30 minutes before you smoke it for the first time. This is done to make sure that you do not burn yourself, so remember this step if you are going to use your hookah for the first time.
How to fix a broken hookah bowl?
The best way to fix a broken hookah bowl is in steps: First, find the right size of your replacement glass. Buy it if you have not got one at home. Then, remove all parts that are damaged and clean them with soap or alcohol (the color will wash away). You can also use sandpaper for cleaning old stains. Afterward, remove the old glue or paint with a sharp knife and clean it afterward. Make sure you have enough space to put foil on your bowl when you are assembling again. Then apply new adhesive (don't forget there is also liquid resin available) from both sides of your newly cleaned bowl and let dry for about 20 minutes at room temperature. Put all the parts back together, enjoy and smoke!
How to make a hookah bowl at home?
There are a few ways to make a hookah bowl at home. You can use:
A disposable aluminum foil bowl
An oven-safe ceramic or glass bowl
A metal mesh screen
No matter which method you choose, the steps are the same:
Wrap the bowl in a few layers of aluminum foil. Make sure the foil is tight against the bowl and there are no holes.
Pour some hot coals (about half a chimney) onto the foil.
Put the cover on the hookah and let it heat up for about 15 minutes.
Take off the cover and wait a few minutes for it to cool down.
Make sure the foil is still tight against the bowl and there are no holes! You might want to try again if you think of any weak spots in your first attempt.
How to make a hookah bowl out of orange?
First, cut the orange in half with a sharp knife. Then, use a spoon to scoop out the insides of the fruit until you have a bowl-shaped cavity. Finally, use a paring knife or scissors to trim off any excess skin from the edge of the orange. Your hookah bowl is now ready to use!
How long does a hookah bowl last?
Many factors affect how long a hookah bowl will last. The type of coal, the brand of tobacco, and the humidity all play a role in how long your bowl lasts. In general, though, most bowls will last around 30 minutes.
Some smokers like to use quick-light coals for their hookahs because they heat up quickly and last a long time. These coals can be dangerous, though, because they don't always stay lit as well as other types of hookah coal.
If you want to avoid using quick-light coals altogether, make sure your bowl is properly packed with tobacco before lighting the coal on top of it. If there's space in your bowl, air will fill the space and make it harder for heat to reach all parts of the tobacco. Air is also a bad conductor that can cause warm or hot spots in your hookah because some areas don't get as much heat as others.
If you're using quick-light coals with an open-top bowl then be sure to use a screen to avoid hot coal spills.
How to make a hookah bowl out of apples?
It is very simple. You just need to cut a bowl-shaped part out of an apple and place it on the hookah stem in the place where previously was coal tray with coals. Then put Apple chunks into the bowl, fill up the water pipe with ice-cold water and proceed as usual! There are several ways how you can make a hookah bowl out of apples. One way is to cut a big hole in the top of an apple and then insert the stem into the apple like you would with any other bowl. You can also make smaller bowls by cutting off the bottom of an apple and then carving out a bowl shape from that end. Finally, you could just core the apple and then carve out a bowl shape from the center.
Apple hookah bowls can make smoking even more enjoyable than before! Just try it once, you will see for yourself how great this variant of hookah is in terms of convenience and flavor production. You should give Apple Hookah Bowls a chance at least once in your life!
The best hookah bowls are made out of apples. Try it! It is a whole new experience in smoking with apple shisha and it's also an eco-friendly way to smoke since you only use the outer layer of apple for bowl creation. No waste, no mess, just great flavors, and fun!
Which hookah bowl is the best?
For a long time, the main question was "which bowl is best?" The answer to this question has changed over time. On one side of the argument were people who believed that all bowls are created equal and you can use any good quality bowl until it cracks or breaks down. Another group said that only specific kinds of hookah glass bowls could produce the best flavor and smoke.
The truth is, there are good bowls and bad bowls. The material used to make a bowl can affect how it smokes. Most of the time, though, it just depends on your personal preference.
Some people prefer clay bowls because they often have a more porous surface that helps to heat the tobacco more evenly. Others prefer glass because they are made to be very durable and doesn't break easily, so you can drop them without worrying about it breaking on impact. Some people like the look of a specific style or color bowl that gives their hookah set up a unique appeal.
Video Tutorial: Hookah Back to Basics: Hookah Bowls
Conclusion 
A bowl is the heart of your hookah. If you are looking for a replacement think of the most popular types such as clay, ceramic, or silicone. Such materials provide the durability of your bowl and the excellent taste of your shisha.
---