---
RAW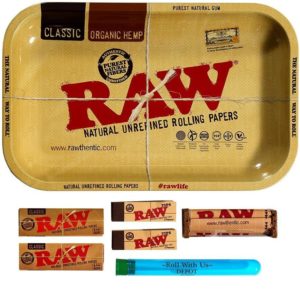 Quality RAW Rolling Tray
Durable RAW 79 mm roller
1/4 Rolling Papers
V. Syndicate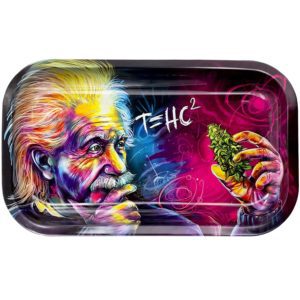 Size: Medium
Durable Metal
Easy to Clean
RAW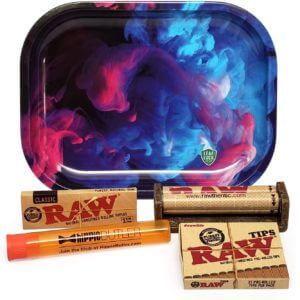 Mini Rolling Tray
79 mm roller
1/4 Rolling Papers
RAW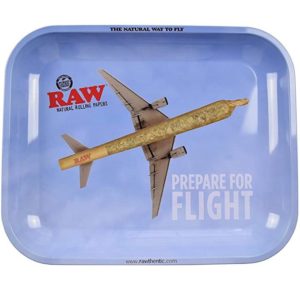 Limited Edition
A Certified
Length: 13.5″
SKDK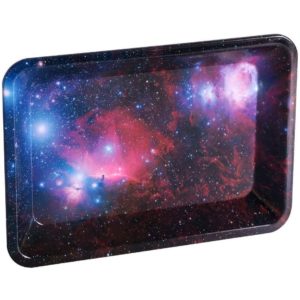 Size: Small(7.08″x4.92″)
Durable metal
Portable
---
Choose the Best Rolling Tray
Customer's Choice: the Best Rated Rolling Trays
9 users answered this survey. Please help us improve this review!

77.78% of users selected RAW 1/4 Rolling Papers, 11.11% selected V. Syndicate, 11.11% selected RAW 79 mm roller, 0% selected RAW Length: 13.5" and 0% selected SKDK. Every month we analyze your answers and change our rating.
---
Hand-rolled cigarettes have been always highly-valued by true connoisseurs of natural tobacco. You can easily get all required accessories for making them on your own – many online stores offer paper and special rolling machines. In terms of the price, roll-up cigarettes can be called the most affordable smoking alternative, but in terms of quality they are not worse than some premium tobacco products. You must have come across the term RYO (it is an abbreviation to Roll Your Own) – smokers raised cigarette rolling almost to the rank of art. It is enough to have a look at Johnny Depp who smokes only hand-rolled cigarettes, and it is now his calling card.
Today, hand-rolled cigarettes are gradually resuming their popularity in the tobacco market, since many people are not satisfied with the quality of a mass product. Moreover, smokers find it thrilling to create their own exclusive cigarette. Another argument in favor of self-made joints is the absence of a smell specific to cigarettes. Real tobacco smells good and does not soak your clothes and hair.
But even if you can roll the cigarette with your eyes closed, some accessories can make the whole process even more convenient. And a rolling tray is one of these items. It will help you collect everything at one place – tobacco, paper and other necessary things. Now you will not have to worry about spilling tobacco on the floor. Keep reading this article to learn about the best rolling trays available on the market.
RAW rolling tray – a fantastic kit deal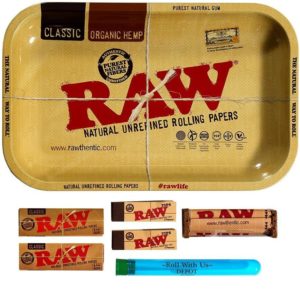 If you have ever used accessories from this manufacturer, you know the quality is decent. And it is once again proved by this wonderful smoking kit.
The package includes everything you need to roll a joint – a rolling tray, a rolling machine, sets of tips and paper, and a hand roller. This set will become a game changer to your smoking process. You can select these items in one of three offered sizes.
With this nice set, you can easily roll a cigarette even on your lap. Rolling machine and hand roller work well, and the tray is very sturdy and facilitates the whole process. And all items are very easy to use and clean. But some customers complain they did not receive everything listed, so take a minute to check if you get everything when the order arrives. The kit comes nicely packed in a box, so your friend-smoker will appreciate such a gift.
---
V Syndicate Rolling Tray – the most eye catching tray designs.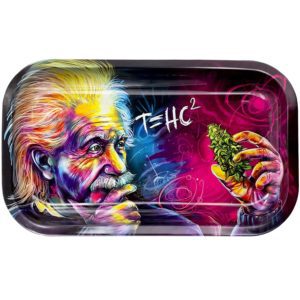 If you are looking for some exclusive rolling tray, you will surely like beautiful designs from V Syndicate. In reality, all the trays are as colorful as you see them in the pictures.
They are all made from metal and are very durable. The manufacturer carries out a drop test to provide the most durable products. The tray comes in two sizes, it has smoothly rounded edges and perfect depth.
Buy this rolling tray to make the smoking process more enjoyable. Awesome graphics and vibrant colors will add positive emotions to everyone using this tray. Be careful when selecting the tray size, as some customers find a small size a bit inconvenient. But, at the same time, it is a great option if you travel a lot. Despite its low price, this model can easily compete with much more expensive rolling trays. You can equally use it for tobacco and other herbs. It will add more colors to your smoking experience.
---
RAW mini rolling tray – a great solution for travelers.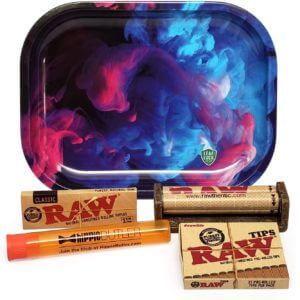 Some tobacco smokers are not ready to give up their hobby even when they travel. If you are one of them, you will definitely need some accessories to quickly make a joint in any location.
And RAW developed a great solution for such cases – it is a mini rolling kit. It includes a small rolling tray, a machine and hand roller, papers and tips. So if you are a traveler or just an occasional smoker, you will get everything in just one package.
The manufacturer did not disappoint its fans this time either. Even if some customers wish the tray from this kit could be bigger, it still gained its audience. The compact size of the kit makes it convenient to take it with you while traveling. Moreover, the kit will be a nice starting point for beginning smokers. It comes nicely packed and includes everything you need for cozy smoking, just do not forget about tobacco!
---
RAW Large Metal Tray – the most spacious rolling tray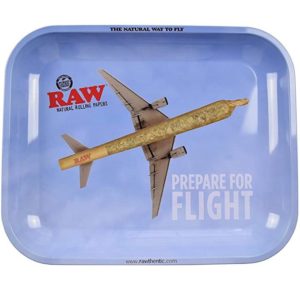 If you are an avid smoker but still roll your joints on some self-made surfaces, it is time to buy a proper rolling tray and move to the next level of rolling craftsmanship.
This model comes in a very nice size and it will allow you to experiment with your smoking products as you wish. It will keep the space around you clean and prevent tobacco and herbs from falling around. Besides, the tray comes with a very nice print.
If you are an everyday smoker, this tray will come in handy. It is a laptop size roughly and you can simply use it on your table. You can use this tray with a magnetic lip and keep inside all other smoking accessories. But you need to realize its actual size before purchasing. If you usually roll your cigarettes in your lap, it may not be the most convenient model. Other than that, there are not shortcomings about this great rolling tray.
---
Universal Metal Rolling Tray – a versatile tray to use for many purposes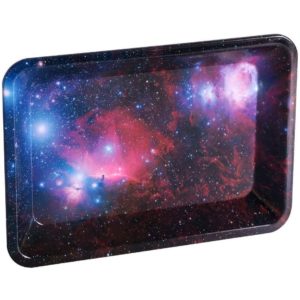 It is time to stop to look for random materials to serve you as a working surface once you want to roll a cigarette.
Luckily, you can get a universal rolling table at a very attractive price. And you will immediately see the difference working with this tray – it is sturdy and makes joint rolling easy and fast.
The manufacturer allows you to choose from eleven designs. All of them are bright and nicely made. Once you are ready to buy this tray, check in advance if it will be convenient for you to work with the smaller size variant. Many users find it too tiny and suggest to order it only if you want to make mini wraps. But the benefit of the smack tray is that it is easily portable. Though, if you want to be on the safe side, it is better to purchase medium size. Even if you are not happy with the purchase, the seller provides a money back guarantee.
---
Buyer's Guide
Your smoking setup is not complete if you do not have a nice and reliable rolling tray. You will find a great selection of this device in online stores or specialized tobacco shops. Sometimes, customers are confused by the variety of shapes, sizes and materials of rolling trays. It is important to take into account several criteria to make the right choice.
Material
Nowadays, you can get a rolling tray made in all possible material – from ceramics to glass and bamboo. But most commonly, these items are made from metal and plastic.
Of course, metal trays will be durable and will not break but poor quality metal may rust after often cleaning. Besides, they can be quite heavy.

Wooden trays often come with nice carvings and appealing design, but they are not lightweight either and can cost you a fortune.

Plastic trays are very affordable but, unfortunately, not durable at all. Though, it will not be a problem to replace them as the price is usually very low. Plus, they are very light and good for travelling.
Size
You may mistakenly think that compact rolling trays are the best. But it is not always the case. Yes, small trays are portable and easy to carry around. Small size is especially relevant if you need to travel a lot and often need to roll a join on the go. But at the same time, you may lack some workspace on a small surface, especially if you want to make more than one roll at a time.
Bigger tables provide you with more freedom. Besides, they have enough space and sometimes even separate compartments to keep all your paraphernalia. So if you are going to use a rolling tray at home, it is better to consider medium and larger sizes.
Price
The range of prices is very wide. But the cost of this accessory should be reasonable for your pocket. It is advisable to look for the balance between functionality and appearance. If you do not have much experience with cigarette rolling, start with cheaper variants to test materials and other features.
Design
It is obvious that the main purpose of a rolling tray is to enable you to roll up a cigarette faster and without extra mess. But this accessory is not only a flat working surface – its design also matters. Creative and eye-catching trays will add more vibes to your joint rolling process. Some smokers even collect them with pleasure. So if you happen to meet a unique rolling tray, it may become a wonderful gift for your smoking friend.
Video Tutorial: Introducing the BRAND NEW RAW Rolling Tray Cover
Conclusion
Rolling trays perform both practical and decorative functions. And you cannot but agree that this small accessory makes the life of a smoker much easier. Luckily, it is possible to find a rolling tray for any budget, starting from a few-dollar plastic models to expensive handmade options that can impress even the most sophisticated tastes. If you love tobacco smoking, it is a must have component of your smoking kit. You can start from affordable rolling trays and gradually widen your collection by other models. Hopefully, after reading this article, it will be easier for you to select this very helpful smoking accessory.
---