---
Vertigo
Wind Resistant Flame
2 Pack
Quartz Powered Ignition
Mantello Cigars
Premium Cigar
Adjustable Flame
Butane Refillable
---
Most cigar experts are quick to admit that smoking is a bit of a peacocking experience. It's a great time to show off your expertise and exquisite taste. While stogies are usually the star of the show, cool accessories also make their cameos. A stylish and functional cigar lighter will steal the spotlight. We've brought you five of our favorite cigar lighters. Check them out. Then, let us know what you think in the comment section below.
Vertigo by Lotus Cyclone Triple Torch Cigar Lighter in Charcoal – Editor's Choice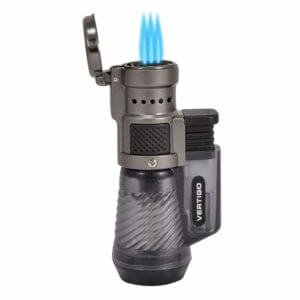 Lotus Cyclone's three-torch Vertigo cigar lighter is an excellent asset for any cigar smoker. First off, this lighter has a lovely charcoal gray exterior. An ergonomic push-button makes it easy for users to ignite the powerful flame.
The dual-action quartz-powered ignitor gives smokers the utmost control over their fire. The Vertigo lighter is resistant to wind, making it is an excellent option for open-air smoking sessions.
The lighter also has a large butane reservoir as well as a butane level indicator. Each lighter comes with a protective fabric pouch.
This affordable cigar lighter set is a score for you and your friends. It pairs premium aesthetics with expert functionality.
The Vertigo has a rugged metal exterior with engraved twists that make it super easy to grip. The ignition button protrudes from the side. The flip-top lid automatically lifts upon ignition.
[i2pc pros_icon="icon icon-check-1″ cons_icon="icon icon-minus-thin" show_title="false" show_button="false" pros_title="Pros" cons_title="Cons"] [i2pros] Two lighters in a pack (all the better for sharing)
Metallic charcoal gray color
Wind-resistant three-torch flame
Refillable butane reservoir
Easy-to-read fuel level window
Comes with a custom cloth pouch for storage
[/i2pros] [i2cons] Some reported leaks
[/i2cons] [/i2pc]
---
Mantello Catador Triple-Jet Flame Butane Torch Lighter with Cigar Punch Cutter – Top Runner-Up
The Mantello Catador triple-jet cigar lighter is an exceptional object. It has a rugged black and silver exterior. The lighter is as durable as it appears. Users can refill the butane reservoir.
However, this process requires a bit of guesswork, as the Mantello does not possess a butane level indicator. Still, users can adjust the flow of gas by twisting the rotary dial on the lighter's side.
In just one push of the button, the lighter releases a three-torch flame. The ignition process is simple to use and super reliable. The product comes in a lovely black and gold gift box. The cigar lighter is also equipped with a handy cigar punch. Despite its durable exterior and quality details, the Mantello is priced well under $20.
[i2pc pros_icon="icon icon-check-1″ cons_icon="icon icon-minus-thin" show_title="false" show_button="false" pros_title="Pros" cons_title="Cons"] [i2pros] Compliant with D.O.T. regulations
Comes in an elegant gift box (perfect gift for the cigar smoker in your life)
Refillable butane reservoir
Cigar punch attachment
Adjustable gas flow via rotary dial
Backed by a 1-year limited manufacturer's warranty
[/i2pros] [i2cons] No butane level window
[/i2cons] [/i2pc]
---
Cobber Torch Lighter – Best Budget Option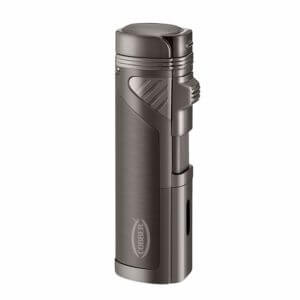 The Cobber Torch Lighter won't hurt your wallet. It boasts a durable metal body with a flip-top lid. We love the look and feel of this lighter. You can easily adjust the height of the four-torch flame.
The Cobber Torch boasts a world-renowned Piezo Ignition. The body is made of zinc alloy and boasts a muted gray color. After a few seconds, the flame turns red. Red fire is more prounounced in natural lighting. Also, they make your entire cigar smoking experience a bit more interesting. The lighter also features a cigar punch.
An oversized refillable butane tank and fuel level indicator make it easy to keep this cigar lighter up and running. The Cobber is aesthetically and functionally exquisite! It also happens to be the most affordable lighter on our list! Who said cigars were only for aristocrats?
[i2pc pros_icon="icon icon-check-1″ cons_icon="icon icon-minus-thin" show_title="false" show_button="false" pros_title="Pros" cons_title="Cons"] [i2pros] Four torches for an even more reliable ignition
Red flame for better visibility in sunlight
Solid metal body
Flip-top lid protects the fragile ignition
Easy-to-read butane level indicator window
Built-in cigar punch eliminates the need for extra accessories
[/i2pros] [i2cons] Presence of butane odor
[/i2cons] [/i2pc]
---
Tomolo Torch Lighter with Cigar Punch – Best Cigar Lighter Two-Pack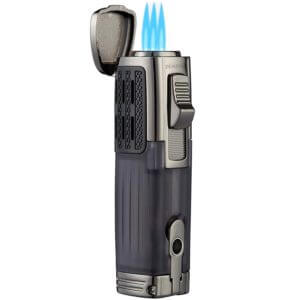 The Tomolo Torches come two to pack. These impressive cigar lighters make smoking so much easier. They boast durable and attractive zinc alloy shells. There are some plastic elements on the exteriors of the lighters.
Each lighter has a transparent fuel level window as well as a refillable butane reservoir. The lighters also feature cigar punches. As such, you can cross two cigar accessories of your list.
These products come packed in premium gift boxes. Feel free to keep one for yourself and pass the other on to a friend. They make excellent gifts. The three-torch flames provide users with an extra-large lighting surface. You will have no trouble igniting your cigar on your first attempt.
[i2pc pros_icon="icon icon-check-1″ cons_icon="icon icon-minus-thin" show_title="false" show_button="false" pros_title="Pros" cons_title="Cons"] [i2pros] Built-in cigar punches
Durable zinc alloy exteriors
Transparent fuel tank window
Refillable butane reservoir
Two to a pack
Triple-torch flame offers lots of surface space for lighting
[/i2pros] [i2cons] Some plastic elements
[/i2cons] [/i2pc]
---
Vertigo Cyclone Charcoal and Brushed Chrome Triple Flame Torch Lighter – Customer Favorite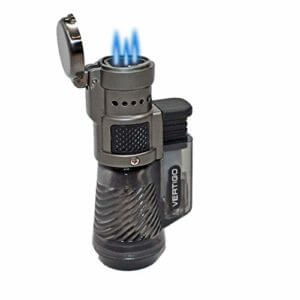 We already told you a little about the Vertigo Cyclone Cigar Lighters. This lighter is perfect for cigar smokers who are just looking for a single inexpensive lighter that will get the job done.
It has a solid metal body with a premium charcoal gray color. The three-torch flame and adjustable gas flow knob enable users to hone in on their ideal flame settings. Consumers get 30 days to return the product if they are not satisfied. However, the Vertigo isn't known to disappoint.
For just over $10, you can satisfy your craving for a premium cigar lighter. We love the way the Vertigo fits in our hand. The engraved details feel great against our fingers. We're also fairly confident they help us to maintain our grip.
[i2pc pros_icon="icon icon-check-1″ cons_icon="icon icon-minus-thin" show_title="false" show_button="false" pros_title="Pros" cons_title="Cons"] [i2pros] Inexpensive option for a single cigar smoker on a budget
Transparent fuel tank indicator window
Charcoal gray exterior
Solid metal casing
Three-torch flame
[/i2pros] [i2cons] You can get a better deal by purchasing multiples
[/i2cons] [/i2pc]
---
How to Choose the Best Cigar Lighter
Exterior
Your lighter should have a solid metal body. Most cigar aficionados prefer lighters that are aesthetically rugged yet sleek. Stainless steel and zinc alloy are popular lighter materials. Lighters may be smooth or textured. While textured surfaces are easier to grip, many smokers prefer the feel of smooth lighters. Make sure to choose a cigar lighter that suits you!
Some lighters also boast flip-top lids. These elements are not necessary. However, they do help protect the more vulnerable ignition elements. They may even shield flames from the wind.
Ignition
Butane lighters typically feature a simple switch on the top or side. The knob triggers the release of a spark and butane. Some lighters allow users to adjust the flow of gas. Adjustable controls enable smokers to control the height of their flame.
Flame
Most cigar enthusiasts prefer multi-torch flames, as they offer a greater lighting surface and more strength. There are still some perfectly acceptable single-torch butane lighters on the market. However, we tend to prefer lighters with three to five torches.
Fuel Tank
A refillable fuel tank is a quintessential part of any halfway decent cigar lighter. A lighter should have a large, refillable tank for butane. The tank should also feature an accurate fuel level indicator as well as a user-friendly refill port.
Cigar Lighters FAQ
Are Zippo lighters good for cigars?
Zippo lighters aren't necessarily bad. Many cigar enthusiasts, on the other hand, hate them because they use liquid gasoline, which will make the cigar taste like disgusting liquid gas. Zippo lighters often have an unrivaled level of dependability.
It would not compromise the cigar's quality or flavor. Butane isn't seen for all Zippos. In terms of fuel consumption, they're a bit of a wild card. Others use low-grade, smelly oils, such as Ronson's, which can significantly tarnish your cigar.
Do lighters ruin cigars?
When you use high-end butane lighters, there's normally no toxic taste in your smoke to spoil the flavor of your pricey cigar. If the chemical head is able to burn out, leaving just the wood, torches may be used.
But bear in mind that not every butane is the same. The right butane is filtered at least 5 times to eliminate impurities that may clog and corrode the lighter's jets, as well as interfere with the flavor of a luxury cigar. Don't buy butane from a grocery store because it's cheap (and typically of bad quality). 
Stop matches that have a sulfur tip. The sulfur can alter the flavor of your cigar. If you just have sulfur matches, let the sulfur flame off the end before striking your cigar with it.
Many cigar enthusiasts hate Zippo lighters since they use liquid gasoline, which will make the cigar taste like disgusting liquid gas. If you're using a Zippo, simply let the wick fire for a few moments to burn off any liquid fuel debris to keep it from being moved onto your cigar by the flame.
Since the chemicals and odors in candles, a stove, paper matches, and lighters that use the Naphtha fluid may change the flavor of the tobacco, avoid them.
Is it better to light a cigar with matches?
If you're smoking outdoors, wooden matches aren't perfect, but they're a lot safer than any paper-based matches. It is preferable to use two matches at once. Two matches can create a greater blaze, making it simpler to completely light the end of your cigar when puffing on it.
Prolonged cedar matches can be perfect if you have ties to them or if you're in a cigar lounge. They're supposed to be used for lighting cigars. They fire for longer after being struck, allowing you more time to light your cigar.
A butane lighter or long wooden cigar match can be used to light the cigar's foot, or tip.
What is the best lighter brand?
Though it may seem to be a minor consideration, better cigarette lighter brands are more than meets the eye. Real, you can buy a lighter at any grocery store in the United States, but what if you need the strongest lighter in the world? These lighter firms, on the other hand, aren't playing around. They only produce the highest-quality lighters available:
Zippo;

ST Dupont;

Clipper;

Bic;

Alfred Dunhill;

Colibri;

Ronson;
What is the most reliable lighter?
Yes, most of the time, inexpensive traditional lighters function well. The cheapest plastic lighters can produce the same size fire as the most costly lighters. However, the pricey lighters would not be a bad idea for survival. The biggest argument to purchase a high-end lighter is that plastic lighters are not long-lasting or wind-resistant.
Fortunately, there is already a bunch of far healthier alternatives on the market. Thousands of modern flame-makers all claim to be "the finest" or "highest-rated" survival lighters, all claiming to be extremely durable and long-lasting.
When choosing a reliable survival lighter, consider these common aspects: 
It should be refillable

. When you have a refillable lighter, you'll just need to purchase a can of petrol every couple of months rather than buying new lighters all the time;

Durability.

It's reassuring to know that your lighter can withstand the harsh weather;

Wind resistance.

A direct flame is similar to that of a fire, while an indirect flame is similar to that of a match. Some Bic lighters, for example, use indirect fire, which can be a total hassle in a windy setting. A direct blaze, on the other hand, is less prone to blowouts. Making it easier to fuel a fire quickly. Windproof lighters with a direct flame are much better safety lighters;

Water resistance.

You're out of luck if you lose a non-waterproof lighter in the snow, a pool of water, or attempt to use it in the rain. Standard lighters, on the other hand, take quite a long time to dry out and resume operating after being wet;
A few reliable and long-term lighters that you should consider: 
1) Any genuine Zippo lighter. In windy weather, their special chimney shape allows them especially durable lighters. Users may also control the size of the blaze with their customizable wick. They even have a one-of-a-kind lifetime guarantee. They are not, though, fully waterproof;
2) UCO Stormproof Torch Windproof Lighter. It has 700 ignitions of butane and a striker that is suitable for 30,000 uses;
3) Windmill Classic Stormproof Lighter. When it refers to longevity, this lighter is unrivaled. For added security, it has an elastomer armor outer coating. It has a window in the middle that allows you to keep track of your fuel levels. It's still watertight and floats thanks to the use of a steel wire closing mechanism with an O-ring;
4) Everstryk Matchpro Lighter. A replaceable striker and wick are included in this sleek butane lighter. Fill the tank with lighter fluid, detach the starter, and you're ready to go;
5) Tesla Electric Lighter. Rather than a flame, this electronic gadget starts fires with the aid of a battery and the power of energy. The trick to using this method is to use it in conjunction with a Solar Power Bank. It's both water-resistant and equipped with a strobe-functioning emergency torch;
Are old lighters worth anything?
Lighters are offered in a range of sizes, colors, and materials. Clearly, current plastic lighters are worthless, although the importance of vintage lighters varies depending on the products used. A lighter crafted of gold or silver is usually much more valuable than one made of less expensive materials.
Any lighters are miniature pieces of art in themselves. Collectors are drawn to special versions and classic items, and limited editions usually have a higher appeal. This is usually the case for high-end lighters. There can be a unique special edition lighter, such as Dupont lighters, or a popular commercial lighter, such as Zippo lighters.
The lighters by popular brands appear to be more costly on the vintage market, although some from smaller makers may be fascinating as well. Zippo has always been famous and will stay so for a long time. Also, Ronson is still one of the most sought-after labels by collectors. Keep a close eye out for lighters from well-known and valuable products including Dunhill, S.T. Dupont, Tiffany, and Evans.
The lack of your lighter's name or model would also influence its worth. The less of it there is, the more expensive it gets. While age can influence rarity, it's essential to note that older does not always equal more expensive, unless the model is more uncommon. Profitable lighter versions were mass-produced in large quantities, and they appear to be low-value products
The earliest versions of Zippo and Ronson, on the other hand, are somewhat rare and therefore more precious. Lighters from the early 1900s are highly challenging to come by. As a result, parts produced before mass manufacturing will easily increase in value. Bear in mind that a lighter manufactured prior to 1920 is likely to be a safe purchase.
Collectors place a premium on the condition of a lighter. The higher the rating, the healthier the situation. Nearly new pieces are a decent purchase. The so-called Old New Stock or Mint in Box lighters, on the other side, are much more precious. Not only are they in excellent shape, but they still come with their initial packaging, stickers, and directions.
What type of fuel do cigar lighters use?
The most popular lighters used by cigar smokers are torch or jet flame lighters. They're driven by butane, a fluid gas that's simple to come by and comparatively cheap. Butane is a highly combustible, colorless, and readily liquefied gas that is used in butane lighters and torches. Naphtha is a flammable liquid hydrocarbon mixture that is found in wick lighters and burners.
According to Jack Cooper feedback, consider buying the butane fuel refill by Colibri, Bison or Xikar. It is better to pick premium brands of butane for cigar lighters to avoid a strange odor and leakage that may ruin your cigars. 
Video Tutorial: Choosing a Cigar Lighter
Final Thoughts
SmokeProfy website was created for all aficionados of smoking. That is why all my reviews are mostly budget-friendly. Most novices use cheap gas lighters and they are completely satisfied with this accessory for smokers. But I've decided to go a bit further and offer the premium brands of best cigar lighters. Yes, it seems that lighting up a cigar needs a bit more style than a regular lighter from a supermarket.
How did I select cigar lighters for SmokeProfy review?
Though, I also didn't want to offer too expensive to use, limited masterpieces in the world of lighters the price of which can reach a few thousands of dollars. So, my price range was between $30 – $100. I'd like to explain my top 3 of cigar lighters first, in such a way you will understand my criteria for picking these necessary accessories:
Vertigo offers the quartz-powered ignition and wind-resistant flame;
Mantello Cigars is a premium igniter at an affordable cost, it can be refilled with butane;
Cobber is a very sturdy, metallic piece, with an adjustable flame height;
Major types of budget-friendly lighters for cigars
During the prep for this guide, I've learned that there are 4 basic types of cigar lighters:
Single-flame units – perfect for touch-up ignition;
Double-flame pieces – good for medium cigars;
Strong triple-flame – they are capable of lighting huge ring gauges;
Butane kettle pieces are not for everyone, because they will do for the largest, hand-rolled cigars;
What do you think about my review? I regularly update my guides on SmokeProfy, so your opinion definitely counts. What cigar igniters can you recommend? Leave your feedback and subscribe to follow the updates. Thank you for supporting!
We hope you enjoyed our rundown of the top five cigar lighters. Lotus Cyclone's Vertigo two-pack is our top choice. This lighter has a triple-flame torch and a refillable butane tank. It's gorgeous charcoal gray exterior makes it a piece you'll want to show off to your cigar buddies. Come in directly behind the Vertigo is the Mantello Catador Cigar Lighter. This lighter boasts a triple-jet flame, a cigar punch, and a color-changing element. Do you have a favorite cigar lighter? Let us know in the comment section below!
---