---
Lit Hookah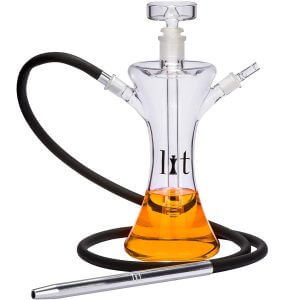 13-14" tall
Portable
Easy to clean
VooV
20″ tall
100% waterproof
Easy to clean
Lit Hookah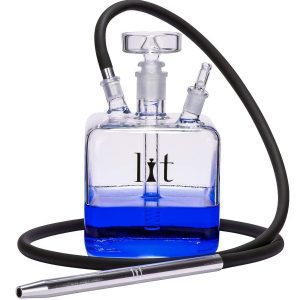 10" tall
Portable
Easy to clean
VooV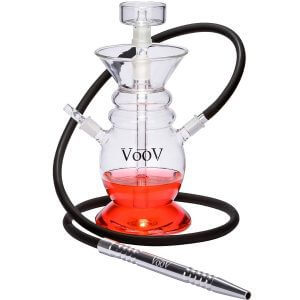 12.25″ tall
100% waterproof
Easy to clean
Texas Hookah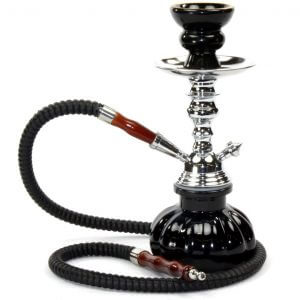 Sturdy design
41 inch hose
Durable
---
---
Why do glass hookahs differ? Because they combine all the advantages of standard hookahs and are devoid of their disadvantages:
interchangeable parts due to universal dimensions;
value for money;
a transparent base with a wide mouth for adding fruits, ice and syrups;
convenient support for the bowl allows you to make hookahs on fruits.
Bohemian glass or borosilicate are used for their production. The first is beautiful, the second is practical. Borosilicate is a strong and tough material that protects the item from scratches and cracks.
The main advantage of a glass hookah is its appearance. Nothing is as mesmerizing as bubbling water with berries and smoke. It will decorate any interior.
Below is a comparison table of 5 glass hookahs picked by users and experts and some useful recommendations to help you with selection.
VOOV LIT Handmade All Glass Original Hookah Set – the best for quality and simplicity
This handmade hookah can boast a unique design, top quality heat-resistant glass, which is strong enough for everyday use.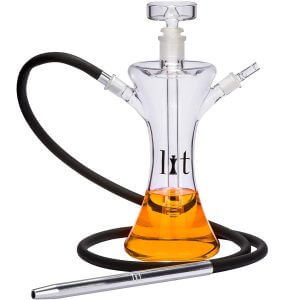 VooV Lit Original hookah features superior efficiency and looks magnificent, which makes it an undoubtful best-seller among small size peers.
Exceptional design and simplicity will make it one of your favorite hookahs. It is assembled, disassembled, cleaned just in a few minutes. Safe storage at home and on the move is possible due to a special carrying case included in the set.
You can use fruit with the VOOV LIT Glass Hookah. Cut them into thin slices and put them through the top of the piece. Remember to add water as well. The second hose can be attached instead of the air valve, but the other smoker, not inhaling the fume, should plug his hose by a finger to let the first smoke.
VOOV Handmade All Glass Euro Hookah Set – the best for holding a party
The fantastic design and the right size makes it look perfect for daily use or holding a party. Super easy handling and cleaning are a huge advantage for those, who want to relax with friends and forget about washing routines.
Thanks to the superior quality materials of the hookah, the taste is incredibly pure.
There is an option to attach the second hose, replacing the bleeder valve, and enjoy smoking with your sweetheart or mate. The bowl isn't built into the stem, it can be changed for any other bowl, for example, your favorite one.
To cool down the water, some ice may be used. Optionally, you may put the whole base to the freezer for several minutes to keep the water cool enough, which is very convenient. You can't do that with ordinary hookahs.
VOOV LIT Handmade All Glass Cube Hookah Set – the best for steadiness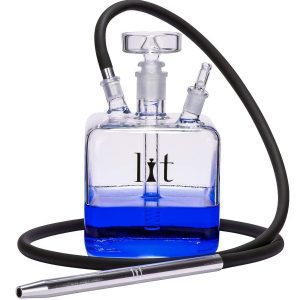 The VOOV LIT Cube hookah is designed in extraordinary square shape. Not typical for hookahs, this construction gives excellent steadiness and safety on any flat surface, when using or moving it around the room.
This truly sturdy model is a pioneer in its kind.
Top quality heat-resistant borosilicate glass and food-grade silicone hose with an aluminum tip and handle mean the purest taste and amazing smoking experience. Charcoal and shisha are all you need to start smoking. It's offered with a box carrying case, which is suitable for hookah transportation.
This model will deceive you with its base – it's compact but the volume of the cube is big. The bowl warms up in 3-5 minutes and the whole process of setup is easy and fast. Smoking is smooth and quiet.
VOOV Handmade All Glass Cosmo Hookah Set – the best for fantastic design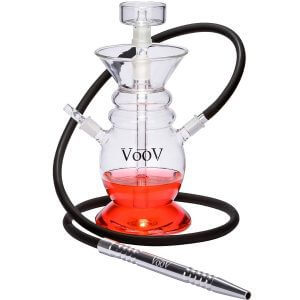 VOOV Cosmo Hookah is composed of several supreme quality glass parts. The craftsmanship is amazing and the clouds of smoke are enormous. As it's all made of glass, the taste is pure, without any unpleasant smack caused by toxic metals or plastic.
This model comes with one hose, but the second may be used instead of the purge valve. The minimalist design and compactness make it perfect for home daily use.
The hose is silicone with a premium aluminum mouth tip and handle. Some users dislike the feeling of rubber, so the hose may be easily changed for another one. The same is possible with the mouthpiece if you prefer a glass one, not aluminum.
TEXAS Glass Hookah – the best for affordability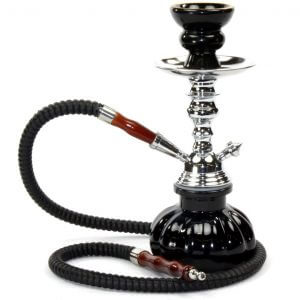 This model is very affordable and is recommended for those who want to try smoking a glass hookah at home and are not ready to spend a fortune, as glass hookahs are usually expensive. The size of the vase is small but the item functions as a big one.
The construction is sturdy, which lets you move it around the room and share it with others. The base is made from strong high quality glass and is durable.
If you smoke alone it suits fine. Sharing with others isn't so comfortable due to the length of the hose. The bowl may be unscrewed and replaced with a different one. If it doesn't fit well, you may need to change the stem too.
The Buyer's Guide
Glass hookahs are innovative, though quickly gaining popularity. Before buying a glass hookah learn all benefits and peculiarities.
Quality of materials
All hookahs are manufactured from heat-resistant tempered glass. They are not afraid of light blows and do not corrode. Their parts do not break from overheating. The quality is undoubtful. Glass hookahs are considered more fragile compared to the traditional ones. If you often take it when traveling, get a special carrying case for protection and care.
Maximum taste
The glass does not oxidize and rust, which guarantees the purest taste of shisha. Silicone pipes, glass or aluminum mouthpieces and large internal volume facilitate inhaling and cool the smoke better.
Ease of care
Fully transparent parts guarantee perfect hygiene and soot or syrup residues are immediately visible. Thanks to the perfectly smooth surface all items can be easily washed in warm water. Forget about never-washable traditional pipes that can rust. Rinse all the pieces in warm water, add liquid soap if needed.
Original design
Glass has always been associated with style and a sense of taste. A glass hookah always looks mesmerizing. Observing the movement of smoke from the bowl to the mouthpiece is akin to meditation. If it is a glass hookah with illumination, the evening will have an aura of romance and mystery.
Useful tips for glass hookah users
It is problematic to clean a glass hookah. Some advanced users tried putting hookahs in a dishwasher, but it is risky and unjustified. If you follow the recommendations of the manufacturer any glass hookah can be cleaned to the transparent state quickly enough.
Rinse thoroughly
Pour out all the liquid, fill the hookah with clean water and shake gently. Pour out the water and repeat this manipulation several times.
Use hookah cleaners
It is recommended to use special cleaning agents to clean the hookah inside. It is better to refuse from ordinary dish soap (it leaves ghost taste). If there is no special cleaner, you can use a solution of Epsom salt with warm water.
Leave it to soak
Leave the hookah for 5-6 minutes without rinsing the product to soak any remaining and difficult to remove dirt. Rinse well and repeat if necessary.
A brush is the only way to get rid of the most stubborn dirt stains inside the hookah. After cleaning with a brush rinse the hookah thoroughly again.
Glass Hookahs FAQ
Are glass hookahs better than traditional hookahs?
If you're searching for a new shisha/hookah to contribute to your set or dreaming of buying your first hookah, you've possibly wondered: glass hookah or conventional hookah?
Aside from the apparent material make-up, there are several variations. Classic hookahs have been around for decades. However, a few aspects about modern glass hookahs can be more appealing: 
Style. The transparent base of a glass shisha is another feature that smokers like. Vapor Glass Hookahs are for you whether you want to see your smoke or customize your hookah with color, lighting, fruits, or diffusers. These hookahs are more delicate than conventional hookahs, but they can never corrode or rust. It is strongly advised to include a glass shisha in your range to bring spice to your daily smoking sessions;
Taste. If you've ever used a hookah with a metal stem, you might have found that the smoke has a metallic smell to it that a glass hookah does not provide. There's still no reason to be concerned with ghosting. Glass hookahs do not maintain taste from prior smoking sessions, while metal hookahs do;
Maintenance. Since these hookahs are completely made of glass, including the seals, rubber grommets are not needed. Glass-on-glass seals provide a closer, more stable cover, and the adapters and stems match well within the foundation. Glass shishas are much simpler to clean than conventional hookahs because of this. To clean one of these machines, all you need is hot water;
What is the best brand of glass hookah?
Glass hookahs have taken the industry by surprise. Simple maintenance, good efficiency, and a sleek style are only a few of the advantages of glass hookahs. But not all of them were made equal. Here are a few brands that produce some of the best glass hookahs: 
Lavoo;

Oduman (N1 or N5 models);

Evolution;

Fumo;

Luxx;
The things to consider when looking for a high-quality glass hookah: 
Thick glass – e.g. Oduman hookahs;

Under $400;

Available replaceable parts;
Which type of hookah is best?
A few common types of hookahs you can freely buy online or in specialized stores: 
Anodized aluminum hookahs.

In the United States and Canada, anodized aluminum hookahs are the most popular. Don't let their fame fool you into thinking they're fine. They're thought to be rather low standard hookahs. They're made in China, with pieces that deform and break down quickly; 

Egyptian hookahs

are the most common of the hookahs available on the market. Their tall, slender stems are their most distinguishing feature. They come in single metal and multi-metal (often referred to as tri-metal) types. Stainless steel, zinc, and copper are some of the materials that can be used to make them;

Syrian hookahs are a little less popular than Egyptian hookahs. They have a thinner stem with an inward bent hose port;

Glass hookahs can boast a modern design and affordable cost;
You already know that hookah tubes come in a variety of shapes and sizes, but there are two major types of shisha pipes: classic hookah pipes and contemporary hookah pipes.
| | | |
| --- | --- | --- |
| Type  | Pros | Cons |
| Traditional hookahs | More recognized design | Air sealing is average |
| | A lot of styles | Not quite durable |
| | Restricted, open or closed draw | Hard to clean |
| | Budget-friendly | Consistency |
| | | |
| Modern (as glass hookahs) | Versatile designs | The classic look is not for everyone |
| | Air sealing is good | Quite expensive |
| | Durable | Only for open draw |
| | Easy to maintain | |
Are hookahs worse than cigarettes?
Many hookah users claim that smoking a hookah is better than smoking cigs since tobacco smoke is extracted by water and hence is healthier. This isn't correct. Hookah smoke produces the same carcinogens as cigarette smoke, including tar, nicotine, carbon monoxide, heavy metals, and other carcinogens.
According to the World Health Organization (WHO), hookah smoke contains 36 times more tar, 15 times more carbon monoxide, and 70% more nicotine than a single cigarette.
Toxins and cancer-causing substances can be absorbed more readily by Hookah users than by cigarette smokers. Depending on the amount of puffing, the intensity of inhalation, and the duration of the hookah session, an hour of hookah tobacco smoking is equivalent to 40 to 400 cigarettes.
Hookah smoking, including cigarette smoking, has been linked to health issues such as lung cancer, respiratory disorder, and periodontitis. A hookah smoking session, according to the WHO, will subject smokers to more smoke for a longer period of time than smoking cigarettes, potentially exposing consumers to higher concentrations of the same chemicals and toxins as cigarette smoke.
Hookah and cigarettes both contain nicotine, which is an addictive substance derived from tobacco. Inhaling hookah smoke is much like breathing cigarette smoke in terms of addiction.
Are hookahs legal?
Thanks to many state tobacco control regulations, several shisha bars in the United States have switched from selling tobacco shisha to herbal shisha, which is nicotine-free and can be legally smoked indoors in places where tobacco smoking is prohibited.
In the battle on tobacco, hookah has never been the greatest antagonist. Hookah lounges, a centuries-old practice carried over from the Arab world, are often located in refugee neighborhoods in big city areas such as Los Angeles and New York. Many of the people who own and visit these places describe them as public meeting places, similar to bars.
Shisha lounge owners and the hookah business as a whole are demanding that they should be excluded from such laws as municipal legislators and policymakers put hookah among what they deem kid-friendly e-liquid varieties. Their argument is straightforward: making hookah illegal will be a cultural affront.
Tobacco laws, just like hookah laws, will differ dramatically from state to state and also city to city. According to the New York City Department of Health, there were 400 hookah "businesses" across the five boroughs in 2017, four times the number in 2012. Currently, all NYC outlets must only sell non-tobacco shisha, which means it's all spice and no substance – hookah smoking in New York would not give you a nicotine buzz. Hookah lounges in Baltimore County, Maryland, are required to close at midnight.
Hookah businesses are required to apply that application as well and are thereby subject to the same FDA approval process. It's possible that their goods will be removed from the business. But, due to certain bureaucratic exemptions, flavored tobacco hookah makers might be grandfathered in, essentially because they've been on the market for far longer than vapes and e-cigarettes. 
Does a hookah produce vapor or smoke?
Vaping a cigarette is not the same as smoking a hookah (e-cigarette, vape). A vaping cig is a smaller, single-use system that uses high temperatures to transform liquids into smoke. The smoke generated by a hookah is not merely water vapors, but aerosols containing toxins.
Hookah evaporates the tobacco, however, "vaping" atomizes the juice primarily. An e-cigarette is really a fine spray of liquid droplets.
A bowl that has been well prepared and handled does not fire at all. Often, you're vaporizing glycerin (or honey for a more conventional approach) and flavoring, as well as any tobacco. At least some of the tobacco has burnt whether you have a "burnt" or unpleasant taste.
When you smoke a hookah, on the other side, you are clearly burning the coals, but you get CO and CO2. When smoking (most) shisha, you shouldn't get dizzy. If this is the case, it's time to switch off the fire and take a rest; you're inhaling so much CO.
Fast lights emit much more carbon monoxide than organic or coconut coals, so avoid them.
Some hookah types, mainly conventional, purposely burn the top layer of tobacco. It is clearly harmful to your health as compared to using foil.
In a nutshell, you're inhaling smoke from the hookah, which includes a slight amount of water vapor but is mainly gas created by the burning of flavored coal/tobacco. You exhale the smoke, which has been mixed with water vapor. Smoke without water vapor has a bluish tinge under white light, while smoke with water vapor has a white tinge under white light.
Do you inhale hookah's smoke?
Even if you're not using hookah at a hookah lounge, you breathe in the smoke. Hookah smoke contains nicotine, making it possible to get addicted. Hookah use is equal to consuming 100 cigs in a 200-puff session, according to the WHO.
You'll ingest less harmful contaminants in your lungs if you don't breathe the hookah smoke, but your mouth and throat could still be damaged. Cigar smoking has been attributed to cancers of the lip, tongue, mouth, and lungs, as opposed to lung cancers correlated with cigarettes, according to numerous reports. Be very cautious when inhaling hookah's smoke!
Video Tutorial: How to Make a Glass Hookah Simple DIY
Conclusion
Fantastic design, top quality materials, pure taste and easy handling make glass hookahs stand out and occupy the upmarket position. If you choose any of these items, you'll receive an amazing high quality modern hookah at your disposal for years.
---