---
GStar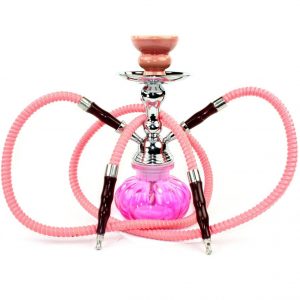 11″ Complete System
Easy to assemble
For Home or for Travel
Zebra Smoke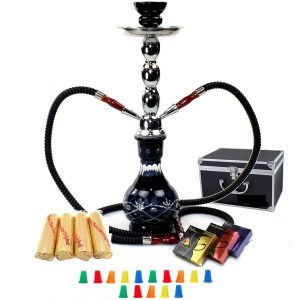 18″ Complete System
Easy to assemble
2 sepraet hookah ports
GStar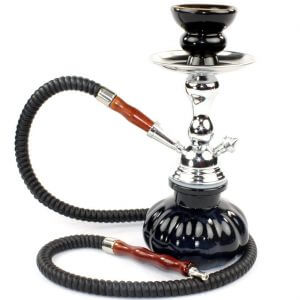 11″ Complete System
Easy to assemble
For Home or for Travel
Lit Hookah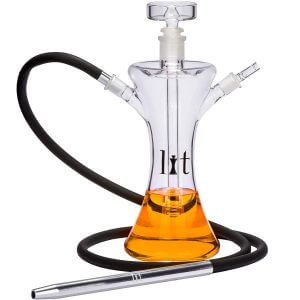 13-14" Complete System
Easy to assemble
Perfect Gift
Bestgift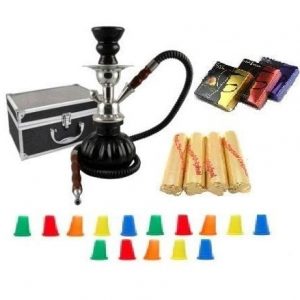 11″ Complete System
Two hose hookah set
Perfect Gift
---
---
Hookahs came to us from the East, but have already deeply penetrated into our culture. Smoking a hookah is associated with a party or relaxing with friends. If you want to choose the model for home use, study the peculiarities, evaluate all upsides, downsides, and compare the features.
Hookahs are produced in various designs and configurations, from different materials, and for lots of purposes. For home don't pick a bulky one, the hight of 11-20" is ultimate. 1 or 2 hose unit will suit, even if you hold a small party. They are simple in use and care.
If you are often on the move, consider getting a special case for your favorite hookah. Several models offer such a case as a bonus, or you can buy it on your own. Surely, the smaller the item is, the more comfortable it is when traveling. It must be compact and well made as well.
Deciding on one model among the diversity of the hookahs proposed offline and online can be troublesome, especially for inexperienced smokers. There are some tips and tricks below, and a comparison table of 5 hookahs pointed out by users and experts.
GSTAR Premium 2 Hose Hookah – the best for compactness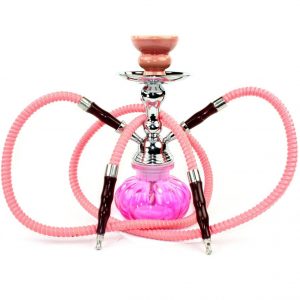 The compact size of GSTAR 11" Premium 2 Hose Hookah is beneficial for home use and storage as well as for traveling. Its simple design makes the hookah easy and clear to put together or disassemble. Cleaning is not a problem anymore.
The hoses are interchangeable. Their length is optimal for comfortable and relaxing smoking for 2 people. You can use your favorite or the ones you prefer.
Warm water will be enough to clean the mouthpiece. First, run some water through the hose, then continue with washing the outside part of the mouthpiece, optionally using some dish soap. It's better to hang it somewhere to let it dry completely.
ZEBRA SMOKE Starter 2 Hose Hookah – the best for traveling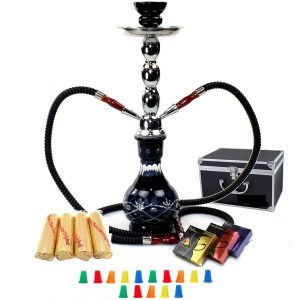 If you are looking for a cheap item to try, ZEBRA SMOKE Starter Hookah is the right choice. This combo set includes all the necessary pieces for your smoking start. 2 user hookah comes with a hardshell travel case to carry with you when you go away.
It offers 3 top hookah flavors (2 standard and 1 premium), instant lite charcoals, and a dozen of colorful mouth tips with the hookah, so only water is missing. It's great for a start in terms of your budget and use, as it is easy in assembling.
The item works fine, though it looks cheap. This model doesn't have a carb to regulate the airflow as more expensive models do. To improve the airflow you can punch more holes of bigger size in the foil. Remember, if the shisha is packed tightly, the air won't circulate freely as well. Use a semi-dense packing technique.
GSTAR Premium 1 Hose Hookah – the best for everyday use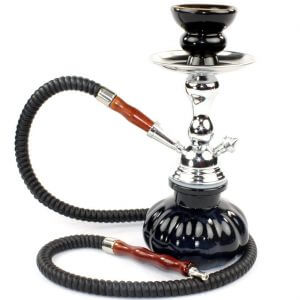 This small lovely hookah suits perfectly for frequent home use, and is great for smoking, cleaning, and storing. The GSTAR 11" Premium 1 Hose Hookah has Egyptian configuration with a bottom base, a shaft, a hookah hose, ceramic bowl, a tray for charcoals, and tongs.
Additionally, it may be used as a travel hookah, as it has a convenient size and is light –weighted. Unfortunately, it comes without a hardshell case, so you'll need to purchase one.
The bowl isn't comfy with holes at the bottom. The water has to be changed after each session, otherwise, you may feel an unpleasant taste with time. Optionally, the bowl can be replaced with a different one, which is rather cheap.
VOOV LIT Handmade Glass Hookah – the best glass hookah for quality and simplicity!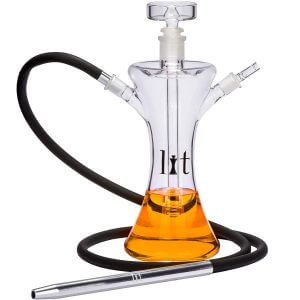 This handmade glass hookah has an original patented design and is made of superior quality and heat-resistant glass. One of the most efficient and best-selling models on the market looks simple and sophisticated at the same time.
If not from the first site, then from the first minute of smoking, you'll fall in love with its exceptional design and simplicity. Optimal assembling, usage, and cleaning will never disturb you and weaken the pleasure, received from your session. A special carrying case guarantees safe storage at home and while transportation.
The VOOV LIT Glass Hookah has a bowl adapter, so you may continue to enjoy smoking using your favorite bowls. The possibility to attach different hoses will be a plus for more demanding users. The model lacks a tray, but due to its unique construction, charcoals can be heated on the top of the hookah according to the manufacturer's recommendations.
BESTGIFT 2 Hose Hookah – the best for party-making!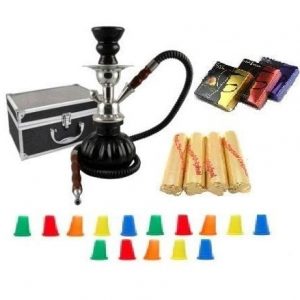 The BESTGIFT Hokah is a pretty little thing, just great for those, who are holding a party. Having everything you need at hand ( the hookah, accessories, shisha, charcoals) is very convenient. If you are only willing to try hookah smoking, this starter set will suit you best.
Simple construction and the attractive price will make your first experience exciting.
The BESTGIFT 2 Hose hookah is small and compact, but not very stable when filled with water. The seal is not reliable and the whole unit wobbles. Also, be careful, when assembling or disassembling the piece.
The Buyer's Guide
Materials
The quality of materials really matters as it concerns your health, not only your mood. The hookah itself and the accessories, made from high-quality materials, such as glass, metal, leather will be the best. Beware, cheap plastic can just melt, when heated, and evaporate harmful fumes.
Number of hoses
Of course, for home use 1 or 2 hose hookah will do its job. Even a group of friends may find it enough, as you never smoke simultaneously. But the obvious advantage of such models is the compact design. They are easy to deal with, clean and store.
Transportation
It is one more important feature for whose, who travel a lot and don't want to leave the favorite piece at home. A special hardshell case is extremely helpful for this purpose. If not included, invest in purchasing it to feel all the advantages.
Colors
Some manufacturers offer a range of colors and shades, but it's not the most important thing after all. It happens that the shipped unit differs from the ordered one. The sellers sometimes seem to send hookahs randomly.
Every model is unique with its advantages and drawbacks. Choose according to your preferences, tastes, and lifestyle.
Other helpful recommendations for hookah buyers:
If you ordered a starter kit for the most attractive price, after each session overview the hookah. If some plastic parts melted or are somehow spoilt or damaged, you need to change them;
Almost all models have the possibility of interchangeable components;
Hookah sellers offer some disposals together with the major unit, such as tobacco, charcoal, but they will do only for a start;
The cleaning of most smoking tools is simple. Warm water rinsing, optionally with liquid or dish soap, may be the general recommendation for home models;
To light the hookah, use coals and an electric heater or any fire. Cube charcoals are better than round ones and fire is more dangerous, of course. Having burnt the coals, put them on the head of the hookah when they all are ready. After 5 minutes, you can start smoking with deep breaths.
To provide the best airflow you should poke 2 holes in the middle of the aluminum foil, and a circle of 5 to 7 holes around the center, but not too big.
As for water, you should pour about an inch or 2, as too little water doesn't give the flavor and too much water flows into the hoses.
Hookahs FAQ
What are the best hookahs?
The answer depends on personal preference. However, a few brands are more popular than the others are when it comes to the production of traditional and modern hookahs. 
Some experts believe that you should consider these hookahs: 
Lit Premium hookah;

Babylonian 40 modern hookah;

GSTAR 11-inch premium hose set;

Al Fakher glass 14-inch hookah;

Sahara Smoke 17-inch sandblasted skin hookah;

Pharaoh's V12 all glass-on-glass hookah;

Wookah Body oak hookah shisha pipe;

Khalil Mamoon devices;

Mya Saray pipes;

Starbuzz hookahs;

Khalil Mamoon devices;
When picking a new hookah, consider such things: 
The budget-friendly price tag;

Number of hoses;

Affordable mouth tips;

Size;

Coals and tobacco – use organic products;
How much is a good hookah?
There are cheap and expensive hookahs. You may spend less than $50 or more than $600 for a hookah itself. Check the expert tips and price categories for these smoking accessories: 
$0-$50.

Thinner glass and cheaper/thinner stainless steel are commonly associated with such a price tag. Consider the Mya shishas, for example;

$50-$100.

This price point includes a wide variety of hookahs. Check out Shika v3 Mamluk hookahs, which are entirely constructed of copper and brass. In addition, hookahs in this price range often have thick glass frames and washable hoses. Every Khalil Mamoon (KM) device is also a decent option;

$100-$200.

In this variety of brass/copper hookahs, Shika and KM still have a fantastic pick. Farida, Omar, Magdy Zidan, and El Nefes are some other famous brands with good smartphones;

$200+.

With such a price tag, you may try Regals, SB Challengers, Turks, and a range of glass hookahs. The Regals brand, for example, offers hand-lathed wood shells and stainless steel bases with coating materials to avoid corrosion and oxidation. They're recognized for their exquisite craftsmanship and huge draws. And the Starbuzz Challenger is a high-end steel hookah manufactured in the United States. It's built of high-grade steel that's anti-ghosting and anti-scratching;

$200-$600.

Elmas Turkish glass hookahs are extremely pricey, but they are long-lasting, fashionable, and discreet;
What is the best-tasting hookah tobacco?
Below is the collection of best-selling, most-reviewed, and top hookah tobacco brands to try:
Starbuzz Blue Mist

– an all-favorite choice for beginners (less than 1% of nicotine), a peppermint flavor is simple and classic;

Fumari Ambrosia

– one of the juiciest flavors, with 0.05% of nicotine, smells and tastes like a sweet fruit candy and a bit like a marshmallow;

Nakhla Double Apple – a traditional Egyptian flavor, with a sweet apple taste and spicy anise notes;

Tangiers Cane Mint – it belongs to the unwashed shisha tobacco type with a high nicotine percentage. A very chilling peppermint taste;

Overdozz Wild Night Out – it smells and tastes like the mix of Graham crackers and creamy lemon cheesecake. It offers a light nicotine buzz for beginners;
Is hookah really 100 cigarettes?
Yes, to a certain degree. This is a rather straightforward estimate. Divide the number of occasions you smoke in a session by the amount of air in one breath, and then Multiply by the amount of air in one cigarette. The "100 cigarette" number is in the initial "World Health Organization" (WHO) report.
Per 60 minutes of hookah, the typical cigarette smoker draws 8-12 puffs, equating to 20-200 puffs. As a result, one hour of hookah smoking is equivalent to 40-400 cigarettes.
Both hookahs, on the other hand, run at a far lower temperature than cigs: 752 degrees Fahrenheit vs 1832 degrees Fahrenheit. This implies that one hookah session is equivalent to one bag of low-tar cigarettes in terms of dry particulate matter. As a result, hookah smoke is about 5 times less dense than cigarette smoke.
Reduced tobacco temperatures deliver vastly lower carcinogen concentrations, as predicted, according to studies of mutagenicity (a substance's ability to trigger cancer).
Are large hookahs better?
Have you ever been undecided on whether to purchase a big or tiny hookah? The common belief is that bigger hookahs smoke more than smaller hookahs due to the duration of the pipe.
When contrasting large hookahs to tiny hookahs, there would undoubtedly be certain variations, but they will also be subtle and complicated to discern.
A few facts and misconceptions about large hookahs have to be checked thoroughly: 
1) Draws
The duration of the channel in which air travels a certain range (say several meters) influences the suction power. However, a limited gap of a few tens of inches has no bearing on how much you would bite.
The width of the air passage is more significant than the duration of the air passage. The diameter of the rod and the pipe attachment define the air passage's depth. If any of these openings are wide, air will flow freely into them, and the suction force required will be minimal.
When you attempt to suck air via the hookah and the holes are narrow, the air pressure contracts, resulting in a "solid" or "weak" pull. As a result, if you have a big or tiny hookah, the pull would be the same as long as the down stems, hose connectors, and hoses are approximately the same.
2) The cooldown of the smoke
The smoke that emerges from the bowl and fills the well is generally very wet. You probably know this if you've ever reached the bowl after a smoking session. The smoke travels into the shaft, the bath, and the pipe in three steps.
The smoke is somewhat cooled by the temperature of the pipe (that is cooled by the atmospheric air surrounding it), but the temperature of the stream is the most important determinant of how heated or cooled the smoke would be.
When smoke enters the bath, it cools to the same temperature as the water. As a result, the temperature of the smoke in the pipe is irrelevant. In addition, since pipes are made of non-conductive materials, the temperature of the vapors flowing into them is minimal. As a consequence, it's fair to assume that the duration of the sheath doesn't affect the intensity of the smoke.
In other terms, it doesn't matter how big or tiny the hookah is; the temperature of the smoke emitted is calculated by the water temperature rather than the hookah's size or hose duration.
3) The smoke production
The amount of smoke generated by your hookah is determined by many variables, including the bowl's environment, the consistency of the tobacco you're using, the form of coal you're using, and the combination of all of these elements.
Since the hookah just transports and filters smoke, it can be inferred that the hookah's height isn't essential for smoke production.
So, what is better – a large or small hookah? In brief, the temperature and smoothness of smoke emitted have nothing to do with the height of your hookah or the size of your foundation. Taller hookahs, on the other hand, will retain more water and hence cool the smoke easier and for longer than smaller ones. However, regardless of the size of your hookah, as long as it has a big enough foundation to accommodate enough warmth, you can get enough cooling.
As a result, it comes down to personal desire. A big hookah is perfect if you're searching for anything to use at home for enjoyable sessions. A smaller hookah would be a more realistic option for you if you are mainly on the run but still want to experience a session or two while on the way.
Is flavored hookah harmful?
Hookah tobacco is commonly flavored with molasses, fruit pulp, or honey, and flavorings including coconut, mint, or coffee are common. These flavorings sweeten the tobacco's taste and scent, rendering it especially attractive to teenagers.
Sweetened hookahs have been linked to heart attacks and strokes in various clinical studies. The tastes of shisha only mask and conceal the adverse consequences of the key component, which eventually turns the customer into an abuser. Shisha consumers believe that the smoke in Shisha is pure since the water consumes all of the tobacco in the smoke, making it totally harmless.
Smoking from a hookah is thought to extract the nicotine and other contaminants from the tobacco. This isn't correct. Shisha tobacco is highly addictive, and it is almost as harmful to a smoker's wellbeing as conventional cigarettes. Furthermore, a single hour of hookah smoking leads users to the same amount of nicotine and contaminants as a day or one of cigarette smoking.
Is it ok to smoke hookah occasionally?
Since most hookah tobacco doesn't have a health alert, many people believe it is not dangerous. Since hookah smoking is only performed once in a while, it will seem to be safe.
Hookah smoke, on the other hand, is almost as toxic as cigarette smoke. Hookahs and cigarettes emit smoke in various ways: cigarettes produce smoke by burning tobacco, while hookah smoke is created by heating tobacco in a bowl of charcoal. The final result is the same carcinogen-laden smoke.
Hookah smoke is considered to produce greater amounts of arsenic, lead, and nickel, as well as 36 times more tar and 15 times more carbon monoxide than a single cigarette. This is due to the fact that smoking a hookah necessitates taking longer and deeper drags, which increases the amount of nicotine and carcinogens inhaled into the lungs. The more time spent smoking a hookah, the more tobacco and contaminants are consumed. One pack of cigarettes contains almost the same volume of tar and nicotine as a 45 to 60-minute hookah session.
Hookah consumption is not a healthy substitute for cigarette smoking.
What happens if you inhale shisha?
In a hookah, the tobacco chamber is made up of a pipe of smoking charcoal on top of the aromatic tobacco. Punctured aluminum foil separates the charcoal from the tobacco.
Smoke is generated when the charcoal warms the tobacco below. As consumers pull on the hookah's stem (hose), the smoke is drawn through the water chamber and cooled before being inhaled into the lungs.
A shisha smoker will breathe the same amount of contaminants as a cigarette smoker who smokes over 100 cigarettes in an average session (about 1 hour). These contaminants place shisha smokers at risk for cardiac and circulatory disorders, tumors, nicotine abuse, and other health problems, just like cigarette smokers.
It's a widespread myth that using a hookah to smoke tobacco kills nicotine and other contaminants. Though water-cooled smoking is gentler on sensitive lung tissue, the smoke's toxicity remains constant, and cancer-causing compounds in hookah tobacco are not removed. Many of the same toxic chemicals used in conventional cigarette smoke may be used in Hookah smoke.
Any hookah tobacco goods appear to be tar-free, but this is untrue. There is no tar in tobacco before it is burnt, or heated in the case of hookah tobacco. This distinction may cause some to conclude that hookah tar is less hazardous than cigarette tar, but this is not the case.
Video Tutorial: Hookah Setup
Conclusion
Selecting a small nice-looking piece for home use, some special attention should be paid to the quality of the components, as it affects your health. The availability of accessories included in a set facilitates the whole process of hookah smoking. You may think carefully before buying or just try and enjoy the awesome experience.
---