---
Mantello Cigars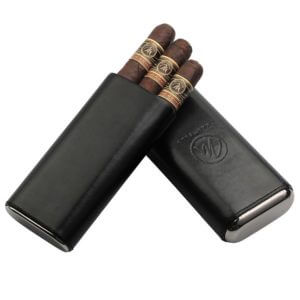 Holds up to 3 Cigars
Black Leather
Lined with Cedar
AMANCY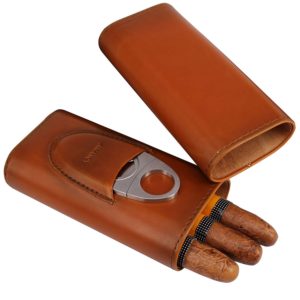 Holds up to 3 Cigars
Leather
Lined with Cedar
UsefulThingy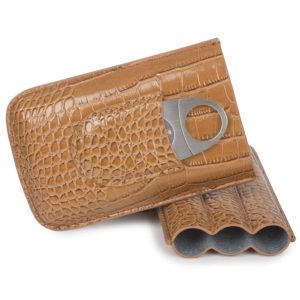 Holds up to 3 Cigars
PU leather
Elegant crocodile design
Volenx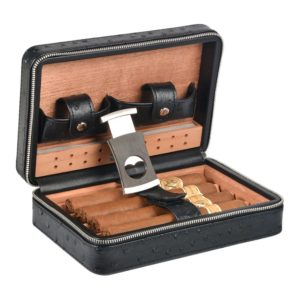 For 4 Cigars
PU leather
Spanish cedar wood
GALINER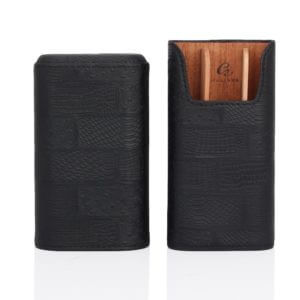 Holds up to 3 Cigars
Leather
Spanish cedar wood
---
---
Cigar smoking has always had a large audience of true tobacco connoisseurs. And as you know, smoking a cigar is an art with a lot of accessories and rules involved. Cigars require an extremely careful attitude and proper care. And if you can easily solve this problem at home by purchasing a humidor, then it is still a question how to conveniently transport cigars without damaging or crashing them.
Of course, there is often a need to carry cigars with you. And to maintain their integrity, you will need to buy a special cigar case. Of course, these devices cannot provide proper conditions for cigar storage but they are able to preserve them with no damages. Cigar cases do not require much space and usually can accommodate from one to several cigars. They often have stylish design.
It is for this purpose that compact cases and cigar tubes were invented. They do not take up much space, they can accommodate from one to three cigars, they look stylish and perfectly protect contents from the external environment.
Cigar cases can be made of genuine leather, wood, metal and even glass. These all variants are suitable for storing cigars for a few days only not to affect their properties. And you will still need a professional humidor for a longer term. Meanwhile, let us examine what are the best cigar cases available on the market today.
Black Leather Cigar Case – an elegant looking portable case
This portable leather case will be highly appreciated by every cigar smoker. It is made with cedar wood interior, allowing your cigars to remain fresh and preserve original aroma. The outer design has metal elements that reinforce the bottom of the case and complement its appearance.
You can easily pack 3 large gauge cigars. The case is very compact and lightweight to be carried in the pocket. Solid leather appearance will allow you to use it for any event.
[i2pc pros_icon="icon icon-check-1″ cons_icon="icon icon-minus-thin" show_title="false" show_button="false" pros_title="Pros" cons_title="Cons"] [i2pros] Keeps cigars fresh
Stylish design with metal inserts
Interior is made from cedar wood
Can accommodate up to three cigars
Lightweight
[/i2pros] [i2cons] No room for any other cigar accessories
[/i2cons] [/i2pc]
This compact cigar carrier is very convenient to take several cigars with you on every occasion. Some users complain that initially the case has a strong smell of chemicals. So be prepared to leave it in a well-ventilated premise for some time right after the purchase. The model is meant for three 54 gauge cigars but you can also use it for two 60 gauge pieces. The metal details on the bottom of the case can be engraved turning it into an exclusive gift.
---
Brown Leather Cigar Case – a spacious cigar holder
If you are puzzled about how to transport your cigars for a party or vacation without issues, this stylish cigar case will devoid you of all these worries. The accessory was intentionally created for cigar storage and its interior is made from cedar wood to maintain cigars fresh.
It will easily hold three 52-54 gauge cigars, but you can use it for other cigar sizes as well. The case comes with a front pocket and a small cutter. Thus you will easily prepare your cigar for smoking.
[i2pc pros_icon="icon icon-check-1″ cons_icon="icon icon-minus-thin" show_title="false" show_button="false" pros_title="Pros" cons_title="Cons"] [i2pros] Attractive leather design
Can hold up to three cigars
Comes with a cutter
Money back guarantee
[/i2pros] [i2cons] Too distinct chemical smell
[/i2cons] [/i2pc]
The case is very stern so your cigars will be safe enough. Two parts of the case fit each other perfectly allowing you to keep your cigars at a proper humidity level. Top and bottoms are made from metal making the accessory more durable and really elegant. You can also add engraving in this place if you want to personalize the case and impress some cigar enthusiast. Every smoker will be pleased to receive such a gift.
---
Cigar Travel Case – a reliable length-adjustable cigar carrier
With this elegant looking travel case, distances are not an obstacle for your cigars anymore. You can use it to pack three cigars of 51-54 gauge.
The most winning feature of this cigar holder is that you can adjust its length. The manufacturer offers this case in two sizes, so you can choose the most suitable option based on the type of cigars you most often smoke.
[i2pc pros_icon="icon icon-check-1″ cons_icon="icon icon-minus-thin" show_title="false" show_button="false" pros_title="Pros" cons_title="Cons"] [i2pros] Made from reptile pattern PU leather
Comes with a cutter
Can hold 3 cigars
Adjustable tube holder
Lightweight and easily portable
[/i2pros] [i2cons] No downsides found
[/i2cons] [/i2pc]
The case is sturdy enough to protect your cigars, and at the same time, it is convenient enough to carry in your back pocket or bag. A big benefit is that it includes a cutter that a smoker usually forgets to take. The carrier is recommended for longer trips. You can also consider buying it for a gift – it comes at a very affordable price though looks stylish and reliable. Be attentive what size you order when making a purchase online, as smaller models will fit only mid-sized cigars.
---
Portable Leather Cigar Case – a perfect travelling case for cigar smokers
If you are a heavy traveler and a cigar smoker, this portable cigar case is a must-have for you.
It includes everything a true cigar connoisseur needs – an organizer for four cigars, a humidor, pockets for a cutter and lighter, with a cutter included in the pack. You will also find a tray and a buckle that makes it possible to fix cigars safely inside the case.
[i2pc pros_icon="icon icon-check-1″ cons_icon="icon icon-minus-thin" show_title="false" show_button="false" pros_title="Pros" cons_title="Cons"] [i2pros] Equipped with a humidor;
Comfortable design with separate pockets
Comes with a cutter
Can hold up to 4 cigars
Lined with cedar wood
Comes with the tray and buckle
[/i2pros] [i2cons] A bit too expensive
[/i2cons] [/i2pc] This ziplock bag will become a real finding for cigar smokers. Being rather compact, it will still serve you a perfect cigar storage for a longer trip. It is equipped with a humidor. And even if it is not a high-end mechanism, it will still protect your cigars from drying. If you like to take cigars on vacation, this case will be very handy for this purpose.
---
Genuine Leather Cigar Holder – an exclusive design cigar holder
This travel cigar case is manufactured from genuine leather. It is designed for three cigars and is very convenient to carry around. There are removable cedar wood inserts inside the case to preserve cigar aroma and maintain proper humidity level.
The case cover can be easily removed and adjusted to the required length. This cigar holder will be a great solution for short trips.
[i2pc pros_icon="icon icon-check-1″ cons_icon="icon icon-minus-thin" show_title="false" show_button="false" pros_title="Pros" cons_title="Cons"] [i2pros] Made from genuine leather
Removable and adjustable design
Comes in a gift box
Can hold up to three cigars
[/i2pros] [i2cons] Too distinct leather smell
[/i2cons] [/i2pc] This durable and stylish looking accessory has all the necessary properties for short-term cigar storage. It is fine for all sizes of cigars thanks to removable wood inserts and adjustable length feature. No matter if you buy it for personal use or for a gift, you will be satisfied with this product. Customers have admitted exclusive workmanship and high functionality. Note that the product may have some characteristic natural smell which will disappear over time.
---
Buyer's Guide
With such a wide choice of cigar cases available on the market, you may get easily confused choosing the perfect cigar case for your needs. And to make the process easier, here are some tips to help you in this task.
Size. It is the most essential parameter of your future cigar case. Every cigar smoker has their favorite cigars. And these may vary by length and thickness. So if you smoke just a particular type of cigar, you know what to look for. But if you like cigars from different brands, it is advisable to purchase a larger, more versatile case.
Capacity. When you need a case for cigarettes, then capacity matters a lot. But in case with cigars, there is no point in carrying more cigars with you than you need to. So if you are planning to take cigars to a golf course, then it is enough to purchase a standard case for two cigars. But for travelling purposes, you will need a bit more spacious model.
Material. This accessory can be produced from a lot of materials. But the following variants are the most popular ones:
Leather cases. They are soft, stylish and quite flexible to allocate cigars of different sizes. Some of them are designed with additional pockets allowing you to keep credit cards, keys, and other small things at hand.

Wooden cases. They have a fixed form and come in all possible sizes. And even if it is not so convenient to carry a wooden cigar case in your pocket, it is a good travel option as the wooden case protects its contents from crashing.

Metal cases. Although these stiff and heavy cases are somewhat bulky, they are the best storage alternative for longer trips. Some metal cigar cases even have built-in humidifiers and can keep cigars fresh for longer periods. 
Purpose. You need to analyze where and when you plan to use your cigar case most often. This factor will also help you determine which design is most appropriate for you. Consider whether you will need just something simple for transporting your cigars around the city or if you need a more functional device for travelling. If you are going to use it mostly outdoors, it is better to focus on models made from durable materials. If you use your cigar case in a business setting or more formal environment, you surely need to look for an elegant and stylish option.
Price. The price range for cigar cases is very wide. But do not rush to spend a fortune to get an exclusive case. There are a lot of great looking and highly functional models for every budget. So think well how much you are ready to spend on this smoking accessory and be sure you will find plenty of options. 
Do you like to take your favorite cigars wherever you go and travel? Then you need a reliable and convenient leather case for cigars and roll-ups of premium tobacco. I have a few different cases made by U.S. and Cuban brands. In the following review, I will explain why you should pick a leather cigar case.
What is a cigar case?
A cigar case is a flat-like case designed for storing and carrying cigarettes, cigars, blunts, roll-ups, and joints. In addition to the main function, such a box is often used to match the individual style of the owner. Most models are made of high-quality plastic, metal, PU, crossgrain or natural leather. Also, cedar wood is used for lining. The cases may differ in size, the type of closure (with a spring or elastic band), as well as capacity.
Also, a cigarette case is the most suitable accessory to keep expensive cigars and lighters without any risk of losing or damaging them. If a cigar case will be used from time to time, pay attention to PU leather products. Such a case can perfectly fit with any business accessories; moreover, a leather cigarette case looks stylish and elegant.
How to choose a leather cigar case?
People who wear their cigarillos, cigars, cigarettes, and roll-ups in such cases, prefer natural leather over other materials. On the other hand, metal models are more durable and less expensive, though, they are not as soft or smooth as leather cases.
Things to consider when buying a leather cigar case:
smoking activity;
length and diameter of cigars that you prefer to smoke;
reliability of the accessory's closure;
density and thickness;
price;
All cases differ in the closure types (mechanical/automatic), as well as functions. Focus on popular models with automatic dispersion of cigars. There are cases for different quantities – 3,4,5 and more pieces. The size of the accessory depends on its inner compartment's capacity.
Expert choice: 5 best leather cigar cases
Mantello Cigars case is made of natural black leather. It is lined with cedar and can hold up to 3 cigars;
AMANCY is another 3-cigar case lined with cedar;
UsefulThingy is a more affordable PU leather, with a stylish crocodile design;
Volenx is a larger PU leather case for 4 cigars. It is lined with Spanish cedar wood;
GALINER is another stylish and durable leather accessory that may hold up to 3 cigars;
Check the video I've uploaded. It is dedicated to a compact leather cigar case made of natural material. Do you find such accessories necessary for cigar aficionados? How do you prefer to transport your cigars and roll-ups while traveling? I'm really interested in your opinion, feel free to share in the comments. Thank you for reading SmokeProfy!
Interesting Video: PerfecPak Compact Cigar Accessories Case
Wrapping Up
Nowadays, you can find all possible designs of cigar cases and tubes that will satisfy even the most demanding smokers. They come in a variety of sizes and shapes. The most essential thing is to carefully check the size when choosing a case. Cigars should sit in the case tightly enough without moving. But the case should not be extremely tight either, as it can damage the wrapping leaves. In short, the choice is huge today, but it is important to focus on decent case quality. It will allow you to properly transport the cigar and get real pleasure from the smoking process.
---