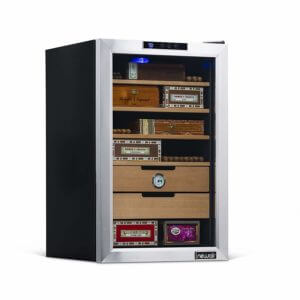 400 Cigar Capacity
Interior LED Lighting
Built-In Hygrometer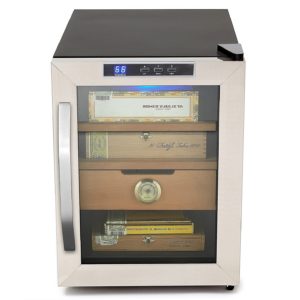 250-Cigar Capacity
Adjustable thermostat
Humidity tray and hygrometer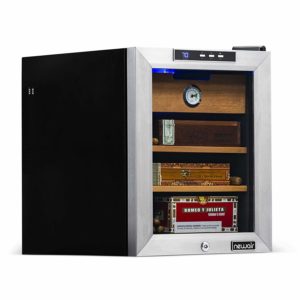 250-Cigar Capacity
Built-in heater
Digital temperature controls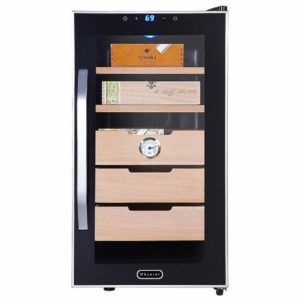 200-300 Cigar Capacity
Analog hygrometer
Adjustable thermostat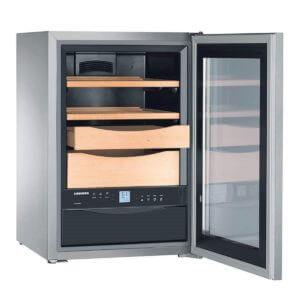 Net capacity 1.4 cu. ft.
Glass door with UV protection
Activated charcoal filter
When you are a stogie user, a common problem you face is where and how to keep cigs intact. The stogies age due to improper storage, the hot/cold factor is extremely essential. Therefore, if you must keep your favorite product for a few seasons, you won't do without a special cooler for humidors. This small appliance protects cigars from any fluctuations in temperature. The nasty thing about temperature is that it affects the humidity rate too.
If you destroy the proper rate of temperature, you may forget about the exceptional smoking experience. Coolers for humidors are irreplaceable if you intend to apply very expensive stogies from time to time. I hope that the following rating and review will guide in the specific niche of cigar coolers for humidors.
The first positions of SmokeProfy rating for coolers:
NewAir CC-300 provides the capacity for 400 pieces and in-built hygrometer;
Whynter CHC-120S also has a separate thermostat, hygrometer for keeping 250 cigars chilly;
NewAir CC-100H – another in-built heater and digital controls;
What criteria did I apply?
There are 2 key types of coolers:
Compressing systems for quick chilling, but they keep the air very dry – that's why many cigar users do not choose these appliances for expensive items;
On the contrary, thermoelectric gadgets provide a slower cooling effect, but the humidity levels are more stable;
I added different models to our guide so you could compare the features, pros, and cons. So, basically, capacity, humidity, and temperature are the key characteristics to focus on when you buy a cigar cooler for humidors.
NB: Also, follow the instructions on how to use these appliances. There are many different models and each has its tricks you ought to learn. I sincerely hope that this review will be helpful for everyone who should buy a cooler for humidors to store cigs fresh for a long time.
Video Tutorial: Whynter 120S cigar cooler review
---