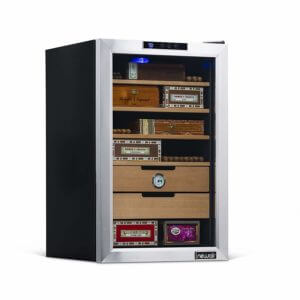 400 Cigar Capacity
Interior LED Lighting
Built-In Hygrometer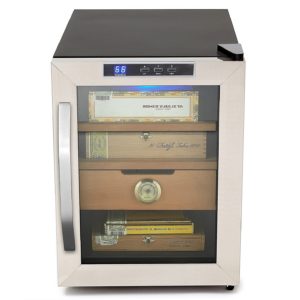 250-Cigar Capacity
Adjustable thermostat
Humidity tray and hygrometer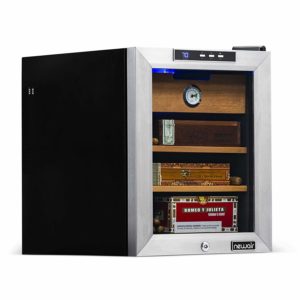 250-Cigar Capacity
Built-in heater
Digital temperature controls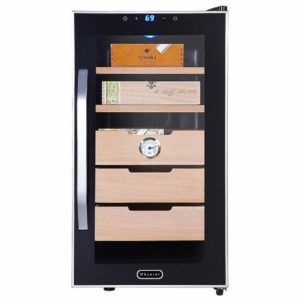 200-300 Cigar Capacity
Analog hygrometer
Adjustable thermostat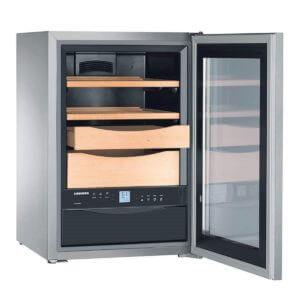 Net capacity 1.4 cu. ft.
Glass door with UV protection
Activated charcoal filter
---
Choose the Best Cigar Cooler for Humidors
Customer's Choice: the Best Rated Cigar Coolers for Humidors
33 users answered this survey. Please help us improve this review!

48.48% of users selected NewAir CC-300 400, 21.21% selected Whynter CHC-120S, 9.09% selected NewAir CC-100H, 3.03% selected WhynterHuumidor and 18.18% selected Liebherr XS-200. Every month we analyze your answers and change our rating.
---
If you are a cigar aficionado, there's no better place than a cigar cooler to store your growing stogie collection. These temperature-related vessels give you full control of your storage environment. When you're packing away expensive stogies, heat and moisture are lingering threats. We developed this guide, which included five of our favorite cigar coolers for humidors, in hopes of improving your smoking experience and salvaging those delicate, expensive smokes. These refrigerated appliances are excellent investments for anyone looking to expand their cigar collections.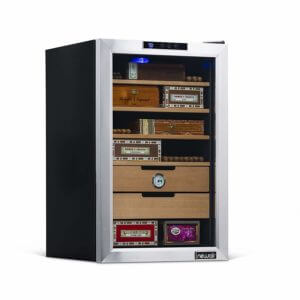 The NewAir CC-300 Cigar Cooler has a sleek black and steel exterior. This cooler provides temperature-regulated storage for up to 400 loose or boxed cigars.
The front and center temperature control panel enables users to drop the cooler's temperature down to a brisk 54 degrees Fahrenheit. Users can also utilize the cool blue LED light to illuminate the contents of the cooler. A built-in hygrometer makes for easy real-time monitoring of the cooler's internal temperature and humidity levels. The fan-driven cooling system is super quiet and vibration-free, making this a perfect option for your bedroom or office.
The four adjustable drawers and two shelves are made from premium Spanish cedar. The NewAir's digital display makes it easy for users to check and adjust the settings. You can rest easy knowing your cigar collection is well regulated. If you live in a warm climate and don't want to compromise your cigar collection, the NewAir 400 will help you protect it from the elements. This device uses just 120 volts of power to maintain your preferred temperature around the clock.
Pros
400-Cigar Capacity
Four adjustable shelves and two adjustable drawers
Super quiet vibration-free cooling system
Cool blue internal LED lighting
Spanish cedar construction helps control moisture levels and pests
Cons
---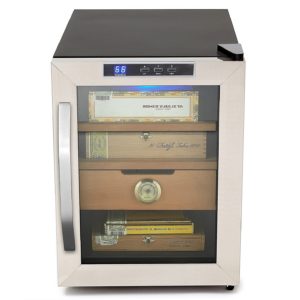 The Whynter CHC-120S is a stainless steel cigar cooler with a 250-cigar (1.2 cubic feet) capacity. The cooler boasts two removable Spanish cedar shelves as well as one Spanish cedar drawer.
The Whynter utilizes fan-driven cool air to reduce the temperature and mitigate moisture. It boasts a built-in hygrometer and a digital control panel. The removable Spanish cedar shelves and drawers fend off pests and mold. The temperature settings range from 50 to 66 degrees Fahrenheit, making it easy for all users to maintain their optimal storage temperatures.
Despite its low price, the Whynter's stainless steel door and all-black panels make for a stunning, sophisticated presentation. Internal LED lighting provides optimal visibility. You won't have to feel your way around the back of the cooler.
Pros
Removable Spanish cedar shelves (2) and drawer (1)
Fan-forced circulation
Vibration-free thermoelectric cooling
Built-in hygrometer plus digital display and humidity tray
Stunning black and silver exterior with a large handle
Cons
Long turnaround times on a warranty repairs
---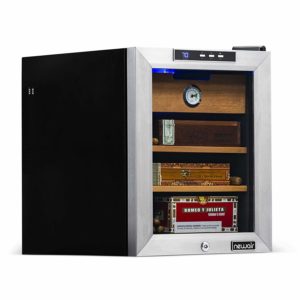 The NewAir Cooler and Humidor is a lockable cigar cooler with enough room for 250 cigars. It boasts four authentic Spanish cedar shelves as well as two matching drawers.
You can adjust the internal temperature to achieve your desired temperature. This is one of the most affordable and reliable temperature-regulating storage options on the market.
Pros
250-cigar capacity
Proprietary temperature control system (includes heating and cooling capacities)
Auethentic Spanish cedar shelves (4) and drawers (2)
You can adjust the temperature in 1-degree incremenets
Cons
---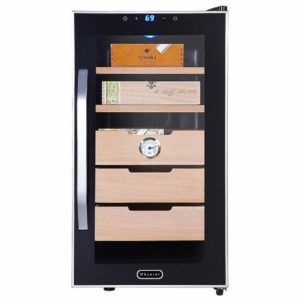 The Whynter CHC-172BD Elite is a high-capacity cigar cooler with a sleek black exterior and plenty of specialized storage elements.
Behind the UV-resistant glass on the front door, there are three Spanish cedar drawers as well as two adjustable shelves made of the same pest-resistant material. Cool air constantly circulates throughout the 1.8-cubic feet interior with the help of a powerful 100-volt fan. There is room for over 350 cigars inside this small storage container.
You can use the digital touch control to adjust the humidity and temperature in one-digit increments. This simple machine will protect your fragile investments from bugs, moisture, and heat. Like most Whynter products, this cooler looks great from the outside. You'll want to display your front and center.
Pros
Three Spanish cedar drawers and two shelves
Touch control center with LED lights
Black door with UV-resistant glass and a stainless steel handle
Can hold over 350 cigars with verisitile storage
Excellent warranty repairs and topnothc customer service
Reliable seal
Cons
---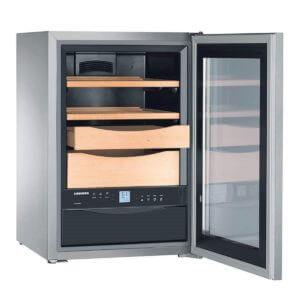 Last but certainly not least, we have the Liebherr XS-200 Freestanding Humidor. This cooler provides unmatched temperature and humidity control. The appliance contains two high-quality Spanish cedar drawers and shelves.
It has a built-in lock and a dimmable LED light. The digital control panel makes it easy to fine-tune the settings. The Liebherr offers 1.4 cubic feet of storage. That is enough space for roughly 200 cigars. If you are a small-time cigar collector with extra money to blow, then the Liebherr is an excellent option.
Pros
1.4 cubic feet of capacity (enough storage for 200 cigars)
Includes an activated charcoal filter
Door and temperature alarm
Digital control panel with touch adjustments
Two Spanish cedar drawers and shelves
Built-in lock
Dimmable LED lighting
Cons
---
Buying Guide: How to Choose the Perfect Cigar Cooler
Capacity
Most of the cigar coolers we came across held 200 to 500 cigars. Adjustable shelves and drawers enable users to play around with a cooler's storage space. In most cases, 1.4 to 2 cubic feet of storage is enough for the average collector. Even cigar shops don't put all their eggs in one basket.
Ultimately, it's best to find a cooler with a capacity that's a bit bigger than your actual collection.
Temperature Control
According to the experts, cigars need to be stored at temperatures between 64 and 70 degrees. Low temperatures slow the aging processes. Like fine wines, high-quality cigars improve with age. Most coolers have exterior temperature displays and controls. You should be able to adjust the temperature in one-degree increments. Most coolers boast fan-driven cooling systems that circulate cool air. Look for coolers with quiet, vibration-free cooling systems.
Humidity Control
Make sure that your cooler of choice has a built-in digital hygrometer. This will help you to track and adjust the humidity inside the cooler. You will also need to purchase a suitable humidifier. Most cooler manufacturers advise users on how to choose a humidification agent.
Interior Construction
Most cigar coolers contain shelves and drawers made from Spanish cedar. First off, Spanish cedar has a lovely woody aroma. Cedar contributes flavor and aroma to your cigars. This incredible wood can handle high humidity without developing rot or mold. What's more, it deters common cigar pests.
Most cigar coolers contain a set of drawers and shelves made from Spanish cedar. In most cases, you can adjust the height and position of the storage to accommodate a variety of packaged and loose cigars of varying sizes.
Aesthetics
Most of the cigar coolers we came across boasted stainless steel front doors with glass viewing windows. Black trim and accents help to create an even sleeker aesthetic. While humidity and temperature should be your main considerations, it doesn't hurt to have a fabulous presentation. It's great if a cooler gives you an upfront look at what's inside. Dimmable LED lights make it even easier for collectors to show off their stogies.
Video Tutorial: Whynter 120S cigar cooler review
Final Thoughts
Cigar coolers offer optimal temperature and humidity for your most delicate collection. We hope you enjoyed our rundown of the top cigar humidifiers on the market. If you're in a rush, be sure to check out the NewAir CC-300 Cigar Cooler. This cooler offers the perfect balance of regulated temperature and humidity. If you live in a climate with high humidity and/or heat, a cigar cooler is a no-brainer. Drop a comment below to share your experience with cigar coolers. Of course, the Whynter CHC-120S Stainless Steel 250-Cigar Cooler is a great option for collectors with limited budgets. Let us know which cooler appealed to you! Stay tuned for more cigar-related content!
When you are a stogie user, a common problem you face is where and how to keep cigs intact. The stogies age due to improper storage, the hot/cold factor is extremely essential. Therefore, if you must keep your favorite product for a few seasons, you won't do without a special cooler for humidors. This small appliance protects cigars from any fluctuations in temperature. The nasty thing about temperature is that it affects the humidity rate too.
If you destroy the proper rate of temperature, you may forget about the exceptional smoking experience. Coolers for humidors are irreplaceable if you intend to apply very expensive stogies from time to time. I hope that the following rating and review will guide in the specific niche of cigar coolers for humidors.
The first positions of SmokeProfy rating for coolers:
NewAir CC-300 provides the capacity for 400 pieces and in-built hygrometer;
Whynter CHC-120S also has a separate thermostat, hygrometer for keeping 250 cigars chilly;
NewAir CC-100H – another in-built heater and digital controls;
What criteria did I apply?
There are 2 key types of coolers:
Compressing systems for quick chilling, but they keep the air very dry – that's why many cigar users do not choose these appliances for expensive items;
On the contrary, thermoelectric gadgets provide a slower cooling effect, but the humidity levels are more stable;
I added different models to our guide so you could compare the features, pros, and cons. So, basically, capacity, humidity, and temperature are the key characteristics to focus on when you buy a cigar cooler for humidors.
NB: Also, follow the instructions on how to use these appliances. There are many different models and each has its tricks you ought to learn. I sincerely hope that this review will be helpful for everyone who should buy a cooler for humidors to store cigs fresh for a long time.
---