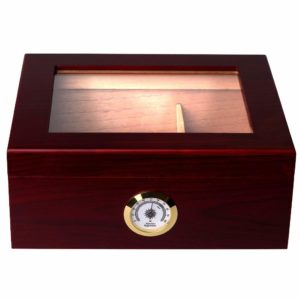 25 to 50 Cigars
Cedar Wood Interior
Size:10 1/4"x8 3/4"x4 3/8"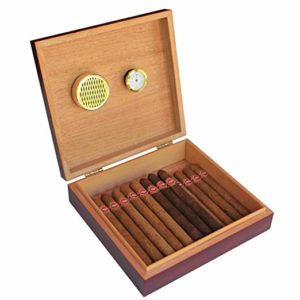 For up to 25 cigars
Spanish Cedar
Size:8.5x9x2.2 inches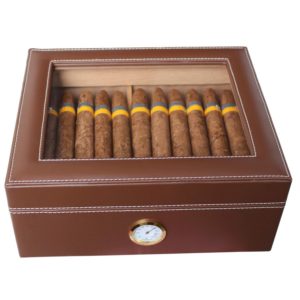 25 to 50 Cigars
Front-mounted hygrometer
Size:10.2x8.6x3.9 in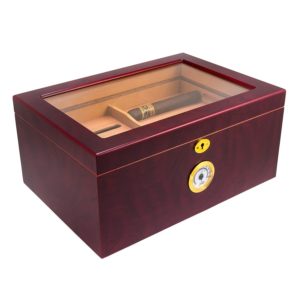 100 Cigars
Spanish Cedar Lining
Size:13.5x9.4x6.3 inches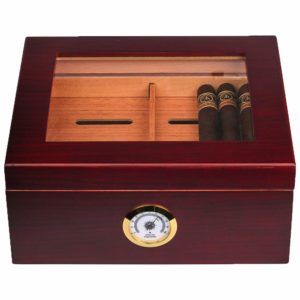 25 to 50 Cigars
Spanish Cedar Tray
Size:10 1/4"x 8 3/4"x4 1/2"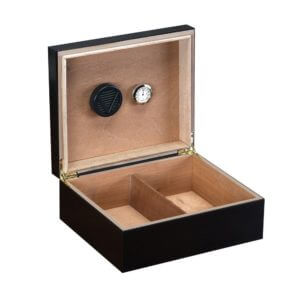 25 to 50 Cigars
Hygrometer&Humidifier
Scratch Resistant Felt Bottom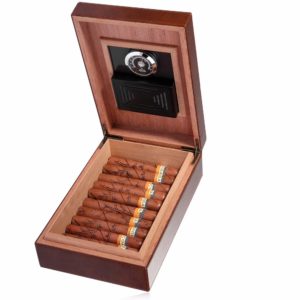 10-20 Cigars
Spanish Cedar
Magnetic Hygrometer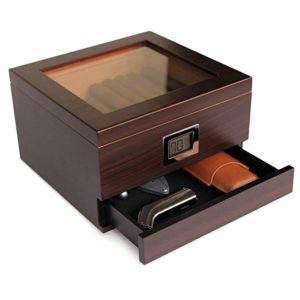 25 to 50 Cigars
Empered glass display
Spanish Cedar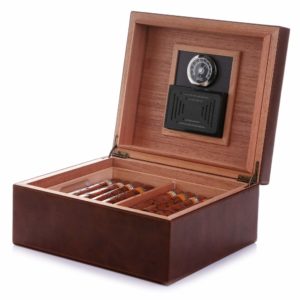 25 to 50 Cigars
Hygrometer
Cedar Wood Interior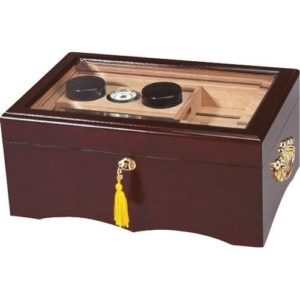 Holds up to 150 cigars
Spanish cedar
2 Humidifiers
---
Choose the Best Cigar Humidor
Customer's Choice: the Best Rated Cigar Humidors
3 users answered this survey. Please help us improve this review!

0% of users selected Mantello, 33.33% selected CASE ELEGANCE, 0% selected AMANCY, 66.67% selected Mantello for 100 Cigars and 0% selected Mantello 25-50. Every month we analyze your answers and change our rating.
---
We set out to find the most beautifully crafted, top-performing humidifiers on the market. During our search, we looked at every detail of these climate-controlled cigar boxes, including their aesthetic elements and humidifying parts. After rigorously testing several humidors, we've narrowed down our selections to five premium products. These specialty storage containers maintained optimal humidity levels over extended periods. Our cigars tasted exquisite after a stay in these cedar boxes. Read along to discover what each of our picks has to offer. Then, stick around to review our comprehensive buying guide and find out what we chose as our number-one pick.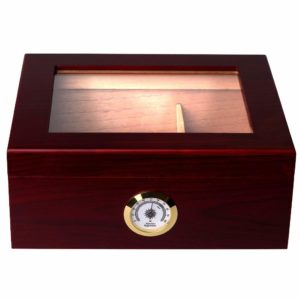 The Mantello Royale Humidor is made from premium Spanish cedar. This roomy box has a sophisticated rosewood finish and wood-toned scratch-resistant felt liner.
Accessories include a gold-framed hygrometer, a removable cedar divider, and a tempered glass top. A secure seal ensures that the box maintains 70% humidity at all times. The manufacturer recommends that you activate the humidor with a 50/50 mixture of polypropylene glycol and distilled water. Depending on the ring gauge of your cigars, you may be able to fit anywhere from 25 to 50 stogies in the Mantello Royale. Your cigars will thrive in Royale's passive climate control.
Holds 25 to 50 cigars depending on the ring gauge
Tempered glass top
Wood interior and a felt liner
Secure seal
Removable cedar divider
Rosewood finish
Humidity fluctuates at times
---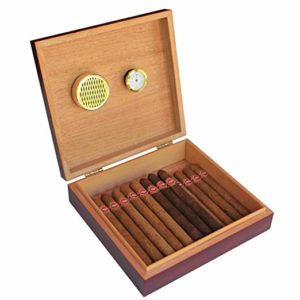 The Case Elegance humidor is another charming Spanish cedar box with lots of built-in accessories. This box has an uninterrupted rosewood exterior. The lid is held in place with the help of a powerful magnetic seal system.
The humidor's hygrometer and humidifier are located under the cover. You will need to season the box before filling it with your preferred cigars. The Case Elegance humidor can hold as many as 25 cigars, depending on the stogies' ring gauges. This personal-sized humidor is an excellent choice for a small collection of smokes. You'll relish the opportunity to present this humidor to your friends.
Magnetic seal prevents humidity from fluctuating
Includes humidifying gel
Holds up to 25 cigars
Easy to season
Spanish cedar with rosewood finish
Included an analog hygrometer
Included humidifier tends to fluctuate
---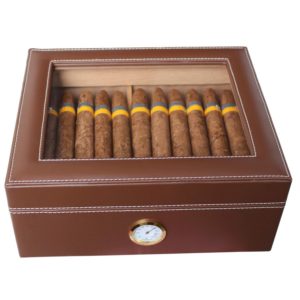 Amancy's cigar humidor has an undeniable unscale appearance. The top features a tempered glass panel. You can peep through the glass to get a read of your humidor's relative humidity. Meanwhile, the kiln-dried cedar box is encased in rich brown leather.
The interior of the box is overlaid with scratch-resistant cedar-toned felt. This climate-controlled box can hold anywhere from 25 to 50 cigars.
The box is equipped with a passive humidifier, a removable cedar divider, and a plastic dropper. Users found it easy to season the Amancy humidor. An onboard hygrometer adds to the box's style and convenience.
Attractive element to show off at parties
Leather-covered kiln-dried cedar box with a removable divider
Built-in manual humidifier provides optimal cigar storage conditions
Large capacity
Tempered glass top for viewing
Some issues with alignment
---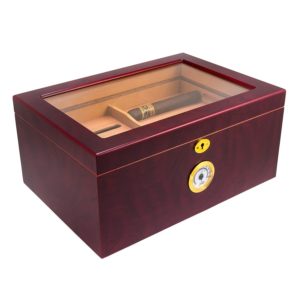 If your cigar collection is very large, you might enjoy the roomy storage space offered by the Mantello Humidor. This impressive Spanish cedar box is 13.5 inches long, 9.4 inches wide, and 6.3 inches tall.
It has a removable cedar tray as well as a cedar divider. The box and tray are covered in scratch-resistant cedar-colored felt. The cover of the box contains a tempered glass window for monitoring sessions. You can secure the contents of the box with the help of the built-in brass lock and key. There is a lovely brass humidity gauge on the front of the humidor. Stash your favorite stogies without risking their destruction. Your smokes will burn slower and produce more flavor.
Can hold 50 to 100 cigars depending on their gauges
Removable cedar tray
Lock and key
Felt-lined bottom
Tempered glass top makes it easy to track internal humidity and preview cigars
Stable humidity after it is seasoned
Readings are not always accurate
---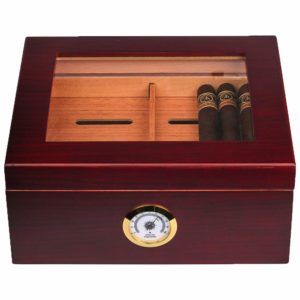 Mantello also makes a phenomenal desktop humidor. This Spanish cedar box also has a large tempered glass top panel for easy viewing. The rosewood finish provides the box with an elegant presentation. A removal cedar tray offers two-tier storage.
In total, this box can fit anywhere from 25 to 50 cigars. A scratch-resistant felt liner and secure closures ensure that your cigars are always protected. The box also features cedar dividers. As such, you can easily separate flavors to make the most of each smoking experience. An exterior hygrometer makes readings easy adjustments.
Removable felt-lined cedar tray
Large storage capacity (25 to 50 cigars)
Brass hygrometer
Removable cedar dividers
Secure closure locks in optimal humidity
Passive humidity system
---
How to Choose a Cigar Humidor
Aesthetics
While a humidor's only purpose is to provide a space that offers optimal cigar humidity, aesthetics play a huge part in most buyers' purchases. Most desktop humidors are made to look sophisticated and refined. They tend to boast smooth wooden or leather exteriors. Sometimes they are embellished with analog hygrometers and tempered glass windows. Attractive humidors make excellent desk accessories. They're also better for sharing. If you're going to offer your friend or colleague a stogie, why not do it in style?
Size
You must choose a humidor that can hold your entire cigar collection. Most desktop humidors can hold anywhere from 25 to 100 cigars. Of course, a humidor's maximum capacity is going to fluctuate depending on the ring gauge your cigars. If your humidor does not have a built-in humidifier, you'll also need to consider the size of the device you will be using. Keep in mind that you want to keep your humidor relatively well-stocked but never overstuffed. It's easier to maintain precise humidity when conditions are not constantly changing.
Materials
Spanish cedar our top choice when it comes to humidor materials. Spanish cedar is very absorbent. What's more, it smells great! American red cedar is a more wallet-friendly alternative. It does an equally good job of toning down moisture.
Seal
A secure seal is an integral part of any desktop humidor. You can test a humidor's seal by placing a flashlight inside the box and closing it. If light peaks through the cracks, then moisture can too. Most manufacturers use wax to ensure that the lid and base line up perfectly.
Humidifier
Some humidors have built-in humidifiers. These tiny elements help to preserve optimal humidity. Still, many cigar aficionados prefer the reliability of aftermarket humidifying agents. Ensure that your humidifier doesn't infringe upon your humidor's capacity.
Hygrometer
Most desktop humidors have built-in analog hygrometers. Hygrometers help collectors track the relative humidity inside their humidor. Analog hygrometers contain a pair of mercury thermometers. A 70% humidity reading is optimal. You must have a way of tracking the humidity inside your cigar humidifier, as changes in moisture and temperature can impact the levels.
How to Set up a humidor
The first thing you're going to need is a humidor. Next thing you're going to need? Either distilled water or propylene glycol. This is the stuff that's going to keep your cigars fresh inside the humidor. The only difference between propylene glycol and the distilled water, this has alcohol in it, dissolves a little bit slower, but honestly, any will do. Don't use tap water. That's how you get mold. This is the device that actually holds in the moisture from either your solution or your distilled water.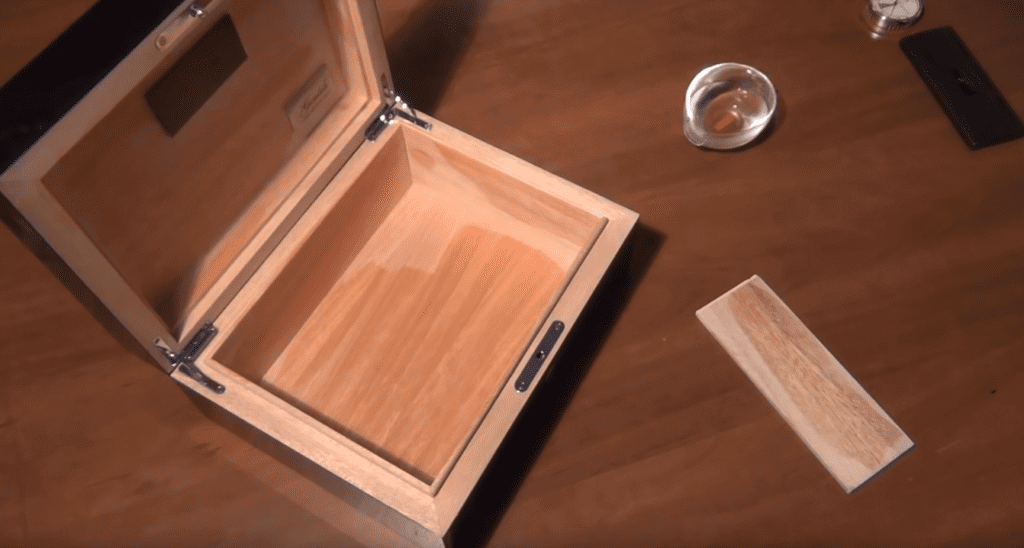 Hydrometer installation
Your next part? Hydrometer. Don't know what it is? Counts on the compass. The hydrometer, that's what's going to tell you your humidity reading inside the humidor, your cigars are very, very finicky. They need to be at a certain humidity level. You're looking for between 68% and 72%. You want to keep it at 70. That's going to be your perfect. So with hydrometers, you have two kinds, analog and digital. It's going to be in any humidor set that you buy. It involves salt and a plastic bag. No one has time for that, and why bother? It's not even going to give you the right reading, probably, so don't even get it. Digital hydrometers are very good. A little more expensive, but it's going to be a lot more accurate for you and a lot easier to maintain and to use. A lot of them, they just come with a battery, pull out the tab. The setting is already set for 70% humidity. You take off the sticky back, you want to stick it right there, close and you're set.
Seasoning in the humidor
The next part is going to be actually seasoning the inside of the box. You want to take either a small glass or some shot glasses. You want to fill them up with either your distilled water or your alcohol solution. What you do is you take those, and you throw them right in the box. If you're using smaller shot glasses, put one in each corner. Then close that up. Wait for about six hours. When you come back, open it up again. If the water level has gone down in these, you want to add more, fill them back to the top, and close it. Come back. When you've been doing this for a while, eventually after about a five, six-hour period, you're going to see that the water has not gone down anymore. That means that the wood has fully absorbed all the moisture it can. If your humidor comes with dividers, remember to leave the dividers in there. You want them seasoned as well.
Filling a humidifier
So once that is all done, you take this water out and then fill up your humidifier. The humidifier is a central moisture-holding facility in the entire humidor. It comes with plastic beads in it. Plastic beads are going to hold in that moisture really nice. They're not going to let it go. No chance of bacteria or mold growing in here. So you want to take your humidifier. Take either your solution or your distilled water, crack it open. You want to throw in some drops. Drip it right in through the grates there. Get that all nice. If you're using one with beads, the beads are going to change color from an almost pure white to a clear, and that means that you've got enough moisture in there.
Then you want to make sure you have no drippage. Use a paper towel. You want to dry it off. And then you want to give it a good shake. Make sure all that moisture that could leak outcomes out dry as a bone. Again, it's going to have a sticky. You want to crack open your humidor, preferably right by the hydrometer.
Adding in the cigars
First, open up your humidor. You want to keep your humidor at least three quarters filled. So if you have a hundred cigar humidor, don't buy five cigars and keep them in there. They're calibrated, and they're built to be 50 mostly 75% filled. So lay them in there. Again, this is going to depend on the size of your humidor and the size of the cigars you're smoking, whether or not how they're all going to fit. You might have to do a little geometric rearranging. Make sure there's no moisture dripping on your cigars.
If the moisture gets on the cigar leaf, it's going to ruin it. You can't smoke it, and that's a waste. So close it. Then you want to make sure that seal is down. The seal is the final chapter in making sure your humidor is going to work. Without a good seal, that moisture is going to leak out, and your cigars are going to be garbage. So make sure that that seal works. Make sure the hinges all work. Set them in there. Wait a little bit. You should come back in a few hours. That reading on the hydrometer should be up to about 65, 66 at that point. Have a smoke. Close it again. After about a day, that should read in the 68 to 72 range. Again, depending on the weather, depending on where you're keeping your humidor in your house. Then close it up.
Video Tutorial: How to store your cigars?
Final Thoughts
After looking at a seemingly endless array of cigar humidors, we're happy to name the Mantello Royale Glass-Top Cigar Humidor as our top pick. This large cedar box has a sophisticated rosewood finish, a brass hygrometer, % humidity over extended periods. The Mantello Royale is the ideal home for your most beloved stogies.
---