Accuracy to +/- 1%
Secure magnetic mount
Battery included
Humidity accuracy +/- 2%
Temperature accuracy +/-1
Digital display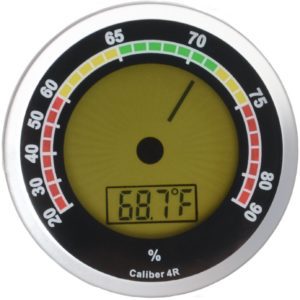 Accuracy to +/- 1%
Secure magnetic mount
Battery included
Glass Face
Metal
Size: 1-9/16" Back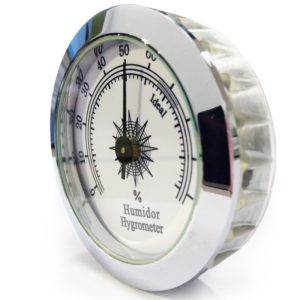 Accuracy to +/- 1%
Resists corrosion
Durable, stable,
---
Choose the Best Cigar Hygrometer
Customer's Choice: the Best Rated Cigar Hygrometers
20 users answered this survey. Please help us improve this review!

50% of users selected Cigar Oasis Battery included, 15% selected HygroSet II, 25% selected Cigar Oasis, 5% selected CigarExtras and 5% selected CyJay. Every month we analyze your answers and change our rating.
---
Buyer's Guide
How to Calibrate a Hygrometer
A lot of digitals will say that they're pre-calibrated in the factory but recommended that you do a quick calibration just to make sure. There are two main ways that we calibrate hygrometers, and the first way is by far the easiest. It's using a one-step calibration kit. Boveda makes them, and they're zipper bags with a small humidor pack inside. You just put the hygrometer inside the bag and seal it up, and you want to wait eight to 12 hours. At the end of this time, the hygrometer should be reading 75%, and if it's not, you just adjust it.
Salt Test
Now, if you don't have a calibrating kit, it's not a problem. You can use what called a salt test. For this method, you'll need a small bottle cap, regular table salt, a re-closable bag, and regular water. All you need to do is fill the small bottle cap with about a tablespoon of salt, and you're going to get the salt wet. You don't want salt water, and you want damp salt. You have just pasty salt, and you place this inside your re-closable bag, and then you're going to add your hygrometer. You want to make sure that the sensors are clear and able to read the humidity levels. For on a digital, you have the sensors here, so you want those facing up. For an analog, they can read in the back underneath the magnet or from the sides underneath the grommet. Those small holes allow it to read humidity. You want to make sure those are clear when you put it in the calibrating bag.
So again, you put it in, seal it up and wait 8 to 12 hours. At the end of that time, it should be reading 75%. If it's not, then you need to adjust it. For digital, you can adjust it using this adjustment knob. A lot of people will turn it and notice that there's no change. You need to turn it; however, many clicks to the right or left it needs to go up or down, and then press the reset button. Once you press the reset button, it'll register the change. For an analog hygrometer, you can adjust it using the adjustment screw in the back, and you'll need either a small screwdriver or a small pocket knife. You just put it in, and you'll notice if you hold it lightly and you spin it around, the whole dial spins. So you want to put some pressure on the outside of the hygrometer, and it will hold steady enough for you to adjust.
After adjusted them, recommended to put them back in the calibrating bag for another couple of hours to make sure that the reading is now taking correct readings. After that, you're all done, and you're ready to put it in your humidor.
Interesting Video: Western Digital Hygrometer Review
---