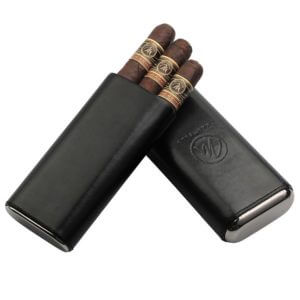 Holds up to 3 Cigars
Black Leather
Lined with Cedar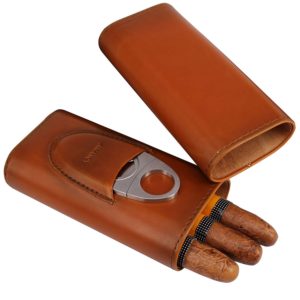 Holds up to 3 Cigars
Leather
Lined with Cedar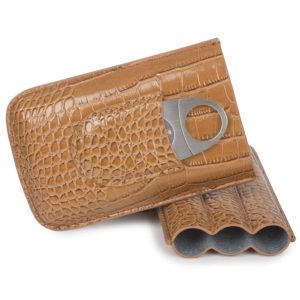 Holds up to 3 Cigars
PU leather
Elegant crocodile design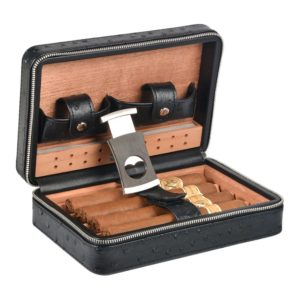 For 4 Cigars
PU leather
Spanish cedar wood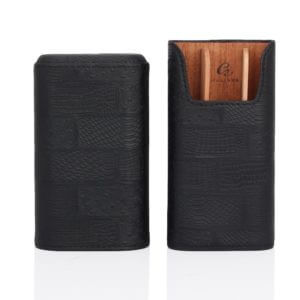 Holds up to 3 Cigars
Leather
Spanish cedar wood
---
Choose the Best Leather Cigar Case
Customer's Choice: the Best Rated Leather Cigar Cases
22 users answered this survey. Please help us improve this review!

77.27% of users selected Mantello Cigars, 9.09% selected AMANCY, 0% selected UsefulThingy, 9.09% selected Volenx and 4.55% selected GALINER. Every month we analyze your answers and change our rating.
---
Do you like to take your favorite cigars wherever you go and travel? Then you need a reliable and convenient leather case for cigars and roll-ups of premium tobacco. I have a few different cases made by U.S. and Cuban brands. In the following review, I will explain why you should pick a leather cigar case.
What is a cigar case?
A cigar case is a flat-like case designed for storing and carrying cigarettes, cigars, blunts, roll-ups, and joints. In addition to the main function, such a box is often used to match the individual style of the owner. Most models are made of high-quality plastic, metal, PU or natural leather. Also, cedar wood is used for lining. The cases may differ in size, the type of closure (with a spring or elastic band), as well as capacity.
Also, a cigarette case is the most suitable accessory to keep expensive cigars and lighters without any risk of losing or damaging them. If a cigar case will be used from time to time, pay attention to PU leather products. Such a case can perfectly fit with any business accessories; moreover, a leather cigarette case looks stylish and elegant.
How to choose a leather cigar case?
People who wear their cigarillos, cigars, cigarettes, and roll-ups in such cases, prefer natural leather over other materials. On the other hand, metal models are more durable and less expensive, though, they are not as soft or smooth as leather cases.
Things to consider when buying a leather cigar case:
smoking activity;
length and diameter of cigars that you prefer to smoke;
reliability of the accessory's closure;
density and thickness;
price;
All cases differ in the closure types (mechanical/automatic), as well as functions. Focus on popular models with automatic dispersion of cigars. There are cases for different quantities – 3,4,5 and more pieces. The size of the accessory depends on its inner compartment's capacity.
Expert choice: 5 best leather cigar cases
Mantello Cigars case is made of natural black leather. It is lined with cedar and can hold up to 3 cigars;
AMANCY is another 3-cigar case lined with cedar;
UsefulThingy is a more affordable PU leather, with a stylish crocodile design;
Volenx is a larger PU leather case for 4 cigars. It is lined with Spanish cedar wood;
GALINER is another stylish and durable leather accessory that may hold up to 3 cigars;
Check the video I've uploaded. It is dedicated to a compact leather cigar case made of natural material. Do you find such accessories necessary for cigar aficionados? How do you prefer to transport your cigars and roll-ups while traveling? I'm really interested in your opinion, feel free to share in the comments. Thank you for reading SmokeProfy!
Interesting Video: PerfecPak Compact Cigar Accessories Case
---