---
Cigar Oasis
Accuracy to +/- 1%
Secure magnetic mount
Battery included
HygroSet II
Humidity accuracy +/- 2%
Temperature accuracy +/-1
Digital display
Cigar Oasis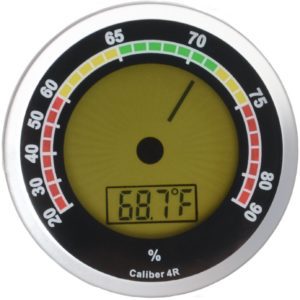 Accuracy to +/- 1%
Secure magnetic mount
Battery included
CigarExtras
Glass Face
Metal
Size: 1-9/16″ Back
CyJay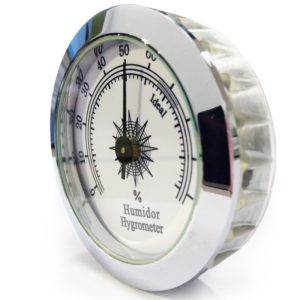 Accuracy to +/- 1%
Resists corrosion
Durable, stable
---
---
If you are a true fan of cigars and enjoy the elegant and leisure process of smoking, then of course you have heard that cigars require special storage. Though many travelers do not take this into account. After enjoying the delicate aroma of cigars abroad, they purchase a few boxes and soon notice that the feeling and aftertaste after smoking has completely changed.
The storage temperature of cigars should be in the range from + 60 ° F to + 70 ° F. The maximum allowable upper limit should not exceed + 75 ° F. In a warmer place of reduction tobacco leaves will quickly become unusable. Moreover, cigars should be stored at a certain humidity level – 65 – 72%. When this parameter is reduced to 55% and below, the tobacco leaf will dry out. And in high humidity, cigars will get too moistened and will soon be covered with a mold. So it is not an easy task to create ideal conditions for cigars to remain fresh for a long time. Luckily, there is a solution, and it is a humidor with a hygrometer.
Humidor is a cigar storage container. There is a fairly wide range of humidors on the market. The price of such a product depends on the type of material from which it is made, processing, and quality. To control humidity inside a humidor, you will need a hygrometer. This device gives an accurate reading of the relative humidity level, so it makes it possible to set up your humidifier to required parameters. There are three types of hygrometers:
Mechanical. Some call this type a ceramic hygrometer because moisture is measured using electrical resistance, which is achieved in porous ceramics. Such a device does not tolerate large temperature differences.

Hair tension hygrometers. These mechanisms use human hair, nylon, or cellulose which contract depending on humidity. The price of a hair-based humidor hygrometer is the lowest because of the lowest accuracy.

Digital. Electronic moisture controllers are the most advanced. They also use analog sensors, but all readings are displayed on a screen. Besides, this device also shows temperature details.
How to choose the right hygrometer for your humidor?  Keep reading this review to learn more about hygrometer features and modes.
Cigar Oasis Digital Hygrometer – a versatile moisture controller
This plastic hygrometer is designed in a slim shape and comes with a mounted magnet detail for convenient fixing.
The device is pre calibrated for 20% -90% HR and can be used not only for humidors but for other purposes as well – green houses, cases for wooden instruments and herbal storage. The hygrometer will show recordings on the display. Besides, if it finds humidity beyond the preset limits, you will see HH code on the display.
[i2pc pros_icon="icon icon-check-1″ cons_icon="icon icon-minus-thin" show_title="false" show_button="false" pros_title="Pros" cons_title="Cons"] [i2pros] Comes pre-calibrated and has a calibration feature
A wide scope of use
High humidity accuracy
Displays average temperature/humidity for 3 days
Battery is included
[/i2pros] [i2cons] Some customers report they experience difficulties to recalibrate the device.
[/i2cons] [/i2pc]
This device will easily maintain the desired humidity level inside your humidor. But thanks to a wide calibration range, you can also use it indoors for measuring humidity. It is easily adjustable to Fahrenheit and Celcius degrees. Note that it is desirable to recheck calibration after the purchase to avoid false readings. The best approach is to use a ready calibration kit to evaluate the device accuracy.
---
Hygroset II Round Hygrometer – the most compact device for humidity control
This device is designed in a convenient round shape. The 1.75-inch diameter makes the hygrometer compatible with most models of humidors. You will easily attach it to the humidor wall with a magnet and two-sided tape.
You need only to press a knob once to change a humidity level by one degree. The device guarantees not more than 2% discrepancy from preset parameters.
[i2pc pros_icon="icon icon-check-1″ cons_icon="icon icon-minus-thin" show_title="false" show_button="false" pros_title="Pros" cons_title="Cons"] [i2pros] Wide temperature/humidity range and accuracy
Compact shape and simple mounting
Calibration instructions are enclosed
Digital display for temperature/humidity readings
[/i2pros] [i2cons] Not suitable for exterior mounting
[/i2cons] [/i2pc]
No matter what size and type of a humidor you own, this hygrometer will surely fit it thanks to a small size and round shape. Moreover, you can easily regulate humidity level following the enclosed manual. As the offered range is 20% – 90%, the model can be used also for herbs storage or wooden details. The device comes with a long-lasting battery and does not require any special maintenance.
---
Oasis 4R Silver Hygrometer – a great combination of analog and digital features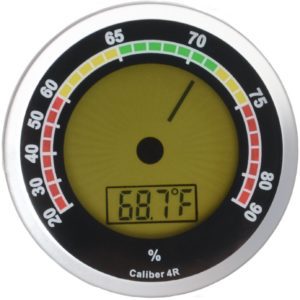 This manufacturer is known for its high-quality hygrometers for cigar storing. In this model, both analog and digital features have been favorably combined.
This hygrometer will work well on any surface. It has only 2-inch diameter so will fit even the smallest humidors. The device comes with a sticky pad so you will not find difficulties with the attachment of the device.
[i2pc pros_icon="icon icon-check-1″ cons_icon="icon icon-minus-thin" show_title="false" show_button="false" pros_title="Pros" cons_title="Cons"] [i2pros] Comes with a calibration feature
Advanced accuracy of humidity +/-1%
Fahrenheit/Celsius readings
Easy mounting with a magnet
A battery is enclosed
[/i2pros] [i2cons] Difficult to read the display at an angle
[/i2cons] [/i2pc]
The customers admit a very attractive design of the hygrometer display – it comes with a green, yellow and red section, allowing you to better interpret the readings. The hygrometer comes pre-calibrated but you can conduct a test with a Boveda pack to be on the safe side. The device can read wide humidity rage – from 20% to 90%. So you are free to use it in many other places beyond humidors.
---
Medium Round Analog Hygrometer – a nicely-looking device for basic humidity control
This is a basic analog device that can be used in humidors to prevent cigars from drying out or molding. The design is pretty simple and colored what makes it very easy to check the readings.
Some humidors come with a pre made hole and it is the ideal place for this hygrometer. Otherwise, you can quickly attach it with Velcro that is provided with the product.
[i2pc pros_icon="icon icon-check-1″ cons_icon="icon icon-minus-thin" show_title="false" show_button="false" pros_title="Pros" cons_title="Cons"] [i2pros] Easy to read display
Attractive design
Real glass lens
Easy mounting with Velcro
[/i2pros] [i2cons] Cannot be calibrated
[/i2cons] [/i2pc]
Overall, the device copes well with humidity control. However, some users complained it did not pass the humidity test for accuracy. Besides, it cannot be calibrated on your own. So if 1-2% of RH makes a difference for you, it is better to opt for digital models with calibration features. The design of the hygrometer is really attractive and will decorate your cigar storage container.
---
2-Inch Diameter Analog Hygrometer – a great device with mechanical movement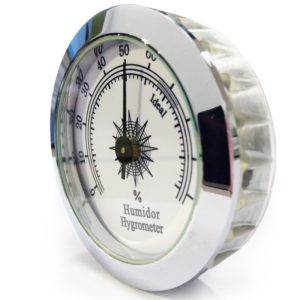 This model is in great demand among cigar lovers. The device does not require batteries as its work is based on mechanical movement. Still, the manufacturer states that the humidity accuracy is very high – up to +/-1 degree.
The hygrometer comes with a rubber ring that helps to set it into a special hole in the humidor, just check the dimensions carefully.
[i2pc pros_icon="icon icon-check-1″ cons_icon="icon icon-minus-thin" show_title="false" show_button="false" pros_title="Pros" cons_title="Cons"] [i2pros] Can be calibrated
Easy to read display
Compact size
Mechanical movement
Made of high quality steel
[/i2pros] [i2cons] Unclear mounting instructions
[/i2cons] [/i2pc]
The hygrometer is suitable not only for cigar protection but also for other products that need to be stored at a certain humidity level. You can calibrate the device yourself. Some users complain the item comes without calibration instructions, but these can be easily found on the Internet. This model does not provide temperature readings but it really keeps the humidity level within the required limits. Despite its basic design, the device copes with its task.
---
Buyer's Guide
Everything looks easy and understandable at first glance. But once you visit online stores, you will be puzzled by a variety of hygrometer types, designs and features. How to make the right purchase? Keep reading to learn a bit more about this device, its main characteristics, and maintenance tips.
Analog or digital hygrometer?
Users usually choose between these two types of hygrometers. And it is actually a matter of taste and habit that determine the choice. Mechanical models have a more attractive appearance – very world-known humidor manufacturers specifically use analog hygrometers in their most expensive humidor models. These mechanisms symbolize style and traditions. But it is difficult to conquer with the capabilities of the latest technologies. Digital hygrometers are able to show humidity with extreme accuracy. Besides, they can also show the temperature inside the humidor. If you cannot make your choice, consider a compromise solution with the simultaneous installation of both types of hygrometers in one device.
Hygrometer accuracy
Analog hygrometers need to be calibrated to show accurate readings. And they can slightly mislead you if you fail to correctly calibrate them. Digital hygrometers are easier to read and also do not require calibration. Besides, these devices provide the highest accuracy with a possible discrepancy of 1%. But you should know that digital hygrometers need some time to adjust to changes in humidity and do not immediately reflect changes. Digital hygrometers are not necessarily more accurate than analog hygrometers. The best approach is to read customers' reviews once you choose a certain model.
Calibration of hygrometers
First, you need to check if the hygrometer has a calibration function, as many analog and digital hygrometers do not have this feature. Analog hygrometers that can be calibrated with usual household tools. For digital hygrometers, manufacturers usually provide instructions. Note analog hygrometers are very sensitive to all types of vibration and must be calibrated regularly.
Consider these two calibration methods:
Saline solution. You will need to prepare a solution using one part of salt and two parts of water. Then place the hygrometer in saline solution in a tightly closed plastic box and leave it for a while. After 8 hours, the humidity inside the box should reach 75%. Now set the hygrometer hand to the mark indicating a humidity level of 75%.

Wet cloth.This method will not bring a super result, but it is faster and easier than the previous one. The reference value here is 100% RH. You need to take a damp cloth and wrap it around the hygrometer. Leave the hygrometer wrapped in a cloth for an hour and then set the humidity level to 100%.
How to Calibrate a Hygrometer
A lot of digitals will say that they're pre-calibrated in the factory but recommended that you do a quick calibration just to make sure. There are two main ways that we calibrate hygrometers, and the first way is by far the easiest. It's using a one-step calibration kit. Boveda makes them, and they're zipper bags with a small humidor pack inside. You just put the hygrometer inside the bag and seal it up, and you want to wait eight to 12 hours. At the end of this time, the hygrometer should be reading 75%, and if it's not, you just adjust it.
Salt Test
Now, if you don't have a calibrating kit, it's not a problem. You can use what called a salt test. For this method, you'll need a small bottle cap, regular table salt, a re-closable bag, and regular water. All you need to do is fill the small bottle cap with about a tablespoon of salt, and you're going to get the salt wet. You don't want salt water, and you want damp salt. You have just pasty salt, and you place this inside your re-closable bag, and then you're going to add your hygrometer. You want to make sure that the sensors are clear and able to read the humidity levels. For on a digital, you have the sensors here, so you want those facing up. For an analog, they can read in the back underneath the magnet or from the sides underneath the grommet. Those small holes allow it to read humidity. You want to make sure those are clear when you put it in the calibrating bag.
So again, you put it in, seal it up and wait 8 to 12 hours. At the end of that time, it should be reading 75%. If it's not, then you need to adjust it. For digital, you can adjust it using this adjustment knob. A lot of people will turn it and notice that there's no change. You need to turn it; however, many clicks to the right or left it needs to go up or down, and then press the reset button. Once you press the reset button, it'll register the change. For an analog hygrometer, you can adjust it using the adjustment screw in the back, and you'll need either a small screwdriver or a small pocket knife. You just put it in, and you'll notice if you hold it lightly and you spin it around, the whole dial spins. So you want to put some pressure on the outside of the hygrometer, and it will hold steady enough for you to adjust.
After adjusted them, recommended to put them back in the calibrating bag for another couple of hours to make sure that the reading is now taking correct readings. After that, you're all done, and you're ready to put it in your humidor.
---
FAQ
Do I need a hygrometer in the humidor?
If you want to keep your cigars at the right humidity, then a hygrometer is important. There are different types of humidors and each type requires a certain hygrometer for accurate readings. For example, if you have an old-fashioned wooden cigar box that has no seal between its walls, then it's best not to use a hygrometer because it will not give you accurate readings.
If you have a humidor with a seal, then you need to use a hygrometer to make sure the humidity is at the right level. A lot of newer humidors come with built-in hygrometers, but if your humidor does not have one, then you need to use a hygrometer for accurate readings.
If your cigar box has no seal and comes with an analog dial-type hygrometer that does not look like the ones in newer humidors, then it's best if you replace it with a digital or dual function (humidity/temperature) hygrometer.
The best way to find a good cigar hygrometer is to read the reviews on different websites. Look for a hygrometer that has an accuracy rating of +/- 50%. You don't want your cigars to be too moist or too dry, so it's important to have an accurate reading.
Are cheap hygrometers accurate?
This is a question that many cigar enthusiasts ask. The answer, unfortunately, is no. Cheap hygrometers are not accurate and they can give you inaccurate readings. This means that if you're using a cheap hygrometer to measure the humidity in your cigar humidor, you could be storing your cigars at an incorrect humidity level.
This is important because the humidity level in your humidor for a cigar box can make a big difference on how long it takes for you to smoke one of cigars. You could find that when smoking, the flavor and aroma of your favorite cigar isn't as enjoyable as usual. Or worse yet, if you're not storing them at an appropriate humidity level, you could find yourself with cigars that are ruined.
Do not ever put your health and the longevity of your favorite cigar in jeopardy by using a cheap hygrometer to measure humidity levels. If possible, it's best to spend more money on a reliable cigar hygrometer so you can keep enjoying those cigars for years to come.
Where should I place my hygrometer in the humidor?
The hygrometer should be placed in one of the corners of the humidor. Make sure that it is not touching any walls and that there is plenty of airflow around it. This will help to ensure accurate readings.
If your humidor has a divider, you should place the hygrometer on the side that is closest to the humidifier. This will give you a more accurate reading of your humidity levels inside the box.
Hygrometers should be placed in areas where they can get regular air circulation, as this is essential for their proper functioning and accuracy. Placing it too close to vents or fans could damage or affect its readings, so keep that in mind.
How do I choose a hygrometer?
The best way to find the best hygrometer for your cigars is by making a list of what's most important to you. This helps narrow down your search for the perfect cigar hygrometers quickly and easily.
Accuracy first, then aesthetics
Price
Size and portability
Functions
Accuracy is key when it comes to cigar hygrometers. You don't want your cigars to be ruined because of an inaccurate reading, so make sure that the hygrometer you choose is highly accurate. If accuracy isn't as important to you, then you can focus on other factors such as aesthetics, price, and size.
Some cigar hygrometers come with extra functions, such as a clock or thermometer. If you're looking for something that has more features, then be sure to check out those options too!
Are any hygrometers accurate?
The short answer is no, they are not. At the same time, you cannot rely on any hygrometer either if you want to keep your cigars in good condition for longer periods. What's important though, is that there are some better than others, and being aware of this fact can help you make a more informed decision when it comes to purchasing one.
We've reviewed several hygrometers that are well received by cigar smokers and we were able to determine a few things about them: their accuracy, durability, and display features. All these aspects combined make for an overall experience that can range from marginal at best (if the device is of poor quality and not very accurate) to near perfect if you invest in a quality hygrometer that is also reliable.
How do I know if my hygrometer is accurate?
The only way to truly know if your hygrometer is accurate is to test it against another calibrated instrument. There are a few methods you can use to do this: using salt, using water, or using tobacco.
To test your hygrometer with salt, place a cup of salt into a sealed container and wet the salt with a few drops of water. Then place your hygrometer into the container, close it up and let sit for 24 hours. After this time has passed check the reading on both devices to see if they are within +/- .05%.
Next, you can test using distilled water instead of salt (this method is more accurate). Pour distilled water into a sealed container until it is about halfway up the side of your hygrometer. Place the hygrometer in the water and wait 24 hours. Again, check to see if the devices are within +/- .05%.
Last but not least, you can test using tobacco. Tobacco contains about 13% moisture, so using it will allow you to check the hygrometer's accuracy. To do this, place a bowl of tobacco on a flat surface and let sit for 24 hours. After waiting 24 hours, remove your hygrometer from its packaging (make sure it is not exposed to any air) then place both into the bowl together.
How long does it take for a hygrometer to get an accurate reading?
It can take up to 24 hours for a new hygrometer to get an accurate reading. This is because the hygrometer needs time to acclimate itself to the surrounding environment. It is important to keep the hygrometer in its case for at least 24 hours. This will allow it time to get a consistent reading that you can rely on overtime.
Which is better: analog or digital hygrometer?
The analog hygrometer is a basic design that uses a coil of metal wire and a wet-bulb to measure humidity. When the metal coil is moistened, it expands as it absorbs water from the air. This expansion causes the pointer on the gauge to move, indicating the current humidity level. Analog hygrometers are typically less expensive than digital hygrometers, and they are easier to read.
Digital hygrometers use a tiny sensor to measure humidity levels. They are more accurate than analog hygrometers, and they can store readings for later reference. However, they are also more expensive than analog models.
Which is better for you? It depends on your needs. If you want a simple, reliable way to measure humidity levels, go with an analog hygrometer. If you need greater accuracy and the ability to store readings, choose a digital model.
Do I need to calibrate my hygrometer?
It is not necessary to calibrate your hygrometer; however, it is a good idea to check the calibration from time to time. You can do this by using a humidity chamber or wetting agent.
Can you calibrate a hygrometer with sea salt?
Many people ask if you can calibrate a hygrometer with sea salt. The answer is yes, but it's not the most accurate way to do it. There are calibration kits that are specifically designed for hygrometers, and they will give you more accurate results.
Another option is to use a humidor. A humidor is a storage box for cigars, and it has a built-in hygrometer. This is the most accurate way to keep track of your cigar humidity levels.
If you don't have a humidor, or if you're not happy with the results that you're getting from your hygrometer, you can buy a calibration kit. These kits are available online or at cigar stores.
When calibrating your hygrometer, make sure that the humidity level in the room is between 65 and 75 percent. This will give you the most accurate results.
Who invented the hygrometer?
The hygrometer has had many forms through the ages. Leonardo da Vinci constructed the first rudimentary hygrometer in the 1400s. Many credited Johann Heinrich Lambert with the invention of the modern hygrometer in 1755.
Why are digital hygrometers accurate?
A digital hygrometer is more accurate than a traditional analog hygrometer because it takes into account the humidity and temperature of the surrounding air. This helps to ensure an accurate reading.
Analog hygrometers use a metal coil to measure the amount of water in the air. As the humidity changes, so does the amount of water vapor that the metal coil can hold. This change in electrical resistance is what's measured to get a humidity reading.
While this method can be accurate, it is also susceptible to outside factors like temperature and air pressure. For example, if the surrounding air is cold, the metal coil will cool down and give a falsely low reading.
Digital hygrometers take into account the surrounding air temperature and humidity when calculating a reading. This helps to ensure an accurate measurement, regardless of the environmental conditions.
How often do hygrometers need to be calibrated?
Hygrometers need to be calibrated when they start showing inaccurate readings. If you see the needle of your hygrometer moving, even by a few points, it is time for calibration. To do so, please follow these steps:
First step: Attach your humidor's salt-test strip to a flat, dry surface using tape. Make sure the strip is not touching anything else (it can be attached to either side of the humidor).
Next step: After 24 hours pass by, check your hygrometer and note down what reading is displayed during that period. If the needle moves even for just one point towards higher or lower readings, it is time for calibration.
Next step: Try calibrating the hygrometer by taking off its cover and adjusting a small screw that you will see inside of your device (it should be up or down). You will need to repeat this process multiple times until you can get a stable reading on both ends of the needle.
Next step: Once you can get stable readings, it is time to put your cover back on the device and leave all other things as they were (i.e., placing a salt-test strip inside of your humidor). Wait 24 hours again and repeat this whole process one more time just in case you need additional calibration.
After all of these steps have been completed, your hygrometer should be calibrated and start displaying accurate readings. Please keep in mind that humidity levels inside a humidor constantly change, so you might need to calibrate your device from time to time. For example, if you live in a very dry climate, your hygrometer might show constant higher readings than normal. If so, please calibrate the device again to make sure that you are not over-humidifying your cigars.
If nothing works and your hygrometer is still showing inaccurate readings, it might be time to replace the whole unit with a new one of better quality. Cigar manufacturers usually provide their hygrometers, but they are not the best quality and I would recommend you to buy another device.
---
Interesting Video: Western Digital Hygrometer Review
Conclusion
As you see the choice of humidor hygrometers is wide. You can buy this device in almost all online stores specializing in tobacco products. Each hygrometer comes with its own strong and weak aspects. So you just need to decide what features are important for you. It is also vital to remember about calibration. If you have purchased a hygrometer that requires calibration, then you should study all the instructions on how to properly do it. Also, do not forget that different cigars may require different percentages of moisture, and this fact should also be taken into account when buying a humidor hygrometer.
---