---
OILP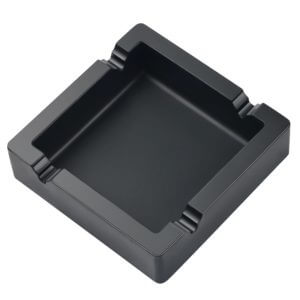 4 Cigar and Cigarettes
Eco-friendly
Easy to clean
Stinky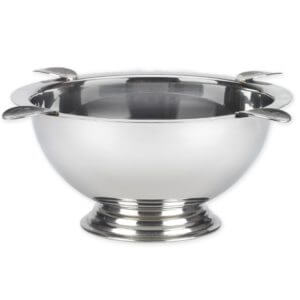 4 Stainless Steel Stirrups
Windproof
8-Inch Diameter
CiTree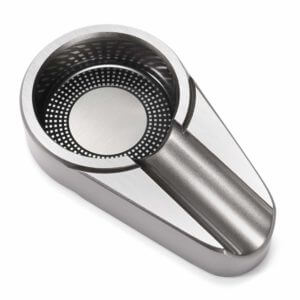 Up to 60 ring gauge
Solid Aluminum
Non-slip mat at the bottom
XIFEI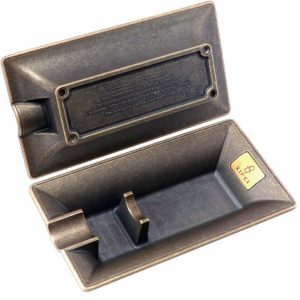 Smoke slot: single
Metal material
Resistance to falling
Stinky Cigar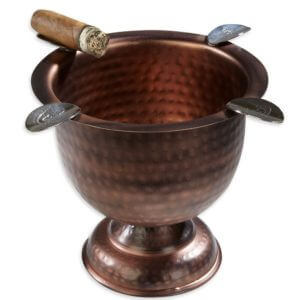 4 Stirrup
Hammered Copper
6.5 inch tall, 8.75 inch wide
H&H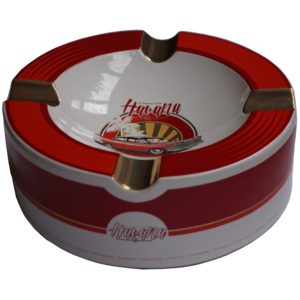 4 Stirrup
Ceramic
Excellet Gift
OILP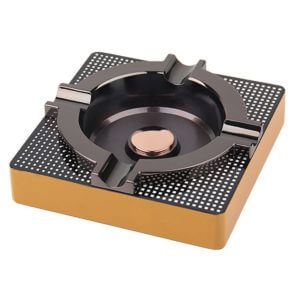 4 cigars grooves
Solid alloy metal
Easy to clean
SIKARX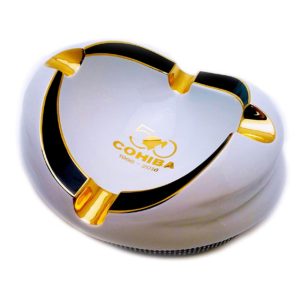 Deep Center Basin
Porcelain
10 5/8″x8 7/8″x4 1/8″
Briar and Oak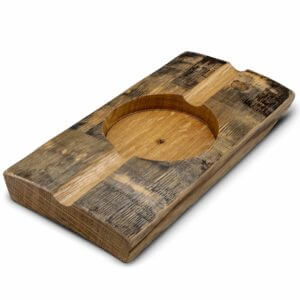 4 cigars grooves
Wood
Easy to clean
Briar and Oak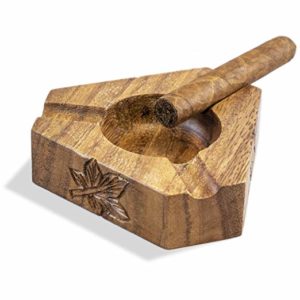 3 cigars grooves
Wood
Handmade
---
---
If you are a cigar aficionado, having the right ashtray can add to the smoking experience. Although, it is probably more accurate to say that having the wrong one detracts from it. There is nothing like the smell of the perfect cigar smoldering in the ashtray with the smoke rising to create a delicate bouquet. Ashtrays for cigarettes will not work for cigars, and finding the perfect ashtray for cigars can be challenging. We have put together this list of our favorites to help you find the right ashtray for your smoking experience.
Now that you are a bit more familiar with different types of ashtrays that are available, let's explore our top picks in more depth. Here is what we thought about them.
OILP Cigar Ashtray Big Ashtray – Best for Ease of Care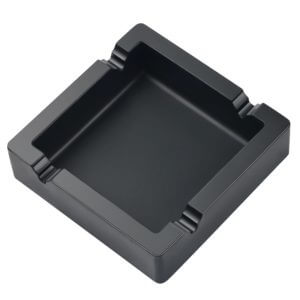 The OILP cigar ashtray has a modern look and is big enough to have a few friends over, too. It has a design that is stable and will not tip. It is made from silicone and will not break when dropped. Silicone is a type of rubber that is soft and easily bendable.
It is also easy to wash. You can bend it and get into the corners without issue.
This ashtray is soft, and it will not scratch a wooden table or desk. One thing to be aware of is that silicone cannot be frozen below minus 30 degrees, and it should not be exposed to over 280 degrees Fahrenheit. You should not leave it outside during the winter in cold climates, and be careful not to place it on a fireplace or mantle where it could get too hot. It is dishwasher safe. This is an excellent choice for its durability and modern design.
[i2pc pros_icon="icon icon-check-1″ cons_icon="icon icon-minus-thin" show_title="false" show_button="false" pros_title="Pros" cons_title="Cons"] [i2pros] Durable and flexible
Large and stable
Dishwasher safe and easy to clean
Big enough for four
Modern design
[/i2pros] [i2cons] Cannot withstand temperature extremes
Silicone and rubber can retain an odor, even when washed
Channels may be a bit short for longer cigars
[/i2cons] [/i2pc]
---
Stinky Cigar Ashtray Deep Bowl Design Stainless – Best for Outdoors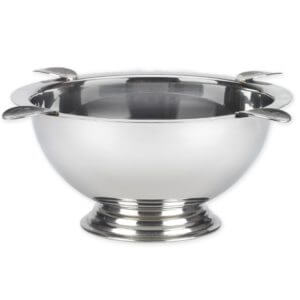 Despite the name, the Stinky cigar ashtray deep bowl design in stainless steel is an excellent choice and a favorite among cigar lovers. If you are a person who loves to spend their time smoking outdoors on the patio, this is the perfect design. Its bowl shape makes it windproof.
It has a stable base and will not tip over easily. It also has a big bowl with a large capacity. It has four stirrups that hold the cigar securely. However, they are short enough that you do need to pay attention when placing your cigar because incorrect placement will allow the cigar to flip out and fall on the surface.
One thing that we do like about it is that it is easy to clean. Stainless steel wipes clean easily, and there is no residue and the residual smell that goes along with it. It is dishwasher safe, but it is an odd shape. It did fit nicely upside down on the top shelf. Stainless steel is durable, and this ashtray should last a long time.
[i2pc pros_icon="icon icon-check-1″ cons_icon="icon icon-minus-thin" show_title="false" show_button="false" pros_title="Pros" cons_title="Cons"] [i2pros] Durable stainless steel
Easy to wash
Dishwasher safe
Stable Base
[/i2pros] [i2cons] Odd shape for dishwasher
Fingers might not be long enough for some
Style is functional and practical, might be a bit plain
[/i2cons] [/i2pc]
---
CiTree Cigar Ashtray, Cigar Travel Ashtray – Best for Travel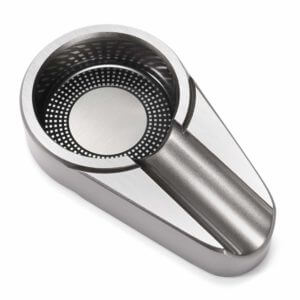 The CiTree cigar ashtray is an excellent choice for when you are on the road. It is compact and does not take up much space. It only holds one cigar. It has a deep bowl for holding ashes. It also has a long rest, which means that your cigar will not fall out easily.
It is made from solid aluminum, and it is heavy. This makes it less likely to tip over. Aluminum is corrosion-resistant, durable, and easy to clean.
This ashtray is dishwasher safe, impact-resistant, and can be cleaned with a damp cloth. It also will not hold a residual odor. It has a non-scratch bottom that will not harm wooden desks and furniture. This ashtray is the perfect size for travel and allows you to enjoy your cigar anywhere.
[i2pc pros_icon="icon icon-check-1″ cons_icon="icon icon-minus-thin" show_title="false" show_button="false" pros_title="Pros" cons_title="Cons"] [i2pros] Durable aluminum
Easy to clean
Will not scratch surfaces
Long channel
Stable
[/i2pros] [i2cons] Only holds one cigar
Simple design
Heavy
[/i2cons] [/i2pc]
---
XIFEI Fashion Vintage Cigar Ashtray Bronze – Best Vintage Look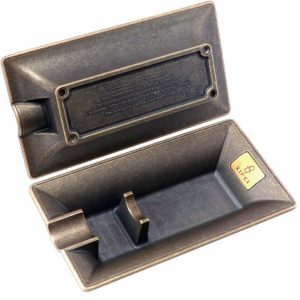 The XIFEI Fashion Vintage cigar ashtray has an elegant and sophisticated design that has a retro look. It is similar to designs found in movies from the 1920s through the 1950s. It is the perfect style for sitting as a decoration in a formal library or living room.
It has a bronze finish that also adds to its vintage feel. It has a single slot design with a long slot that will not allow the cigar to tip out. It also has a stable base.
This ashtray has a beautiful design, and it is made of metal, which is easy to clean. However, this ashtray is not solid bronze, but rather, it is a thin bronze coating that has been electroplated onto a cheaper metal. When washing it, you have to be careful not to use a scratch pad because it could scratch the coating off. In addition, bronze might discolor from the heat of ashes over time. It is an excellent design with a vintage look, and it should last a long time if you use caution and only wash it with a soft sponge. You should clean it soon after use, too.
[i2pc pros_icon="icon icon-check-1″ cons_icon="icon icon-minus-thin" show_title="false" show_button="false" pros_title="Pros" cons_title="Cons"] [i2pros] Vintage look and retro design
Stable base
Long slot holds cigar securely
Easy to clean
Heavy and will not tip
[/i2pros] [i2cons] Must use caution when washing
Might discolor from heat
Not scratch resistant
[/i2cons] [/i2pc]
---
Stinky Cigar Ashtray, Copper Plated – Best Modern Design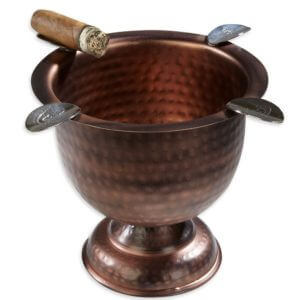 The Stinky cigar ashtray in copper is a beautiful piece. Stinky is known for making ashtrays that are beautiful and well-designed. This one has a beautiful copper finish and is similar in design to their stainless steel version mentioned earlier.
It is windproof and is perfect for the outdoors. It has four slots, which is perfect for having guests over. It is stable, even though it has a taller design than many ashtrays.
Even though this ashtray is identical to Stinky's other bowls, it has some drawbacks. This ashtray is made from a cheaper metal base, and then, copper powder coated. This means that the copper layer is very thin. Copper is a soft metal and can be easily scratched during washing. You should only use a soft sponge to wipe it out, but you can put it in the dishwasher. A copper polish or abrasive cleaner might remove the finish. Also, over time, copper will get an aged patina, which might or might not be desirable, depending on your tastes.
[i2pc pros_icon="icon icon-check-1″ cons_icon="icon icon-minus-thin" show_title="false" show_button="false" pros_title="Pros" cons_title="Cons"] [i2pros] Beautiful, modern copper color
Excellent for groups
Stable design
Windproof
Dishwasher safe
[/i2pros] [i2cons] Requires special washing care
Not scratch resistant
Not corrosion resistant
[/i2cons] [/i2pc]
---
Cigar Ashtray Buyer's Guide
Now, you have our top picks for cigar ashtrays. It would seem like choosing an ashtray would be a simple task, as it is an everyday item, but as you can see, there are a few considerations to take into account to maximize your smoking experience. Here is a summary of the things that you need to remember when making your purchase.
Materials
You might have noticed that ashtrays come in a range of materials. You can find them in silicone, ceramic, porcelain, wood, and many different metals. Our favorites are some type of metal because of its durability and ease of cleaning. Be careful when choosing an ashtray that is coated with a metal such as bronze or copper because it can scratch. Stainless steel is a good choice because of its durability, but it might not be the look that you want.
Capacity
Make sure that you consider the capacity of the ashtray both in the number of cigars that it will hold and how many ashes that is can hold. The bowl should be deep so that the ashes do not blow out. If you get a larger bowl, you will not have to clean it as often either. Some ashtrays have special grooves that can hold both cigars and cigarettes.
Tip Proof/Safe for Surfaces
You want to look at the design. It should have long, deep channels of holding the cigar. This way, there is no danger of the cigar flipping out and causing a fire hazard or damaging surfaces. You also want to make sure that it is stable and has some weight, so that will not tip over. You also want to check the bottom to make sure that it will not scratch fine furniture and wooden desks.
Easy to Clean
Make sure the design is easy to clean with soap and water. Also, check to see if it is dishwasher safe. For thin, coated metals, you should not use scratch pads. Designs with small grooves are more difficult to clean, too.
FAQ Cigar Ashtrays
What are the origins of a cigar ashtray?
A container for ash from cigarettes and cigars is an ashtray. Classic ashtrays are usually constructed of a fire-retardant material, such as glass, plastic (heat-resistant), pottery, metal or stone.
Although there were basic, rudimentary types of ashtrays well before the 19th century, the style, aesthetics and their success really took off at the beginning of the 20th century. The term "ashtray" did not fall into general usage until 1926 in anglicized form, rather than an "ash tray" or "ash-tray".
Ashtrays are mostly used today by tobacco smokers, but they have also made the world's cigar lovers a slight resurgence in popularity. In the sense that they take a lot longer to get around, cigars are not like tobacco. Cigars take between 40 to 60 minutes on average to complete.
Keeping a cigar all the time will easily get exhausting, not to mention, on one's grip, because at any stage during the hour, the smoker would usually be interested in any other tasks. Cigar smokers use a cigar ashtray to relieve the pressure of keeping the cigar the whole time to help overcome this issue.
Cigar ashtrays are generally very distinct from tobacco ashtrays, contrary to what others may assume. Cigar ash containers must have ample room for the cigar to rest and not be placed at an angle or scuffed down into a small space.
How should you use an ashtray?
Many various types, forms and colors come with ashtrays. Both cigar ashtrays, though are pretty much the same in style. They'll have a spot for a cigar to sit, a tapered side that ends up collecting ash in a recessed bowl or rim.
Placing the ashy tip on the curved inside edge of the ashtray and softly rolling off the ash is the correct way to ash a cigar. It's not time to ash yet if the ash doesn't come off as you softly push and roll it.
On the outer lip of the ashtray, you do not need to tap a cigar. Not only can it create a big mess, but it may even destroy the cigar wrapper.
You should place the cap and excess nicotine in there when you split your cigars, too. When the cigar is done, put it in the tray all the way and let it go out.
How can you clean a dirty cigar ashtray?
It depends on the basic material of your ashtray. For instance, with warm water, dish soap, and a gentle sponge, the correct way to clean a ceramic ashtray is. You should use a wash with disinfectant as well. It is, however, advised that some ceramic substance be placed in the dishwasher. In order to survive the extreme heat of a dishwasher, cigar logos will wash off from the strain and not every ceramic is processed.
For wiping glass and crystal ashtrays, soap and water with a gentle sponge can become the best cleaning kit. Some glass ashtrays will display branded artwork in the ash dish or on the edges, like ceramic ones. Most cigar logos are glued to the surface and are not carved, rendering them vulnerable to disappearing in a dishwasher or with an abrasive cleaning agent of some sort. Bleach wipes can't be ideal either since visible stains may be left.
For plastic (or acrylic) ashtrays you should use the term melamine. It is an insanely tough composite – both fire-and-heat resistant. It's almost unbreakable and is a suitable material for an ashtray thanks to its endurance. With almost every solvent, you can scrub melamine ashtrays, like soap and water, antiseptic wipes, or you can even place them in the dishwasher. Only be sure so the branding doesn't wash out if you plan to place them in a dish cycle.
For cleaning out a chrome ashtray, regular old dish soap and water is best. The friction and abrasion will erode the finish in a dishwasher and bleach wipes leave streaks as they do for glass.
Ashtrays for porcelain aren't inexpensive. You can only apply soap, warm water and a smooth, non-abrasive sponge, but you don't actually have to use white gloves to wash a porcelain ashtray. Gently clean the porcelain and dry it with a tidy, fluffy towel.
Some experts also advise using a wire brush on a cordless drill when you need to clean a metal ashtray. Others recommend applying the mix of dish soap and ammonia. Basically a hot water soak and a scrub can do miracles even with the dirtiest trays for cigar ash. Also, try using such eco-friendly and non-abrasive products like baking soda or white vinegar.
What can replace an ashtray if you don't have one
An ashtray is a container/jar/coaster receptacle for the secure deposit of by-products of smoke. If you don't have an ashtray nearby, there are a few items that may work as replacements:
Any thick ceramic or glass cups/jars;

Tin cans;

An empty beer can;

One of the empty flowerpots;
What is the purpose of an ashtray?
Besides the obvious reasons for keeping the ash from cigars, an ashtray can be used for decoration purposes. For instance, you may have a DIY ashtray for friends, relatives of guests who like smoking. Some non-smokers also buy glass or stone ashtrays to apply them as a press for notes.
What can you do with old cigar ashtrays?
You may repurpose old cigar ashtrays in many ways. For instance, glass ashtrays may serve as a coaster for everyday trifles like the keys or batteries. Another idea is to add the pieces of an old ashtray to your creative collage or artistic DIY project. Catch a few other ideas of how you may use an old ashtray:
A nail varnish or hair accessories holder;

A business card stand;

A soap dish;

A container for dried flowers;

A jar for biscuits and candies (if the smell level is tolerable);
Video Tutorial: Cigar ashtray
Conclusion
If smoking is your passion, then having the right ashtray is a necessity. As you can see, there are many different designs, and all of them have advantages and disadvantages. Whether you want a classic look, or you want something that is a bit more practical, you have many choices available. This guide will help you to make the perfect choice for your smoking hobby.
Being a founder of SmokeProfy I already know how to review ash-pots. I literally tested about a hundred of various cigar ash-boxes during the preparation of diverse guides. That is why I decided to create a separate guide for ash-pans. Surely, my major idea was to recommend very durable items that look stylish and cool.
I understand that the main purpose of ash-pots, trays, and pans is to keep any smoking area clean. However, I am against the idea that this item should look like a cheap, disposable thing. An ashtray can and should be an attractive decorative element in any home or office.
The price of cigar ashtrays differs drastically – from $1 to $100. I tried to cover the average cost of budget-friendly stylish ashtrays – from $20 to $40.
So the price, construction, and durability are the key factors I considered during our numerous tests. The results are reflected in the rating.
My top 5 cigar ashtrays:
OILP – eco-friendly and easy to clean ashtray;
Stinky is equipped with awesome windproof option;
CiTree is made of solid aluminum and it comes with a non-slip mat;
XIFEI has special resistance to falling;
Stinky Cigar was designed with 4 stir-ups;
Other ashtrays for cigars in this list are also unique, handmade or equipped with certain attachments for outdoor smoking. Surely, you may buy many other cheaper and less stylish ashtrays for daily use. But I compiled this review with exclusive ash-pots that are multi-purpose. Every product can be presented as a stylish gift for any cigar aficionado. Do you often use ashtrays and how do you choose them? I am very interested in your criteria of choice. By the way, on this SmokeProfy page I added the special video dedicated to ash-trays.
---