---
Scotte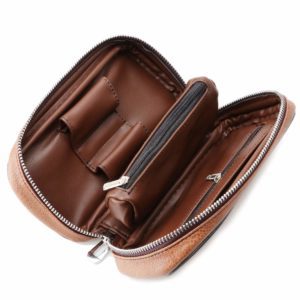 PU leather
Zipper
Very practical design
FIREDOG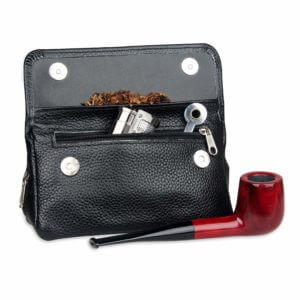 Genuine Leather
Additional pockets
Magnetic closure
Scotte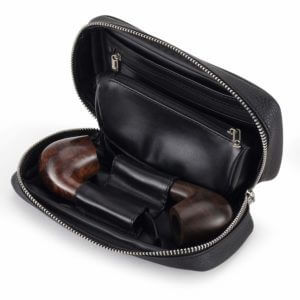 Genuine leather
Zipper
Set
JYOS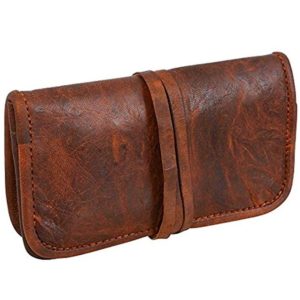 Goatskin
Smart and stylish
The perfect size
Mr. Brog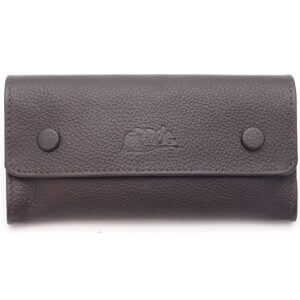 Cow Leather
Dimensions: 6″ x 3.25″
Rubber lining
---
---
Smoking does not go out of fashion, it remains more or less popular at all times. When it comes to pure tobacco smoking, many people believe that it brings less harm than cigarettes. If you prefer traditional tobacco or just want to try this classical style of smoking, think in advance about where you will store all the necessary components, including tobacco.
Smoking tobacco is very capricious. And even if it has a long shelf life in a sealed form, after opening, this time is considerably shorter. Therefore, tobacco should be correctly stored. Besides, you need to protect it from getting too dry or wet. In stores, tobacco is sold in airtight containers. You can also use them. But note that after opening such a package, you need to avoid keeping it in a humid environment and at high temperatures. Still, the best solution is to use a special tobacco pouch.
Before buying such a case, you need to decide on the smoking style. Pouches for pipes and roll-ups can vary greatly, mainly in size. The most popular pouches are made from leather. These can come in different styles and shapes, but usually, a standard tobacco pouch consists of:
Tobacco pocket – here you will store the tobacco itself.  

A holder for a pipe or tissue paper – some pouches can accommodate even two pipes.

Lighter compartment – here you can store all minor smoking accessories.
A good-quality tobacco pouch must be convenient and durable, so  genuine leather is one of the best materials for this accessory. Natural leather has many advantages:
high strength, which will allow you to use the pouch for many years;

resistance to various damages like twisting, creasing, and bending – the product will not peel off or crack;

easy maintenance as you will practically not need to clean the product;

a soft texture and elegant look will only contribute to the pleasure received from the smoking process.
Do not give up reading this article – you will learn about the best leather pouches available on the market today and the main criteria to study when purchasing this accessory
Scotte PU Leather Tobacco Pouch – the most elegant tobacco case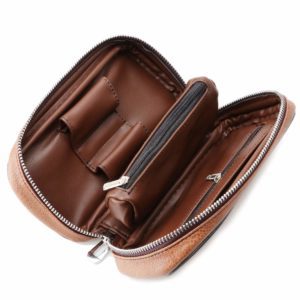 This elegant-looking accessory will be highly appreciated by every smoker. It is made in soft PU leather and has a nice brown color. It is actually a full-fledged case that can fit two pipes and several smoking accessories.
And the tobacco pouch is built-in inside it. This functional bag will please even the pickiest customer with its stylish appearance and quite practical features. It comes with a lot of dividers and fixing elements inside to store everything safely.
[i2pc pros_icon="icon icon-check-1″ cons_icon="icon icon-minus-thin" show_title="false" show_button="false" pros_title="Pros" cons_title="Cons"] [i2pros] Made from soft and delicate material
Practical interior design
Stainless steel zipper
Very spacious
Hand made
[/i2pros] [i2cons] Not suitable for herbal blends
[/i2cons] [/i2pc]
This tobacco pouch will be a great gift idea for your father, husband or colleague. The high-quality craftsmanship and first-class material result in a durable and classy item. It will become a wonderful pipe kit storage for travelers. Even if the pouch cannot provide the proper moisture level to your tobacco, it still protects it a lot, and all the smell is well kept inside the case.
---
Firedog Genuine Leather Tobacco Pouch- a compact yet spacious smoking kit storage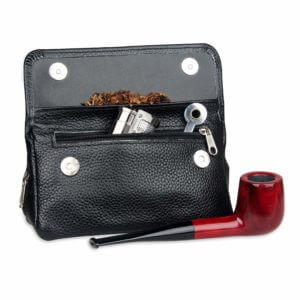 If you are looking for a practical and durable storage for your pipe tobacco, consider this item. It is made in genuine leather and is very convenient for storing smoking accessories.
The case is designed with three compartments – one is spacious enough for two pipes, and the other two are meant for tobacco and various tools accordingly. The tobacco is well protected from moisture thanks to rubber liner.
[i2pc pros_icon="icon icon-check-1″ cons_icon="icon icon-minus-thin" show_title="false" show_button="false" pros_title="Pros" cons_title="Cons"] [i2pros] Made from natural material
Has 3 compartments and rubber liner
Comes with a reliable magnetic closure
Exquisite workmanship
[/i2pros] [i2cons] Not suitable for larger pipes like churchwarden
[/i2cons] [/i2pc]
Smokers will adore this elegant case that is spacious enough for their smoking accessories. Even if the pouch is not meant for lengthy tobacco storage, it will come in handy for short trips. Customers say that a special rubber liner helps keep tobacco fresh for up to three weeks. The inside interior is very wisely designed, making the item really convenient to use. This tobacco pouch will become a nice surprise for every pipe smoker.
---
Scotte Luxury Pipe Smoking Set – the best option of all-in-one accessory kit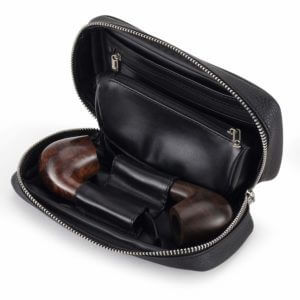 Purchasing this item, you will get not only a high-class tobacco pouch but all accessories you may need for the pipe smoking process. The package contains a solid wood pipe, stainless steel scraper, plastic stand, filter element.
The tobacco pouch is detachable and can hold enough tobacco for several smokes. The case only seems small, it is roomy enough inside, and you can add your own accessories as well.
[i2pc pros_icon="icon icon-check-1″ cons_icon="icon icon-minus-thin" show_title="false" show_button="false" pros_title="Pros" cons_title="Cons"] [i2pros] It contains all accessories for pipe smoking
A pouch is made from genuine leather
Comes with filters
Very spacious and well-designed interior
Removable pouch is easily fixed with magnet
[/i2pros] [i2cons] Some users complain a case arrived empty
[/i2cons] [/i2pc]
If you are looking for something for a beginning pipe smoker – this kit is exactly what you need. A smoker will find here everything required for the process without the need of additional expenses. It would also be a nice gift to golf players who often enjoy leisurely pipe smoking during the game. You can get the whole kit at a very reasonable price compared to what you would pay for all items separately. Plus, it comes packed in a nice box as a ready-to-give gift.
---
JYOS True Leather Tobacco Pouch – a multi-purpose wrap case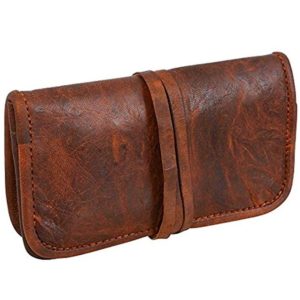 This compact case can be used for storage of different things – from cosmetics to headphones. It can also be used for tobacco. The item is unisex and has a very universal design. It has only one compartment and is lined with green cotton inside.
These bags are hand-made and there are no two bags alike. If you are not indifferent to various stylish things, you will definitely appreciate this item. It will favorably contribute to your image.
[i2pc pros_icon="icon icon-check-1″ cons_icon="icon icon-minus-thin" show_title="false" show_button="false" pros_title="Pros" cons_title="Cons"] [i2pros] Compact but spacious
Made from genuine leather
Rustic vintage appearance
Unique craftsmanship
Very lightweight
[/i2pros] [i2cons] Distinctive leather smell
[/i2cons] [/i2pc]
This bag will become a great organizer for small everyday things you prefer to carry with you. And smoking accessories are no exception. But note you will need a special tobacco container and only then you can keep it inside this case. Be ready that the case will have some specific leather smell at the beginning, but it disappears shortly after you start using the bag.
---
Cow Leather Tobacco Pouch – a nicely shaped and compact bag for tobacco and other household things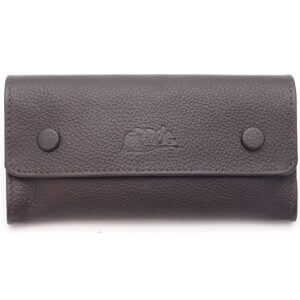 If you love to roll cigarettes on your own or are fond of pipe smoking, you need a proper case to keep your tobacco at hand. This bag is not a bad storage alternative for pipe tobacco.
It comes with a rubberized coating inside that helps protect tobacco from getting moist. The pouch closes with two snaps and is very convenient for everyday use.
[i2pc pros_icon="icon icon-check-1″ cons_icon="icon icon-minus-thin" show_title="false" show_button="false" pros_title="Pros" cons_title="Cons"] [i2pros] Compact size
Made from genuine cow leather
Comes with moisture-protective lining
Secure snap closure
[/i2pros] [i2cons] Too small for some pipes
[/i2cons] [/i2pc]
This compact bag will be approved by most pipe smokers. Its only drawback is the size that may be too small to fit most of the pipe models. But you will also find this bag convenient for other small things you usually carry with you – for example, keys, lighters, phones, and much more. The bag will become your inevitable assistant in everyday life. It is both a great gift idea and nice personal accessory.
---
Buyer's Guide
Pure tobacco, without flavorings and additives, is similar to high-quality whisky – it only gets better over time. Manufacturers intentionally store it in warehouses to allow it to mature and acquire a characteristic strong taste and aroma. Thus, tobacco shelf life can be prolonged to years. You can store it as long as you need, as storage will improve its charm. However, it will work only when the tobacco is kept in due conditions. At home, you can use one of the following storing options:
The humidor. This special box will be the best for tobacco storage. It is usually made of cedar wood, which ideally helps to maintain temperature and humidity without affecting the aroma.  

A glass jar. Such a container will become an ideal storage for not longer than a month. If you store tobacco in a glass container for a longer period, it may start rotting and will no longer be usable.

A plastic box is not an advisable storage option, but it works great for short periods.

A tin case is a good option for storing tobacco. An empty tea can with a tight lid will be a perfect solution.
But the above methods are good when you do not plan to carry tobacco with you. But if you are a frequent traveler or an avid golfer, it would be the best to purchase a leather pouch for your tobacco and other smoking accessories.
How to choose a leather pouch?
Such an accessory may have a very expensive price tag, and it is important to buy the right thing. There are several parameters to take into account when selection a tobacco pouch:
Size
You will find all possible sizes of leather pouches on the market, from pocket size to bigger models. If you like to smoke a pipe, opt for more spacious variants that will fit your pipe length.
Functionality
Leather pouches may come with various additional elements for more convenience – straps, side pockets, dividers. Your choice will depend on your purpose – whether you will use the case occasionally or for constant traveling. But additional features usually bring more comfort.
Type of leather
Customers mainly choose between PU and natural leather. Both variants are fine. But if the former is always affordable, the latter may cost you a fortune. Bear in mind that genuine leather is more durable, and despite being expensive, it will serve you for years.
Hardware
If you choose a pouch with zippers and studs, make sure these are made from high-quality stainless steel. Plastic trims are quickly broken while metal ones work flawlessly.
Price
The price range is also very versatile for a leather tobacco pouch. But if you still decide to get a genuine leather accessory, it is a good investment. Such things always contribute to your image.
Are you looking for a nice tobacco pouch made of natural leather? If you prefer tobacco roll-ups to cigars and cigarettes or just search for a gift, I'm going to help you with the choice of a genuine leather accessory. The first thing you will understand when looking at leather tobacco pouches is that they differ in size.If you need a pouch only to store tobacco, opt for the smallest size, but if you want to keep the roll-ups at the same place, choose the bigger accessory. I would recommend buying tobacco pouches made of genuine leather. Also, there are pouches made of PU leather – they are more affordable but do not have a specific odor and they are less durable than the cases of genuine leather!
Genuine or PU leather tobacco pouches: what material to choose?
I would recommend buying durable and compact pouches with many compartments. It is better to invest in the accessories made of genuine leather than to buy the cases of PU leather. Genuine leather can offer many advantages:
Durability – use the pouch for many years;
Resistance to twisting, creasing and bending – the product won't crack;
Easy maintenance – no need to clean the accessory daily;
The soft texture of a genuine leather case for tobacco makes the smoking process even more enjoyable;
To distinguish PU leather from genuine leather accessories, carefully examine the seams and compartment inside a pouch. Try to bend the accessory: a faux fringe is visible inside the cut. In addition, touch the pouch from within – PU leather is slightly sticky from the applied glue.
Another thing to look for – different compartments in a pouch for joints and tobacco:
The most important thing is a compartment for storing tobacco;
A holder for a tube or tissue paper if you prefer roll-ups;
Some pouches include the special compartment for lighters or matches;
A soft leather pouch fastened with a magnetic closure/zipper or tied with a strap will not take up much more space than a cigarette pack.
SmokeProfy recommends 5 leather tobacco pouches:
Scotte is made of PU leather, it has a zipper and very practical design;
FIREDOG is another nice pouch made of genuine leather, with additional compartments and magnetic closure;
Scotte produces the pouches made of genuine leather;
JYOS is a soft leather pouch made of goatskin;
Mr. Brog is a small pouch with a rubber lining. It is made of cow leather;
I added the video tutorial about to store cigarettes and roll-ups inside a leather tobacco pouch. What bags or cases for cigars do you use for storing joints or tobacco? Please share your thoughts about making or buying convenient tobacco pouches of PU or genuine leather. Thanks for following SmokeProfy!
Video Tutorial: How to roll a cigarette or a joint easly with our tobacco pouch
Conclusion
As you see tobacco storage is a challenge, and you need to approach it responsibly to enjoy smoking to the fullest. It is possible to use various tobacco storage if you provide the necessary conditions. But you can avoid many problems with tobacco only by buying small portions. In this case, you can safely keep it in a leather tobacco pouch and avoid unnecessary expenses for the purchase of additional accessories.
---