---
OZCHIN
8-Layer Protection
Water resistant
Powerful combination lock
TÜS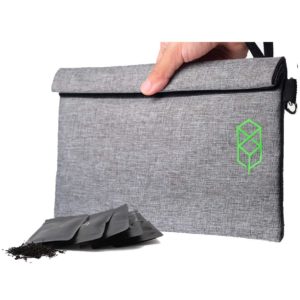 Activated Charcoal Lining
Premium 600D Polyester
Dual Mesh Pockets
HELMET HEAD
Weatherproof
Lockable
Lightweight & Compact
Formline Supply
5-Layer Protection
Handle and carabiner system
Perfect for Travel
EGOOZ
Privacy Security Lock
Waterproof
Perfect Size
---
---
Smoking remains popular worldwide. And it is not only about cigarettes. Many people prefer a more sophisticated way of smoking. Tobacco in a pipe or roll-up feels very different than in a cigarette. Besides, tobacco is much less harmful to health if used in this natural state. If you like traditional tobacco, or just want to join the culture of smoking, you should think in advance where you will keep all the necessary components.
Proper storage of tobacco is extremely important because it allows you to preserve the product with all its aromatic characteristics, as well as optimal moisture content. If the conditions are violated, tobacco can quickly get rotten and not usable. Another challenge is its scent. It can easily penetrate everywhere. So another task is to store tobacco with its odor being controlled.
The best solution, in this case, is a tobacco pouch. You will find a variety of designs on the market, varying in size and material. But as a rule, a standard pouch contains everything you need:
Tobacco compartment;
A holder for a pipe or tissue paper;
Additional pockets for smoking accessories.
Tobacco pouches are often made from soft leather. But today we will review a more modern solution. And it is a smell-proof textile storage bag. This type of pouch will not only be a convenient organizer for smoking accessories but also an effective tool to restrain strong tobacco smell by keeping it inside. The main feature of these bags is the use of activated carbon for the inside finishing. This technology makes tobacco smell stay locked inside the pouch so you can avoid the persistent tobacco smell from spreading around if you choose to carry a bag with you.
Smell Proof Storage Bag – a multi-purpose travel case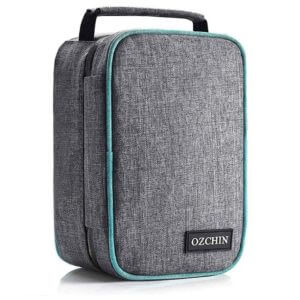 If you are looking for an odor-control organizer, then this bag will become a perfect solution for you. The item is made from highly durable and water repellent textile and lined with 8 layers of activated carbon.
This design allows all the smells to stay inside the bag. The bag comes with 3 Velcro dividers for better interior design. It has reinforced construction and reliable zippers.
[i2pc pros_icon="icon icon-check-1″ cons_icon="icon icon-minus-thin" show_title="false" show_button="false" pros_title="Pros" cons_title="Cons"] [i2pros] Water-resistant;
Carbonated lining;
Made of reliable fabric and trims;
Easily foldable and portable;
Combination lock.
[/i2pros] [i2cons] Should be kept away from being excessively wet;
No branded packaging
[/i2cons] [/i2pc]
The bag is equipped with a handle which makes it convenient to carry. Thanks to strong smell protection, the organizer can be used for many purposes. It can be medicine or food storage. Some users warn against watering it too much. The bag protects from moisture but still can get soaked. Overall, according to VapeProfy, it will be appropriate for strong smell items like vape gear and similar things. The item is produced from high-quality materials allowing you to easily fold or carry it. It is a perfect accessory for both indoor and outdoor use.
---
Odorless Storage Pouch – a wonderful gift idea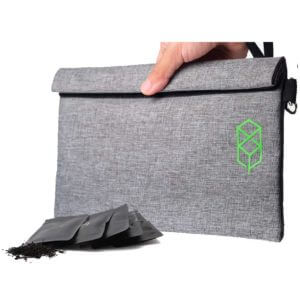 This smell proof bag is made in high premium polyester and padded with a specially finished lining to stop smells inside. It does not have a zip but closes with the Velcro strap.
The spacious size makes this bag convenient to be taken on a trip. And pockets help you arrange the things inside with no effort.
[i2pc pros_icon="icon icon-check-1″ cons_icon="icon icon-minus-thin" show_title="false" show_button="false" pros_title="Pros" cons_title="Cons"] [i2pros] Smell-control;
Spacious size;
Two mesh pockets;
Convenient wrist strap;
Safety Velcro closure.
[/i2pros] [i2cons] Velcro may not be convenient to use.
[/i2cons] [/i2pc]
It is designed in a larger size which makes the pouch ideal travel accessory. This bag will become a perfect solution for private things. Customers comment they can fit several pipes and a package of herbs. The bag can be easily packed in the backpacked or just carried around using a handy wrist strap. The only drawback users see in this product is its Velcro fastening which sometimes sticks too hard. Other than that, the bag will be helpful for storing strong smell things and other things as it is easily portable thanks to the wrist tab.
---
Smell Proof Stash Bag – a good solution to safeguard things and smells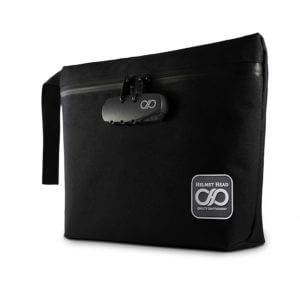 This smell proof pouch is ideal for storing tobacco, herbs, and other strong odor substances. It is a lightweight design and small size and convenient to carry around.
The bag can be even easily fit into a bigger wallet. This pouch comes equipped with a combination lock which and inside dividers. Moreover, you will get a free grinder card with two types of surfaces.
[i2pc pros_icon="icon icon-check-1″ cons_icon="icon icon-minus-thin" show_title="false" show_button="false" pros_title="Pros" cons_title="Cons"] [i2pros] Combination lock;
Smell proof technology;
Water-resistant exterior;
Made of durable materials;
Complementary grinder card for herbs;
[/i2pros] [i2cons] Too small size.
[/i2cons] [/i2pc]
This compact bag is a must-have item to keep certain things private or protected from children and pet access. Smell-control feature makes this item appropriate for accessories, herbs, and tobacco. The bag has an inside Velcro layer, main compartment and two side pockets which makes things arrangement fast and easy. You can use it as a gift for friends and family as the product quality is superb and the quality is great.
---
Scent Suppressing Pouch – a perfect everyday organizer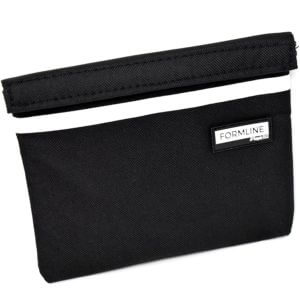 This odor absorbing pouch will help you store content with a strong odor and keep the surrounding scent-free. Carbonated padding works well in the fight with various smells locking them inside the bag.
The neutral design makes this bag appropriate for spices, herbs, pet treats, and other items. The pouch is small and can be easily packed in a bigger case. It closes with a Velcro strap.
[i2pc pros_icon="icon icon-check-1″ cons_icon="icon icon-minus-thin" show_title="false" show_button="false" pros_title="Pros" cons_title="Cons"] [i2pros] Made from the water-resistant fabric;
Padded with carbonated lining;
Equipped with a mesh divider;
Major mistakes in storing tobacco;
[/i2pros] [i2cons] Velcro closure is a bit tricky.
[/i2cons] [/i2pc] Despite the somewhat small size, this bag is well designed inside and works well as a small thing organizer. It will become a good everyday assistant for various routine activities. The pouch has a handle and
carabiner
, allowing you to walk hands-free while carrying it. It is a convenient storage bag for traveling. The customers prove that it copes well with its main task – it powerfully suppresses all types of odors.
---
Smell-proof lockable case – a perfect storage option for heavily odorous items
This bag is lined with the carbonated lining that works well against odor spreading. And waterproof outer fabric keeps the content well protected.
The bag has a convenient zipper and a combination lock to keep your possessions safe. Removable dividers and mesh pockets help to organize the inside space more efficiently.
[i2pc pros_icon="icon icon-check-1″ cons_icon="icon icon-minus-thin" show_title="false" show_button="false" pros_title="Pros" cons_title="Cons"] [i2pros] Functional design;
Smell proof technology;
Compact but spacious size;
Handle and carabiner;
Combination lock;
[/i2pros] [i2cons] A bit weak zip;
[/i2cons] [/i2pc]
While looking small, the bag can accommodate a lot of small items. It is a good storage solution during travel. You can easily pack it inside your luggage without being afraid that other things will absorb the scents. The bag has a handle and a carabiner allowing you to attach it to your backpack. This storage case is multifunctional and can be used just for various things including toiletries.
---
Buyer's Guide
If at home you can still store tobacco in a metal can, then when going on a visit, it is better to keep it in a convenient and presentable pouch. How to choose this accessory?
Material
Pay attention to the material the bag is made from. Of course, you can purchase an elegant soft leather case. But such things require special care and are not cheap. Storage bags made from durable fabric will serve you much longer. Besides, textile bags are very lightweight, easy to care for, and often water-repellent. This bag option is affordable and can be regularly replaced.
Design and Size
You will find all possible configurations of tobacco pouches on the market today. Before purchasing a certain model, think about how you are going to use it. If you plan to carry the pouch with you, opt for portable variants, equipped with a handle and carabiner. Check if the bag can be folded with ease if you are going to use it when traveling. Read other customers' reviews to evaluate the capacity of the pouch as this parameter is also important.
Additional features
Modern tobacco pouches are usually water-resistant and smell proof. These two features are crucial if you want to use the pouch everywhere without restrictions.
General Tips on Tobacco and Herbs Mixture Storage
Avoid storing tobacco next to heavily-scented products with – soap, perfumes, etc. All flavors will be absorbed, and the tobacco will become completely unusable.
If you expose tobacco to the direct sunlight in glass containers, you will destroy tobacco leaves. If you have chosen this method for storage, it is better to keep jars in a dark place.
Never keep your tobacco open. Even several minutes can affect its pronounced taste.
It is very important to keep tobacco blends in separate boxes. You should thoroughly clean old containers before using them for a new tobacco blend.
Wash your hands before taking the tobacco out of the pouch. Quite often, due to carelessness, you may leave dangerous bacteria inside, leading to the appearance of mold.
Do not store tobacco in the freezer or refrigerator. After the heating, it will react with condensation that may completely ruin the taste.
Excessive humidity should be avoided either as it provokes harmful processes, and the tobacco may even rot.
---
FAQ
What are the best tobacco pouches? We get this question all of the time, and it is a hard one to answer. There are many different types of tobacco pouches on the market, so there is no single product that will work for everyone. However, we have found some great products by looking at customer reviews and conducting our own research.
How to use tobacco pouches?
Tobacco pouches can be used in a few different ways. Some people like to fill the pouch with tobacco and then chew on it, while others like to roll the tobacco up in the pouch and smoke it that way. Experiment with different methods to see which one you like best!
How to make a tobacco pouch?
Making a tobacco pouch is actually quite simple. Some people like to use small plastic bags, while others prefer Altoid containers or other types of tins. You can also purchase empty pouches at your local smoke shop if you do not have anything on hand to make one with. Once you have your tobacco pouch, just add some loose leaf and enjoy!
How to moisten a tobacco pouch?
If your tobacco pouch feels a little dry, you can moisten it by using a few drops of water. Be careful not to add too much, or the tobacco will be too wet and difficult to smoke. You can also add a drop of mint extract to the tobacco pouch if you want it to have a fresh, minty taste.
How to sew tobacco pouches?
There are a few ways to sew tobacco pouches. The most common way is to use a straight stitch on a sewing machine. You can also hand sew the pouches using a needle and thread.
Another option is to use an overlock machine. This will create a more finished look for your pouches. However, as this is a more expensive option, many people do not go with it.
Last but not least, you can use an overcast stitch on your sewing machine to finish the seams of your pouches. To do so, turn the seam allowance edge toward you and sew a line or two back and forth across it using a straight stitch.
How to open a tobacco pouch?
To open a tobacco pouch, gently tear off one of the top corners. Once the pouch is open, you can then easily pour out your tobacco.
What is tobacco pouch keratosis?
Tobacco pouch keratosis is a condition that affects the skin on the inside of your mouth, specifically around your lips. It's caused by years of smoking or using chewing tobacco, and can lead to sores, lesions, and discoloration.
If you're experiencing any of these symptoms, it's important to see a doctor. Left untreated, tobacco pouch keratosis can lead to oral cancer.
If you've been diagnosed with the condition, your doctor will likely prescribe a topical medication to apply directly on your skin inside of your mouth. This treatment is typically more effective than an over-the-counter cream because it goes right where you need it most–inside of your mouth.
If you're looking for a way to reduce your risk of developing tobacco pouch keratosis, quitting smoking or using chewing tobacco is the best option. Talk to your doctor about quit resources and programs that can help you break your addiction.
There are many great reasons to quit smoking, and this is just one more added benefit.
What does a tobacco pouch do?
A tobacco pouch does exactly what it sounds like. It holds your tobacco and other smoking accessories such as a lighter or matches, while you are on the go. They come in different sizes that can either be carried around with ease or sometimes even stashed away discreetly beneath clothing to protect them from damage and keep their contents dry and safe during a rainstorm.
Some tobacco pouches even come with a built-in pipe so you can enjoy your smoking experience without having to carry around an extra piece. They are also generally made out of a sturdy and durable material that will keep your tobacco safe from the elements, making it a perfect choice for those who like to smoke on the go.
There are a variety of different tobacco pouches to choose from, so it is important to know what features you are looking for before making your purchase. Be sure to read reviews and compare prices to find the best pouch for your needs.
Where can I buy tobacco pouches?
You can buy tobacco pouches online or at smoke shops.
Some general tips when looking to purchase a tobacco pouch:
Make sure the pouch is big enough to fit your desired amount of tobacco
Look for a pouch that has a strong seal so that your tobacco stays fresh
Choose a style and color that you like
How long does a tobacco pouch last?
Tobacco pouches come in various sizes and shapes. The size of the bag will determine how long it lasts, as well as what you put inside. A large pouch can last for several days depending on usage levels and conditions such as temperature or humidity.
Smaller pouches will only last a day or two.
If you are using a tobacco pouch to smoke, it will not last as long as other methods such as vaping or smoking. However, the smell and taste is usually more intense than what you get from e-cigarettes.
How to keep pouch tobacco fresh?
Pouch tobacco can be kept fresh by keeping it in a cool, dry place. Avoid exposing pouch tobacco to excessive heat or humidity, as this can cause the tobacco to spoil. Make sure to reseal the pouch after each use and keep it out of reach of children and pets.
If you notice that your pouch tobacco has started to spoil, it's best to throw away the pouch. You should not try to salvage bad tobacco as this can cause health problems and unpleasant tastes for consumers of your products.
Are ZYN pouches safe?
Yes, ZYN pouches are made with food-grade materials and they're safe to use. Plus, our pouches come with a built-in filter that helps reduce the amount of tobacco smoke that you inhale. Our tobacco is 100% natural and contains no toxic chemicals or additives. And with our cool fresh mint flavor, you can enjoy your smoke without worrying about any negative impact on your health!
Do you have to spit on pouches?
No, you don't have to spit on pouches. You can choose your own method or technique of using them and if that means no spitting then so be it! The more important question is: Do all the benefits of tobacco pouches work for non-spitters? Yes they do! It just takes a little longer to learn the technique and get comfortable with using them.
---
Video Tutorial: How to roll a cigarette or a joint easly with our tobacco pouch
The convenient design of most above-described pouches allows you to store not only tobacco but also other things with a strong aroma. They come in different shapes and forms, and you will surely find the one to suit you best. A multifunctional tobacco pouch will become a useful everyday accessory or a convenient organizer for travel.
---
Conclusion
We hope that this article has been of some help to you in choosing the best tobacco pouch for your needs. Remember, it is important to find a pouch that is comfortable and easy to use, as well as, one that will protect your tobacco from the elements. With so many different pouches on the market, we are confident that you will be able to find the one that is right for you.
Thank you for reading about the best tobacco pouches. We hope that this information has been helpful and informative. If you have any additional questions, please don't hesitate to contact us. We look forward to helping you find the perfect tobacco pouch for your needs.