Scotte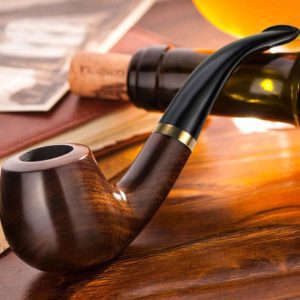 Soft handle
Heat resistance
Heat After No Taste
Missouri Meerschaum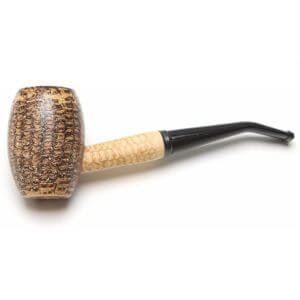 Premium Craftsmanship
Light, Porous Pipes
Size: Bent Bit
Related: Best Cigar Lighters for the Money
---
What's the best tobacco pipe for you? The pipe was the first device for smoking tobacco. And almost until the middle of the last century it remained the most popular way of smoking. Later, pipes were squeezed out by cigarettes and cigars. But the demand for pipes has not disappeared! On the contrary, the classic style of smoking is gaining more and more connoisseurs. You can meet true tobacco connoisseurs among the pipe smoking community.
People who want to reduce the damage to health caused by cigarettes also turn to pipes because it is known that smoking tobacco contains fewer chemicals than factory cigarettes, etc. Besides, pipe smoking is almost a ritual. You can smoke a cigarette on the run, doing other things. And in a ten-minute time, you will need a new one. It is an entirely different situation with a pipe -you need time and space for it. This process resembles meditation.
It is important to know that not only tobacco matters but smoking accessories too. The quality of the pipe affects the quality and taste of smoking in the same way as the quality of the coffee machine affects the taste of the brewed coffee. So it is important to select a pipe knowing what you are looking for. For this, you will need to know the main characteristics of smoking. And this article will give some tips that will help make the right choice.
And once you've found your perfect pipe, check out this guide on how to perfectly pack your first smoke.
Corn Cob Tobacco Pipe – the most affordable pipe for beginners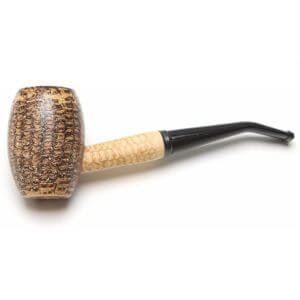 If you want to try tobacco smoking, have a look at Missouri Meerschaum pipes. This manufacturer makes pipes from corn cobs, carefully dried and cleaned from grain, with hardwood elements.
This model has a nice appearance, the stem is well-fixed, and the filter can be easily replaced. The bowl is made from corn cob with a hardwood bottom, and the stem is plastic. The pipe has a nice feel in hand and provides clear and smooth smoke.
This pipe is a very affordable alternative to expensive hardwood models. Corn cob pipes may be a bit fragile, but their attractive price and unusual appearance make them very popular. Customers unanimously agree that despite low price, the pipe is not inferior to its luxury competitors. It does not get hot in your hands, and a large bowl can hold enough tobacco for at least a 30-minute smoking. This pipe received over a thousand positive reviews, and it will become a great gift idea for your friend smoker.
---
Hand Made Ebony Wood Smoking Pipe – a great budget alternative to expensive pipes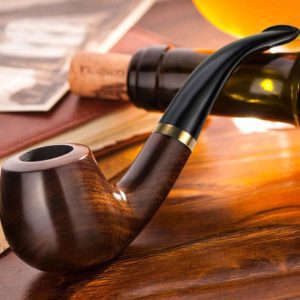 This classic-design pipe is not inferior in quality to expensive models. It is very nicely crafted, it is hand made from ebony wood and has a very stylish look. It comes with a pipe cleaner, a little pipe holder, mini scissors – all items are neatly packed in a box.
It may look like a desk decoration in the picture, but it is a full-fledged device for smoking. You will get a perfect starter kit at an attractive price.
Customers like the quality of the smoke this pipe provides. It gets pleasantly warm in hands, burns tobacco at optimal temperature and very slowly. Besides, enjoyable smoking process, be sure you will make a solid impression with this pipe in your hands. This purchase is a very good deal as you get a whole kit at a good value. It allows you to take it on trips without fear of breaking or losing it. This relevant balance of price and quality makes the pipe suitable for beginning smokers to learn what tobacco smoking is all about.
---
Legend Corn Cob Pipe – the simplest device to start your smoking experience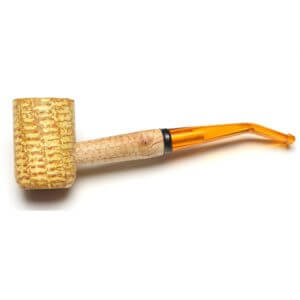 Sometimes even a beginning smoker looks for some unusual smoking device. If you are one of them, you will like the rustic design of this Missouri Meerschaum pipe. It is made from corn cob and the stem is plastic.
Corn cob has a special finishing to protect the pipe from burns through. And the winning feature of the plastic stem is that it can be easily replaced for less than a dollar. The manufacturer offers a budget variant, yet very functional and convenient in use.
This pipe can give you good 15-30 minutes of smoke and even more, depending on your smoking techniques and what brand of tobacco you use. No matter how cheap it may look at first glance, many users smoke this pipe regularly for a few years. The pipe will not be good for smoking herbs as it has a porous structure, but filled with tobacco, it will bring you many gratifying moments. It will also become a nice souvenir or a gift for your friends and colleagues.
---
Missouri Meerschaum Hardwood Pipe – the most affordable natural wood pipe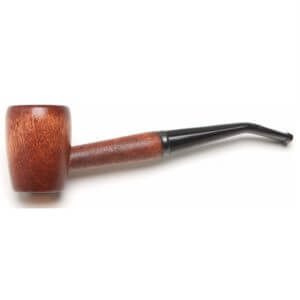 Even if traditionally this manufacturer uses corn cobs for its products, this model is made from hardwood. The pipe comes with a plastic stem, but its main part is fully wooden. Moreover, it is a perfect combination of price and design.
You cannot expect anything fancy at this cost, but the pipe does its job perfectly – a nice and even smoke is guaranteed. If you want to try a wooden pipe, but are not ready to spend a fortune, it is the right option for you.
If you are a fan of natural wood pipes, this item will fit well into your collection. It is lightweight, not expensive, and provides even smoke. Of course, this model cannot complete with expensive hardwood pipes, but it is definitely worth attention according to hundreds of positive reviews from the customers. So it is highly recommended for pipe smoking enthusiasts. You can also consider it as a gift for your boyfriend or husband on any occasion.
---
Scotte Red Smoking Pipe – one of the most stylish pipe options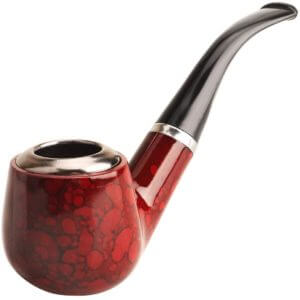 If you like to stand out from the crowd, you will definitely like this pipe. It is designed in bright colors and made from metal and plastic. If your pipe collection is all classical, it will add a special zest to it.
The pipe is very compact but the bowl capacity is just fine for a lengthy smoke. Even if this pipe appearance seems decorative, it copes with its main function very well.
Despite very sleek design not all customers are happy with this purchase. You will find reviews detailing some issues with using this pipe – some users find it difficult to clean, others say the pipe is not durable and quickly falls apart. Still many customers are very happy with this pipe – they use it for smoking regularly and some of them even bought another one. Overall, the price is a great size to fit in the pocket and is very affordable. And if you are going to use it occasionally, be sure it will last long.
---
Buyer's Guide to the Best Tobacco Pipes
A pipe seems a very simple device, but in fact, it is far more difficult than it looks. It should be properly constructed and pass the smoke smoothly. Also, it should make the smoking process pleasant and enjoyable. Therefore, you should approach the choice of a smoking pipe very seriously. If it is your first pipe, then it will definitely influence your smoking experience, and its qualities will determine whether you continue to smoke the pipe further on or give it up. So there are a number of details that should be given special attention before you buy a pipe.
Material of your Tobacco Pipe
You must have already heard that briar is considered to be the best material for pipes. Briar is a shrub-like tree of the heather family. And to be more precise, it is part of the root of this tree. This material has all properties vital for a good-quality pipe – hardness, heat resistance and the ability to absorb moisture. Besides, it is very affordable and is suitable for various designs.
Another material for pipe with similar properties is morta. It is a fossilizing bog oak, which has remained in peat or clay for several thousand years. But this wood is rather rare and very expensive.
Pipes are often produced from fruit tree species – pear, cherry, and others. But these are not very durable, since they react to temperatures and can easily crack.
Another exotic material for smoking pipes is corn cobs. Such pipes were very popular until other modern materials were put in production.
You can also find foam pipes on the market. Their main advantage is that they can be smoked several times in a row. You cannot achieve it with a briar pipe as the walls of the tobacco chamber may burn, and the pipe will lose its taste. The foam does not burn and it is its big benefit.
Experienced pipe smokers always argue what pipe is considered the best. But you can easily buy a pipe from any material at a very affordable price. So you can test a few options until you find out what is best for you. If you hesitate, start with a briar pipe.
Shape of your Tobacco Pipe
Smoking pipes are produced in different shapes. There are even special catalogs with a classification of the shape of smoking pipes and dozens of different terms used to identify these.  But a beginner does not need all this. It is enough to know that there are straight and bent pipes. Curved stems may look more attractive, and they are easier to grip. But these are constructed with a small angle between the smoking channel and the bowl wall, and you can easily burn it without proper smoking experience. If you are choosing your first pipe, then it is advisable to opt for a straight pipe or a pipe with a very slight bend. These shapes are easier to smoke, and it is easier to keep the tobacco burning in them.
Bowl Size of your Tobacco Pipe
You can choose the depth of the pipe's tobacco chamber based on your preferences. The deep bowl will make your smoking process longer, but the taste of the tobacco changes towards the bottom and becomes too strong. You can start from an average bowl size – up to one inch in diameter and maximum 1.5 inches in depth. Once you master the art of pipe smoking, you will be able to define the best tobacco bowl capacity on your own. You may like to use different options for different tobaccos.
Filter for your Tobacco Pipe
The main purpose of the filter is to soften the taste of tobacco. It is important to use for smoking cheap tobacco with aromatic additives, or for particularly strong varieties. But if you prefer expensive tobacco, you will do well without a filter. Moreover, in this case, filters can prevent the disclosure of the flavor bouquet. You will have to smoke a pipe without a filter a bit cooler than a pipe with a filter. This approach will allow you to quickly develop the desired smoking speed. So if it is your first pipe, select the one without a filter. Besides, a filter makes pipe cleaning more complicated.
---
FAQ
What is the best pipe brand?
There are many different pipe brands on the market, but there is no one "best" brand. It depends on your personal preferences. Some smokers prefer English pipes, while others prefer Italian or French pipes. There are also a variety of shapes and sizes to choose from, so you can find the perfect pipe for your needs.
The best brand for you will depend on what kind of tobacco pipes you prefer to smoke. Generally, the more natural wood and rustic look are associated with English brands like Peterson or Savinelli, while Italian and French pipe producers are known for their workmanship when it comes to luxury designs such as MacQueen or Dunhill.
If your budget is limited, the best tobacco pipes are likely to be those that are crafted with care by a reputable company. Some companies have been making traditional pipe products for decades and they use only high-quality materials in their production process. Avoid purchasing an inexpensive or short-term brand as these low prices often mean lower quality craftsmanship and might not last very long.
Is it healthier to smoke tobacco out of a pipe?
This is a question that many smokers consider. What they don't know, however, is the answer to this question has some very interesting twists and turns in it! The short answer: yes – smoking tobacco out of a pipe may be healthier than smoking cigarettes or cigars. This always sounds strange when you first hear about it, but there are some pretty compelling reasons to explain this answer.
First, let's start with the basics: why is it healthier? There are two main reasons that smoking tobacco out of a pipe has health benefits over other ways people smoke tobacco: you don't inhale and fire-cure your lungs like when you use cigarettes or cigars, and the tobacco in a pipe is not as processed as other forms of tobacco.
When you smoke cigarettes or cigars, you are inhaling hot smoke directly into your lungs. This smoke has been exposed to high temperatures which create cancer-causing chemicals. Pipes don't produce nearly as much heat – so the smoke is not as harsh on your lungs.
In addition, the tobacco in cigarettes and cigars is heavily processed. This processing includes adding chemicals and other agents which can be harmful to your health. Pipe tobacco, on the other hand, is not as heavily processed. It contains fewer additives and is generally lower in nicotine than other forms of tobacco.
So there you have it – smoking tobacco out of a pipe is healthier than using cigarettes or cigars. This isn't that surprising once you think about the reasons behind this fact!
Why is pipe smoking not popular?
Pipe smoking is not popular because it takes a bit of practice to do well. Tobacco can also be expensive, so people are often hesitant to try it out. However, those who do pipe smoking generally find that it's a very relaxing and enjoyable experience.
There are many different types of tobacco pipes, and each one has its advantages and disadvantages. Briar pipes, for example, are made from the root of a briar bush and are considered to be some of the best pipes available. They're also quite affordable. Meerschaum pipes are carved out of meerschaum, which is a mineral, and are also affordable.
Pipes made from other materials tend to be more expensive but they're often less durable than briar or meerschaum pipes. For example, clay tobacco pipes can chip easily if they aren't treated carefully; the same goes for wood tobacco pipes. Glass is another material used in pipe making, but glass pipes can often break if they fall on the floor or are knocked around.
Pipes made from metal, such as steel and aluminum, are also available for purchase. These types of tobacco pipes may be a bit more expensive than other options since they tend to be handmade by artisans who take their time crafting them; however, these pipes are often quite durable.
Pipes that aren't made from briar, meerschaum, or clay may be more difficult to find in your local shops; however, these can still be purchased online if you know where to look and what type of pipe you want. Some types of pipes are harder to come by than others too; as an example, very few stores carry corn cob pipes.
Do pipe smokers live longer?
There is no evidence that pipe smoking makes you live longer. The American Cancer Society has stated that there is no known benefit to pipe smoking. However, this does not mean that pipe smoking is bad for you – it just means that we don't know yet if there are any health benefits to it. So, while we don't have any evidence that pipe smoking makes you live longer, we also can't say for sure that it doesn't.
Some people believe that pipe smoking is better for you than cigarette smoking. This is because pipe smokers tend to smokeless tobacco than cigarette smokers, and they also usually take longer puffs which allows them to absorb more of the nicotine. Pipe smokers also tend to be more selective about the types of tobacco they smoke, which means that they are usually smoking tobacco of higher quality.
So, while there is no evidence that pipe smoking makes you live longer, it could be healthier for you than cigarette smoking. However, more research is needed to confirm this.
How do you smoke a pipe better?
The first step is to find the right tobacco pipe for you. There are many different shapes and sizes of tobacco pipes, so it's important to find one that is comfortable to hold.
Next, you need to learn how to pack the tobacco in the bowl. The most common way to do this is by using a packing tool.
To pack a pipe, take your tobacco and fold it in half with the cut end of the tobacco facing outward, then place it in your bowl upside down by itself. This will allow you to measure out how much tobacco fits into your pipe's chamber (as well as avoid overpacking). Once this is done gently press the excess air out of the tobacco, using your packing tool. Now you can tamp it down with a light touch and add a little more if needed.
The key to smoking a pipe is to take gentle puffs and avoid inhaling the smoke. This will allow you to enjoy the flavor of the tobacco without heating it too much.
Take your time and enjoy your pipe! There's no rush.
Why does pipe tobacco smell so good?
The tobacco in a pipe is not flavored with any additives like the cigarettes are. The taste and smell of pipe tobacco come from the curing and aging process that the leaves go through. This process takes anywhere from several months to over a year, depending on the type of tobacco. During this time, the leaves are hung in barns or rooms and allowed to dry out. This curing process gives the tobacco its unique flavor and smell.
The best tobacco pipes are made from high-quality materials like briar, meerschaum, or clay. These materials help to protect the smoker from the heat of the burning tobacco and also absorb some of the moisture. They also have a natural resistance to heat and moisture, which helps to keep the pipe clean.
There are many different types of tobacco pipes available on the market, from simple and affordable models to more expensive and elaborate designs. The best tobacco pipes are those that fit the smoker's individual preferences and needs. Some smokers prefer smaller pipes, while others prefer larger ones. Some smokers like pipes with a lot of detail and ornamentation, while others prefer simpler designs.
The best tobacco pipes are those that are made from high-quality materials, fit the smoker's individual preferences, and provide a pleasurable smoking experience.
How do you keep a tobacco pipe lit?
If you have a tobacco pipe that has gone out, the best way to relight it is with your tongue. The heat from your mouth will revive the embers in short order. This works well even if you are not making an overtly sexual joke while doing so.
Another way to relight a tobacco pipe is with a butane lighter. This will provide an intense flame that can quickly light the tobacco. But be careful not to char the bowl of your pipe!
Finally, you can use wooden matches to light a tobacco pipe. Strike the match and hold it near the bowl of the pipe until the tobacco catches. If you are very careful, you can use the match to light your pipe without charring it.
If none of these methods work and neither does any other that comes to mind, try relighting a tobacco pipe by finding something else worth lighting on fire and then attempting to transfer the flame from there into your tobacco bowl. This is the last resort and should only be used in the direst of circumstances.
Does pipe tobacco have more nicotine than cigarettes?
Tobacco pipes are a great way to get the nicotine fix you desire, but how much more nicotine do they deliver than cigarettes? Let's dive in and find out.
The amount of nicotine delivered from both tobacco pipes and cigarette use depends on many factors including species of tobacco used, pipe size, draw rate (sucking speed), and the smoker's physiology. However, on average, pipe smokers will receive about twice as much nicotine as cigarette smokers from each puff of tobacco.
This is because when smoking a cigarette, most of the smoke goes into your lungs where it quickly diffuses into your bloodstream. With a tobacco pipe, however, most of the smoke is inhaled through your mouth and then exhaled. The warm, moist air in your mouth takes longer to cool down than it does when moving quickly into the lungs. When you suck on a tobacco pipe, some of the nicotine condenses on the interior walls of your mouth before eventually reaching your bloodstream via absorption or swallowing as spittle.
This is why it's important to keep your pipe clean and free of resin build-up, as this will reduce the amount of nicotine that you absorb with each puff.
Why does my tobacco pipe get so hot?
Tobacco pipes can get quite hot, but there are a few things you can do to help cool them down. First, make sure that you're packing the tobacco tightly in the bowl. This will help to create more heat insulation and keep the pipe cooler. You can also try using a different type of tobacco that is less likely to burn as hot. And finally, make sure to take regular breaks when smoking your pipe to give it time to cool down.
If you're still having trouble with a hot tobacco pipe, you may want to try using a different type of bowl or stem. There are many different types of bowls and stems available, so be sure to experiment until you find one that works best for you.
Why does my pipe tobacco taste burnt?
If your pipe tobacco tastes burnt, it's probably because you're smoking too fast. When you smoke a pipe, the tobacco should smolder and not burn. Puffing too hard will cause the tobacco to heat up and taste bitter.
Try taking smaller puffs and let the tobacco cool down between smokes. This will help you enjoy the flavor of your tobacco and prevent it from tasting burnt.
If you're having trouble keeping your pipe lit, try using a lighter with a longer flame. Don't puff on the lighted end of the cigar, as this will only put out the flame. Instead, hold the lighter to the side of the bowl and rotate it around the tobacco.
If your pipe is still smoking too hot, you may need to try a different type of tobacco. Some tobaccos are more difficult to keep lit than others. Burley blends, for example, can be tricky to smoke properly. Experiment with different types of tobacco until you find one that's best suited for your smoking style.
There are many different types of tobacco pipes available on the market. Some pipes are better suited for certain tobaccos, while others are more versatile. If you're just starting, it may be best to purchase a pipe that's designed for all-purpose use.
Is it cheaper to smoke a pipe than cigarettes?
Smoking a pipe is cheaper than smoking cigarettes. Not only do you save money on tobacco, but you also don't have to buy filters or lighters. Pipe smokers also tend to smoke less than cigarette smokers, so the savings add up over time.
How hot should the pipe bowl get?
A tobacco pipe can get hot, so you'll want to make sure it doesn't touch anything that could melt or catch fire. It should sit on a stand and stay out of direct sunlight. The ideal temperature is around 180 degrees Fahrenheit (82°C). If the bowl gets too hot while smoking you will burn up all the flavor and your tobacco will taste awful.
If the pipe is too hot, you can put it out by blowing on it or dunking the stem in cold water. If you have a pipe that burns too hot all the time, take it to your local tobacconist and ask them for advice on how to fix the problem.
What is the difference between pipe tobacco and rolling tobacco?
Pipe tobacco is made from cured and shredded tobacco leaves while rolling tobacco is made from chopped up and dried leaves. Pipe tobaccos are also typically blended with different flavors to create a unique smoking experience. Rolling tobaccos are usually just one type of leaf.
Can you mix pipe tobacco?
You can mix pipe tobacco to create new flavors, but it's important to be aware of the different smoking characteristics of each tobacco. For example, a blend that contains latakia will have a smoky flavor, while a blend with cavendish will be sweet. You may also want to consider the cut and moisture content of the different tobaccos when creating your blend.
If you're new to blending pipe tobacco, I recommend starting with a simple mixture of two different types of tobacco. You can then experiment with different combinations to create the perfect smoke for your taste.
When choosing a tobacco pipe, it's important to consider the size and shape of the bowl. A pipe with a small bowl is best for smoking blends that contain high levels of nicotine, while a pipe with a large bowl is better suited for smoking blends with lower levels of nicotine.
The shape of the tobacco pipe also plays a role in how the smoke is delivered. Pipes with bent bowls tend to produce cooler smoke, while pipes with straight bowls produce hotter smoke.
Finally, you'll also need to decide on the material from which the pipe is made. Pipes made from briar are the most popular choice, but pipes made from other materials such as corncob and clay can also be enjoyable to smoke.
Why does my pipe taste like ash?
One of the main reasons your pipe might taste like ash is that you are not smoking it correctly. Make sure to puff on the pipe gently and avoid inhaling deeply. This will help to prevent any unpleasant flavors from developing.
If your pipe still tastes bad, it might be time for a cleaning. A quick way to clean your pipe is to fill it with a little water and heat the pipe over an open flame. This will help remove any residue inside of your pipe that might be contributing to the bad taste.
If you have been smoking pipes for a while, you are probably familiar with this smell. If not, then try packing some tobacco into your bowl in a way that will allow for an airflow. This will help to prevent the tobacco from burning too hot and creating an unpleasant taste.
One of the main reasons your pipe might taste like ash is that you are not smoking it correctly. Make sure to puff on the pipe gently and avoid inhaling deeply. This will help to prevent any unpleasant flavors from developing.
If your pipe still tastes bad, it might be time for a cleaning. A quick way to clean your pipe is to fill it with a little water and heat the pipe over an open flame. This will help remove any residue inside of your pipe that might be contributing to the bad taste.
If you have been smoking pipes for a while, you are probably familiar with this smell. If not, then try packing some tobacco into your bowl in a way that will allow for airflow. This will help to prevent the tobacco from burning too hot and creating an unpleasant taste.
How much does a good pipe cost?
A quality pipe can range in price from around $20 to well over $200, depending on the maker and materials used. However, there are a lot of great pipes out there for under $50.
How long do tobacco pipes last?
Tobacco pipes can last a long time with proper care. It is important to clean the pipe after each use and to dry it out completely if it is going to be stored for an extended period. Tobacco pipes can last several years if they are properly cared for.
Pipes that have been stored in a dry, dark place will usually smoke the best and taste their freshest since there is no risk of mold or other contaminants growing inside them. Pipes should be cleaned regularly with pipe cleaners to remove any leftover debris from tobacco use, but avoid using harsh chemicals or cleaners that could damage the pipe.
What is a good pipe for beginners?
A good pipe for beginners is a pipe that is easy to clean and doesn't have too many parts. It should also be affordable so that you can buy it without breaking the bank. Some of the best pipes for beginners are made from briar, meerschaum, or corn cob.
Corn cobs are a great option for beginner pipe smokers because they are affordable and easy to clean. They also don't absorb the flavor of tobacco as much as other materials, so you can switch between different types of tobacco without having to worry about the taste lingering in your pipe.
Meerschaum pipes are another good option for beginners because they are lightweight and easy to hold. They are also easy to clean and don't absorb tobacco flavors as much as other pipes. The downside of meerschaum is that they tend to dry out over time if you aren't careful with them, so it's a good idea to use pipe cleaners occasionally when cleaning your pipe to keep the inside moist.
For beginners who want a pipe that is both easy to clean and affordable, briar pipes are a good option. Briar pipes are made from the root of the briar shrub, so they are durable and last for a long time. They also don't absorb tobacco flavors as much as other materials, making them a good choice for smokers who want to switch between different types of tobacco.
If you are looking for a more affordable pipe that is still easy to clean, then a clay pipe might be the right choice for you. Clay pipes are made from natural materials, so they don't absorb the flavor of tobacco as other pipes do. They are also very affordable and can last for years if you take care of them.
---
Video Tutorial: Pipe Smoking – Choosing Your First Tobacco Pipe
Conclusion
If you are ready to buy a pipe, it will be best to go to the store and hold a few models in your hands to make the right choice. And if you are buying a pipe in an online store, then you should choose reputable stores with positive customer feedback. Online purchases are not easy since you will have to make a decision based on pictures. The first step is to make sure you select the correct size of the pipe. Good sellers pay special attention to specifying all pipe dimensions: length, weight, depth and diameter of the tobacco chamber, the presence or absence of a filter. And take time to read the reviews of people who already bought the pipe you have selected. These comments will give you a lot of additional information on the product, for example, its performance details and service life. Always buy a pipe with an attractive design. Modern pipes not only fulfill their main functional purpose but also serve as an image accessory, emphasizing the individual style, level of prosperity, and good taste of its owner.
---