---
Cigar Caddy
Holds up to 10 cigars
Waterproof to 100 feet deep
1 humidifier disc in lid
Mrs. Brog
10 Large Cigars
Hygrometer and Humidifier
Airtight and Waterproof
Guardsman
10-15 Cigars
Humidifier Disc Included
Airtight and Waterproof
Lagute
Up to 6 pieces of cigars
2 removable trays
Humidifier and a dropper
G galiner
6 cigars
Wood and PU leather
Humidifier and a dropper
---
---
If you are searching for a nice travel humidor for transporting your cigars, then you should check the following guide with some detailed reviews and buying tips.A humidor is usually a rectangular or oval box/soft case with a temperature control option, which may be used to store cigars, cigarettes and tobacco pouches. Typically, tobacco smokers use travel humidors when taking the cigars during the vacation. If this is your case, then you should purchase an excellent humidor to keep your cigars dry.
You're definitely going to want a humidor if you're dreaming about traveling with fresh cigars. A standard humidor case might not be ready to take a ride to your backpack.
Major benefits of travel cigar humidors:
They are lightweight and portable;
Quite spacious for holding cigars and a lighter;
The majority of travel humidors can hold up to 10 small or 5 standard cigars;
Completely waterproof;
Pricey models also have airtight seals for additional protection;
Do you want to learn more about different travel cigar humidors? Then make sure to check the following reviews, comparison table and buying tips to choose a really nice accessory that will keep your cigars fresh even when you are constantly on the road.
Cigar Caddy 3240 Travel Cigar Humidor – the best for portability!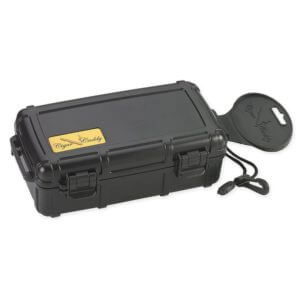 This Cigar Caddy 3240 humidor is very lightweight and portable. Despite the small size, it has an airtight seal with the option of air release when necessary. The Cigar Caddy style may be ideal for outdoor tourists and casual travelers.
The lightweight model was built to be practically unbreakable with its ABS molded plastic build.
It provides an airtight seal that allows the humidor to float on the water surface. This humidor also has a cushioned interior with a humidification pad, which can accommodate up to 10 cigs ready for smoking.
[i2pc pros_icon="icon icon-check-1″ cons_icon="icon icon-minus-thin" show_title="false" show_button="false" pros_title="Pros" cons_title="Cons"] [i2pros] Very lightweight and portable
The seals will remain intact even after the accidental crush
Waterproof up to 100 ft. – just floats on water
Decent capacity
Durable latches are made of stainless steel
Includes a humidifier in the lid
[/i2pros] [i2cons] The airtight seal could be better
Made of plastic
[/i2cons] [/i2pc]
In fact, it includes two different detachable foam pads that shield cigars from accidental exposure to harsh environmental conditions. Such foam pads enable the cigars to remain in place and can carry up to five cigars each. Nonetheless, you can enlarge the internal room of the humidor by removing the pads.
Mrs. Brog Cigar Travel Humidor – the best for durability!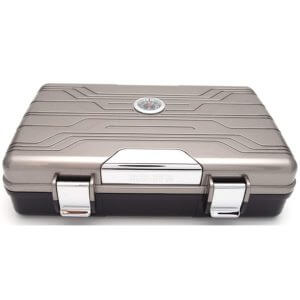 Made of a crush-resistant, durable ABS frame filled with foam padding, this watertight and airtight cigar case keeps your expensive cigars secure when you're on the go. The extra humidification features would also maintain freshness.
The Travel Humidor Device is known for its long service life. The interior of this package is crafted from a combination of sturdy ABS plastic and a foaming paste that is fragrant-free and is built to keep the cigars healthy at an optimal point. [i2pc pros_icon="icon icon-check-1″ cons_icon="icon icon-minus-thin" show_title="false" show_button="false" pros_title="Pros" cons_title="Cons"] [i2pros] Includes 2 trays to keep the cigars inside intact
Latches are strong and easy to open
Includes a humidifier and hygrometer
Airtight silicone seal
Decent capacity
Extremely waterproof
Decent shockproof quality
[/i2pros] [i2cons] Doesn't have a handle or lanyard
A bit bulky
[/i2cons] [/i2pc]
Put it in your vehicle, plane, golf bag, or purse, and don't think about it being lost (or, more specifically, destroying your cigars). It's nice to cover your cigars from all your outdoor activities with this durable and functional humidor.
Guardsman Travel Black Cigar Humidor – the best for capacity!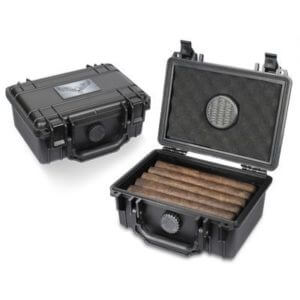 Built with reinforced ABS plastic, the Guardsman humidor offers a vintage ammunition feel.
Not only does this succeed in making the humidor sturdy, but it also adds some extra allure if you have a keen interest in gun culture. [i2pc pros_icon="icon icon-check-1″ cons_icon="icon icon-minus-thin" show_title="false" show_button="false" pros_title="Pros" cons_title="Cons"] [i2pros] Comes with a decent humidifier disc
Stainless steel hinges
Has 2 silicone seals – for watertight and airtight protection
A great capacity – up to 15 cigars
[/i2pros] [i2cons] Moisture control could be better
Comes without a detailed instruction
[/i2cons] [/i2pc]
This travel humidor offers a steel hinge that encourages portability and offers extra protection. This also has a rubber coating on the cover for airtight and watertight handling of 15 cigars.
LS LifeStyle Leather Humidor Case – the best for style!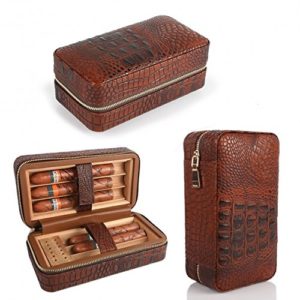 The LS LifeStyle cigar humidor case is definitely distinguishable for its style. 100% cedar wood as the major material and stylish brown crocodile-like leather gives a luxurious style to this small but expensive travel case.
This particular humidor can't boast a great capacity but it surely adds some style to your smoking experience on the road. [i2pc pros_icon="icon icon-check-1″ cons_icon="icon icon-minus-thin" show_title="false" show_button="false" pros_title="Pros" cons_title="Cons"] [i2pros] Made of 100% cedar wood
Includes 2 pockets for holding a cutter and lighter
The closure is a top-notch zipper
A removable humidifier
Shipped in a gift box
[/i2pros] [i2cons] Pricey
Small capacity – can hold only 4 cigars with a maximum length of 6.9 inches
Doesn't have an airtight seal
[/i2cons] [/i2pc]
The easy-to-use humidifier can be great for storing cigars in a very dry environment. Check the instructions before using this model. The perfect level of humidity is hard to achieve – keep the humidor case in the place where the cigars won't get soaked.
GALINER Cigar Humidor Case – the best for design!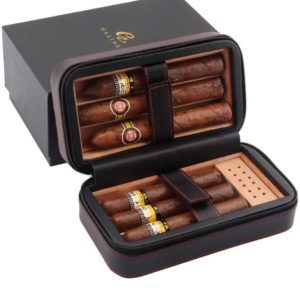 This Galiner cigar humidor case is very soft to the touch because of natural leather used for its exterior. Besides the great materials, this case is multi-functional and can hold the cigars of different sizes.
For instance, you may put three 125-mm cigars and three 155-mm cigars in the U-shaped tray made of cedar wood. [i2pc pros_icon="icon icon-check-1″ cons_icon="icon icon-minus-thin" show_title="false" show_button="false" pros_title="Pros" cons_title="Cons"] [i2pros] Made with soft PU leather and 100% Spanish cedar wood
Nice aroma
Good moisture retention
Good protection
A sturdy zipper closure
[/i2pros] [i2cons] Pricey
Bulky
Small capacity – only 6 long (not thick) cigars
[/i2cons] [/i2pc] Also, this humidor case is very durable and easy to use. Make sure to buy only authentic cases for transporting your cigars.
The Buyer's Guide:
Size
You ought to be sure that the travel cigar humidor you're trying to purchase provides enough storage room for the amount of cigars you intend to carry with you.
Roomy cigar humidors are ideally suited to cigar enthusiasts and sellers who have to hold a load of cigars during some time. Travel humidors are suitable for all tourists or people who need to drive a lot because of job tasks.
Yet humidors, who are too small, won't be able to hold more than 10 cigars. Otherwise, they may affect the flavor of cigars, because the case would not be able to enable the atmospheric air circulation to improve the aging phase of the cigar.
On the other side, big humidifiers may induce the "overdose of moisture" effect. Overexposure of moisture may weaken cigars and damp cigars can induce unusual burns – a condition known as tunneling.
Of this purpose, you're going to want to pick the perfect size to hold the same number of cigars you're intending to buy.
Portability factor
If you're interested in a travel humidor for cigars, durability must be a crucial thing to note when shopping. That is why travel humidors are a must-have model for cigar enthusiasts and travelers. The great travel humidor should be compact and lightweight enough to suit your pocket or bag comfortably.
Also, create a compromise of portability and scale of the package. Don't lose the dimensions. Ensure that the fabrics are durable and compact for small-scale cigars and cigarettes.
Seals
A seal is what keeps each humidor dry inside. Unless the seal is imperfect, you would not be able to sustain the required level of humidity, which will vary from 65 to 70%. A full-fledged travel cigar humidor will contain an airtight sealing device that retains a particular moisture condition to prolong the cigar's ingenuity.
Materials
Many top-notch travel humidors are constructed of cedar. They are compact wood travel humidifiers providing scent and insulation. These are not the same as the cedar used to produce furniture pieces. This wood is also renowned for its longevity as it stretches and grows over time, avoiding cracking. This could be a pricey option. You may seek the humidor made with such natural wood materials such as mahogany, walnut, and cherry.
Additional options
Many models have in-built attachments. Prioritize travel humidifiers that have default thermometers and hygrometers. They may help you check and set the humidity and temperature levels inside the box to keep the cigs fresh.
When you are shopping for extra attachments somewhat close to the humidor, try purchasing an automatic cigarette roller. They've got a good build quality, they're durable, and they can hold the perfect amount of tobacco. Such attachments are pretty simple and specifically built to save time and resources.
FAQ Travel Cigar Humidors
Can you keep cigars in a travel humidor?
Lightweight and sturdy travel humidors are intended to keep cigars on the road. Travel humidors are engineered to safely hold your cigars when you need them, whether you're traveling, taking a flight or climbing a mountain. However, it is not recommended to store cigars in a travel-friendly humidor at home. These devices are mostly temporary solutions. 
How long do cigars last in a travel humidor?
Typically, travel cigar humidors are good for keeping up to 50 cigars for a few weeks if you keep the proper temperature and RH levels (70F and 70% of relative humidity). However, the smallest travel humidors can keep cigars fresh only for a few days. In other words, it is always a wise choice to keep your stogies in such a travel case for 5-10 days, no longer. 
What is the best travel cigar humidor?
It's a serious expense to purchase a travel cigar humidor if you prefer to carry the cigars everywhere you go because you can't afford to waste time or resources buying a fresh one so much. For a long period, you have to love both the commodity and the parts that come with it. Here are the things to consider when choosing a travel cigar humidor: 
Durability.

To withstand the wear and tear of everyday usage, your tool must be robust. As a travel humidor, it would have to cope with temperatures that might hurt your cigars, from hot to cool. It should come as no surprise that to guarantee your cigars are secure and well preserved, only premium materials should be used for construction;

Storage and interior size

. Cigars come in varying types, but it does not suggest that designers have to compete with the ability offered by any travel humidor. The main aim of every device is to take care of your cigars properly. Of course, both instruments have limitations to how many cigars they can fit, but that's not meant to be too high or even too short. Substantial storage must be provided, but not at the risk of neglecting other facets. It needs to be designed in a way that means that you can take a large number of cigars without any trouble while you are flying. The situation should also be fairly flexible to handle multiple sizes;

Portability.

Lastly, to guarantee that you will appreciate a cigar anytime your humidor must be portable. You may also want to take some time off after a week of hard work or even further by heading to your friend's home, camping or even on holiday. The travel humidor must be easy to carry and should not be inconvenient. Without being intimidating, it should work in your backpack, purse, or vehicle. Although the humidor determines where to store your cigars, you don't have to worry about how to carry the humidor with you. It must be big enough to hold several cigars, but not so large that carrying on your travels becomes problematic;
Pay attention to such popular brands of travel cigar humidors – Cigar Caddy and Xikar. They create ultra-travel humidors for transporting your cigars. 
How should you set up a travel humidor?
A travel humidor is a distinctive accessory that helps ensure that when you pass from one place to another, your cigars remain in perfect condition. In order to hold the cigars in excellent shape, the humidor must be able to fulfill its primary task.
Opening the case is the first move in setting up a cigar humidor, then identifying the humidification disk on the top part. Use an eyedropper, soaked in distilled water to make around 8 drops of water onto the humidifying disk for better performance. Before wiping off any water traces, let the water be fully drained by the disc. Your travel moisturizer is then able to be seasoned.
Hold the temperature, which is not high, at a certain degree (about 70F). The humidity of your humidor could be increased by some sort of abrupt transition, thereby defeating the objective of holding your cigars in peak shape.
While the travel humidor retains your cigars' temperature, it also acts as a shield that protects your cigars, thereby minimizing the risk of transit injury.
Are travel humidors worth the investment?
Although small cases seem to attract quite a ton, humidors are more durable and offer more space. They are a perfect way to move them comfortably, if you're going to a case, meeting some buddies or even purchasing cigars from a supermarket.
The things to look for in a travel humidor:
Full-grain leather;

Sturdy metal zippers;

Enough room to stow cigars along with different accessories (lighter, Boveda packs, etc.);

Add-ons like a pocket for a smartphone or business cards;
When it comes to cigar humidors for flying, they still go larger. Travel cases are fantastic, but with either one, you can't go wrong. And it's still nice to have more space because they're eventually going to need it.
How can you travel with a cigar?
No one can deter you as you're going out of town, whether it's for company or fun, and have plans to carry favorite cigars. Only bear in mind a few of the following suggestions and you'll be fine:
Proper settings.

Cigars, except for the consistency that a sponge returns to its form when it has been stood on or compressed, are brittle and mimic sponges. Cigars react to humidity and temperature (70% humidity and 70F are optimal environments) and can consume a multitude of flavors and tastes from the atmosphere in which they are stored. Before you pack up those stogies you're attempting to stow away under an old pair of socks, bear that in mind;

Careful packing.

When they're squeezed into an already overstuffed suitcase, cigars don't do well, nor is it a smart idea to house them in a container with so much room to roll or jump around. The majority of problems confronting your precious cigar cargo as you intend to carry a few on the road are fixed by a quality cigar travel case. Travel cases vary from plain breast pocket sleeves that mostly fit 3-4 cigars and are made of wood or leather, to heavy-duty plastic ABS-molded chambers with foam inserts, airtight seals, and multi-layer cigar rooms. If you're only an occasional smoker, though having a travel humidor for your cigars may sound excessive, bear in mind that they come in a variety of sizes, including smaller versions that carry just 5 cigars and can comfortably fit in a compact backpack;

Ziplock bags can be useful for the carry-on method

. If you're only going for a quick trip and you intend to enjoy your cigars within several days of departure, your cigars would probably be just fine within a Ziplock bag (with a significant seal) if the bag is held within a kind of tight jar that prevents the cigars from being smashed. If your cigars need to last more than a week, we suggest that you pick up a moisture pouch or other sort of humidification so that your cigars have access to sufficient amounts of moisture;
If you are boarding, it is usually advised that you take your cigarettes, if necessary, onto the plane within a carry-on. Checked luggage is prone to temperature variations of all sorts, which are not desirable. Because of temperature and humidity shifts, cigars can extend and compress, and the wrapper of a cigar can break in the process.
Final thoughts 
As you might have noticed, travel cigar humidors should not be over-pricey to offer exceptional quality. Price is not the only factor to consider – these little boxes should be waterproof, portable and have special latches for additional security. Invest in such humidors and you won't regret every time when smoking a cigar far from home!
Portable humidors for cigs are necessary for aficionados who travel a lot. One of the loyal readers (he prefers to smoke expensive stogies while playing golf in Florida, though lives in Maine) hinted this idea for the review of the best travel-ready humidor cases. And after receiving this good idea I immediately started the series of tests of almost 30 models. As a result, I picked the best of the best all-in-one portable items that you can buy for yourself or for a friend who likes extravagant smoking.
Best portable humidifying boxes, according to my tests and ratings:
Cigar Caddy can store up to 10 pieces in a waterproof case;
Mrs. Brog is a very good waterproof box, with a separate hygrometer and humidifier for 10 cigars;
Guardsman with an in-built humidifier disc;
So many travel-ready humidors: how to choose?
During almost two weeks of tests, I concluded that portable humidifying cases should be picked according to the travel's purpose:
For two days – a durable metal box will do the job for a few stogies, with an average level of humidification;
For a large size – choose the substantial humidor, a sort of a mini-case made of leather or wood. Pick the models with foam cradles for every cigar;
For a long trip by plane or ship – buy a portal model with an in-built hygrometer to track down the moisture level inside, aim for a pressure relief valve;
Thanks for reading my dedicated guide to buyers of travel cigar humidors! Instead of a conclusion, I'd like to say that all humidors included in the list are perfect in their own way. These little boxes will make your cigars nice and dry during short and long trips in planes, on ships, in cars and just in your travel bag no matter whenever you are going.
I described my requirements applied during the tests of travel-ready humidors and right now I'd like to hear your criteria for travel-ready humidifying cases. Leave your feedback – I regularly update my reviews, according to your comments.
Video Tutorial: Cigar Travel Cases
---