---
CASE ELEGANCE
For up to 25 cigars
Spanish cedar
Hygrometer
Prestige Import Group
Holds up to 20 Cigars
Internal Locking Hinges
Humidifier Included
Volenx
25 cigars in standard size
Cherry finish
Wear-resistant metal hinge
MEGACRA
10-20 Cigars
Spanish cedar
Outside:10.2×6.5×1.8 in
A Comely
Holds up to 10 cigars
Spanish cedar
Great for Travel
---
---
If you don't know where to store your stogies, consider choosing one of the small cigar humidors. Refer to this review if you have trouble with buying a humidor for cigars.
Reasons to use a humidor instead of a cheap cigar case:
Only humidors are capable of controlling the climate inside the compartment where the stogies are stored. Most expensive cigars should be stored only at a certain humidity level to resemble the climate conditions where the tobacco blend in these cigars is grown;
Humidors can provide the most optimal conditions for cigar storage – keep the humidity level inside at 74%, and the temperature is 70°F;
You may keep the stogies sealed inside a good humidor for 2 weeks (depending on the climate conditions);
Humidors prevent the stogies from burning too fast and have a bitter taste;
Also, properly maintained humidors will never have mold inside unlike regular cigar cases;
Who may benefit from using small humidors instead of large humidors? First of all, compact humidors with the capacity from 15 to 20 standard cigars will do for beginners who are not yet sure in their smoking preferences. Secondly, small humidors are easier to transport, though pay attention to the seal system if you are going to use them on the road.
How to pick the best small cigar humidor? To spare you from browsing hundreds of pages on Amazon, this guide with some of the best small cigar humidors was compiled. Check the comparison table to find out the major specifications of each model. The general buying tips will help to narrow down the choice if you buy small cigar humidors for the first time.
CASE ELEGANCE Spanish Cedar Humidor – the best for the seal!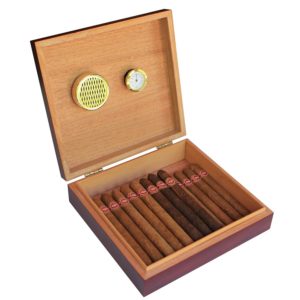 This Case Elegance humidor has endured rigorous research of the conditions to make sure that it delivers an acceptable degree of humidity despite the local temperature.
The humidor will accommodate up to 25 stogies, based on the ring gauges of the stogies. This personal humidor is an ideal option for a limited selection of Cuban cigars.
[i2pc pros_icon="icon icon-check-1″ cons_icon="icon icon-minus-thin" show_title="false" show_button="false" pros_title="Pros" cons_title="Cons"] [i2pros] Embedded with a tight magnetic seal
Made of Spanish cedar wood with a nice cherry finish
Good capacity for a small box
Includes both humidifier and hygrometer
Durable
[/i2pros] [i2cons] A bit bulky – weighs about 2 pounds when empty
Frequent seasoning is required because it may drop the humidity level when it is hot/cold
Hygrometer could be more accurate
[/i2cons] [/i2pc]
You may show this humidor to your mates and boast. Not all cigar smokers require a big humidifier, so this model could easily become a decent option for a novice.
Prestige Import Group Chateau Humidor – the best for portability!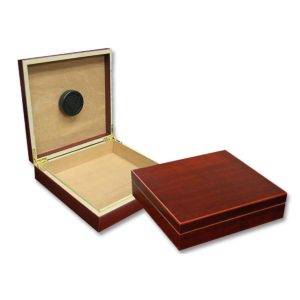 This travel humidor by Prestige Import Group should keep the freshness and flavor of your favorite cigars on the road. The sleek nature of the Chateau helps you to conveniently put it hidden while you're traveling.
The interior has a reversible humidifier that can be packed with purified water, and you can be confident that your cigars are stored in the correct setting.
[i2pc pros_icon="icon icon-check-1″ cons_icon="icon icon-minus-thin" show_title="false" show_button="false" pros_title="Pros" cons_title="Cons"] [i2pros] Portable
Has a great glass top
A good capacity
Easy-to-use humidifier
Keeps the perfect level of humidity – 70%
Beautiful design
[/i2pros] [i2cons] The thin walls of the box
Requires frequent seasoning
The lid is not very tight
[/i2cons] [/i2pc]
This is a brand-new model of small cigar humidors. It's going to keep your good cigarettes ultra-fresh. This is a perfect starting package in your life for the cigar aficionado.
Volenx Glasstop Cigar Humidor – the best for capacity!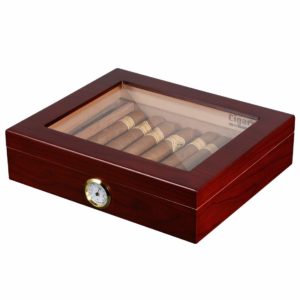 This Volenx humidor was built to offer the perfect humidity level and top-notch style. It's thick and it's built of true cedar. The humidity monitor fits perfectly. The cover seals airtight, but it can also be removed fairly well.
The glass at the rim appears to be of a good standard.
[i2pc pros_icon="icon icon-check-1″ cons_icon="icon icon-minus-thin" show_title="false" show_button="false" pros_title="Pros" cons_title="Cons"] [i2pros] Comes with a stylish gift box
The large capacity
Includes an analog hygrometer
Airtight seal
Glass top to see the content inside
[/i2pros] [i2cons] Heavy
The removable divider is quite short
The finish can peel off in water
[/i2cons] [/i2pc]
You may love this humidor for its great cedar aroma. The best thing about its smooth hinges – they do not squeak. You may want to pick this particular cigar humidor because the capacity is really impressive, despite the compact size.
MEGACRA Cedar Cigar Humidor – the best for quality!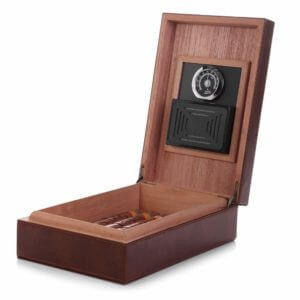 The MEGACRA cedar humidor is constructed of high-grade PU leather. This luxury case guarantees the long-lasting usage of the MEGACRA cedar cigar humidifier.
It also ensures that you invest less time worried about price, and more time dreaming about the outstanding state of your cigar.
Tips for users: just use distilled water to fill in a humidifier. First, you should partially fill the bowl with distilled water. Turn the humidifier upside-down. Let the water sit for 3 minutes. After it dries, wipe off the excess liquid.
[i2pc pros_icon="icon icon-check-1″ cons_icon="icon icon-minus-thin" show_title="false" show_button="false" pros_title="Pros" cons_title="Cons"] [i2pros] Made of premium PU leather and dried Spanish cedar wood
Includes magnetic hygrometer and humidifier
Convenient to use
[/i2pros] [i2cons] Heavy
Doesn't include a removable divider
Doesn't have a tray
[/i2cons] [/i2pc]
The magnetic hygrometer and rectangular humidifier help control the moisture within the humidor. High-quality metal hinges maintain a smooth action while the humidor is opened and closed. Additionally, the strong and stainless steel hinge enables you to extend the box up to 90 degrees.
GALINER Cigar Humidor Desktop Box – the best for humidity level!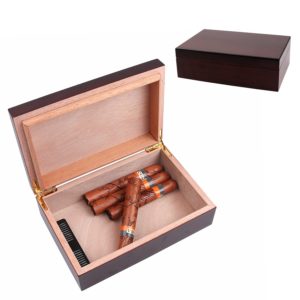 The Galiner cigar humidor box will look amazing on your desktop. It has a premium cedar wood lining that retains the great aroma and the optimal humidity level.
Despite the compact size, it may hold up to 20 standard stogies or even 30 small cigars (check the ring gauge before buying the cigars for this humidor).
[i2pc pros_icon="icon icon-check-1″ cons_icon="icon icon-minus-thin" show_title="false" show_button="false" pros_title="Pros" cons_title="Cons"] [i2pros] Keeps the humidity level even
Decent capacity
Has a special seal system
Has extra accessories
Budget-friendly
[/i2pros] [i2cons] Bad portability
The gauges may not stick well
[/i2cons] [/i2pc]
This nice desktop humidor is more spacious than it looks. And you may save up a few dollars because it already comes with standard accessories – a magnet absorption hygrometer, removable divider and humidifier.
The Buyer's Guide
Occasional stogie smokers shouldn't buy full-fledged cases a.k.a. humidors for storing their cigars in the most comfortable way. Instead, they ought to pay attention to more compact cases – they are great for keeping the cigs in an office desk or any other small space.
Due to numerous suggestions left by my friends, colleagues and readers, I, as the owner of the website SmokeProfy, decided to test and then review the smallest cigar humidors accessible for sale in the U.S. market. The results of my tests that involved over a few dozens of various compact cases can be found further. Also, I decided to explain my motivation that affected the overall rating.
Types
Box/case. A box or case may be packed up and held and transported about, making it suitable for travel and home use. You will find a lot online, and the costs are normally much cheaper than a case or crate. These prefer to shut with a brass or stainless steel hinge as opposed to a vacuum seal like a cooler and are also crafted from gorgeous woods;
Cooler. To the real enthusiast, the coolers provide onboard gauges to change the temperature and humidity levels automatically. The size of the coolers is a little greater – they will usually hold hundreds of cigars and are ideal if you smoke stogies regularly. These are also costly and appear to come from stainless steel exteriors with wood trimming and shelving;
Jar. Not suitable because of their restricted capacity and size – typically no more than 10 stogies. Also, they lack humidification, the container has an airtight seal and is certainly a step away from nothing. They're safe and perfect for the outdoors, too. The container is potentially the perfect travel cigar humidor because you need to hold the cigs away from your cigar storage unit;
Capacity
Humidors for cigars typically come in many sizes and capacities. You can buy a little travel humidifier that essentially houses a handful of cigarettes, a laptop component that can accommodate 50-100 stogies at once. When you're only beginning your cigar ride, try getting smaller. When you're serious, get a bit larger than you like.
Materials of drawers
Metal compartments. Skip metal humidors. Although it is a sterile and easy-to-maintain material, metal doesn't dissuade pests, so it's a bit flimsy. It may even influence the appearance and aroma of the stogies inside;
Wooden drawers. You certainly ought to get Spanish cedar boxes when you purchase a cigar humidor. Cedarwood has the resistance against bugs and offers the classic fragrance of fresh wood;
Temperature and humidity control
Cigars are manufactured from tobacco leaves, and even though they are cured, they require different humidity and temperature specifications. Cigars will be held between 55 and 65 degrees with a maximum humidity level up to 75%. The most significant aspect is that whatever the temperature and humidity levels are outside, they should remain constant inside. High-end humidifiers also have internal fans for air-cooling.
Seal type
Most cigar humidors come with a protective cover across the frame to lock the lid securely. If you are a serious cigar smoker or live in a temperature and humidity swing region, a magnetic seal can be helpful. A seal is the most essential aspect for a humidor since a broken seal may ruin the stogies inside. Magnetics are not, however, sufficient to obtain this lock. Make sure to check the humidor during the warranty time.
Extra accessories to buy if you need a humidor
Special humidification packs with a special gel or distilled water;
A hygrometer is a device that measures the humidity level (sometimes it comes built inside the humidors);
A windproof butane-based torch lighter;
A sharp and durable punch or cutter;
A proper ashtray with a grooved bed to rest the half-smoked stogie;
The factors that impacted on my choice of small humidors
How small is small – the main questions asked by our users. There are humidors for 5-10 or up to 50 cigars. As experts, I must say that a good humidor case must offer the storage capacity that is at least 30% of the overall size. The more important factor is how the picked model absorbs the moisture. Humidity levels must be kept at the same rate. You also don't want any unpleasant odor so the humidors must be easy to clean as well. These are the major criteria I considered during the preparation of this particular guide.
As for the price – it depends on the brand, honestly. Cases with real wooden finishes cost more than metallic boxes. The average cost is $30.
What brands of small humidors for stogies I can recommend:
CASE ELEGANCE is good for 25 pieces, with a separate hygrometer;
Prestige Import Group is another relatively small case with an included humidifier;
Volenx offers a standard size, with a nice cherry finish;
FAQ Small Cigar Humidors
How should you set up a small cigar humidor?
Stashing your stogies in a well-suited atmosphere can help them age and become even the most perspicacious connoisseur's "perfect smoke". A reasonably-sized wooden or glass cigar humidifier would do the trick, storing several dozen cigars, holding them at the correct temperature and humidity to enable them to mature gracefully.
Both tiny cigar humidor devices come with hygrometers, which are applied to track the relative humidity levels. This allows the cigar smoker to achieve an optimal humidity level of about 68-72%. If the temperature goes below this level, the hygrometer is there to show when it's time to recharge your humidor.
It's quick to re-humidify your humidor device, follow these basic steps:
Inside the humidor put a small container filled with purified water;

Put the adjusted and calibrated hygrometer within the device;

Setup your humidification system;

Put the humidification unit within the device;
You've got to monitor the relative humidity (RH) every day. Based on a variety of reasons, this can involve a few days or several weeks. When you get in the 70% mark, it's healthy to store the smoke inside. As long as you continuously recharge your humidifying kit, you'll never have to wait for your cigars to be stored again.
What humidors do for cigars?
A humidor is a storage jar intended to help sustain a relative humidity level that is essential to cigars since the tobacco leaves inside them actually expand and contract based on the relative humidity (RH) of the air surrounding them. When a cigar is too dry, it shrivels and lacks its scent and taste, which are two vital aspects of smoking cigars. And on the other side, when a cigar is subjected to excessively high humidity, it may contribute to mold, rust, and even infestation with tobacco beetles.
Humidors come in many shapes and sizes. They can be compact as a travel-friendly device or as big as a walk-in cabinet, often used in cigar shops. Despite the size, every humidifier would have a good seal to preserve internal temperature and have a thermostat and hygrometer to support its ideal conditions.
A tiny humidor not only holds your cigars intact but also uses a few elements to maintain the perfect atmosphere for your cigars to be kept in. This perfect atmosphere regulates the temperature and RH of the interior of the case, enabling the correct amount of moisture inside to protect your cigars without making them too damp or dry. 
Holding your cigars in the sweet spot of ideal temperature and RH is what keeps your cigars smelling fine. Maintaining this humidity balance is the product of two elements of the humidifier operating in combination with each other, the Spanish cedar making up the package and the humidifier held inside.
How long can cigars last without a humidor?
Any humidor devices include a permanent humidifying device that makes the air moist and keeps the cigars fresh. Without a moisturizer, within 2-3 days, cigars can easily lose moisture and upgrade the RH level surrounding them. The optimum relative humidity of the humidifier is roughly 68–72%.
How often should a smoker season a small humidor?
Most experts also prescribe annual seasoning for the strongest small humidifiers. Other smokers agree that seasoning is needed any season of the year. Focus on the humidity level and refresh the hydration system to make sure the humidity level of 65-70% is preserved and you're not going to spoil your cigars.
If you live in a dry environment, consider re-seasoning only once per year, typically during the driest winter months.
Is it possible to mix different cigars in a humidor?
Mixing various cigars in a humidifier is entirely appropriate. Few cigar lovers tend to have different cigars apart from their favorite brands. So if your selection at the time of purchasing your humidor is 40 – 50 stogies, get a humidor that contains at least 75 cigars. This will encourage air to flow across the interior of the humidifier, making your cigars evener.
Should cigars have plastic wraps in a humidor?
It's a question of choice whether you take the wrapping on or off. Cellophane is quite porous and may cause your cigars to dry or age quicker. They can even help your cigars retain their moisture level. Holding your cellophane on is a smart thing whether you're flying with your humidor or whether you open your humidor quite much. Some people believe that cigars in plastic wraps may dry out easily if the cellophane material is too thick. Typically, it depends on the cigar brand. 
Keeping the wrapper in the humidor is all right, so the cigar can always maintain the moisture. Some people believe that preserving cigars with a wrapper would block the moisture in the humidor, but using a cigar wrapper keeps it new and slows down the aging phase of a cigar.
What are the reasons for cigars to dry out in a humidor?
A dry cigar is what all cigar smokers try to prevent, since it may produce a poor taste of tobacco. As is apparent, if your stogies are drying out that implies that your humidifier doesn't do its job, and you may need to repair it.
Probable reasons and their solutions if your cigars became dry in a humidor:
The evaporation layer of the humidifier is too thin, compared to the height of the humidifier. Pick a bigger humidor or invest in an active-controlled airflow humidification device;

The wood in the humidifier is already dry and moisture is separated from the air. Wipe the humidor liner with a wet cloth every 2-3 hours to re-humidify the wooden interior;
Luckily, you may rehydrate dry cigars. If your humidor dries out with your cigars inside, you'll need to re-season the device by cleaning the inside with distilled water. Cover the lid and let it rest for a day. Repeat the method now. Refill your humidification machine with purified (distilled) water/propylene glycol solution. That is how you should season a humidor to prevent dry stogies. 
Video Tutorial: How to use a cigar humidor?
Final thoughts
All of the above-mentioned humidors are quite compact – they will do if you smoke no more than 20 cigars per month. Also, they are durable and keep the cigars intact, preserving their nice and fresh aroma. Do not hesitate to leave your feedback after using any of these or similar small humidors for cigar storage.
---