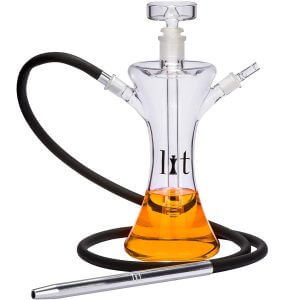 13-14" tall
Portable
Easy to clean
20" tall
100% waterproof
Easy to clean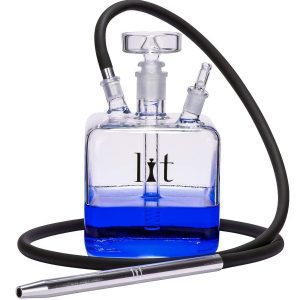 10" tall
Portable
Easy to clean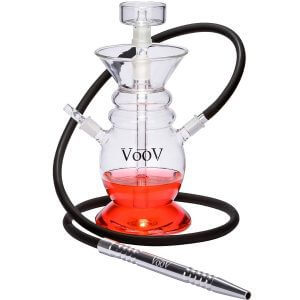 12.25" tall
100% waterproof
Easy to clean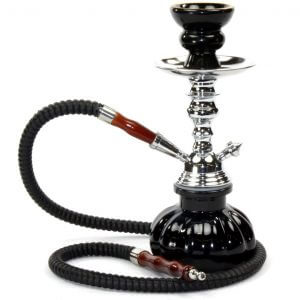 Sturdy design
41 inch hose
Durable
---
Choose the Best Glass Hookah
Customer's Choice: the Best Rated Glass Hookahs
29 users answered this survey. Please help us improve this review!

17.24% of users selected Lit Hookah 13-14" tall, 34.48% selected VooV, 27.59% selected Lit Hookah 10" tall, 6.9% selected VooV and 13.79% selected Texas Hookah. Every month we analyze your answers and change our rating.
---
Why do glass hookahs differ? Because they combine all the advantages of standard hookahs and are devoid of their disadvantages:
interchangeable parts due to universal dimensions;
value for money;
a transparent base with a wide mouth for adding fruits, ice and syrups;
convenient support for the bowl allows you to make hookahs on fruits.
Bohemian glass or borosilicate are used for their production. The first is beautiful, the second is practical. Borosilicate is a strong and tough material that protects the item from scratches and cracks.
The main advantage of a glass hookah is its appearance. Nothing is as mesmerizing as bubbling water with berries and smoke. It will decorate any interior.
Below is a comparison table of 5 glass hookahs picked by users and experts and some useful recommendations to help you with selection.
This handmade hookah can boast a unique design, top quality heat-resistant glass, which is strong enough for everyday use.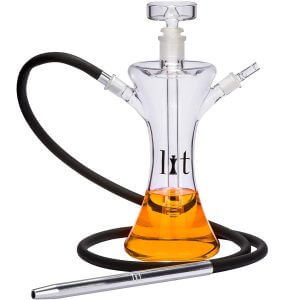 VooV Lit Original hookah features superior efficiency and looks magnificent, which makes it an undoubtful best-seller among small size peers.
Exceptional design and simplicity will make it one of your favorite hookahs. It is assembled, disassembled, cleaned just in a few minutes. Safe storage at home and on the move is possible due to a special carrying case included in the set.
Pros
Is very user-friendly and looks awesome
The construction excludes plastic, which can be harmful when heated
The small size is beneficial for frequent home use and trouble-free storage
Rinsing in hot water provides easy cleaning
Budget-friendly
A reliable carrying case helps store and travel
There is a possibility to add the second hose in the place of the air valve
Cons
Charcoal and shisha are not included, you have to buy them before your first session
The glass bowl seems small
No separate charcoal tray
You can use fruit with the VOOV LIT Glass Hookah. Cut them into thin slices and put them through the top of the piece. Remember to add water as well. The second hose can be attached instead of the air valve, but the other smoker, not inhaling the fume, should plug his hose by a finger to let the first smoke.
The fantastic design and the right size makes it look perfect for daily use or holding a party. Super easy handling and cleaning are a huge advantage for those, who want to relax with friends and forget about washing routines.
Thanks to the superior quality materials of the hookah, the taste is incredibly pure.
There is an option to attach the second hose, replacing the bleeder valve, and enjoy smoking with your sweetheart or mate. The bowl isn't built into the stem, it can be changed for any other bowl, for example, your favorite one.
Pros
Produces enormous clouds
Best quality materials are used for its production: glass and aluminum
The size is perfect to hold a party or for individual use
Extremely easy to use and clean
Gives you the purest taste
Food grade silicone hose with premium aluminum rust-free tip and handle
Stylish and elegant
The valves are large, which increases the airflow
Cons
Doesn't include Led light
Can't be washed in a dishwasher
The bowl seems a bit small
To cool down the water, some ice may be used. Optionally, you may put the whole base to the freezer for several minutes to keep the water cool enough, which is very convenient. You can't do that with ordinary hookahs.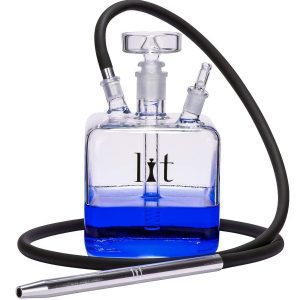 The VOOV LIT Cube hookah is designed in extraordinary square shape. Not typical for hookahs, this construction gives excellent steadiness and safety on any flat surface, when using or moving it around the room.
This truly sturdy model is a pioneer in its kind.
Top quality heat-resistant borosilicate glass and food-grade silicone hose with an aluminum tip and handle mean the purest taste and amazing smoking experience. Charcoal and shisha are all you need to start smoking. It's offered with a box carrying case, which is suitable for hookah transportation.
Pros
Extremely steady, thanks to its unusual design
Compact size – only 10" tall
Safer than ordinary items in terms of accidents
Smart-looking and functional
Very helpful when you are traveling
Strong and well-made glass
Cons
The base is quite tricky to clean
Mold and mildew appear and are hard to get rid of
As the opening is rather small, it's uncomfortable to dry manually
This model will deceive you with its base – it's compact but the volume of the cube is big. The bowl warms up in 3-5 minutes and the whole process of setup is easy and fast. Smoking is smooth and quiet.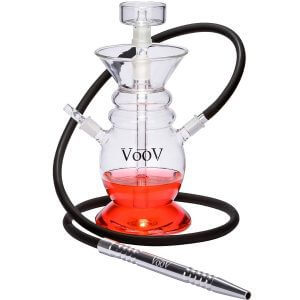 VOOV Cosmo Hookah is composed of several supreme quality glass parts. The craftsmanship is amazing and the clouds of smoke are enormous. As it's all made of glass, the taste is pure, without any unpleasant smack caused by toxic metals or plastic.
This model comes with one hose, but the second may be used instead of the purge valve. The minimalist design and compactness make it perfect for home daily use.
Pros
Cool looking
Inhaling the smoke is smooth and easy
Minimalistic and perfectly made
Budget-friendly
Durable and reliable
Cons
This model comes without a carrying case
The neck of the hookah is narrow, so it's hard to clean it with a brush
The hose is silicone with a premium aluminum mouth tip and handle. Some users dislike the feeling of rubber, so the hose may be easily changed for another one. The same is possible with the mouthpiece if you prefer a glass one, not aluminum.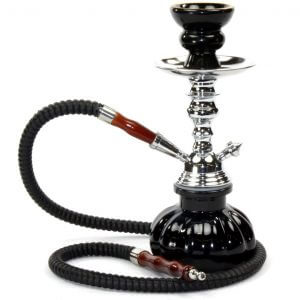 This model is very affordable and is recommended for those who want to try smoking a glass hookah at home and are not ready to spend a fortune, as glass hookahs are usually expensive. The size of the vase is small but the item functions as a big one.
The construction is sturdy, which lets you move it around the room and share it with others. The base is made from strong high quality glass and is durable.
Pros
Cheap and attractive
Strong and durable
A compact size and is comfortable in use
It doesn't wobble and fall over thanks to its sturdy design
The hose is long enough
Works well and is rather powerful
Cons
The instruction manual is missing and it's troublesome to put it together
The color of the hookah is randomly chosen by the seller, you don't always get what you want
If you smoke alone it suits fine. Sharing with others isn't so comfortable due to the length of the hose. The bowl may be unscrewed and replaced with a different one. If it doesn't fit well, you may need to change the stem too.
The Buyer's Guide
Glass hookahs are innovative, though quickly gaining popularity. Before buying a glass hookah learn all benefits and peculiarities.
Quality of materials
All hookahs are manufactured from heat-resistant tempered glass. They are not afraid of light blows and do not corrode. Their parts do not break from overheating. The quality is undoubtful. Glass hookahs are considered more fragile compared to the traditional ones. If you often take it when traveling, get a special carrying case for protection and care.
Maximum taste
The glass does not oxidize and rust, which guarantees the purest taste of shisha. Silicone pipes, glass or aluminum mouthpieces and large internal volume facilitate inhaling and cool the smoke better.
Ease of care
Fully transparent parts guarantee perfect hygiene and soot or syrup residues are immediately visible. Thanks to the perfectly smooth surface all items can be easily washed in warm water. Forget about never-washable traditional pipes that can rust. Rinse all the pieces in warm water, add liquid soap if needed.
Original design
Glass has always been associated with style and a sense of taste. A glass hookah always looks mesmerizing. Observing the movement of smoke from the bowl to the mouthpiece is akin to meditation. If it is a glass hookah with illumination, the evening will have an aura of romance and mystery.
Useful tips for glass hookah users
It is problematic to clean a glass hookah. Some advanced users tried putting hookahs in a dishwasher, but it is risky and unjustified. If you follow the recommendations of the manufacturer any glass hookah can be cleaned to the transparent state quickly enough.
Rinse thoroughly
Pour out all the liquid, fill the hookah with clean water and shake gently. Pour out the water and repeat this manipulation several times.
Use hookah cleaners
It is recommended to use special cleaning agents to clean the hookah inside. It is better to refuse from ordinary dish soap (it leaves ghost taste). If there is no special cleaner, you can use a solution of Epsom salt with warm water.
Leave it to soak
Leave the hookah for 5-6 minutes without rinsing the product to soak any remaining and difficult to remove dirt. Rinse well and repeat if necessary.
A brush is the only way to get rid of the most stubborn dirt stains inside the hookah. After cleaning with a brush rinse the hookah thoroughly again.
Video Tutorial: How to Make a Glass Hookah Simple DIY
Conclusion
Fantastic design, top quality materials, pure taste and easy handling make glass hookahs stand out and occupy the upmarket position. If you choose any of these items, you'll receive an amazing high quality modern hookah at your disposal for years.
---