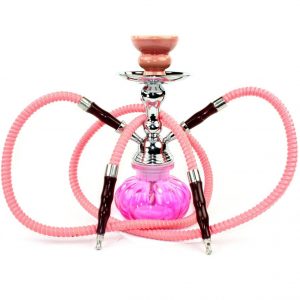 11" Complete System
Easy to assemble
For Home or for Travel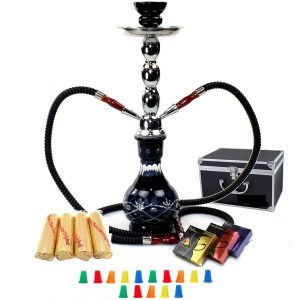 18" Complete System
Easy to assemble
2 sepraet hookah ports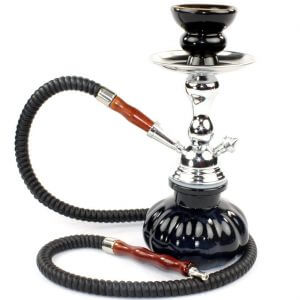 11" Complete System
Easy to assemble
For Home or for Travel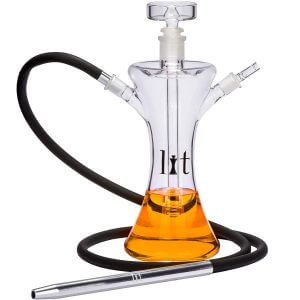 13-14" Complete System
Easy to assemble
Perfect Gift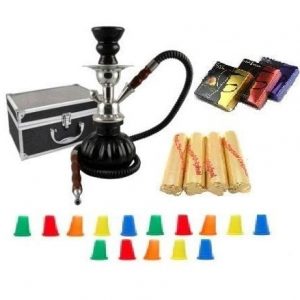 11" Complete System
Two hose hookah set
Perfect Gift
---
Choose the Best Hookah
Customer's Choice: the Best Rated Hookahs
14 users answered this survey. Please help us improve this review!

71.43% of users selected GStar Pink, 21.43% selected Zebra Smoke, 7.14% selected GStar Black, 0% selected Lit Hookah and 0% selected Bestgift. Every month we analyze your answers and change our rating.
---
Hookahs came to us from the East, but have already deeply penetrated into our culture. Smoking a hookah is associated with a party or relaxing with friends. If you want to choose the model for home use, study the peculiarities, evaluate all upsides, downsides, and compare the features.
Hookahs are produced in various designs and configurations, from different materials, and for lots of purposes. For home don't pick a bulky one, the hight of 11-20" is ultimate. 1 or 2 hose unit will suit, even if you hold a small party. They are simple in use and care.
If you are often on the move, consider getting a special case for your favorite hookah. Several models offer such a case as a bonus, or you can buy it on your own. Surely, the smaller the item is, the more comfortable it is when traveling. It must be compact and well made as well.
Deciding on one model among the diversity of the hookahs proposed offline and online can be troublesome, especially for inexperienced smokers. There are some tips and tricks below, and a comparison table of 5 hookahs pointed out by users and experts.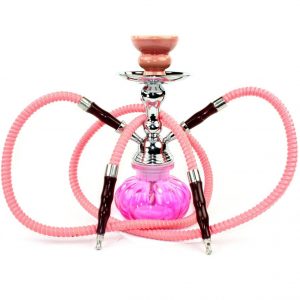 The compact size of GSTAR 11" Premium 2 Hose Hookah is beneficial for home use and storage as well as for traveling. Its simple design makes the hookah easy and clear to put together or disassemble. Cleaning is not a problem anymore.
The hoses are interchangeable. Their length is optimal for comfortable and relaxing smoking for 2 people. You can use your favorite or the ones you prefer.
Pros
A complete system: there is no need for additional accessories
Fascinating Egyptian style look
Available in various colors for any tastes or interiors
Comfy and easy in use
Stem valves close automatically when you don't use it
Compact size is ideal for travel
High-quality construction
Reliable and long-lasting
The hose length is suitable, neither too long, nor short
Cons
Doesn't include the travel box
Lacks mouthpieces for smoking with a group
Can tip over when using a longer or heavier hose
Warm water will be enough to clean the mouthpiece. First, run some water through the hose, then continue with washing the outside part of the mouthpiece, optionally using some dish soap. It's better to hang it somewhere to let it dry completely.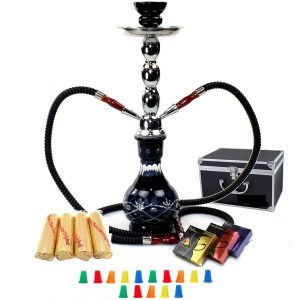 If you are looking for a cheap item to try, ZEBRA SMOKE Starter Hookah is the right choice. This combo set includes all the necessary pieces for your smoking start. 2 user hookah comes with a hardshell travel case to carry with you when you go away.
It offers 3 top hookah flavors (2 standard and 1 premium), instant lite charcoals, and a dozen of colorful mouth tips with the hookah, so only water is missing. It's great for a start in terms of your budget and use, as it is easy in assembling.
Pros
Two individual ports available for two users
The metal tongs for charcoal are included
One of the cheapest products
The hookah hoses are washable and easy to care and store
A travel case is hard and strong to ensure enough protection for the unit
Lots of mouth tips of different colors allow to use it for a group of smokers
Cons
The quality of parts is quite low
The color and sometimes the style can differ from the advertising
The coal included is low-quality and it's better to replace it
The item works fine, though it looks cheap. This model doesn't have a carb to regulate the airflow as more expensive models do. To improve the airflow you can punch more holes of bigger size in the foil. Remember, if the shisha is packed tightly, the air won't circulate freely as well. Use a semi-dense packing technique.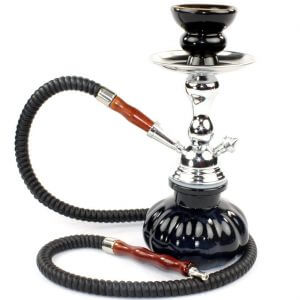 This small lovely hookah suits perfectly for frequent home use, and is great for smoking, cleaning, and storing. The GSTAR 11" Premium 1 Hose Hookah has Egyptian configuration with a bottom base, a shaft, a hookah hose, ceramic bowl, a tray for charcoals, and tongs.
Additionally, it may be used as a travel hookah, as it has a convenient size and is light –weighted. Unfortunately, it comes without a hardshell case, so you'll need to purchase one.
Pros
Very small size
Easy to assemble and use
You may take it with you when traveling
Worth the money paid
High-quality components and accessories
Nice-looking
A wide range of bright and attractive colors
Cons
The bowl has holes in its bottom, so the juice from shisha drops into the water
The hose feels cheap
The tray is too small
The hose is pretty short
The bowl isn't comfy with holes at the bottom. The water has to be changed after each session, otherwise, you may feel an unpleasant taste with time. Optionally, the bowl can be replaced with a different one, which is rather cheap.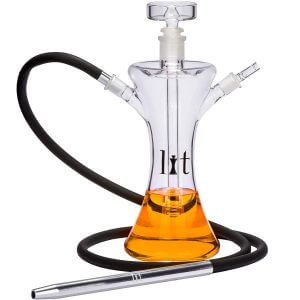 This handmade glass hookah has an original patented design and is made of superior quality and heat-resistant glass. One of the most efficient and best-selling models on the market looks simple and sophisticated at the same time.
If not from the first site, then from the first minute of smoking, you'll fall in love with its exceptional design and simplicity. Optimal assembling, usage, and cleaning will never disturb you and weaken the pleasure, received from your session. A special carrying case guarantees safe storage at home and while transportation.
Pros
Looks sophisticated but simple
Is made from high-quality materials without plastic, not harmful for health
Budget-friendly
Quite small for convenient home usage and storage
Easy cleaning – rinsing in hot water is enough
It comes with a carrying case, which means security while storing and traveling
If needed, the second hose can be attached instead of the air valve
Cons
Charcoal and shisha are not included, and need to be purchased before your first session
The glass seems a bit fragile
The glass bowl looks a bit small
There is no charcoal tray
The VOOV LIT Glass Hookah has a bowl adapter, so you may continue to enjoy smoking using your favorite bowls. The possibility to attach different hoses will be a plus for more demanding users. The model lacks a tray, but due to its unique construction, charcoals can be heated on the top of the hookah according to the manufacturer's recommendations.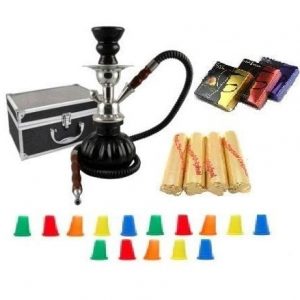 The BESTGIFT Hokah is a pretty little thing, just great for those, who are holding a party. Having everything you need at hand ( the hookah, accessories, shisha, charcoals) is very convenient. If you are only willing to try hookah smoking, this starter set will suit you best.
Simple construction and the attractive price will make your first experience exciting.
Pros
Eastern style hookah looks chic
The color can be chosen, or you may order a random one
The size is convenient for traveling and carrying around, for example, at the party
A great bargain for such a price
Cons
The instruction manual is not included
The whole piece isn't stable
It looks cheap and not very reliable
The BESTGIFT 2 Hose hookah is small and compact, but not very stable when filled with water. The seal is not reliable and the whole unit wobbles. Also, be careful, when assembling or disassembling the piece.
The Buyer's Guide
Materials
The quality of materials really matters as it concerns your health, not only your mood. The hookah itself and the accessories, made from high-quality materials, such as glass, metal, leather will be the best. Beware, cheap plastic can just melt, when heated, and evaporate harmful fumes.
Number of hoses
Of course, for home use 1 or 2 hose hookah will do its job. Even a group of friends may find it enough, as you never smoke simultaneously. But the obvious advantage of such models is the compact design. They are easy to deal with, clean and store.
Transportation
It is one more important feature for whose, who travel a lot and don't want to leave the favorite piece at home. A special hardshell case is extremely helpful for this purpose. If not included, invest in purchasing it to feel all the advantages.
Colors
Some manufacturers offer a range of colors and shades, but it's not the most important thing after all. It happens that the shipped unit differs from the ordered one. The sellers sometimes seem to send hookahs randomly.
Every model is unique with its advantages and drawbacks. Choose according to your preferences, tastes, and lifestyle.
Other helpful recommendations for hookah buyers:
If you ordered a starter kit for the most attractive price, after each session overview the hookah. If some plastic parts melted or are somehow spoilt or damaged, you need to change them;
Almost all models have the possibility of interchangeable components;
Hookah sellers offer some disposals together with the major unit, such as tobacco, charcoal, but they will do only for a start;
The cleaning of most smoking tools is simple. Warm water rinsing, optionally with liquid or dish soap, may be the general recommendation for home models;
To light the hookah, use coals and an electric heater or any fire. Cube charcoals are better than round ones and fire is more dangerous, of course. Having burnt the coals, put them on the head of the hookah when they all are ready. After 5 minutes, you can start smoking with deep breaths.
To provide the best airflow you should poke 2 holes in the middle of the aluminum foil, and a circle of 5 to 7 holes around the center, but not too big.
As for water, you should pour about an inch or 2, as too little water doesn't give the flavor and too much water flows into the hoses.
Video Tutorial: Hookah Setup
Conclusion
Selecting a small nice-looking piece for home use, some special attention should be paid to the quality of the components, as it affects your health. The availability of accessories included in a set facilitates the whole process of hookah smoking. You may think carefully before buying or just try and enjoy the awesome experience.
---