---
Guardian Technologies
Kills Germs
Traps allergents
Quiet Operation
Pure Enrichment
Destroys Germs&Bacteria
Whisper-quilet operationn
Automatic Timer
Coway AP-1512HH
4 Stage Filtration System
Pollution sensor
77 W power consumption
Guardian Technologies
28 inch
Traps allergents
For mold and germs
Germ Guardian AC5350B
Kills Germs
Traps allergents
Input Voltage: AC120V
Coway Airmega 300
Five Fan Modes
Pollution sensor
Power Consumption:57 W
GermGuardian AC4300
Filter change indicator
Kills Germs
Ultra-quiet Mode
PARTU
100% Ozone Free
7 Alternative Night Light
Noise level of 25dB
Germ AC5900WCA
Traps allergents
Kills Germs
Quiet Operation
Germ AC9200WCA
27-inch
Traps allergents
Kills Germs
---
---
There is clear evidence of the risks of second-hand tobacco smoke. However, it is not quite convenient to keep your home or office (or car) smoke-free, but there are numerous products on the market that are designed to fulfill this mission.
Although the appliances differ in their capacity, and certain room air purifiers for tobacco smoke can not totally remove it there are top-notch systems in the environment where smokers reside that will disinfect the air.
When do you need a high-quality air purifier:
If you or your family members are regular smokers;

If you want to get rid of any cigar odor or cooking smells;

If you live in an area exposed to wildfire smoke;

If your neighbors and guests occasionally smoke nearby;
Second-hand smoke consumption is never risk-free. Also, fleeting exposure to tobacco smoke may be hazardous to the wellbeing of an individual. For the last 50 years, about 2.5 million non-smokers have died from various health issues related to exposure to tobacco smoke, the CDC reports.
Today, it is not possible that fleeting exposure to tobacco smoke in a household would trigger a possibly lethal illness. What it can do, however, is cause an asthma attack or raise an allergic response.
The scent of smoke will impact younger kids as well. You could end up with an earful of the 'icky scent'. This is where you could be offered a helping hand by the right room air purifier for tobacco smoke.
Check the following guide that focuses on the pros and cons of top 5 air purifiers for cigarette smoke. To know more about the specs of each model, check the comparison table. The buying guide will give tips about choosing the best device for your house or office. 
Germ Guardian AC4825E Air Purifier– the best for the price!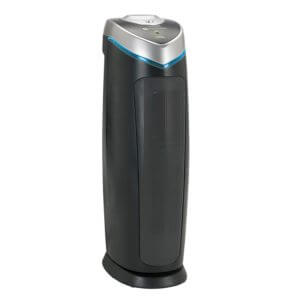 With clear operation and good air cleaning capacity, the GermGuardian AC4825E is a tower air purifier without frills. As opposed to more costly ones, it lacks a few fancier qualities, but it's a great deal. It's a fun and quiet-sounding purifier.
The HEPA filter absorbs many allergens such as household particles, pet dander, mold and mildew, plant pollens, and this product may be a safe option for allergy sufferers. It is lightweight and suitable for usage in rooms up to 167 sq. ft., standing 22′′ wide.
[i2pc pros_icon="icon icon-check-1″ cons_icon="icon icon-minus-thin" show_title="false" show_button="false" pros_title="Pros" cons_title="Cons"] [i2pros] Affordable;
True HEPA filter;
UV light for killing germs and airborne viruses;
Charcoal filter for reducing smells;
3-speed settings;
A filter change indicator;
The long cord;
The carry handle;
3-year warranty;
[/i2pros] [i2cons] Only Guardian replacement filters are recommended;
No auto-modes;
A bit loud at higher speed settings;
[/i2cons] [/i2pc]
With an air grille from the front and an input grill from the back, this 22-inch device is equipped. In order to improve the performance of the fan, this traditional airflow is the special function of the Germ Guardian air purifier. With a reasonably small footprint, it is convenient to carry the AC4825 purifier anywhere in your building.
---
Pure Enrichment PureZone 3-in-1 Air Purifier – the best for quiet operation!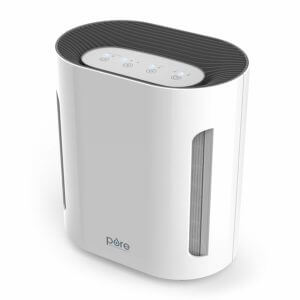 The Pure Enrichment PureZone is only available in white, has a simple plastic coat and is somewhat chunky. The PureZone HEPA filter is slimmer than the typical air filter on the market, but it's as thin as a portable air purifier can go without being bad.
The output is okay, and this air purifier can still cope with several forms of airborne allergens due to the added assistance of the UV-C light filter.
The Pure Enrichment PureZone is only 11 inches in width and 12 inches in height for that size. You can actually place it in your house anywhere just make sure that only the hard surface is picked so that the air purifier can function properly.
[i2pc pros_icon="icon icon-check-1″ cons_icon="icon icon-minus-thin" show_title="false" show_button="false" pros_title="Pros" cons_title="Cons"] [i2pros] Pricey;
Low noise – no more than 50 dB;
Lightweight;
5-year warranty;
3-level air purification;
UV-C light for killing germs and viruses;
Ozone free;
3 timer settings;
3 fan speeds;
Easy to use;
Good for trapping pet dander;
[/i2pros] [i2cons] Low CADR;
Only white color is available;
Plain design;
[/i2cons] [/i2pc]
99.97 percent of objects as tiny as 0.3 microns can be captured and destroyed by the PureZone filtration device. The PureZone is a strong option if silent service is at the top of your device wish list, and you have a budget of less than a few hundred.
The Pure Enrichment PureZone 3-in-1 device will swap air every 30 minutes in your space, like most other $100 air purifiers.
---
Coway Airmega AP-1512HHS Air Purifier– the best for room coverage!
The purifier operates with the smartphone application of Coway IoCare, which involves tracking of indoor and outdoor air quality, filter warning, scheduling, and regulation of speed and smart mode. The air-pollution sensor saves the level of indoor air in real-time.
Each minute of the day, brightly colored LEDs let you know how clean or polluted the indoor air is.
With a long-life HEPA filter, the lightweight architecture uses sophisticated multi-level filtration. The Coway is entirely fitted with a filter-change monitor, different airflow settings and controls, and a useful timer, while it is intended for medium-sized rooms.
[i2pc pros_icon="icon icon-check-1″ cons_icon="icon icon-minus-thin" show_title="false" show_button="false" pros_title="Pros" cons_title="Cons"] [i2pros] Large room coverage;
Many settings and auto modes;
A filter-change indicator;
Compatible with Coway IoCare mobile app and Alexa;
Dirty air indicator;
Quiet;
A timer for 1-12 hours;
Great CADR;
Energy-efficient;
Out-of-home control;
[/i2pros] [i2cons] Large;
Heavy;
Expensive;
Voice commands are limited;
Yearly filter replacement;
[/i2cons] [/i2pc]
Without making too much of a noise, the efficient, reasonably silent Coway Airmega AP-1512HHS will scrub most of the damaging airborne particles from the surrounding space.
---
Germ Guardian AC5250PT Air Filter – the best for filtration systems!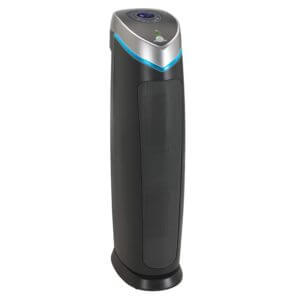 This AC5250PT unit is one of the biggest purifiers in the line of the Germ Guardian AC lineup, which are some of the nation's finest air purifiers. This gadget looks like a big speaker in your lab, bedroom, or living room that can match everywhere.
A control panel at the top of the unit is strategically placed and very simple to use. You can quickly adjust the fan pace, switch the UV-C device on and off and observe UV light and filter repair alerts by using this settings menu.
The True HEPA air filters collect tiny pollutants, while still utilizing efficient UV light technology from Guardian Technologies to destroy airborne bacteria. Also it includes a pet pure filter, UV-C sanitizer, pre-filter and activated charcoal filter.
[i2pc pros_icon="icon icon-check-1″ cons_icon="icon icon-minus-thin" show_title="false" show_button="false" pros_title="Pros" cons_title="Cons"] [i2pros] 5 different speed settings;
5-in-1 filtration system;
5-year warranty;
Reduced odor;
A timer;
US-based tech support;
[/i2pros] [i2cons] A bit loud;
No smart features;
Replacement filters are expensive;
[/i2cons] [/i2pc]
While this AC5250PT air purifier is not going to go for a big space, for small to medium-sized rooms it may be an excellent option. You may also adjust it to night mode, where it switches off the monitor and goes to the lowest fan level.
A filter replacement indicator light is given here, so you can immediately recognize when it's time to swap the filter with a filter replacement indicator bulb.
---
Germ Guardian AC5350B Air Purifier– the best for killing germs!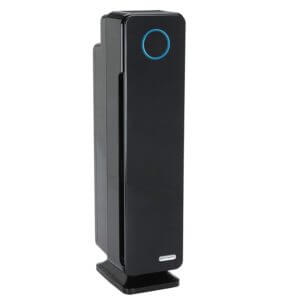 It is lightweight and suitable for usage in rooms up to 167 sq., standing 28 inches long. Oh. Foot. UV-C power, a filter shift indicator and an up to 8-hour timer are included in the simple to use automated display screen.
The UV-C sanitizer helps destroy airborne viruses including influenza, staph, rhinovirus, and acts to decrease volatile organic compounds with Titanium Dioxide. Also, it has a pre-filter and activated charcoal filter in addition to the True HEPA filter for great air purification.
The AC5350B of the Germ Guardian has a rather easy and clean UI. Although in the dark, the backlit buttons are simple to interpret, and an LCD monitor shows clearly which settings are chosen.
The purifier AC5350B has an ACH rating of 4x, ensuring that every 15 minutes it will purify your room. This compact model is useful for sweeping small to medium-sized rooms up to 167 square feet in sizes, such as a small household office, bedroom or living space.
[i2pc pros_icon="icon icon-check-1″ cons_icon="icon icon-minus-thin" show_title="false" show_button="false" pros_title="Pros" cons_title="Cons"] [i2pros] A powerful UV-C sanitizer;
Reduced odors;
Quiet sleep mode;
5 speeds;
Easy to use;
Backlit buttons;
An in-built timer;
[/i2pros] [i2cons] Expensive genuine filters;
Regular filter replacements every 6 months;
CADR is quite low;
LED lights can't be turned off;
[/i2cons] [/i2pc]
The AC5350B device manages to blend silent service with reliable efficiency for air cleaning. The air purifier is accessible at a price that is obviously not inexpensive, but still not too pricey. It is great for those trying to get the best benefit out of their air purifier expenditure per dollar.
---
The Buyer's Guide
Use 
Operating the air purifying device in space may not be all that you need to remember before doing so. Look for a unit with a simple interface with user-friendly controls and uncomplicated modes of service if you don't want to deal with complicated setups (such as mobile control or deal with adjusting timers).
Room size 
When it comes to picking an air purifier, this is one of the most common mistakes. It is necessary to try to find an air purifier that is strong enough to bring all the air through the filter about five times an hour in your room size to make it fully efficient. This is known as the ACPH (the short for Air Changes Per Hour) number. But it's easy to be fooled in this regard.
Take with a pinch of salt the advertised space size, often ask how many real air changes the machine can provide in your place, irrespective of what is stated on the package.
Noise level
All filter-based air purifiers create a certain level of noise. The noise level is something to take into account, based on the space you put the air purifier in. Noise frequency is calculated in decibels and comparative comparisons can be found here. For starters, if the bedroom is your primary place of usage, you could be searching for a quieter gadget.
Portability
However, if you intend on utilizing the air purifier in several spaces, portability is a significant consideration to note. In this situation, should the need occur, you would need to choose a device that is not too bulky that will be quick to relocate. The bigger air purifiers are typically better left in place, as changing them on a regular basis is not feasible.
Clean Air Delivery Rate (CADR)
Indoor air quality levels may be up to 5x higher than the same parameters outdoors, the US Environmental Protection Agency estimates. Such levels of emissions can be much greater if you're a smoker. You will quickly create your perfect decision by studying the essential details of air purifiers for tobacco smoke.
Looking for items that have a strong CADR is the safest option when looking for an air purifier that handles tobacco smoke. Filters and circulates over 4x per hour of room air.
This measurement was established and is measured in cubic feet by the Association of Home Appliances Manufacturers. 
Premium air purifiers for cigarette smoke are able to pump away further air pollutants per minute with a strong CADR. The larger the CADR, the sooner the air is filtered by the machine. Opt for the device with a CADR number (for smoke) that equals 100 at least.
Filtration system: 
1) HEPA
The most powerful form of air purifier to use to eliminate cigarette smoke is called a 'Hepa' air purifier (HEPA is short for High Efficient Particulate Arrestor). The strange area though is that there are various grades of HEPA filter, and not all of them have the potential to pick away the tiniest, most dangerous particles above. Some of these are reasonably affordable, and others will cost hundreds of pounds. 
The fine-print specifications, however, usually reveals that such a filter within the air purifier is only successful at eliminating particles down to 0.3 microns and is thus unable to eliminate large quantities of airborne contaminants (less than 0.3 microns) that are the most dangerous ones. The most powerful air purifiers include HEPA filters capable of eliminating pollutants down to 0.1 microns.
2) Carbon filters
It is clearly a big part of the solution to eliminate the noticeable contaminants from the cigarette smoke, and the HEPA filter and fan strength are important for that. Tobacco smoke, though often carries with the related odors and toxic chemicals, most of which are so minimal that they move through the filter directly. It is important to absorb these odors and hazardous chemicals as they pass through the filter and go to the room. 
A carbon filter mounted directly behind the HEPA filter is the only item that can successfully achieve that. The volume of emission consumed is directly linked to the form and scale of the carbon filter.
The pace at which the air flows through it is important for a carbon filter to adsorb fumes properly. The slower the carbon passes through the dirty climate, the healthier. This is considered the "dwell time"; the more odor, fumes and pollutants are drawn into the carbon, the longer the air dwells on its way in. Therefore the thicker the fuel, the thinner the carbon, the smaller the dwelling period (bad), the longer the dwelling time (good).
In terms of budget, another factor to remember is the expense of new filters. Typically, the more costly devices have higher-priced replacement filters, but they often appear to be more robust, because they last longer in general.
At first let me clarify – any air purifier from tobacco smoke can't completely remove and retain harmful substances from the surrounding atmosphere by 100%, but it's obliged to reduce them to a safe content at maximum.
If we take as a basis the standard design of such a device, then it will be based on a filter compartment and a fan. The fan draws in air masses, which then enter the filter's compartment. They pass through membranes and air flows back into the room without the presence of harmful particles.
How to pick the basic air purifiers to eliminate cigarette smoke in apartments?
Some devices are also combined with air washing, that is, they successfully fight the drying out of the home atmosphere. Most often, a similar device for an apartment is small. In addition to its advantages, it will consume a minimum amount of electricity. It remains only to understand the types of filters used in them. The efficiency of such devices depends entirely on its filtration component:
In budget models, a simple mesh membrane can capture even large objects in which dust and wool can be present. It's clear that complete cleaning of the harmful compounds of tobacco smoke is out of the question;
Electrostatic options in certain air purifiers for cigarette smoke attract negatively charged elements. They are able to work already with even the smallest particles, but subject to a positive charge of the devices;
Household air purifiers from tobacco smoke, there are carbon membranes that trap odors and harmful gases. It is the best place to clean the contaminated gas fraction: granular coal has shown high efficiency for the adsorption of such pollutants;
The HEPA filter is an aerosol absorbing unit. For a home appliance, it's enough to own H11 class, which less than 5% of the particles will pass;
What air purifier should you choose? Ideally, a good device should contain several different filters. This circumstance will significantly increase its efficiency. However, in addition to filters, when buying a device, you should pay attention to other important criteria – price and compatibility.
My top 3 best air purifiers for cigarette smoke:
Guardian Technologies is awesome for killing germs;
Pure Enrichment that even has an automatic timer;
Coway AP-1512HH can boast 4-stage filtration system;
Also, you may safely buy Germ and PARTU air purifiers – all products by these manufacturers are awesome.
Just keep in mind that air purifier is a cleaner. In advanced versions, there are ionizers that additionally saturate the air with useful ions, disinfecting it. For apartments and offices, air-conditioning options are also a must-have thing. In this case, they will take and filter the air flows from the street.
FAQ
Is there an air purifier that removes smoke?
The answer is unfortunately no. Air purifiers can only partially remove tobacco particles from the air, providing much-needed relief for asthma and allergy sufferers. No air purifier is created to remove gaseous pollutants produced by tobacco smoke from the air.
Air purifiers can't completely remove tobacco smoke from the air, but they can help make a big difference. If you're looking for an air purifier to help with tobacco smoke, look for one that uses activated carbon filters. It's best to avoid ozone generators as they can actually make the respiratory problems you have worse by irritating lungs. [1], [2], [3]
Does the Dyson air purifier remove cigarette smoke?
The Dyson Pure air purifier is one of the most popular and effective models on the market for removing cigarette smoke. It features a high-efficiency particulate air filter called "HEPA" that captures 99.97% of smoke particles that are 0.03 microns in size from the air. But as we mentioned above, it won't deal with the smoke completely, as it's impossible to do that for any air purifier available on the market today. [4], [5]
What can absorb smoke?
Cigarette smoke is made up of tiny particles that float in the air. Removing these particles is hard and can't be done by cleaning. So you will need to get an air purifier with a filter that can capture them. But there are some other methods to do it if you don't have one. Filling up a bowl with white vinegar and setting it out will aid in absorbing the smoke particles from the air. You can also try sprinkling baking soda around the room, as it is a natural absorbent and will aid you to remove the smoke at least partially. [6], [7]
How do you remove cigarette smoke from air?
The best way to get rid of cigarette smoke is with an air purifier. Air purity systems work by trapping particles in the room, including those pesky cigarette smoke, and then releasing clean air back into the room.
When choosing an air purifier, consider picking one with a HEPA filter. As we mentioned above, HEPA filters are great at capturing small particles from the air, making them ideal for removing smoke. You may also get some plants for your home as they can not only help to remove smoke from the air but also keep your house fresh. [8], [9], [10]
Is it OK to smoke in an AC room?
The answer is definitely no. Not only is it inconsiderate to those around you, but it's also terrible for your health. Second-hand smoke is incredibly harmful for others. Smoking in an AC room will cause the smoke to circulate around the room and potentially trigger allergies or asthma attacks in sensitive individuals. What's more, the smoke may actually stick to the AC filter, reducing its lifespan. [9], [10], [11]
Can cigarette smoke go through walls?
Cigarette smoke is made up of tiny particles that can easily travel through walls, doors, and ventilation systems. In fact, studies have shown that tobacco smoke can travel through building materials like drywall and insulation.
So if you share a wall with a smoker, there's a good chance that their smoke is seeping into your room. And if you live in an apartment or condo, the cigarette smoke from your neighbor's unit might be circulating throughout the entire building. [12], [13], [14]
Can you smoke in your apartment?
The answer to this question depends on your lease agreement and the policies of your apartment complex. You may be able to smoke in your unit, but you might be restricted to smoking on your balcony or in designated smoking areas. If you live in a nonsmoking complex, then you likely will not be able to smoke anywhere on the property, including in your own unit. It's totally legal for a landlord to prohibit tenants from smoking in an apartment because of how harmful second-hand smoke is, so be sure to check your lease agreement before lighting up. [14]
Do HEPA filters remove smoke?
Yes, but not completely. Many air purifiers on the market today come equipped with high-efficiency particulate air (HEPA) filters. These filters are specifically designed to remove small particles from the air, including smoke particles.
In addition to HEPA filters, some air purifiers also have activated carbon filters. Activated carbon filters are effective at removing odors and particulates , both of which are common in cigarette smoke. However it doesn't do much to remove the toxic vapors of it.
So, even if the HEPA filter is the best air purifier filter on the market, you will still have to deal with the harmful effects of second-hand smoke. [1], [2], [3], [15]
How do you make a homemade smoke filter?
Smoke filters can be expensive, so if you're looking for a budget-friendly option, you can make your own. To do this, you'll need a box, an air filter, and some duct tape.
First, cut a hole in the box that's big enough to fit the air filter. Then, insert the air filter into the hole and secure it in place with duct tape. Keep in mind the supposed direction of the airflow when you're positioning the filter. Finally, cut a small hole in the side of the box and place it in your room wherever.
Homemade smoke filters are not as effective as commercial ones, but they can help to reduce the amount of smoke in your home. If you're concerned about the health effects of second-hand smoke, we recommend investing in a quality air purifier. [16], [17]
Video Tutorial: Germ Guardian Hepa Filter Review
Final thoughts
Air purifiers such as this will provide a lot of protection with asthma, coughing and other breathing conditions in order to wrap it up. You don't really get to monitor who comes in and out of your house (or business), so if cigar smoke is apparent in your indoor environment, it's better to refresh stuff.
Did you like my review? I'd like to hear your opinion – please share your experience with different air purifiers for eliminating cigarette smoke.
References:
https://www.breathingspace.co.uk/how-to-choose-the-best-air-purifiers-for-removing-tobacco-smoke-i97
https://www.mayoclinic.org/healthy-lifestyle/adult-health/expert-answers/air-purifier-smoke/faq-20058555
https://www.nytimes.com/wirecutter/blog/will-an-air-purifier-get-rid-of-cigarette-smoke/
https://www.theguardian.com/technology/2016/mar/31/dyson-pure-cool-link-air-purifier-wi-fi-internet-of-things
https://hvacseer.com/does-dyson-air-purifier-remove-odors/
https://molekule.science/what-absorbs-cigarette-smoke-ways-to-get-rid-of-it-indoors/
https://www.nachi.org/tobacco-odor-removal.html
https://www.airproductsinc.com/blog/2020/08/3-ways-to-remove-cigarette-smoke-from-indoor-air/
http://www.myhealth.gov.my/en/smoking-air-conditioning/
https://colmanair.com/does-cigarette-smoke-stick-to-an-ac-filter/
https://homeupward.com/do-air-conditioners-filter-smoke/#Do-air-conditioners-filter-out-smoke
https://www.cdc.gov/tobacco/basic_information/secondhand_smoke/going-smokefree-matters/home/index.html
https://tobaccofreeca.com/secondhand-smoke/secondhand-smoke-is-toxic-through-walls/
https://www.lung.org/policy-advocacy/tobacco/smokefree-environments/multi-unit-housing/secondhand-smoke-apartments
https://oransi.com/blogs/blog/air-purifier-eliminate-smell-of-smoke
https://www.creativegreenliving.com/2020/09/how-to-make-diy-air-purifier-to-filter-smoke-allergens.html
---