---
HumidiCup
800 cigar
Precise Humidity Measurement
Audio and Display alarms
Cigar Oasis Ultra 2.0
For 50-100 cigar
Takes up minimal space
WI-FI Capable
Cigar Oasis Excel 3.0
75-300 cigar count
LCD displays
USB AC power adapter
HumidiCup S1
For 40-150 cigar
Material: Paper
Corded Electric
Cigar Oasis Plus
For up to 1000 cigar
Pretreated water cartridge
WiFi capability
---
---
If you are a fan of cigars, the best tool for you is an electronic humidor. It helps maintain the cigar fresh and controls moisture and temperature for a long period. By controlling the temperature level, you will be able to retain the taste of your tobacco. For cigar shop owners, electric humidors are sold in various sizes. One of the most useful devices a cigar smoker should have.The easiest approach to maximize the pleasure of having a cigar is to hold it at the correct moisture level. The cigar leaves would rapidly lose moisture in the absence of humidity. You will no longer have your distinct scent as that occurs.
Under any scenario, within only three days, the cigar would lose its distinct scent. Many cigar lovers still want to have a 10 to 15-day stock.
An electric humidor for cigars may preserve the ideal humidity. It means that you get the ideal smoking experience once you take out a cigar from the humidor. However, an electric humidor's performance may differ from one choice to another.
For any cause, it is important to search for a cigar humidor that will hold the stogies moist and fresh for the period they are in storage. Study on the finest electronic cigar humidors on the U.S. market carried out by professionals and this is how this guide emerged.
There are numerous kinds of electric humidors available to choose from and our team has done an amazing job of choosing the right models from the online sector. Check the comparison table and buying guide as well. Let's take a peek at the best 5 electronic cigar humidifiers.
HumidiCup M1 Humidifier – the best for cigar capacity!
The HumidiCup M1 unit is a very sophisticated system that effectively controls moisture in your humidor automatically. It is a great choice for humidors up to 8 cubic feet in height, which ensures that around 800 cigars can be held fresh effectively. This system is simple to use and manage and offers reliable, long-term monitoring of humidity.
The device has a bigger cartridge and is more suited for the cabinet humidor than the same brand's S1 device. If space within suffices, you should use M1 for a table humidor.
The cartridge of water often encourages quick pouring and pours out excess water. In addition, the humidifier comes with a more precise optical sensor built in. An automated humidifier provides fog-free humidification. The fan that is powered by the microprocessor operates smoothly and quietly. You will make this humidor operate using a 5-volt external battery.
Reliable, strong, and reasonably priced, the HumidiCup M1 humidifier is. Its anti-bacterial filters and efficient fans are the best features you may get in such devices.
---
Cigar Oasis Ultra 3.0 Humidifier– the best for desktop humidors!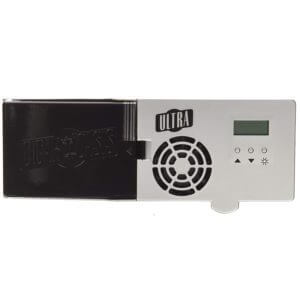 A stylish and attractive specification is available for the Cigar Oasis Ultra 3.0 electronic humidifier. A thin electronic ribbon/micro-USB connector works just fine. It has a back-lit LCD that is 5x wider, considering the scale.
A pre-treated and pre-filled water cartridge comes with it. The humidity sensor is continually active and if required, just blows out pure humidity and then switches off until the set point is reached.
This electric humidor with a stylish and classy style holds much of the export-quality cigars in a well-maintained state. The humidifier often provides adequate air ventilation with the assistance of a sensor-controlled fan. So for years, the cigars will remain in proper shape.
It is planned to be installed with a minimum room on the lid of every desktop humidor. It requires a solid mounting magnet to make it easier to install. The unit is factory-fixed at 70% RH (relative humidity) but can be adjusted to certain specifications.
One of the most common humidifiers on the U.S. market for casual cigar smokers is the Cigar Oasis Ultra 3.0 device. It's not hard to decide the reasons for this popularity: the Ultra 3.0 is compact, heavy, and convenient.
---
Cigar Oasis Excel 3.0 Humidifier – the best for smart features!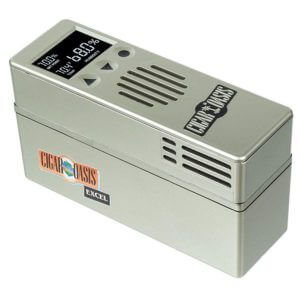 Up to 300-count humidors (or 4 cubic feet) are managed by the Cigar Oasis humidifier. It is bigger than certain other mechanisms of humidification, however, has the advantage of being both adjustable and refillable. And a low moisture warning is also included.
The wide LCD in the humidor depicts both humidity and temperature and indicates the present set point as well. It controls the humidity correctly and utilizes a silent fan to distribute the air/humidity in the humidor, both ensuring that any section of the humidor receives a fair distribution of humidity and also helping to remove any possible "musty" odors in the humidor or dead air.
When you spend a great deal of time away from your humidor, the software is handy and it has a really useful app.
Anyone searching for premium care of the 300-cigar collection may be urged to invest in this electronic cigar humidifier.
---
HumidiCup S1 Humidifier – the best for the display!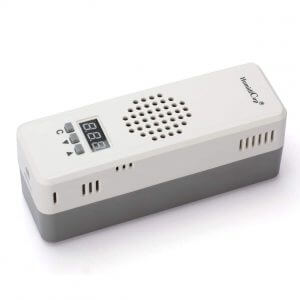 The HumidiCup S1 unit is an electronic cigar humidifier that holds cigars in a humidor automatically at the optimal humidity. S1 is identical to M1 except with a slim profile cartridge with 150 cigar space for laptop humidors up to 3 cubic feet in height.
A built-in high precision optical sensor determines the moisture within the humidor.
What distinguishes the HumidiCup lineup is the distinctive inclusion of an antibacterial filter. It can absorb bacteria, just like those in a tank, and ensure that your humidor keeps in a safe setting. If the cigars are treated frequently and if you're worried about mold, this may be handy.
This reasonably precise system only requires to be recharged every month with purified (distilled or bottled) water. If you discover that the S1 is too thin, you can still prefer the M1, which can hold 800 cigars.
---
Cigar Oasis Plus 3.0 Humidifier – the best for the power source!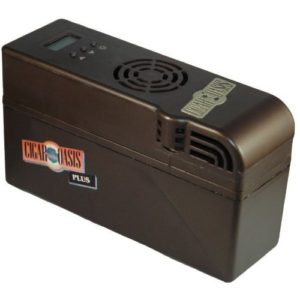 This humidifier is promoted to hold up to 300 standard or 1000 small cigars/roll-ups. Chests, desktops, dining tables and small cabinets are preferred when it comes to the installation of this device.
These electric humidors are 10 cubic feet and cigar collections counting to 1000 items will sustain the freshness for a few weeks. It also provides many usability and efficiency-boosting advantages, including support for Wi-Fi, the display of average humidity and temperature levels, and more.
It has a display of the RH level of the humidor, when you may set the humidity level they would like to keep, and view the temperature of their humidor with an easy-to-use LED panel. The humidifier is simply worked by inserting some purified water, linking to a power source, and setting the ideal RH amount once again.
---
Buyer's Guide
Size
In many sizes, electric humidors are accessible, and several of them have the capacity to hold several figures at a time. However, it is a customer who chooses to have the right dimension, and you can see if it is usable with a space-saving interface.
Quality build
It is made up of multiple material forms, and you will see if it provides superior efficiency. Consider the one available with a lightweight style that makes simple portability for you. Apart from that, you will see how several accessories such as thermometer and hygrometer are used. Some can also come with different attachments such that optimum advantages can be accessed.
Maintenance
Quick maintenance may come with your electric humidor, and others can let you set up the spot cleaning as well. This is a critical factor as the cigar collection could be impaired.
Humidity
One of the most significant factors for using electronic humidor is moisture. You may need to inspect the compressor assembly for this and some of it might have come with a cooling system. If a device is unable to supply a humidor that is built to help with enough moisture, it is a smart option to notify the seller or buy a new humidifier entirely. With every relatively typical humidor, there is no requirement for two humidifiers; the requirement for a second humidifier is most likely reflective of an unsuitable humidor scale or an original humidifier that is malfunctioning.
Thermoelectric insulation
The average efficiency of the device is calculated by insulation. If enough insulation does not come with it, there would be no cold air. A strong seal needs to be there, and you will see if it is a pleasing style.
Airflow
You would have to see whether it has enough air ventilation to guarantee that there will be a productive production. If there is no cold air, your cigar may lose aroma and become dry. You will see that it contains a strong fan for constant ventilation.
Compatibility with distilled water
The only sort of water (and liquid) that can be applied in your humidifier, as well as the real humidor, is purified water. Distilled water is clear of impurities present in other forms of water; impurities that can harm the flavor profiles and burns of cigars, while completely secure for humans to drink.
Battery or corded?
To see the power supply methods are assisted, ensure to read through the product descriptions of the humidifiers you are considering purchasing. Some humidifiers are only fitted with a power cable, but can also be operated by a separately bought rechargeable battery.
Electronic humidifiers are active humidifiers, in that they only release humidity when it's needed. They come in a variety of shapes and sizes as well as brands. For example, Hydra and Cigar Oasis comes with a refill cartridge that holds regular distilled water. They also have a built-in digital hygrometer. Once the humidity level in your humidor drops below their set point, they turn on their electric fan that will circulate humid air.
They need to be refilled with distilled water about every month. The refill cartridges need to be replaced about every year. They're very user-friendly. The Hydra has an optional warning buzzer, that will sound when you need to refill. However, they do use ribbon cables to plug in, so a lot of people will complain that they clutter up their humidor with those ribbon cables. However, they're very self-sufficient and easy to use.
Where is a good place to put electronic cigar humidifiers
For those who have a tower-style or the Lucky 7 style humidor, is it better to put humidifier jars in the bottom or the top? Many people say humidity rises. Others think of a musty basement where humidity cools and settles to the bottom. So which is better? The top and let the moisture float down or the bottom where the moisture will rise? Okay, well this is a great question because you may have noticed that when you buy a desktop humidor, sometimes there's a space blocked out under the lid for the humidifier. Now a lot of cigar smokers have this type of box and placing the humidifier square under the lid.
Many of the larger models, 100 counts higher, come with a top tray. The thing is, it puts the cigars in the top tray very close to the humidifier and that those cigars tended to be spongier, while the cigars below were a little dryer. So you can just remove the top tray. But you can use a smaller humidifier on the top for cigars, while you have a larger one below for the bulk of your stash.
There's also one other solution. You can attach the humidifier to the bottom of the tray. In this way, both levels benefit, and you save yourself from buying a second device. Another option is to add a fan like the XIKAR HumiFan, which does a great job circulating the air. Or a Cigar Oasis Ultra 2.0 humidifier, which has a built-in fan for an all-in-one solution. The idea here really is to keep the humidifier away from your cigars, so you get the evenest distribution of moisture throughout the box. With desk type top humidors, in most cases, you have too many choices.
If you have a 100 cigar capacity or more, tower type humidor, like a Lucky 7 that has drawers in it, you need another solution. That since warm air rises, it might make sense to place a 100 count humidifier on the bottom drawer. Let nature take its course. But in taller humidors, you need more air circulation. There's no guarantee the moisture will effectively humidify the cigars at the top, especially once they begin filling up, you see because you need that air to flow through the cigars, you're going to clog it up, see.
So there are a couple of ways you can go. You could place a 50 count crystal-based humidifier at the very top drawer and then another 50 counts on the bottom. This is also a smart way to go because when you have moisture coming from both directions, it creates a more balanced atmosphere. If you want to add a fan like the HumiFan, place it on the bottom facing up, and it will force the cooler air at the bottom upwards, where it'll mingle with the warmer air above.
Now finally, let's talk about some of the choices you have for humidification. Crystal based humidifiers are excellent because they last a really long time. Or the Boveda packs because they're more flexible, especially in the smaller desktop situations. Plus Boveda packs won't affect your cigars if they touch them. The gel humie type jar, these are good for placing on the bottom, but they work better with a fan.
Electronic Cigar Humidifier FAQ
What is the best humidity for cigars?
Tobacco grows in a tropical climate in humidity between 65 and 72%. Cigars are made from rolled tobacco leaves, and these leaves should remain greasy and moist. A cigar that is not kept at the optimum temperature and the right level of humidity can dry out, crack, and even mold. If humidity is below 55%, cigars dry up, and when it rises to 80%, cigars start molding. To control the humidity level, you can use a hygrometer and, if necessary, adjust the microclimate with the help of household devices.
Storing cigars in the correct environment is crucial for retaining the product quality.
Of course, cigar humidity is also a matter of your personal preference. Some people do enjoy a bit drier cigars. In this case, it is recommended to pull out a cigar from the humidor for at least several hours before it is going to be smoked. It will allow a cigar to drop some humidity.
What is the best way to humidify a humidor
There are several ways to adjust and maintain the desired level of humidity in your humidor:
A foam sponge. It is a similar principle to that used in floristics. However, it is difficult to control the amount of moisture released and achieve a stable moisture level.
Acrylic polymer. This method is used in many humidors. Small crystals or porous acrylic fleece are placed inside the device, and some water is added. This approach is more reliable than a sponge.
Electronic systems. This is the most innovative and efficient way to keep the necessary moisture level inside a humidor. The sensors of the electronic device continuously monitor the humidity in the humidor. The system automatically stops moisture supply when the desired moisture level is achieved and sends more moisture when it becomes too dry inside the humidor. And the indicator informs you when you need to charge the humidifier.
 Can dry cigars be revived?
Not all dry cigars can be reanimated. You may try to restore a cigar if the integrity of the wrapper leaves is preserved. If a cigar is swollen or covered with cracks, you should better not waste time as all manipulations will be useless. Cigars with serious damages should be disposed of as their flavor and aroma properties have been irretrievably lost.
Some smokers believe that restoration of dry cigars is useless, as they lose their taste bouquet anyway. But not all cigars are the same, and you may try to revive a cigar in the humidor.
How often should you season your humidor?
You may need to season your humidor from time to time to maintain the required humidity level. Classic humidors are made from cedar wood that has a humidifying property itself. But still, if you do not preprocess a humidor with distilled water, it may fail to perform its main function and steal some moisture from the cigars instead of keeping them fresh. Besides, the seasoning will ensure a better seal of the lid. It is important to follow the manufacturer's instructions. In the case you bought a humidor without any manual, you can still purchase a special seasoning kit to make the whole process easier.
If you live in a dry climate, you may probably need to season your humidor twice a year. Otherwise, it should be enough to season it every twelve months.
Should I take cigars out of plastic in the humidor?
Cigars are usually wrapped in plastic to protect them from moisture loss during transportation.
This wrap creates an ideal microclimate for a cigar and prevents it from premature aging. It is actually not even plastic but special cellulose material – cellophane. If you want to store cigars in a humidor, it is recommended to open this packaging at the ends. It will allow enough air circulation and provide an optimal humidity level. However, it is entirely up to you whether to remove plastic completely. If your humidor does not have dividers, odors of unwrapped cigars can mix, so it is better to keep them in the cello. On the one hand, the removal of the packaging has a positive effect on the aging process of the cigars and also provides a better aesthetic look. 
Can dried out cigars be rehydrated?
To reanimate a dry cigar, you will need a special humidor with a hygrometer. However, this process requires time and patience and can take you from one to three months. Ideally, the duration of the restoring process should be equal to the time when storage conditions were violated.
First of all, separate dry cigars from those that are in normal condition. After placing dry cigars in the box, it is recommended to set a lower humidity level than the indicator recommended for normal storage. After seven days, slightly increase the humidity and keep doing so every three to four days. Do not forget to turn over and swap cigars during the humidification process. It is vital not to set a 72% humidity level at the start as it will result in further damages to the wrapping leaves.
Is it OK to smoke a dry cigar
Cigar smoking is a special ritual and not a process of saturation with nicotine. Therefore, cigar taste and aroma are mega important.
Smoking a dry cigar will bring much less pleasure from the process. The taste of the smoke becomes bitter and sharp, and the aroma does not have time to manifest itself due to the increased smoldering temperature.
How do you know if a cigar is too dry
The drying time of a cigar depends entirely on its environment. If you simply leave it outdoors or even inside, it will dry out in only a few days. If you allow the cigar to dry up, the tobacco essential oils will evaporate, and the flavors will be irrevocably lost too. You will immediately identify improper storage of a cigar by smoking it. However, it is also possible to determine it visually. Experienced smokers will recognize a dry cigar only by touching the surface of the wrapper and pressing it slightly. A normal cigar will be firm but with a certain degree of flexibility. But if you notice just a hint of crunch or crackle, it is a sign that the cigar is dry.
Video Tutorial: Cigar Oasis Humidifier
Final thoughts
Due to inadequate handling, are your cigars being soaked, harmed or crushed? Electronic cigar humidors with humidifiers are among the best-known methods of keeping cigars fresh for a long period. The best electronic cigar humidors supply cigars with the necessary level of moisture and atmosphere, whether portable or not, thereby serving as the best cigar storage. Hopefully, this guide would be quite helpful to pick among some of the best electronic cigar humidifiers. 
---