---
Mr. Brog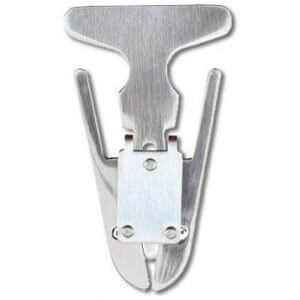 Stainless Steel
Clean Out Excess Cake
Pivotal Adjustable Baldes
Mr. Brog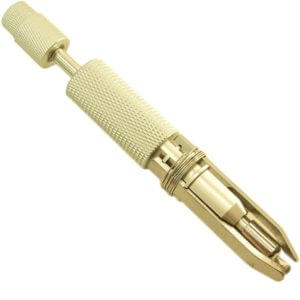 Good Gift
Built In Shank Tool
Adjustable
RoyalMeerschaum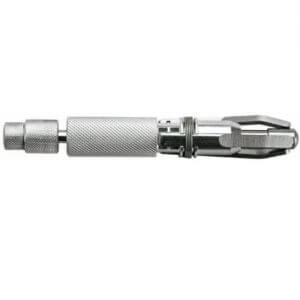 Size: L 5.6 x W 0.6 inches
High quality
Adjustable
Scotte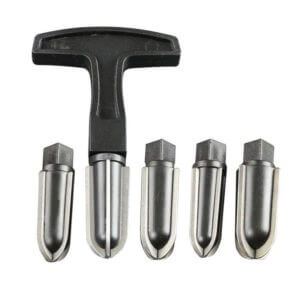 Stainless Steel
16, 18, 20,22 mm reamers
"T" handle design
Joyoldelf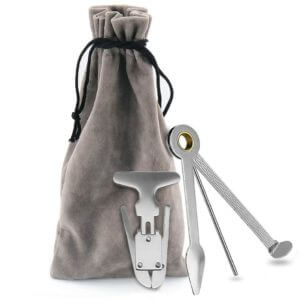 Stainless Steel
High quality
Convenient and portable
---
---
A cake is a playful word used for the deposit of burnt tobacco, carbons and other elements that gathers around the pipe bowl. Consisting mostly of sugars, it offers a pleasant taste and protects the pipe from high heat.
Typically, the cake built during the smoking process is not very useful in large volumes, moreover, an excessively thick layer can lead to the fact that the pipe will crack. And in some pipes, the presence of the cake is unacceptable.
Throughout the entire smoking period, the edges of the tamper should carefully scrape off the carbon deposits that have begun to form from the inner walls of the bowl. Trimming the carbon debris is a very important part of keeping your pipe functional. The thickness of the cake should not exceed 1-1.5 mm.
When this occurs, the coating has to be minimized or eliminated, which can be quickly done with a reamer tool.
A reamer is a flat tool, formed like a blunt pen-knife blade or a flat spoon, used to remove ash and unburned tobacco (dottle/cake) from the sides and bottom of the pipe.
If you are prone to pipe smoking, then at some point you'll need a top-notch pipe reamer. The guide focuses on some of the industry's best pipe reamers. Check the specs in the comparison table and buying tips in the section below the expert reviews of each model.
Mr. Brog Tobacco Pipe Reamer Tool– the best for beginners!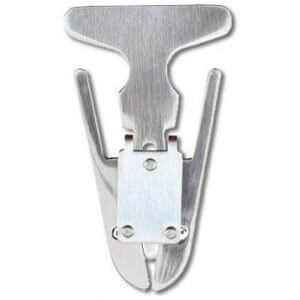 You may easily clean the excess cake in your pipe with this stainless steel reamer by Mr. Brog. The Brigham Type Pipe Reamer is a basic method for handling the cake build-up of your pipe.
Because of the pivot of the blades, it cleans the excess cake in a manner that makes the residual chamber conical, as certain smokers like to produce an extreme taste at the end of the smoke.
Being less than $10, it's not a steep investment, and it might come in handy if you decide to do some quick and soft reaming. This tool slices the cake with a nice cut across the bowl. You're going to be forced to make the carbon pile up as dense as a dime.
---
Scotte Stainless Steel Reamer Tool– the best for the blades!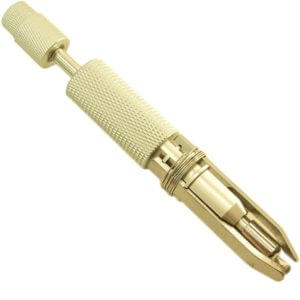 This Scotte reamer tool has 6 adjustable blades made of premium stainless steel for fine-tuned pipe carbon scraping. The handle area is a good scale, making it easier to grasp when operating on the bowl.
The tip may be modified. For very precise/incremental reams, screw-down modifications may be made.
After applying it to the old bowl, you should verify that it turned out to be almost brand fresh without the "fresh pipe" flavor. It can also fit into the shortest 0.75-inch bowl pipes.
---
Royal Meerschaum Pipes Reamer– for serious pipe reaming!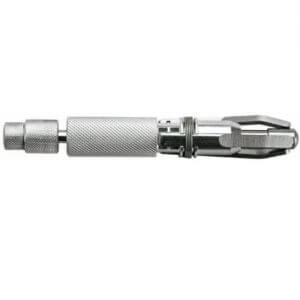 If you are searching for a senior pipe reamer, check this Royal Meerschaum tool. It is adjustable to any size of the pipe's bowl and can be recommended for serious smokers. It also comes with a drill to relieve complicated blockages.
The drill clips easily into the back of the instrument so that it's still convenient. The reamer is constructed of top-notch aluminum and stainless steel for a lifetime.
This product is a precision reamer. In one direction these blades are very sharp. But from the other end, they are dull for additional safety issues. It's a smart idea to split a dense cake. The device includes a simple stem reamer within the top, only screws it out for use, and then returns it to the tool for later use.
---
Mudder 3-in-1 Cleaner Tamper Tool– the best for design!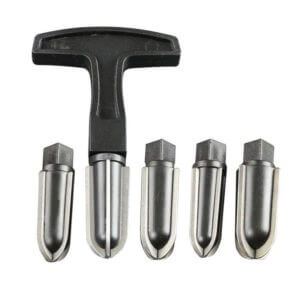 This tool is more than just a good reamer. It also includes cleaner and tamper attachments. All the parts are made of sturdy stainless steel. Besides, it looks sleek. The front is perfectly engraved in redwood, giving this method an attractive and classic appearance. The swivel design gives a rather close fit.
The reamer can be conveniently slipped into your pocket/backpack for easy transportation, and it is a versatile tool that offers both a stunning look and a range of functions.
---
Joyoldelf Portable Smoking Pipe Cleaning Tool– the best for versatility!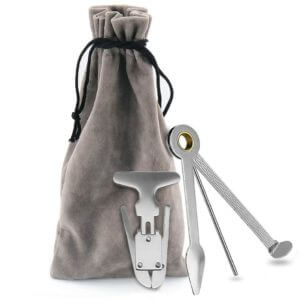 The Joyoldelf tool is one of the most versatile reamers in the U.S. market. Besides the stainless steel reamer, it also functions as a pipe cleaner, scraper and poking tool. It can become a perfect gift for any pipe smoking fan.
All the parts are durable because of top-notch stainless steel. You can also use this method to clean shishas, water pipes and hookahs.
The design of the Joyoldelf flannelette pouch will comfortably fit the pipe and other accessories you need. It's easy for you to vape everywhere you are, it doesn't take up additional room, it's great for travel bags.
---
The Buyer's Guide
Choosing a pipe reamer can be a daunting task, but this guide will break down the process into simple steps to help you find one that's perfect for your needs. In this article, we'll discuss what type of reamers are available, how they work, and which ones are best suited for different jobs.
Major types of tobacco pipe reamers
1) The British Buttner. It's a traditional weapon, and it's the most economical. This spring reamer is filled so that it still fits snuggly in the bowl, which ensures that the pressure is applied. They are usually 3⁄4 inch wide, which matches most regular pipes. This tool is suitable for pipes with a U-shaped cavity. What makes this tool so famous is its ability to hit the bottom of most of the chambers very quickly, a function that most other tools have difficulty with.
2) The Senior Pipe Reamer. With tapered sharp edges and a V-shaped bottom (which clearly goes great for V-shaped chambers), this reamer tool is suitable for most tubing. This reamer is liked because the diameter of the reamer shifts with a little torque. This ensures that when you ream, you will steadily expand the reamer to accommodate the cake, making it the best reamer to be used on your pipes.
The Senior Reamer design fits best in the "U" shaped container, whilst the more tapered form of the British Buttner design fits very well with the "V" shaped chambers. There are also generic packages available that have a number of parts attached to match all the various shapes of the tobacco chambers.
The Senior Reamer is wider and quicker to use than the British Buttner. It is advised that you have both types of them if you can.
Pipe reamers vs other tools:
Sandpaper.

Some people enjoy their direct, hands-on method. They also want to take a small sheet of sandpaper, place it on a thumbnail, and gently sand down the cake. This method may be reliable, but only in the hands of skilled woodworkers and craftsmen who know how to sand properly. If you're a beginner with sandpaper, skip it and choose a professional pipe reamer;

Dremel

. Another tool used by woodworkers. A rock sander connected to the end of the tool may be a simple and easy process, but only in the right hand. This is a really risky way to ream. It requires the calm hand and perfect eye for detail to be applied correctly. Don't try this approach unless you are a really seasoned restoration specialist;
Blades of tobacco pipe reamers
Reamers have simpler blades fixed or spring-loaded, more expensive models are equipped with several adjustable blades for bowls of different diameters, the sharpening angle is close to 80-90 degrees.
Reaming tips:
Do not use pipe tool attachments that look like scoopers. You may damage the briar when cleaning the cake with this tool;

When inserting a reamer, use a little bit of friction between the tool and the cake;

Twist until the friction completely disappears;

Dump the dust, then expand the blades and process slowly;

Scrape gently until you can see that it is possible to decrease the reamer's size;

Do not push harder on the shank side;

Never ream down to the fresh wood;

Try reaming evenly and consistently around the bowl's diameter;
---
FAQ
What is a tobacco pipe reamer?
A tobacco pipe reamer is a tool used to clean the inside of a tobacco pipe. They come in a variety of shapes and sizes, but all do the same job: remove the built-up resin from the bowl and stem of your pipe.
Reamers can be made from metal or plastic, and some have interchangeable blades that can be replaced when they become dull.
How to choose a pipe reamer?
A lot of things come into play with this decision, including the type of tobacco that you smoke and how often you clean your pipes. For example, someone who smokes aromatics will need a different size from someone smoking English blends. Also, consider whether or not you want to be able to replace the blades. It can save you money in the long run, but it may cost more upfront.
Price is also a consideration for many people. Some reamers are very affordable while others carry higher price tags due to their materials or performance features (such as interchangeable blades). Finally, consider how often you will need to use the reamer. If you only clean your pipes every few months, then a less expensive option may be all you need.
On the other hand, if you are a more frequent pipe smoker, it might be worth investing in a higher-quality reamer that will last longer and do a better job.
What does a tobacco pipe reamer do?
A tobacco pipe reamer is a tool that helps you clean your pipes after smoking. It consists of two parts: the handle and the head (the blade). They are usually made out of metal, steel, or stainless steel. The blades can be single-sided or double-sided. A one-sided blade has only one sharp edge and doesn't follow the inside of the bowl. A double-sided blade has two sharp edges and cuts against each other when rotated in opposite directions (clockwise or counterclockwise). The pipe reamer can be used to clean any type of tobacco pipes, burley, briar, meerschaum, etc…
The blades are either removable or not. With a removable blade, you can just replace the blade when it's too dull to continue reaming. A fixed blade is not easy to change but it will also last much longer than its counterpart with interchangeable blades.
Most pipe smoking enthusiasts choose either one or another type of tobacco pipe to enjoy their hobby better and make sure that they have all the necessary tools to properly clean and care for their pipes.
What is a tobacco pipe reamer used for?
A tobacco pipe reamer is used to clean the inside of a tobacco pipe. This is done by removing any built-up resin and tars from the walls of the pipe. It also helps to maintain the correct diameter of the smoking pipe so that it functions optimally.
There are different types of tobacco pipe reamers available. Each one is designed for a specific purpose.
A fluted reamer has straight grooves that run vertically down the shaft to its base, which allows the resin to be removed more effectively than with other types of pipe cleaners. These are commonly used because they can also be used in conjunction with drill bits so you get two tools in one.
A straight reamer has a sharp point to it. This makes the pipe cleaner very effective at removing tars and other debris from your smoking device, but care should be taken as they can also damage your bowl. It's best if you use this type of tobacco pipe reamers on non-ferrous metal bowls because stainless steel ones are prone to scratching.
A bent reamer has a curved shaft and is used to clean the crevices of the pipe. This type of tobacco pipe cleaner is particularly useful for removing build-up from stem and shank.
Bristle brushes are also popular among pipe smokers because they can remove debris without damaging the bowl or tubing. They come in a variety of shapes and sizes, so it's important to find the one that is best suited for your smoking device.
Whatever type of tobacco pipe reamer you choose, make sure that you use it regularly to keep your smoking experience enjoyable.
How to use a pipe reamer?
A pipe reamer is a tool used to clean the inside of a pipe. It can also be used to enlarge the diameter of a pipe. There are many different types of pipe reamers available on the market, so it's important to know which one is right for you.
To use a pipe reamer, you first need to determine the size of the reamer. The diameter of the reamer should be slightly smaller than the pipe you are trying to clean. Next, lubricate the reamer with a pipe cleaner or some other type of lubricant.
Then, insert the reamer into the pipe and turn it clockwise. Apply pressure while turning to ensure that the reamer is making contact with the sides of the pipe. Continue turning and pressing until the entire surface of the pipe has been cleaned.
When to use pipe reamer?
If you are looking to clean the inside of your metal piping, then a pipe reamer is an ideal choice.
Pipe cutters will not be able to reach into the narrow spaces where there might still be residue stuck in small crevices.
Pipe reamers also can remove rust and scale from the inside of your piping. If you are working with a pipe that has been in use for some time, then this is crucial! You will need to get into these tight spaces if it still needs cleaning before using again.
Electrical conduit pipes require clean smooth ends to properly fit the couplings. To ensure that you get a good seal when making your connection, then pipe reamers are vital for this process!
You will also need to use a pipe reamer if there is some damage on the outside of your piping system where it needs repair or replacement. You can't just cut away at the pipe and hope to make a good seal – the reamer will take care of that for you.
So, when should you use a pipe reamer? If there is any kind of cleaning or repairing to be done on your metal piping, then reach for the reamer! It's an essential tool for the job.
What wood is safe for tobacco pipes?
There is a lot of debate surrounding what types of wood are safe to use for tobacco pipes.
Some people say that any kind of hardwood is okay, while others recommend using only certain woods.
The most commonly used woods for tobacco pipes are briar, cherry, and maple. These are all hardwoods with a relatively low moisture content, which makes them good for smoking.
Other woods that can be used are walnut, olive, and fruitwoods. These have a higher moisture content than the hardwoods mentioned above, so they should only be used if you are going to dry them out first.
If you are not sure whether a particular wood is safe to use for your pipe, then it is best to play safe and use only the hardwoods.
Remember that not all tobacco pipes are created equal – so don't assume that your favorite wood will be okay for someone else's pipe! You can still share your opinion on what you think makes a good smoking experience though!
Can you ruin a tobacco pipe?
Yes, you can ruin a tobacco pipe. One of the ways this can happen is by using the wrong tools when cleaning it. This is why it's important to know how to choose pipe reamers before starting the cleaning process.
There are three main types of pipe reamers: the tapered, plug and knife. The tapered reamer is the most common type and has a gradual taper from the point to the handle. It's best for cleaning pipes with a small diameter bore.
The plug reamer has a cylindrical shape and is best for pipes with a large diameter bore. It should be used when there is significant cake in the bowl. The knife reamer is tapered and sharp on one side, like a blade. It's best for removing deposits from deeper down in the pipe when it cannot be reached with other tools such as brushes or cleaners.
Is smoking tobacco from a pipe better than cigarettes?
The choice between smoking a pipe or cigarettes are often compared in the media. While some people enjoy both, there are several factors to consider when choosing either one over the other that may influence your decision.
Cigarettes are typically less expensive than pipe tobacco, but pipes offer a more flavorful smoking experience. Pipe smokers also don't have to worry about the health risks associated with cigarettes, such as secondhand smoke and lung cancer. However, pipe smoking can still be harmful to your health if you're not careful.
---
Video Tutorial: Pipe reamer/scraper tutorial
---
Final thoughts
Hopefully, now you know more about pipe reamers and how to pick these smoking accessories. Remember – only a top-notch tool may prolong the service of a tobacco pipe. Leave feedback about your ways and tools for pipe reaming.