---
Cigars are a luxury and should be enjoyed with the right tools. Cigar Oasis Excel 3.0 is an electronic humidor that will keep your cigars in perfect condition for many years to come, and it can even be used as a wine cooler or humidor if you need more space! If you're looking for something high-quality, this may just be what you're looking for.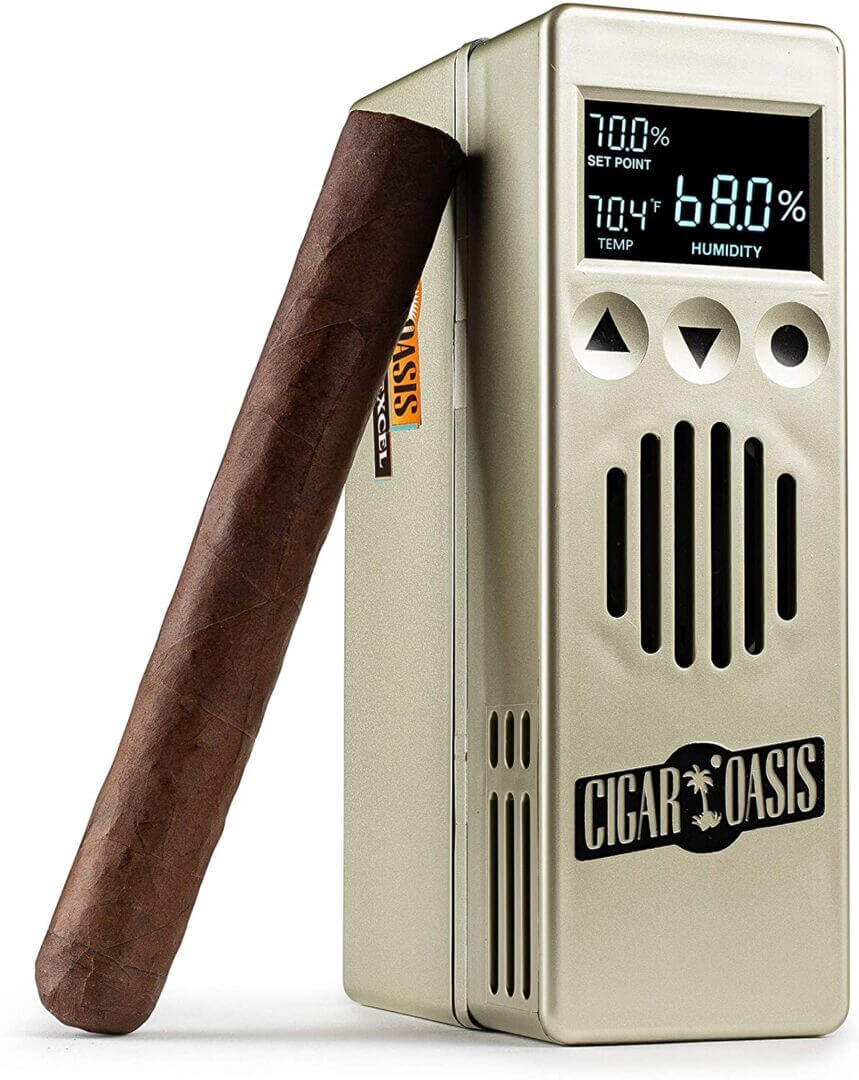 The Excel reservoir outlasts any other humidification method you may have used, so it is no surprise that this innovative company's wireless checks on your humidity settings result in significantly reduced maintenance. You can track your vitals remotely by using Smart Humidor's app to adjust the setting from anywhere anytime.
And if you're looking to use one of these state-of-the-art units for a larger capacity (up to 300 cigars), worry not: setup is always quick and straightforward thanks to comprehensive and precise documentation provided with each unit.
---
Cigar Oasis Excel 3.0
Having trouble? Download Cigar Cigar Oasis Excel 3.0.
---
Specifications:
Large LCD with backlit;

WiFi tech for remote control;

Soft-Touch button control;

Micro-USB connection;

Long-lasting cartridge;

Sealed design;

Powered with thin electronic ribbon cable;

Users may set the humidity to the desired level;

Capacity for 1-4 cubic feet humidors;

Can humidify from 75 to 300 cigars;
Main Features and Overview
The Cigar Oasis EXCEL 3.0 is a very compact humidifier that runs on its own. Simply insert it into an electrical socket using a paper-thin power cable, and you're ready to go.
A large LCD screen shows the current setpoint and the humidity and temperature in the humidor.
The water tank is refillable, replaceable, and uses only distilled water.
The Cigar Oasis EXCEL 3.0 has a built-in humidity monitoring and filtering system that uses a quiet fan to clean and distribute the air in the humidor, removing bad odors that are common in well-sealed humidors.
The device now includes a built-in Smart Humidor Wi-Fi app, allowing users to adjust and monitor humidity from any iOS or Android smart device with a subscription.
It is the original Cigar Oasis model, and it is the only sealed humidifier on the market.
The Excel 3.0 from The Cigar Oasis is an electronic cigar humidifier that is capable of maintaining 100-300 cigars at a time. A fully automated system and even WiFi capabilities are included in the device. Similar to Apple devices, the Excel 3.0 versions come in boxes with accessories inside. It's a nice touch, especially for the price.
Design
The kit comes complete with all you'll need to get started. An easy-to-read LCD screen on the top of the device that shows both relative humidity and temperature. The screen is quite bright and clear. Also, there are touch buttons that make it simple to change settings.
The top is connected to a base that contains the humidity source. It can hold a lot of distilled water and will help avoid mold problems thanks to its shape. It's highly cost-effective and uses minimal water. When the gadget runs out of steam, it tells you, and you may fill it with distilled water.
WiFi Capabilities
These new Cigar Oasis humidifiers, which come with built-in WiFi, are available. Previous models required an extra attachment, adding to the expense. All of the 3.0 versions include built-in WiFi and allow users to manage and monitor the device using their phone on a monthly subscription.
The Excel 3.0 must be plugged into a typical wall outlet, but a ribbon power cable is provided so that a humidor lid or door can be closed around it. It's a strong system that worked well in my NewAir CC-100H. It's simple to set up and works right away.
Performance
According to many users, this humidifier does not require any maintenance and maintains a consistent humidity level. This is one of the best humidifiers for between 100 and 300 cigars on the market. And you can use it with most cigar humidors.
It keeps your cigars between 55% and 75%. If they go under, Cigar Oasis Excel turns on automatically until the desired humidity level is reached again. In case if they rise above, an alarm will activate as well as turn off all fans in order not to overheat them or damage their taste with too much moisture inside of cigar cabinet. 
Cigar Oasis Excel 3.0 Pros and Cons
---
Who should use it?
Cigar Oasis Excel is a product that can be used by any cigar enthusiast. There are no age restrictions on the use of this device, and it will work even if you have never tried to maintain humidity levels in your humidor before. The only real pre-requisite is that you have a humidor and cigars to put inside it. If you do, then Cigar Oasis Excel can help keep those precious stogies fresh for as long as possible! It is also suitable for those who want a worry-free humidifier for their 100 to the 300-count humidor.
The Cigar Oasis Excel device works by regulating the humidity levels in your humidor so they stay in optimal conditions without any hassle on your part. All of this takes place through its easy-to-use digital display that helps monitor and regulate temperature and moisture within the unit itself.
Once these two things are regulated, maintaining ideal humidity becomes an absolute breeze regardless of whether or not you're a seasoned veteran when it comes to cigar storage or if this is your very first time buying/using one!
Cigar Oasis Excel 3.0 Alternatives
As stated earlier, Cigar Oasis Excel is a device that can be used by anyone and everyone. However, if you're someone who would prefer to use an analog hygrometer without the bells and whistles of digital read-outs then cigar humidors with old school gauges may be better for your needs instead.
As for alternatives to Cigar Oasis Excel itself, it's important that you go with a digital hygrometer if this is the type of device you're looking for. Analog read-outs are still available but they don't provide as many features or benefits when compared to their more modern counterparts as Cigar Oasis Excel does!
To humidify your cigars you may also use such devices and products instead of the Excel unit:
Xikar 4-Ounce Crystal Jar;
DryMistat Tube Humidifier;
Xikar Propylene Glycol 50-50 Solution;
Madelaine Analog Hygrometer;
HygroSet Digital Hygrometer;
Humi-Jar 15-Cigar Humidor;
FAQ
What are the dimensions of the humidifier?
The product dimensions are 6 x 2 x 3.5 inches. The whole unit wears only 1.5 pounds. It has a built-in handle so you can easily carry it from one place to another.
How frequently do you need to replace the water cartridge?
The water cartridge is not pre-filled. To activate the cartridge, you'll need to use desiccated water. Thereafter, it will probably require refilling every one to two weeks.
How long is the power cord?
The power ribbon is 12 inches and its USB power cord is about 3 ft. long.
Why does its display show 99.9 and does not cycle?
Cigar Oasis Excel's display will show 99.95, but it is programmed to drop down to a MAX of 0.01 when the humidity falls below that level and also rises above that point once more.
Does this device come with a battery as does the 2.0 model?
No, it doesn't have a battery as the previous Cigar Oasis Excel used.
What is the humidity range for this unit?
The humidity range is 55-75%. It should be enough for all kinds of cigars.
Can you use regular water with it?
The manufacturer recommends using this device only with distilled water. Otherwise, it won't work properly.
How do you fill the tank?
You should remove the top cover. Add distilled water to it until you see that there is no air bubble inside.
Does the display have a light?
The 3.0 humidifier has larger Soft-Touch buttons and a large backlit LCD that shows humidity and temperature readings, as well as humidity setpoint, low water alerts.
Does this come pre-filled with water or do I need to fill it?
It doesn't come pre-filled with water. To activate the cartridge, you'll need to use desiccated water after which will probably require refilling every month or so.
Can you use Cigar Juice (glycol mix) instead of water?
You may try but the manufacturer recommends using only distilled water to refill the device.
Is the unit automatically calibrated from the factory or do I need to calibrate it myself?
It comes pre-calibrated. But despite the fact that these devices are factory-calibrated, but it's a good idea to recheck them to ensure they're correct.
How loud is the fan?
The humidity and air circulation are regulated by a fan. It is controlled by a sensor, ensuring that each portion of the humidor has an equal amount of moisture. It works almost without noise. Or, at least, it is quieter than most humidifiers at the market.
Can the product support AC 220-240V?
The units are 220-compatible. A Euro plug adapter is all that's required.
How big of a humidor will I need with this unit?
It's suitable for medium and small humidors, but it isn't ideal for larger humidors.
Are cigar humidifiers useful?
Cigar humidifiers are often used by cigar enthusiasts to keep their cigars moist and tasty. Without it, cigars can dry out quickly which will cause them not to taste as good as they should. Moreover, the lack of humidity in a room or container where cigars are kept can also affect its flavor. This is why some people opt for cigar humidors so that they'll have more control over how much moisture is inside their storage space.
There's nothing worse than having a stick with a hard draw because there isn't enough water content! Using a reliable product like Cigar Oasis Excel ensures you get the most from your collection – keeping each one fresh until you're ready to smoke it again.
How to use the cigar humidifier:
The first thing you need to know is that humidity fluctuates depending on the type of humidor;
Make sure your cigars are not directly touching the glass window because this will affect how much humidity gets into them. When using a digital hygrometer, follow instructions closely and calibrate it regularly (every time after transporting or moving);
When rehydrating your device, make sure there's no water in the bottom tray before placing it back inside the humidifier box since water can leak out through the rubber gasket if you don't remove it carefully;
Make sure you clean your humidifier when it starts to get dirty (after about every third cigar, depending on how much humidity the box is holding);
Leave an extra two inches of space at top of the humidor for best results;
Don't let cigars sit in sun or near heaters because extreme temps can ruin them and decrease their quality;
How to clean the Cigar Oasis Excel 3.0?
Use distilled water, not tap or bottled water;
Clean with cotton swabs;
Never use any chemicals because they can damage the device;
Make sure to keep your device in a safe place like on top of a wooden table or inside its box when not using it because you don't want anything falling into the gasket and damaging it;
Replace water cartridge after every 30 days if humidor is full (about once a week for smaller humidors);
Related Video: Humidifier Review | Cigar Oasis Excel 3.0
Final thoughts
The Cigar Oasis XL 3.0 humidifier was created to address the issues that passive sponge-type humidification equipment creates. The Cigar Oasis XL 3.0 humidifier is a self-contained device made up of two components: a replaceable lower cartridge for distilled water and an upper control unit. For a leak-free seal providing the ideal humidified environment for your cigars, the two pieces interlock with one another.
The Cigar Oasis Excel 3.0 electronic humidifier has a built-in fan that cleanses and circulates the air inside the humidor, removing the "musty" odor that can be associated with a well-sealed humidor.
Another benefit is that you can use The Cigar Oasis XL to season your new wooden humidor after opening and closing the humidor. Cigar Oasis is the industry leader in automated, hands-free humidity regulation, making cigar care simple. So sit back and enjoy your favorite smoke! The 3.0 version of the Excel Electric Humidifier accurately measures and regulates the humidity in normal cigar humidors over lengthy periods.