---
The Cigar Oasis Ultra 3.0 Electronic Humidifier features a thin elegant design and a lid mount option for 50-150 cigars. The humidifier eliminates all of the stress and hassle associated with keeping and maintaining your prized stogies. The Ultra 3.0 is all electrical, and once set up, it just has to be refilled on occasion (with distilled water).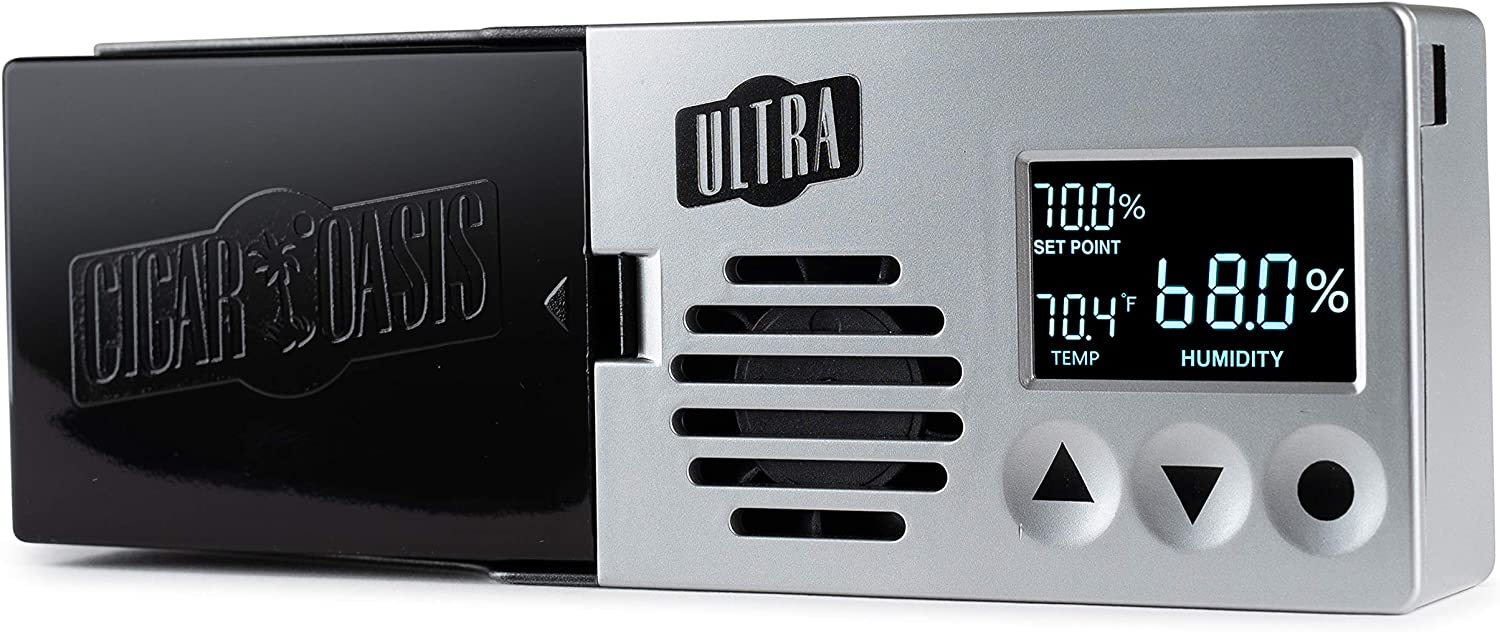 Cigar Oasis is the original creator of the electronic/automatic humidifier for personal cigar humidors. The ultimate set it and forget it cigar humidification solution to put you at ease. Accept no other substitute.
The Ultra device is not only effective but it's also small to help you optimize a cabinet humidor to store the greatest capacity of cigars. It has a high-tech appearance and is easy to control.
The Ultra 3.0 humidifier gives you full humidity control. Set to 70% by default, you may adjust the percentage in one-tenth increments. Furthermore, if the humidity goes too low, a red light illuminates, and the humidifier's fans begin to distribute the moisture that your cigars need.
---
Cigar Oasis Ultra 3.0 Manual
Having trouble? Download Cigar Oasis Ultra 3.0.
---
Design
The Ultra 3.0 is the most stylish and appealing humidifier on the U.S. market. It is designed to be mounted on the humidor's lid and takes up very little space (including a mounting magnet). The Ultra 3.0 device is a stand-alone appliance. The base houses the blower and electrical connections as well as a refillable distilled water tank.
The updated and enhanced Ultra 3.0 version now has built-in Wi-Fi capabilities, allowing you to monitor your humidor from your smartphone (with a smart subscription).
It also features a new backlit LCD screen that shows the actual humidity and temp, as well as humidity settings, at all times. This gadget is elegant and precise, and it will preserve your prized cigars in excellent condition – just remember to clean once a month with distilled water.
The humidor's air is circulated by a sensor-controlled fan. The fan ensures that humidity is distributed evenly throughout the humidor and helps prevent any "musty" odors caused by the accumulation of stiff air in passively humidified humidors.
Technology
The Oasis Ultra 3.0 utilizes advanced technology to precisely detect and control humidity. With minimal space requirements, this electronic humidifier was intended to mount on the humidor's lid (or on or beneath a tray). The fan blows away the humidity until it reaches the required level. While in operation, the device constantly tests the humidity and, if it is not at the required level, it switches to control mode to regulate humidity.
It's set at 70% RH by default, however, it may be set to your precise taste. Between 40 to 80 percent (for seasoning and cigar restoration). The device comes with a pre-installed water cartridge that is ready to use. The Ultra 3.0 also has built-in smart Humidor Wi-Fi, allowing customers to control and monitor humidity from an iOS/Android smart device with a monthly fee.
Specifications: 
Can hold up to 100 cigars (1.5 cubic feet);

Takes minimal space;

Pre-set humidity that can be adjusted;

The dimensions are4.55 x 13.8 x 3.25 inches;

The weight is 15.5 ounces;

Backlit LCD;

WiFi tech for remote control;

Micro-USB connection with streamlined ribbon cable;

Foam cartridge to prevent mold;

A magnet for mounting;
How to use it?
Just fill the unit and put the back on to complete the process without any mess. The water cartridge in the Ultra 3.0 unit has been pre-treated and pre-filled, and it just has to be replaced with distilled water per 4-8 weeks.
How to clean it?
Maintaining this appliance at least once per week is critical to avoid the development of mold, germs, and microorganisms, which are the last things you want floating through the air when you have respiratory problems. It's simple to disassemble and clean this device.
Cigar Oasis Ultra 3.0 Pros and Cons
[i2pc pros_icon="icon icon-check-1″ cons_icon="icon icon-minus-thin" show_title="false" show_button="false" pros_title="Pros" cons_title="Cons"] [i2pros] Easy to assemble;
Simple to use;
Easy to clean and maintain;
Smart design;
Large capacity;
WiFi and iOS/Android support;
Quiet;
Pre-set humidity level;
Large LCD;
The cartridge to prevent mold;
The 3.0 line features enlarged Soft-Touch buttons
The sensor controlled fan circulates the air in the humidor
The sensor controlled fan circulates the air in the humidor
[/i2pros] [i2cons] You'll have to pay for the subscription eventually;
A cable's thicker connector than most humidifiers do;
May not keep the right humidity level;
The app may not work properly;
0 tobacco coupon inside
[/i2cons] [/i2pc]
The Cigar Oasis Ultra 3.0 device is intended to be mounted on the lid of a humidor that holds 50-100 cigars. The slim body is intended to take up the least amount of space feasible. An in-built hygrometer in the Ultra 3.0 measures humidity while it operates.
---
The Buyer's Guide
Unlike whole-home humidifiers built by HVAC professionals, these machines are simple to operate and inexpensive, yet they are still effective at reducing dry air. Dry sinuses, chapped hands and lips, and static electricity may all be avoided by sleeping with a humidifier in a living room or bedroom.
Major types of portable humidifiers
Whether you choose a warm or cool mist, an evaporative/ultrasonic humidifier, each machine has benefits and drawbacks to consider:
1) Cool-mist 
Cool-mist devices are the most popular since they circulate air with a tiny fan, which makes them safer to apply around kids. However, comparing to warm mist systems, they usually need more cleaning to avoid mold. Both ultrasonic and evaporative humidifiers may use a cool-mist system.
2) Warm-mist
Warm-mist humidifiers, which use a heating element to heat water and create steam, may provide some welcome warmth in the winter, but they should be kept out of reach of kids. These humidifiers may also be used with inhalants for cough and cold relief.
3) Ultrasonic
To create a thin mist, these popular options combine high-frequency vibration with silent fans. However, they must be elevated off the ground to avoid spilling water on the floor, and if you apply unfiltered tap water, they may leave white dust about the room.
4) Evaporative 
To release real water vapor into the air, these humidifiers utilize wick filters and blowers. Despite the fact that the wick has to be replaced, an evaporative humidifier is less likely to promote mold or mildew development and does not create over-condensation like ultrasonic humidifiers.
Both warm and cool mist humidifiers efficiently provide moisture to the air, but cool mist humidifiers are preferable for households with children and pets since they don't include a heating element, while warm mist humidifiers are better for zapping more germs and bacteria.
Size
Your humidifier is built for a specific room size based on variables such as tank size and discharge rate. On the humidifier's packaging materials, the manufacturer typically specifies the square footage for which it is sized. While this article concentrates on lightweight, tabletop humidifiers for small and medium-sized rooms, you may want to explore an entire house humidifier if you need humidity assistance across your home.
Runtime
There are various factors to consider when choosing a humidifier and the battery runtime is crucial. Some may only last several hours before having to be recharged, while others can last up to 24 hours. An auto-off function is useful for humidifiers that need to be refilled more often so that the humidifier does not attempt to keep running when the water flows out.
Tank design
The tank design is crucial for most humidifiers if you want to have a pleasant experience. To make refills and cleaning simpler, go for the units with large holes. Translucent designs are particularly advantageous since they enable you to check how full the tank is, allowing you to determine when it is time to replenish.
Maintenance
Finally, although there are many advantages to owning a humidifier, evaluate if you are capable of caring for and maintaining one. The water in a dirty humidifier may become a spread of germs which it will then push into the air, posing a greater health danger. Most of these devices will need to be cleaned at least once a week and refilled on a regular basis, but some of the better models include design elements that make this simpler.
FAQ
Can you use a cleaning solution for humidors with this device? 
Never use any solutions, since they will compromise the unit. Use distilled water for cleaning. 
How to refill this unit? 
Simply add distilled water to replenish. The cartridge must be replaced at least once a year. If you need to replenish often, do so more frequently.
How much is the WiFi subscription?
There are free software offers for those users who buy the Ultra 3.0 humidifier (at least for the first 30 days). 
Does it have to stay plugged in all the time?
There is no battery option and the device must be connected to an outlet.
Is it possible to set the temperature to Celsius?
Yes, there is such an option. 
Related Video:Cigar Oasis Ultra 3.0 | Maintain Proper Humidity
Final thoughts 
The Cigar Oasis Ultra 3.0 eliminates all of the hassle and concern associated with keeping and preserving your cherished cigars. The most beautiful and effective humidification option for desktop humidors, thanks to its compact profile and lid-mounted construction.
---