---
TOP-O-Matic's PoweRoll is widely regarded as one of the greatest cigarette-rolling machines nowadays. Purchase this machine and you will get everything you need to produce King-size cigs.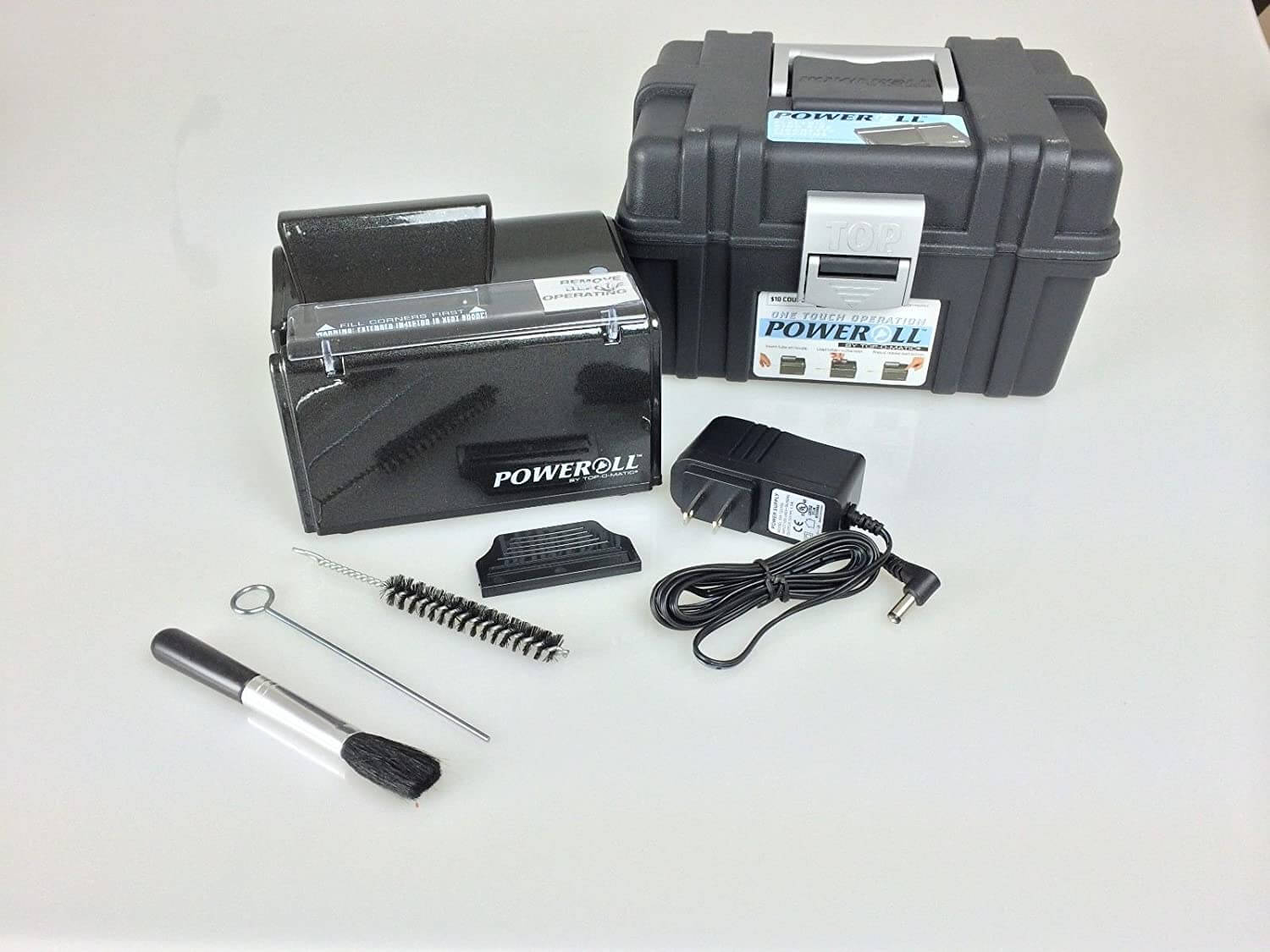 New Top-O-Matic Line Model! Save Money Over The Rising Cost of Pre-Made Cigarettes! Specially designed for making perfect Short/Regular (80mm) Kings Size Filtered Cigarettes. Electric, real "spoon" driven injection (like the popular mechanic machines from Top-O-Matic, but now driven by electric motor).
It comes with a tough case that enables you to store the gadget safely while not in use. The spoon-fed injector system in this PoweRoll by TOP-O-Matic machine allows you to create your cigarette effectively and rapidly.
---
PoweRoll by TOP-O-Matic Electric Cigarette Machine Manual
Having trouble? Download PoweRoll by TOP-O-Matic Electric Cigarette Machine pdf manual.
---
The PoweRoll device is powered by a 120V corded power supply. Aside from a carrying case, it also includes a cleaning kit that makes cleaning and maintaining the machine a breeze. You may enjoy social meetings while smoking your cigarette with the PoweRoll machine.
The Top-O-Matic's machine comes with everything you need to make RYO (roll on your own) cigarettes quickly, painlessly, and efficiently. Although it's not the tiniest Top' gadget, it comes with a travel bag that makes it easy to transport. For individuals who want to make the whole process of manufacturing smokes simple and fast, the PoweRoll device is strongly advised.
Specifications: 
Electric machine;

Makes King-Size cigarettes (84 mm);

Includes a manual and carrying case;

Spoon-fed injector;

1-year manufacturer warranty;

The cleaning kit is also included;

A jam light indicator;

The power cord can be removed;

Has a tobacco tray;
How to use it? 
Just plug in the unit;

Turn on the Power Switch;

Slide the tube's open end onto the machine's nozzle;

Open the Chamber guard;

Fill the corners. Try to deposit tobacco or herbs evenly. Use a tamper for this. Prevent overfilling;

Clear the loose tobacco;

Close the Chamber guard;

Press and then release the guard over the Start button. The injector is activated;
The device will reset itself to the initial position if a jam occurs, and the Jam Light will flash.
Pros and Cons of PoweRoll by TOP-O-Matic Electric Cigarette Machine
[i2pc pros_icon="icon icon-check-1″ cons_icon="icon icon-minus-thin" show_title="false" show_button="false" pros_title="Pros" cons_title="Cons"] [i2pros] Durable;
Has a sturdy travel case;
Simple to clean;
Easy to install and use;
Good for people who have arthritis;
Fast;
Makes King Size Cigarettes
Electric, spoon driven injection
Makes evenly packed and consistently burning cigarettes
Carrying Case
[/i2pros] [i2cons] May break if overfilled;
The plastic parts may squeak;
The machine is only for making king-size cigarettes;
The factory warranty doesn't cover all technical issues;
[/i2cons] [/i2pc]
The Top-O-Matic's Poweroll employs a spoon-fed injector system to let you make your own cigarettes fast and effectively. The gadget is powered by a corded power supply that may be plugged into any 120V home socket. You'll also receive a set of cleaning supplies to keep the machine clean and ready to use anytime you need it, in addition to the handy travel case.
---
The Buyer's Guide
There are many different types of electric machines for RYO cigs out there, but if you understand what to search for, you can obtain the best of them. Metal or plastic, or a mixture of the two, are used to construct such machines. Metal is more durable, but it is also heavier and often bulkier. Plastic may also be highly robust but can result in flimsy designs, especially if your electric roller will be used often.
Some rollers can produce a wide range of sizes, along with a massive 100mm cigarette. Another issue that will affect the finished outcome is whether you want a loose or tight pack on the tobacco. Look for machines that have adjustable tensions and can fit the size of tubes.
Speed
One of the primary reasons why smokers choose this machine over others. Not all rollers roll at the same pace, and faster isn't necessarily better! If you want a roller that can roll at greater speeds, read the reviews to be sure the quality isn't compromised. A higher-speed device would probably be beneficial if you're a heavy smoker, but if you end up with worthless cigs as a consequence, it's a waste of money.
Size & materials of TOP-O-Matic PoweRoll machine
The electric tabletop machine is 6 x 4.5 x 4 inches in size. It includes a guard that protects the chamber, allowing you to avoid making a mess while filling tobacco and rolling a cig. Because the Top-O-Matic machine has so many pieces, it comes in a sturdy casing that makes it easy to store everything you need. This injector may be plugged into any standard 120V outlet. A specific cleaning kit is also available, which should be used to guarantee that your equipment runs properly for a long period.
Number of cigarettes the PoweRoll Machine by TOP-O-Matic can make
After loading your preferred tobacco and inserting the king-size filter tube into the PoweRoll roller, just push the button to begin rolling a flawless smoke, which is nearly straightforward. The injector refills tubes rapidly, but how fast you fill tobacco and attach a filter tube determines how long it takes to make 20 cigs. Making a pack of neatly filed cigarettes usually takes just several minutes.
Tips for the users of PoweRoll cigarette machine by TOP-O-Matic:
Never overfill this machine – it may jam or break. If there is enough room in front of the filter, give particular attention to the quantity of tobacco in the loading dock's corners. It's also possible that the paper is tearing because you don't have enough tobacco or it's spread unevenly. The appropriate quantity of tobacco, uniformly distributed around the loading chamber, will solve the majority of the teething issues;

Clean the tobacco debris. Make sure there's no junk in the way of your tube sliding off the clamp when you're preparing to load it up. The machine must firmly grip the tube, and if there is any residue tobacco from preceding cigs between the tube and the device tip, it will be unable to do so. This electric roller includes a brush to quickly clean the machine;
FAQ
Does it include a tamper? 
On the PoweRoll machine, the tamper is placed in the tobacco tray. If you check the unit's size at the nozzle where you place your tubes, you'll see a drawer under the nozzle (tobacco tray). That's where you'll find the Tamper.
What is the PoweRoll's tobacco tray? 
The tobacco tray is used to catch stray tobacco and dust that passes through the machine. Please ensure this tray is clear before using it, and empty it after you clean the machine. If this is not done on a regular basis, tobacco will collect in the machine, causing its malfunction.
Why doesn't the machine have power? 
When you plug in, turn on the device and it doesn't work, it might be for a variety of reasons.
Test the 120V AC adapter; when you plug the device into a wall socket, the adapter should light up with a red light. If it doesn't, the adapter should be changed.
It's possible for the machine to have a short and the electrical isn't operating correctly. If this is the case, the only option is to replace the machine.
Is it easy to buy the replacement parts for the PoweRoll by TOP-O-Matic electric cigarette machine? 
The machine's internal components are unavailable. The machine's exterior components are the only ones that are available. Any warranty on the machine will be invalidated if it is taken apart.
Can you oil the PoweRoll electric cigarette machine? 
Oiling the electric machines is not recommended. Oil might easily seep into the machine's motor and wiring, leading to its malfunction.
Is it necessary to wait between the refills while the unit cools down? 
If you're creating a lot of cigarettes at once, it's a good idea to let the unit cool down now and again. If you're just generating a few packs at a time, don't worry about cooling down the device first.
Related Video: PoweRoll Electric Cigarette Machine By Top-O-Matic
Final thoughts 
The Top-O-Matic's Poweroll is the newest product from the manufacturers of these popular cigarette-rolling machines. This electric Injector machine includes everything you'll need to get started rolling king-size cigs. It comes with a robust case that can be used to store the machine and its components when not in use or to transport it.
---