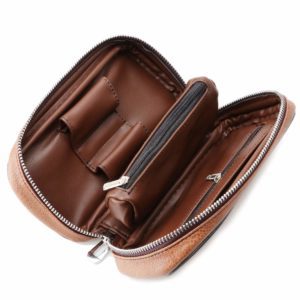 PU leather
Zipper
Very practical design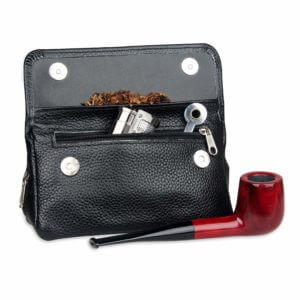 Genuine Leather
Additional pockets
Magnetic closure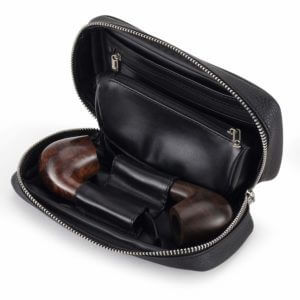 Genuine leather
Zipper
Set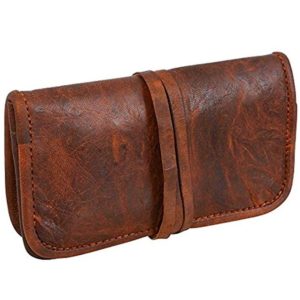 Goatskin
Smart and stylish
The perfect size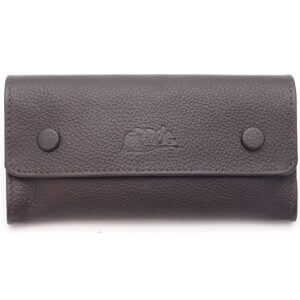 Cow Leather
Dimensions: 6" x 3.25"
Rubber lining
---
Choose the Best Leather Tobacco Pouch
Customer's Choice: the Best Rated Leather Tobacco Pouches
24 users answered this survey. Please help us improve this review!

58.33% of users selected Scotte Brown, 4.17% selected FIREDOG, 12.5% selected Scotte Black, 8.33% selected JYOS and 16.67% selected Mr. Brog. Every month we analyze your answers and change our rating.
---
Are you looking for a nice tobacco pouch made of natural leather? If you prefer tobacco roll-ups to cigars and cigarettes or just search for a gift, I'm going to help you with the choice of a genuine leather accessory. The first thing you will understand when looking at leather tobacco pouches is that they differ in size.
If you need a pouch only to store tobacco, opt for the smallest size, but if you want to keep the roll-ups at the same place, choose the bigger accessory. I would recommend buying tobacco pouches made of genuine leather. Also, there are pouches made of PU leather – they are more affordable but do not have a specific odor and they are less durable than the cases of genuine leather!
Genuine or PU leather tobacco pouches: what material to choose?
I would recommend buying durable and compact pouches with many compartments. It is better to invest in the accessories made of genuine leather than to buy the cases of PU leather. Genuine leather can offer many advantages:
Durability – use the pouch for many years;
Resistance to twisting, creasing and bending – the product won't crack;
Easy maintenance – no need to clean the accessory daily;
The soft texture of a genuine leather case for tobacco makes the smoking process even more enjoyable;
To distinguish PU leather from genuine leather accessories, carefully examine the seams and compartment inside a pouch. Try to bend the accessory: a faux fringe is visible inside the cut. In addition, touch the pouch from within – PU leather is slightly sticky from the applied glue.
Another thing to look for – different compartments in a pouch for joints and tobacco:
The most important thing is a compartment for storing tobacco;
A holder for a tube or tissue paper if you prefer roll-ups;
Some pouches include the special compartment for lighters or matches;
A soft leather pouch fastened with a magnetic closure/zipper or tied with a strap will not take up much more space than a cigarette pack.
SmokeProfy recommends 5 leather tobacco pouches:
Scotte is made of PU leather, it has a zipper and very practical design;
FIREDOG is another nice pouch made of genuine leather, with additional compartments and magnetic closure;
Scotte produces the pouches made of genuine leather;
JYOS is a soft leather pouch made of goatskin;
Mr. Brog is a small pouch with a rubber lining. It is made of cow leather;
I added the video tutorial about to store cigarettes and roll-ups inside a leather tobacco pouch. What bags or cases for cigars do you use for storing joints or tobacco? Please share your thoughts about making or buying convenient tobacco pouches of PU or genuine leather. Thanks for following SmokeProfy!
Video Tutorial: How to roll a cigarette or a joint easly with our tobacco pouch
---