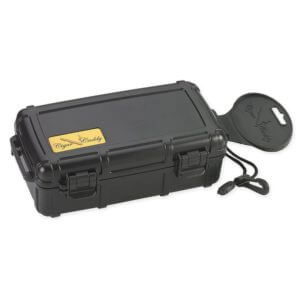 Holds up to 10 cigars
Waterproof to 100 feet deep
1 humidifier disc in lid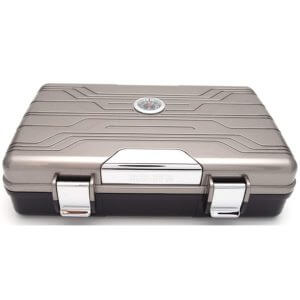 10 Large Cigars
Hygrometer and Humidifier
Airtight and Waterproof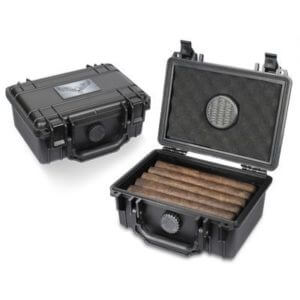 10-15 Cigars
Humidifier Disc Included
Airtight and Waterproof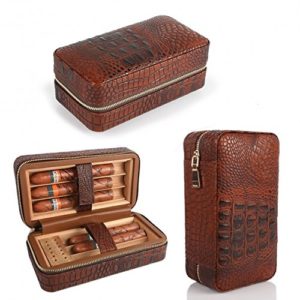 Up to 6 pieces of cigars
2 removable trays
Humidifier and a dropper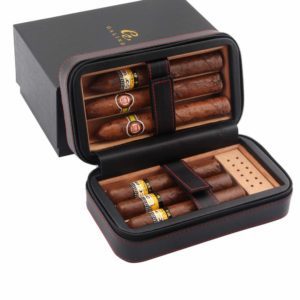 6 cigars
Wood and PU leather
Humidifier and a dropper
---
Choose the Best Travel Cigar Humidor
Customer's Choice: the Best Rated Travel Cigar Humidors
1 users answered this survey. Please help us improve this review!

100% of users selected Cigar Caddy, 0% selected Mrs. Brog, 0% selected Guardsman, 0% selected Lagute and 0% selected G galiner. Every month we analyze your answers and change our rating.
---
Portable humidors for cigs are necessary for aficionados who travel a lot. One of the loyal readers (he prefers to smoke expensive stogies while playing golf in Florida, though lives in Maine) hinted this idea for the review of the best travel-ready humidor cases. And after receiving this good idea I immediately started the series of tests of almost 30 models. As a result, I picked the best of the best all-in-one portable items that you can buy for yourself or for a friend who likes extravagant smoking.
Best portable humidifying boxes, according to my tests and ratings:
Cigar Caddy can store up to 10 pieces in a waterproof case;
Mrs. Brog is a very good waterproof box, with a separate hygrometer and humidifier for 10 cigars;
Guardsman with an in-built humidifier disc;
So many travel-ready humidors: how to choose?
During almost two weeks of tests, I concluded that portable humidifying cases should be picked according to the travel's purpose:
For two days – a durable metal box will do the job for a few stogies, with an average level of humidification;
For a large size – choose the substantial humidor, a sort of a mini-case made of leather or wood. Pick the models with foam cradles for every cigar;
For a long trip by plane or ship – buy a portal model with an in-built hygrometer to track down the moisture level inside, aim for a pressure relief valve;
Thanks for reading my dedicated guide to buyers of travel cigar humidors! Instead of a conclusion, I'd like to say that all humidors included in the list are perfect in their own way. These little boxes will make your cigars nice and dry during short and long trips in planes, on ships, in cars and just in your travel bag no matter whenever you are going.
I described my requirements applied during the tests of travel-ready humidors and right now I'd like to hear your criteria for travel-ready humidifying cases. Leave your feedback – I regularly update my reviews, according to your comments.
Video Tutorial: Cigar Travel Cases
---