---
Gambler Cigarette Tube
5 Boxes
1000 Tubes
Regular, King Size
Zen Cigarette Tubes
5 boxes
250 tubes per box
Light, king size
ZEN Cigarette Tubes
5 boxes
1250 ct
King Size
Zen Menthol
5 Packs
200 ct/boxes
Menthol King Tubes
Premier
10 boxes
200 ct/boxes
King Size
Zen Full Flavor
5 Boxes
250 ct/boxes
100 mm
Gambler
10 Boxes
1200 ct/boxes
1Size: 100mm
Beretta
5 Boxes
200 ct/boxes
King Size
Zig Zag
1 Box
200 ct/box
King Size
Zen
---
Choose the Best Cigarette Tube
Customer's Choice: the Best Rated Cigarette Tubes
894 users answered this survey. Please help us improve this review!

46.2% of users selected Gambler Cigarette Tubes, 13.76% selected Zen 5 boxes, 11.52% selected Zen King Size, 12.42% selected Zen Menthol and 16.11% selected Premier. Every month we analyze your answers and change our rating.
---
If you're planning on rolling your own cigarettes, you are going to need some quality cigarette tubes. Cigarette tubes play a huge roll in your rolling and smoking experiences. Good tubes will save you money, frustration, and time. We've selected five of the top cigarette tubes.
What are you waiting for? Let's dive right in!
Gambler Regular King-Size Cigarette Tubes – Editor's Choice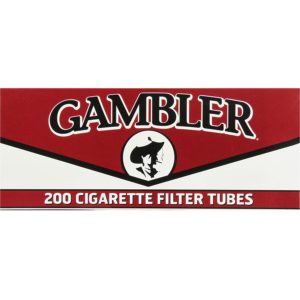 Gambler is one of the most reputable brands in the roll-your-own industry. Their king-size filtered cigarette tubes can be paired with nearly any filler. Each box includes 200 premium paper tubes. As such, the Gamblers tubes are a real bargain.
If you're looking to save money by rolling your own cigarettes, Gambler is an excellent option. While some customers have received damaged cartons, we're confident in this company's commitment to quality shipping and handling.
You won't pick up any harsh flavors or smells when using the Gambler tubes. You also won't find yourself breaking tubes during the filling process. These tubes are exceptionally rigid. What's more, they burn consistently from their tips to their filters. With no identifiable shortcomings, the Gamblers are our number one tube selection.
---
Zen 100-Millimeter Light King-Size Cigarette Tubes – Best Light Tubes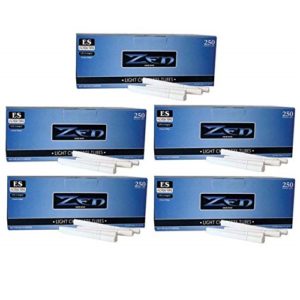 Zen's 100-millimeter light king-size cigarette tubes are yet another bargain. There are 200 tubes in each box. The tubes have clean white papers and 25-millimeter filters. This set comes with two boxes.
As such, there are 500 tubes in total. Each Zen purchase is a saving compared to store-bought cigarettes.
We love that these tubes have a less pronounced flavor than traditional cigarettes. They feel airy and clean. Still, they produce a slow, steady burn that makes for an enjoyable smoking experience. Our only complaint is that the Zen carton material is not very strong.
---
Zen King-Size Full Flavor Cigarette Tubes – Best Full-Flavor Cigarette Tubes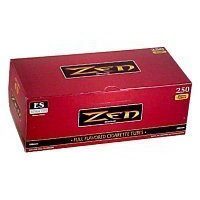 First off, you cannot beat the price of the Zen king-size cigarette tubes. With 250 tubes in each box, this kit is an unbeatable deal. The papers are also very durable.
As such, you are unlikely to experience issues when running these bad boys through a rolling machine. The flavor is also quite rich and delicious. The filters do an amazing job of catching tobacco impurities. Our only issue with the Zen tubes is that it is difficult to separate the cartons because of the overuse of packing tape. In reality, we are willing to look past the packaging's structural integrity to appreciate the pronounced flavor of these premium cigarette tubes.
---
Zen Menthol King-Size Cigarette Tube – Best Menthol Cigarette Tubes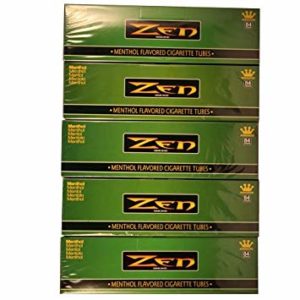 Zen Menthol King Cigarette Tubes have a pleasant mint flavor that enhances a wide range of tobacco fillers. At 84-inches, these tubes can hold quite a bit of tobacco. The tubes slide easily onto most filling mechanisms.
They provide a clean smoking experience at the fraction of the cost of store-bought smokes.
---
Premier King-Size Full-Flavor Cigarette Tubes – Best Bargain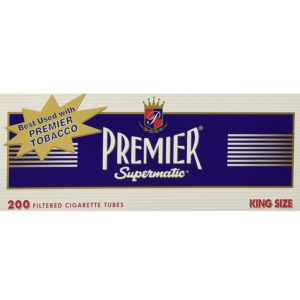 Rounding off our list is Premier's King-Size Full-Flavor Cigarette Tubes. These pre-rolled papers are a popular pick with many smokers. They have long, rigid tubes and durable yellow filters that measure over 20 millimeters in length.
They can be paired with most cigarette-making machines.
The cartons are also quite durable. As such, consumers are less likely to experience shipping mishaps. Not to mention, the Premier tubes are very affordable. As such, smokers can save a small fortune opting for Premiers over store-bought cigarettes.
---
How to Select the Best Cigarette Tubes
Are you struggling to decide what cigarette tubes to purchase?
Size/Kind
Cigarette tubes can be filled with any filler of your choice. Consumers can choose between king-size, 100 millimeters, lights, menthol, gold, and filter-tipped tube varieties. Each of these varieties offers a smoking experience that caters to specific smoking tastes and preferences.
Filter
Good cigarette filters eliminate the impurities that hinder enjoyable smoking experiences. They reduce the amount of tar and nicotine in each smoke. In doing so, they provide a safer, more pleasurable smoking experience. Your body can reap the benefits of smoking without being exposed to unnecessary chemicals and additives.
Make sure that your tubes have rigid filters that perform well. Filters may be brown, white, or yellow. Regardless of their color, they all do the same job. Still, you may choose a particular filter color because it gives you a familiar experience.
Papers
Quality cigarette tubes are constructed from chemical-free papers. The width of the tube determines the thickness of the smoke that is produced during a burn. The width also determines whether a cigarette burns fast or slow. Standard cigarettes are 70 millimeters long. King-size tubes are 84 millimeters in length. Tubes also come in 100-millimeter and 120-millimeter (slims) lengths. The circumference of the tubes usually gets narrower as the tubes become longer. However, longer tubes typically hold a little more tobacco.
Price and Brand
Cigarette tubes typically come in 200 or 250 packs. The price of each pack has a big impact on the final cost of your handcrafted cigarettes. Since many smokers make the switch to home-rolled smokes to save money, price and value have a big impact on consumers' product preferences. Still, it's never a good idea to compromise quality just to save a few dollars.
If you're new to hand rolling, tube brands can be a bit daunting. That's why we've compiled a list of our favorites, which include Gambler, Zen, and Premier. Each of these brands offers a variety of cigarette tubes, including different sizes and flavors. Trusted names typically offer quality products and consistent results.
Performance
If you were to ask veteran rollers what matters most when it comes to cigarette tubes, most would say performance. You want tubes that offer consistent smoking experiences. Quality papers won't tear every time they come in contact with a filling machine. Reliable papers make it easy to roll cigarettes. If you're experiencing issues with your current tubes, it's time to switch to a more trust-worthy set of papers. You shouldn't have to question the quality of your tobacco or filling machine. You also shouldn't have to shell out extra money to roll your own cigarettes.
Video Tutorial: Unboxing Review Of Gambler King
Wrapping Things Up
We hope you enjoyed our comprehensive look at the top five cigarette tubes. Hand-rolled smokes beat store-bought ones in taste, quality, and price. At least, that's the consensus in the rolling world. If you're going to roll your own smokes, you will need cigarette tubes that produce excellent flavor and consistently smooth smoke. While roll-your-own products are typically a matter of preference, we strongly recommend the Gambler Regular and King-Size Cigarette Tubes to anyone looking to take save money by making the switch to home-rolled smokes. These 84-millimeter tubes have solid papers and functioning filters. They provide a distinct smoking experience while padding your wallet with savings.
Those smokers who prefer making their own cigs with the help of a rolling machine, they won't do without major cigarette tubes. These are very tiny small and hollow pipes made of special paper and a filter in the end. I've already covered paper and filters, this time I decided to test tubes separately.
Major parameters for buying cig tubes:
I've seen a few comments under the previous guides about the criteria for picking the cigarette tubes. I'd say the quality of its paper is what actually matters. You see, novices don't understand that good, top-notch papers burn slower. So each rolled up cig last a bit longer. And it is harder to break a tube made of thick premium paper. Having holes in hand-rolled cigs is just not acceptable.
The greatest brands of best cig tubes, according to SmokeProfy:
Gambler – recommend this brand all the time for a few years already. Seriously, no paid reviews – this brand is just awesome, try their products for hand-rolled cigs;
Zen offers light and king-size pieces with over 200 pieces per 1 box. They also offer menthol-flavored cig filter tubes;
Premier is a relatively new brand that already has a series of top-notch ct for hand-rolled cigs;
Beretta is a popular pick in all my reviews dedicated to hand-rolled cigs;
There are also tubes with different flavors for different sizes. For instance, I prefer to buy menthol-flavored tubes of the king-size. Regular products of smaller size are awesome for everyone else. Gladly, all the above-mentioned premium brands produce all types of cig tubes.
Have a cooling and relaxing experience thanks to the top-notch paper of cig pipes! Don't forget to subscribe, comment and read the new reviews. SmokeProfy is a place where the best reviews for smoking aficionados are gathered!
---