---
Missouri Meerschaum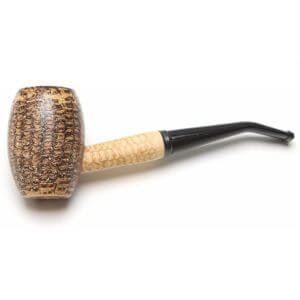 Premium Craftsmanship
Light, Porous Pipes
Size: Bent Bit
Scotte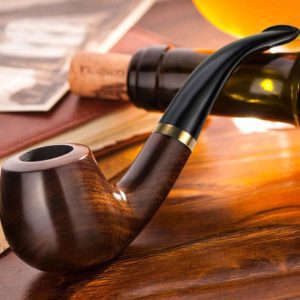 Soft handle
Heat resistance
Heat After No Taste
Missouri Meerschaum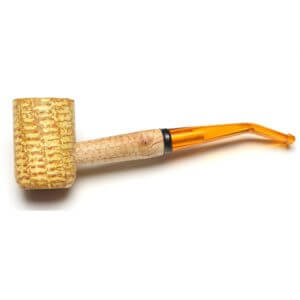 Premium Craftsmanship
Light, Porous Pipes
Size: 5th Avenue
Missouri Meerschaum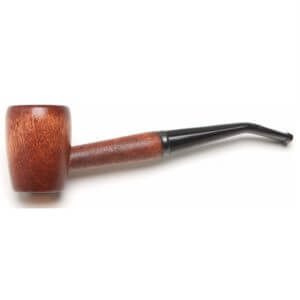 Premium Craftsmanship
Light, Porous Pipes
Size: Rob Roy
Scotte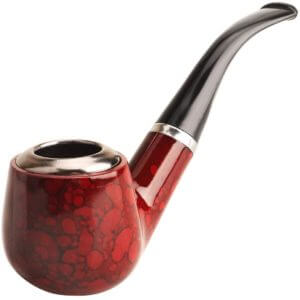 Durable
Great draw
Easy to clean
---
Choose the Best Tobacco Pipe
Customer's Choice: the Best Rated Tobacco Pipes
419 users answered this survey. Please help us improve this review!

52.74% of users selected Meerschaum Bent Bit, 23.15% selected Scotte, 6.21% selected Meerschaum 5th Avenue, 10.02% selected Meerschaum Rob Roy and 7.88% selected Scotte Durable. Every month we analyze your answers and change our rating.
---
The pipe was the first device for smoking tobacco. And almost until the middle of the last century it remained the most popular way of smoking. Later, pipes were squeezed out by cigarettes and cigars. But the demand for pipes has not disappeared, on the contrary, the classic style of smoking is gaining more and more connoisseurs. You can meet true tobacco gourmets among various ethnic groups and creative people.
People who want to reduce the damage to health caused by cigarettes also turn to pipes because it is known that smoking tobacco contains fewer chemicals than factory cigarettes, etc. Besides, pipe smoking is almost a ritual. You can smoke a cigarette on the run, doing other things. And in a ten-minute time, you will need a new one. It is an entirely different situation with a pipe -you need time and space for it. This process resembles meditation.
It is important to know that not only tobacco matters but smoking accessories too. The quality of the pipe affects the quality and taste of smoking in the same way as the quality of the coffee machine affects the taste of the brewed coffee. So it is important to select a pipe knowing what you are looking for. For this, you will need to know the main characteristics of smoking. And this article will give some tips that will help make the right choice.
Corn Cob Tobacco Pipe – the most affordable pipe for beginners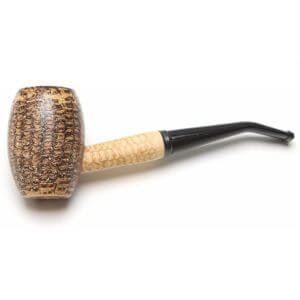 If you want to try tobacco smoking, have a look at Missouri Meerschaum pipes. This manufacturer makes pipes from corn cobs, carefully dried and cleaned from grain, with hardwood elements.
This model has a nice appearance, the stem is well-fixed, and the filter can be easily replaced. The bowl is made from corn cob with a hardwood bottom, and the stem is plastic. The pipe has a nice feel in hand and provides clear and smooth smoke.
This pipe is a very affordable alternative to expensive hardwood models. Corn cob pipes may be a bit fragile, but their attractive price and unusual appearance make them very popular. Customers unanimously agree that despite low price, the pipe is not inferior to its luxury competitors. It does not get hot in your hands, and a large bowl can hold enough tobacco for at least a 30-minute smoking. This pipe received over a thousand positive reviews, and it will become a great gift idea for your friend smoker.
---
Hand Made Ebony Wood Smoking Pipe – a great budget alternative to expensive pipes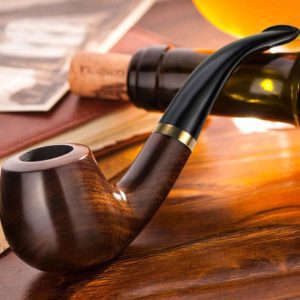 This classic-design pipe is not inferior in quality to expensive models. It is very nicely crafted, it is hand made from ebony wood and has a very stylish look. It comes with a pipe cleaner, a little pipe holder, mini scissors – all items are neatly packed in a box.
It may look like a desk decoration in the picture, but it is a full-fledged device for smoking. You will get a perfect starter kit at an attractive price.
Customers like the quality of the smoke this pipe provides. It gets pleasantly warm in hands, burns tobacco at optimal temperature and very slowly. Besides, enjoyable smoking process, be sure you will make a solid impression with this pipe in your hands. This purchase is a very good deal as you get a whole kit at a good value. It allows you to take it on trips without fear of breaking or losing it. This relevant balance of price and quality makes the pipe suitable for beginning smokers to learn what tobacco smoking is all about.
---
Legend Corn Cob Pipe – the simplest device to start your smoking experience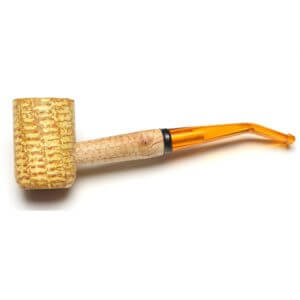 Sometimes even a beginning smoker looks for some unusual smoking device. If you are one of them, you will like the rustic design of this Missouri Meerschaum pipe. It is made from corn cob and the stem is plastic.
Corn cob has a special finishing to protect the pipe from burns through. And the winning feature of the plastic stem is that it can be easily replaced for less than a dollar. The manufacturer offers a budget variant, yet very functional and convenient in use.
This pipe can give you good 15-30 minutes of smoke and even more, depending on your smoking techniques and what brand of tobacco you use. No matter how cheap it may look at first glance, many users smoke this pipe regularly for a few years. The pipe will not be good for smoking herbs as it has a porous structure, but filled with tobacco, it will bring you many gratifying moments. It will also become a nice souvenir or a gift for your friends and colleagues.
---
Missouri Meerschaum Hardwood Pipe – the most affordable natural wood pipe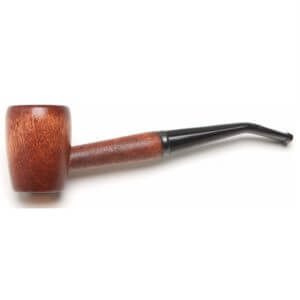 Even if traditionally this manufacturer uses corn cobs for its products, this model is made from hardwood. The pipe comes with a plastic stem, but its main part is fully wooden. Moreover, it is a perfect combination of price and design.
You cannot expect anything fancy at this cost, but the pipe does its job perfectly – a nice and even smoke is guaranteed. If you want to try a wooden pipe, but are not ready to spend a fortune, it is the right option for you.
If you are a fan of natural wood pipes, this item will fit well into your collection. It is lightweight, not expensive, and provides even smoke. Of course, this model cannot complete with expensive hardwood pipes, but it is definitely worth attention according to hundreds of positive reviews from the customers. So it is highly recommended for pipe smoking enthusiasts. You can also consider it as a gift for your boyfriend or husband on any occasion.
---
Scotte Red Smoking Pipe – one of the most stylish pipe options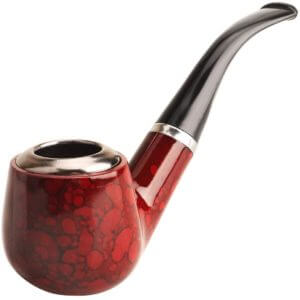 If you like to stand out from the crowd, you will definitely like this pipe. It is designed in bright colors and made from metal and plastic. If your pipe collection is all classical, it will add a special zest to it.
The pipe is very compact but the bowl capacity is just fine for a lengthy smoke. Even if this pipe appearance seems decorative, it copes with its main function very well.
Despite very sleek design not all customers are happy with this purchase. You will find reviews detailing some issues with using this pipe – some users find it difficult to clean, others say the pipe is not durable and quickly falls apart. Still many customers are very happy with this pipe – they use it for smoking regularly and some of them even bought another one. Overall, the price is a great size to fit in the pocket and is very affordable. And if you are going to use it occasionally, be sure it will last long.
---
Buyer's Guide
A pipe seems a very simple device, but in fact, it is far more difficult than it looks. It should be properly constructed and pass the smoke smoothly. Also, it should make the smoking process pleasant and enjoyable. Therefore, you should approach the choice of a smoking pipe very seriously. If it is your first pipe, then it will definitely influence your smoking experience, and its qualities will determine whether you continue to smoke the pipe further on or give it up. So there are a number of details that should be given special attention before you buy a pipe.
Material
You must have already heard that briar is considered to be the best material for pipes. Briar is a shrub-like tree of the heather family. And to be more precise, it is part of the root of this tree. This material has all properties vital for a good-quality pipe – hardness, heat resistance and the ability to absorb moisture. Besides, it is very affordable and is suitable for various designs.
Another material for pipe with similar properties is morta. It is a fossilizing bog oak, which has remained in peat or clay for several thousand years. But this wood is rather rare and very expensive.
Pipes are often produced from fruit tree species – pear, cherry, and others. But these are not very durable, since they react to temperatures and can easily crack.
Another exotic material for smoking pipes is corn cobs. Such pipes were very popular until other modern materials were put in production.
You can also find foam pipes on the market. Their main advantage is that they can be smoked several times in a row. You cannot achieve it with a briar pipe as the walls of the tobacco chamber may burn, and the pipe will lose its taste. The foam does not burn and it is its big benefit.
Experienced pipe smokers always argue what pipe is considered the best. But you can easily buy a pipe from any material at a very affordable price. So you can test a few options until you find out what is best for you. If you hesitate, start with a briar pipe.
Shape
Smoking pipes are produced in different shapes. There are even special catalogs with a classification of the shape of smoking pipes and dozens of different terms used to identify these.  But a beginner does not need all this. It is enough to know that there are straight and bent pipes. Curved stems may look more attractive, and they are easier to grip. But these are constructed with a small angle between the smoking channel and the bowl wall, and you can easily burn it without proper smoking experience. If you are choosing your first pipe, then it is advisable to opt for a straight pipe or a pipe with a very slight bend. These shapes are easier to smoke, and it is easier to keep the tobacco burning in them.
Bowl size
You can choose the depth of the pipe's tobacco chamber based on your preferences. The deep bowl will make your smoking process longer, but the taste of the tobacco changes towards the bottom and becomes too strong. You can start from an average bowl size – up to one inch in diameter and maximum 1.5 inches in depth. Once you master the art of pipe smoking, you will be able to define the best tobacco bowl capacity on your own. You may like to use different options for different tobaccos.
Filter
The main purpose of the filter is to soften the taste of tobacco. It is important to use for smoking cheap tobacco with aromatic additives, or for particularly strong varieties. But if you prefer expensive tobacco, you will do well without a filter. Moreover, in this case, filters can prevent the disclosure of the flavor bouquet. You will have to smoke a pipe without a filter a bit cooler than a pipe with a filter. This approach will allow you to quickly develop the desired smoking speed. So if it is your first pipe, select the one without a filter. Besides, a filter makes pipe cleaning more complicated.
Video Tutorial: Pipe Smoking – Choosing Your First Pipe
Conclusion
If you are ready to buy a pipe, it will be best to go to the store and hold a few models in your hands to make the right choice. And if you are buying a pipe in an online store, then you should choose reputable stores with positive customer feedback. Online purchases are not easy since you will have to make a decision based on pictures. The first step is to make sure you select the correct size of the pipe. Good sellers pay special attention to specifying all pipe dimensions: length, weight, depth and diameter of the tobacco chamber, the presence or absence of a filter. And take time to read the reviews of people who already bought the pipe you have selected. These comments will give you a lot of additional information on the product, for example, its performance details and service life. Always buy a pipe with an attractive design. Modern pipes not only fulfill their main functional purpose but also serve as an image accessory, emphasizing the individual style, level of prosperity, and good taste of its owner.
---