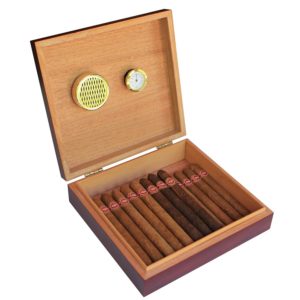 For up to 25 cigars
Spanish cedar
Hygrometer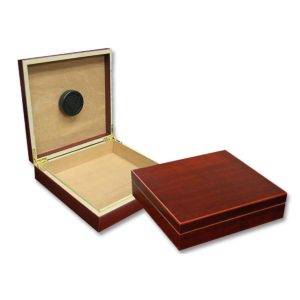 Holds up to 20 Cigars
Internal Locking Hinges
Humidifier Included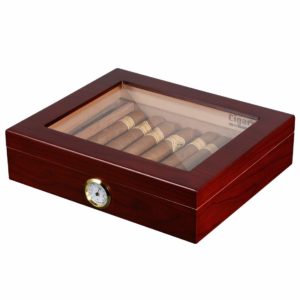 25 cigars in standard size
Cherry finish
Wear-resistant metal hinge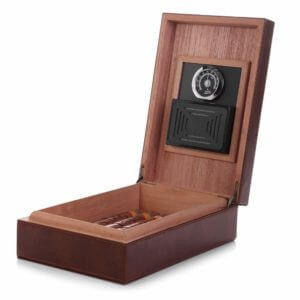 10-20 Cigars
Spanish cedar
Outside:10.2x6.5x1.8 in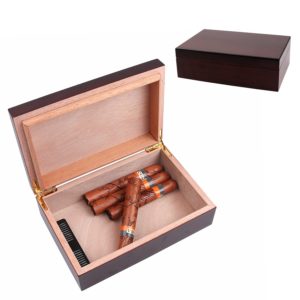 Holds up to 10 cigars
Spanish cedar
Great for Travel
Occasional stogie smokers shouldn't buy full-fledged cases a.k.a. humidors for storing their cigars in the most comfortable way. Instead, they ought to pay attention to more compact cases – they are great for keeping the cigs in an office desk or any other small space.
Due to numerous suggestions left by my friends, colleagues and readers, I, as the owner of the website SmokeProfy, decided to test and then review the smallest cigar humidors accessible for sale in the U.S. market. The results of my tests that involved over a few dozens of various compact cases can be found further. Also, I decided to explain my motivation that affected the overall rating.
The factors that impacted on my choice of small humidors
How small is small – the main questions asked by our users. There are humidors for 5-10 or up to 50 cigars. As experts, I must say that a good humidor case must offer the storage capacity that is at least 30% of the overall size. The more important factor is how the picked model absorbs the moisture. Humidity levels must be kept at the same rate. You also don't want any unpleasant odor so the humidors must be easy to clean as well. These are the major criteria I considered during the preparation of this particular guide.
As for the price – it depends on the brand, honestly. Cases with real wooden finishes cost more than metallic boxes. The average cost is $30.
What brands of small humidors for stogies I can recommend:
CASE ELEGANCE is good for 25 pieces, with a separate hygrometer;
Prestige Import Group is another relatively small case with an included humidifier;
Volenx offers a standard size, with a nice cherry finish;
By the way, I added an interesting video tutorial on how to apply a humidor if you are not aware of the major amenities. What do you think about this review? Was it useful?
Video Tutorial: How to use a cigar humidor?
---